Smartwatches are great pieces of tech simply because of the number of features that they provide. However, users with smaller wrists may be discouraged by the bulky nature of these tech products. Luckily, most companies acknowledge this and have made their smartwatches more accessible. 
If you are looking for small and lightweight smartwatches, then you have come to the right place. In this article, we will be presenting our top smartwatch picks for users with small wrists.
Our top picks include the TicWatch C2+ and the Samsung Galaxy Watch 3 and for overall style and petite profile the new ladies Garmin Lily.  
Quick Recommendations:

But, of course, there are plenty of options here, so make sure to keep on scrolling to find out more. Also, we have done hands-on reviews for some of these smartwatches, so make sure not to miss those.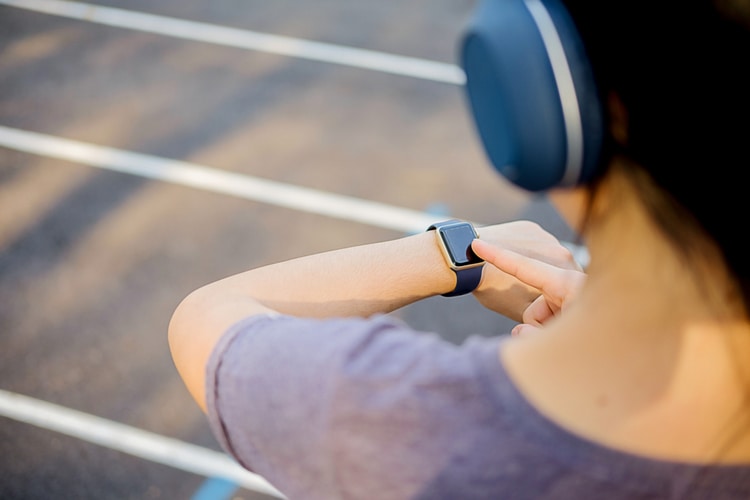 Best Smartwatches for Small Wrists
Garmin Lily – Small GPS Smartwatch

Case Dimensions: 34.50 x 34.50 x 10.15 mm
The Garmin Lily is one of the most visually stunning smartwatches on the market today, and it has managed to capture the feminine essence with its sleek and slim stainless-steel case. Forget what you think of smartwatches being large and clunky. The Garmin Lily has effectively flipped that notion on its head. Also, despite being marketed towards the ladies, the Garmin Lily is a gender-neutral timepiece that could be worn by both men and women.
The Lily also features a prominent TFT LCD which provides amazing clarity with just the right size to offer good legibility to all wearers. This smartwatch also comes with a slew of features that can be obtained once you have paired it with your smartphones, such as fitness trackers and smart notifications.
However, it might fall short of gym rats and outdoor enthusiasts' expectations due to the somewhat limited capability of lacking a built-in GPS. You can circumvent this by pairing it with your smartphone, but the fact is that there are other smartwatches out there that come with GPS technology by default. The Garmin Lily is also small and slender enough to be worn under the cuffs of long-sleeved shirts.
Its 34.5mm diameter, slim 14mm band, and ultra-thin 10.15 mm case thickness make it thinner than the Apple Series 6. The fact that the Garmin Lily also excels with its superb aesthetics, blurring the line between a smartwatch and a fashion accessory. In terms of functionality, the Lily is aimed at the health buffs and the smart technology aficionado crowd. If you are looking for a fashionista smartwatch, you can check out the incredibly stylish Garmin Lily model.
TicWatch C2+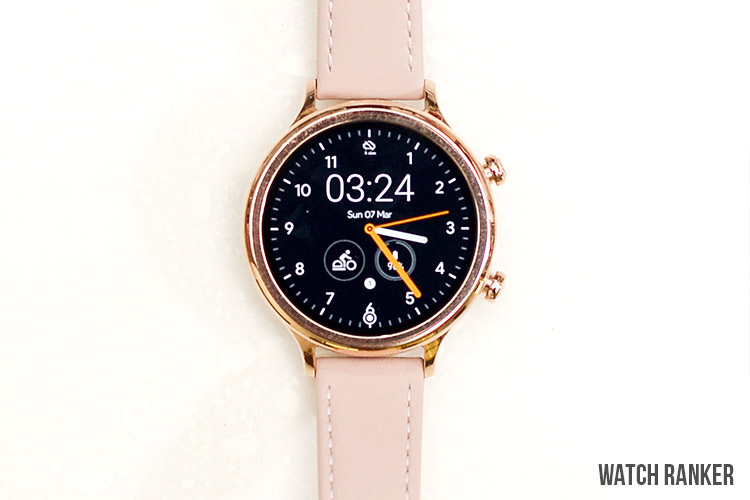 Check on Amazon | Read our TicWatch C2+ Review
Case Dimensions:  42.8 x 42.8 x 12.7 mm
The TicWatch C2+ is Mobvoi's fashion smartwatch specifically made for small wrists. It boasts loads of features which easily makes it a great alternative to the TicWatch Pro. Of course, it is missing more advanced functionality, such as the dual-layer display, but all the essentials are kept intact. 
What sets the C2+ apart from other smartwatches is its attention to detail. The C2+ isn't just a piece of tech. It is also a luxury watch that would fit into any occasion. All the small details, such as the strap design and button engravings, truly make the C2+ feel special. 
The C2+ does have its fair share of shortcomings. It is missing a speaker for phone calls and for Google Assistant's responses. It is also not equipped with the latest Snapdragon processor available. But overall, the performance is acceptable, and its looks can compete with any mid to high-end offering from competing brands. 
Check out our full review above to learn more.
Samsung Galaxy Watch 3 41mm

Case Dimensions: 41 x 42.5 x 11.3 mm
One of the best alternatives to the Wear OS platform is Google's Tizen OS-based platform. And the best smartwatch that showcases its full potential is Google's flagship Samsung Galaxy Watch 3. 
This smartwatch is the follow-up to the highly successful Galaxy Watch that was first released in 2018. It has the same design language as the original but hosts a lot of improvements to better fit the current generation of Android devices. 
Some of the highlights of these smartwatches include a class-leading display, smooth software experience, good hardware, and style. 
Most smartwatches in this category try too hard to implement groundbreaking features that they forget that a smartwatch should still look good on their wrist. The Galaxy Watch 3 fuses the classic smartwatch design with Samsung's iconic design language. 
Additionally, the Galaxy Watch 3 features a rotating bezel that makes navigating the UI a lot easier. This is a unique feature that is currently only found on Samsung's offerings. 
And, of course, the Galaxy Watch 3 has a dedicated app store that enables you to further increase the functionality of your smartwatch. You will be able to specifically choose your watch face.
Additional perks that you get with the Galaxy Watch 3 include support for eSim, Samsung Pay via NFC, MIL-STD-810G compliant, water-resistant up to 50m (IP68), ECG certified, and a lot more. Overall, the Samsung Galaxy Watch 3 delivers the full package and is certainly worth a look. 
Huawei GT 2 42 mm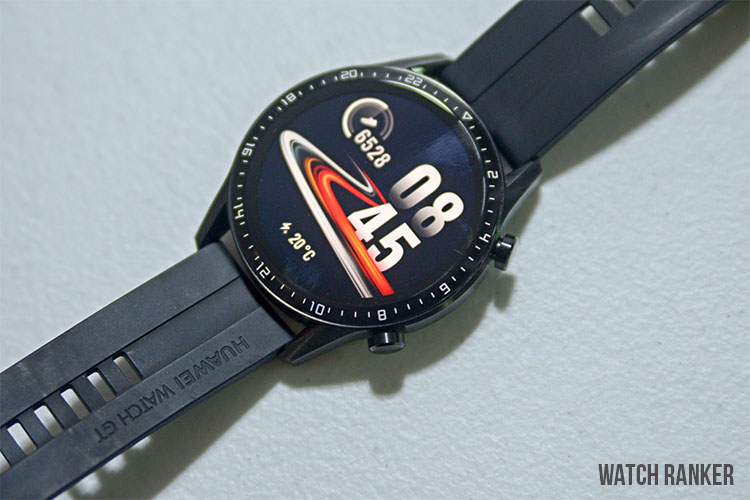 Huawei Watch GT 2 Review | See on Amazon
Case Dimensions:  41.8 x 41.8 x 9.4 mm
Some of our favorite smartwatches include the Huawei Watch GT 2 and GT 2e. This isn't because they have ground-breaking features or software. What makes them special is how well they execute the basic features that they have. 
Unlike most smartwatches on this list, the GT 2 is running proprietary software. This may seem like a turnoff for some. However, its well-designed software makes it very fast and efficient. 
You can do all basic tasks with ease. You won't have to worry about lags and framerate drops on this watch. 
Additionally, it has all the essential features. It has heart rate tracking, GPS, over one hundred workout modes, sleep tracking, and a lot more. Huawei keeps on updating these watches, which often adds new features. 
It uses an optical sensor to control your heart rate (TruSeen 3.5), and because of its long battery life, it can also track your sleep.
The only downside of the 42 mm variant of this watch is that the battery life is reduced to one week, and it no longer features a microphone or speaker. But if you are looking for a great-looking smartwatch with long-lasting battery life and great software, the GT 2 is worth a look. 
We highly urge you to check out our in-depth review of the Huawei Watch GT 2 46 mm variant to get a good idea of how the GT 2 series performs.
Apple Watch Series 6 (40mm)

Case Dimensions:  40 x 34 x 10.4 mm 
2022 Update – the newer Apple Watch Series 7 has gotten a lot of attention in the press. While it is tempting to always go for the latest and greatest model on the market, keep in mind that the newest Apple Watch is also slightly bigger so if you have small wrists you may actually be better off with the Series 6.  Series 7 comes in two sizes (41mm and 45mm) compared to the slightly smaller Series 6 (40mm and 44mm).
If you are an iOS user, the Apple Watch is arguably your best bet. It is designed to fit perfectly with the rest of Apple's devices, and it comes in a smaller 40mm version for smaller wrists. 
The Apple Watch Series 6 seemingly integrates with your iPhone's features. And in some cases, it can even completely replace your iPhone. 
The Apple Watch Series 6 can handle your messages, calls, and emails, it can track meetings and events in your calendar, it is capable of location mapping and contacting emergency contacts in case of accidents, and a lot more. 
Additionally, the Series 6 is a fairly capable health and fitness tracking device. It is equipped with Apple's most advanced heart rate sensor. It also has all the necessary sensors to accurately track different exercises and activities. 
And, of course, the Apple Watch Series 6 easily has one of the best software experiences of any smartwatch. It is free from performance issues and has an app store that can potentially increase the number of features of the watch. 
The Apple Watch Series 3 also has a more budget-priced version in the form of the Apple Watch Series 3. It has some compromises, but the core experience should largely be the same. 
Fitbit Versa 3

Case Dimensions:  40.48 x 40.48 x 12.35mm
If you are looking for a smartwatch that places heavy emphasis on health and fitness tracking, the Fitbit Versa 3 is the one that we recommend. This watch is the sequel to the highly-rated Fitbit Versa 2. But now this time around. The Versa 3 has new features such as a built-in GPS that make it an even more appealing option. 
Like its predecessor, the Fitbit Versa 3 has a 1.58 inch AMOLED display with a screen resolution of 336 x 336 pixels. It also has an always-on display, blood oxygen, temperature tracking during sleep, and a battery that lasts up to six days.  
Aside from its fancy looks, the Versa 3 is an extremely capable tool for fitness tracking. It can measure steps, distance, calories burned, and heart rate. The Versa 3 covers the basics well and has the same fitness features as the more expensive Fitbit Sense. 
It also has 20 different activities under sports mode, including indoor and outdoor swimming. It is also well optimized to detect movements that can trigger the watch to start sessions automatically. 
Additionally, the Versa 3 now features the Google Assistant. Previous iterations only included Amazon's Alexa. This makes the Versa 3 a more versatile device since you can potentially connect it to more devices. 
This also means that Android users can now answer calls directly from the watch. With the number of features and the battery life of the Versa 3, it is one of the most compelling options in its price range.
Samsung Galaxy Watch Active 2 40mm

Case Dimensions:  44 x 44 x 10.9 mm
If you like the Fitbit Versa 3's fitness-focused approach but still want the customizability and features of Wear OS, then the Samsung Galaxy Watch Active 2 is a great alternative. This watch is based on the Galaxy Watch 3 but has tweaks that optimize it for active users and athletes.
In terms of the design, the Galaxy Watch Active 2 ditches some of the Galaxy Watch 3's premium design elements for a simpler and minimalist look. The physical rotating bezel has also been replaced with digital rotation via the screen's edges. All of these changes are done to make the Galaxy Watch Active 2 lighter and better for workout sessions. 
But in terms of its core functionality, the Galaxy Watch Active 2 does not have any compromises. It is still utilizing Samsung's custom Tizen OS which allows the installation of third-party applications. 
Notifications and messages can also interact with various means, such as the onscreen keyboard or voice commands. Several core features can also be done with the help of Samsung's voice assistant, Bigsby. 
But, of course, the real star of the show here is the fitness and health features. The Galaxy Watch Active 2 comes with various fitness and health tracking features such as GPS and various health and workout-related apps. And even with all of its features, the Galaxy Watch Active 2 maintains two-day battery life. 
The Galaxy Watch Active 2  comes in 2 sizes, 44mm and 40mm. 
The Galaxy Watch 40mm is better in small wrists with a watch Case Dimensions of 44 x 44 x 10.9 mm and weighs 37 grams.  This is lighter than the 44mm, but both watches have the same Case Dimensions.
Amazfit GTS 2 Mini

Case Dimensions: 40.5 x 35.8 x 8.95mm
The Amazfit GTS 2 Mini is a smaller and more lightweight revision of the Amazfit GTS 2. It drops some of the GTS 2's extra features but still keeps all of the essentials. 
These essentials include health and fitness tracking, in-depth workout mods, sleep tracking, and a lot more. New features such as the online and offline voice assistant are also kept intact with the GTS 2 Mini. The fourteen-day battery life also remains unaffected. 
Most of the changes seen here are from its aesthetics. The curved display is no longer present and is pretty much similar to the first-generation Amazfit GTS that we reviewed. However, this should not be a major downside since we think the original Amazfit GTS had a good design. 
And overall, since it carries over the improvements found on the second generation, you should not have any problems with the GTS 2 Mini. If you are looking for a small smartwatch with all the essential features, give the GTS 2 Mini a go. 
Amazfit Bip S

Case Dimensions:  42 x 35.3 x 11.4 mm
If you are on a tight budget but still want a satisfactory smartwatch experience, then the Amazfit Bip S  is as good as it gets at this price point.  Despite its low asking price, it still manages to pack a lot of features that are found on its higher-priced watches, such as health and fitness tracking. 
The build and screen quality of the Bip S is decent. They won't wow you, but they do get the job done. 
The Bip S features a 1.28 inch TFT display that gets bright enough to give readable results even in direct sunlight. Again, this isn't AMOLED quality, but it isn't too bad given its price point. 
The Bip S has a polycarbonate body that can easily survive daily use. It comes in different colors and features a replaceable strap that is compatible with third-party straps. 
The Bip S is fairly packed when it comes to its features. It has GPS, a BioTracker TMPPG Optical Sensor, a 3-axis acceleration sensor, and a 3-axis geomagnetic sensor.  This watch can track activities such as distance, steps, sleep, pace, strokes and can provide activity reports and sleep reports, calories, and calorie burn. The Amazfit Bip S is water-resistant rated 5ATM making it usable for activities such as swimming.   
The best part about the Bip S is its battery life. It can easily last anywhere from 15 to 40 days, depending on the features you are using. Overall, with its vast feature set, the Bip S is easily one of the best budget smartwatches. 
Oppo Watch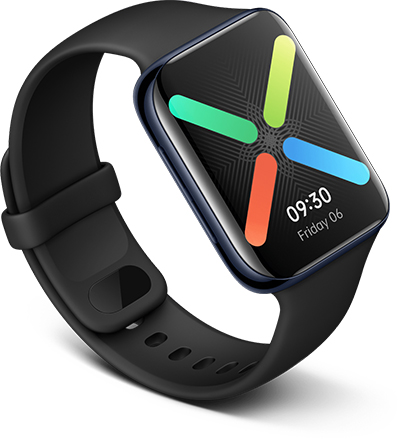 Case Dimensions:  41mm – 41.5 x 36.4 x 11.4 mm weight – 30.1 grams
If you are an Android user, then sadly, the Apple Watch will not work as intended. But, if you are looking for a smartwatch that is somewhat capable of delivering a similar experience, the  Oppo Watch is worth a look. 
Don't let its Apple-inspired design fool you. This isn't some cheap knockoff. Its well-crafted software makes it one of the best Wear OS in the market. 
The Oppo Watch is powered by Qualcomm's Snapdragon 3100 and is paired with 1 GB of RAM. This makes it more advanced than its competitors meaning its software experience will be a lot better. 
And speaking of the software experience, the Oppo Watch features a heavily customized version of Wear OS that's meant to mimic Apple's software. The customized UI adds new vibrant icons, animations, and built-in apps that all look great on the watch's gorgeous 1.91 dual-curved AMOLED display. 
And the great thing is that these new additions do not interfere with the elements that already worked great with Wear OS, such as the notification system. Additionally, the Oppo Watch has support for eSim, which puts its functionality one step closer to the Apple Watch.