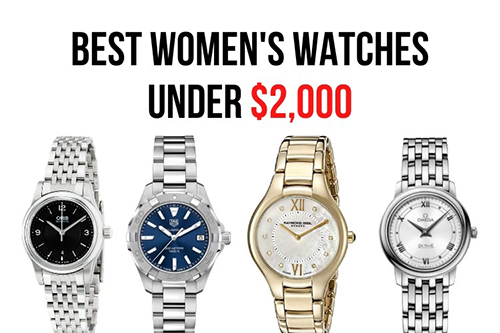 Unlike other ladies' watch lists where we've concentrated on more affordable options, this time around, we will be raising the budget up a notch and take a closer look at some excellent timepieces under the budget of $2,000 max.
Having a budget of this size opens up a wide variety of options for the decerning shopper. It allows us to include brands that were unattainable at the lower limits, here we've included classic ladies' dress watches including some entry-level luxury, Swiss-Made, and even a women's dive watch and premium sports for athletic women looking for high end and sporty smartwatch.
If you are looking for a fantastic watch that presents superb quality in design and craftsmanship, watches in this price range deliver.
So, without further ado, here are some of the classiest ladies watches that fall under the $2,000 price bracket.
Best Women's Watches Under $2,000
Citizen Women's EM0374-50A Signature Versailles Analog Watch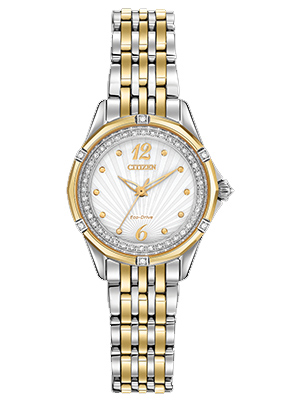 The level of detail found in the Citizen Versailles merely is awe-inspiring. This watch features a beautiful combination of silver and gold-toned design with the striking inclusion of diamond accents located on the bezel and outer rim of the dial.
The Versailles comes in with a 31 mm diameter case. The bracelets also utilize gold accents, which give it a significantly more striking appearance. The Versailles uses Citizen's signature Japanese quartz movement with analog display.
The dial is visually attractive. It features two Arabic numeral markers (12 and 6) while the rest are gold-toned dots. The construction of the Versailles watch also provides it with an impressive 330-feet water resistance rating.
Overall, the Citizen Versailles exemplifies what a premium women's timepiece can achieve in terms of appearance and performance. Simply mesmerizing. Check out other top Citizen Women's watches here.
Movado Women's 0606420 Concerto Watch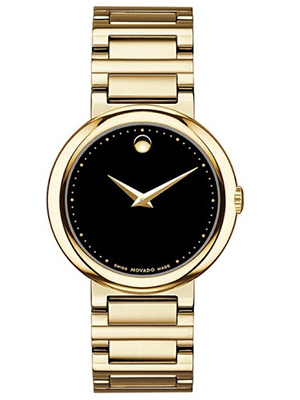 Check Price US | See on eBay | UK Price
The Movado Concerto brings all the flair of the brand's signature style in an empathic fashion. The watch features a stainless-steel gold-plated case measuring in at 30 mm. As you would expect from a Movado timepiece, this one features an extremely minimalist approach with its design.
The pure black dial features gold hands and tiny dot markers on the outer-most rim. Of course, it also features the signature dot, this time with a shiny gold finish, over on the noon position.
Within the Concerto is a Swiss quartz movement that provides excellent precision in telling the time. The elegant gold-plated case is also constructed to provide water-resistance of up to 30 meters. Simple, to-the-point, and sophisticated. Exactly what you would expect from a Movado timepiece, if you like the look of this watch – see our list of best ladies Movado watches.
Longines La Grande Classique Ladies Watch
Check Price $US | See on eBay | UK Price
Longines La Grande Classique earns its moniker quite well with its highly traditional design. Simple yet elegant, the La Grande Classique incorporates a sleek round 24 mm gold-plated case. It forgoes stainless steel bracelet with a more casual looking black crocodile leather band.
Inside its tiny frame is a well-crafted Japanese quartz movement with analog display. The dial utilizes a bright white backdrop with Roman numeral markers and threadlike hands (hours and minutes). The La Grande Classique features quite a classic aesthetic that harkens back to a time of simplicity and elegance that we've come to associate our favorite Longines ladies watches.
RADO Women's Centrix Black Ceramic Bracelet Watch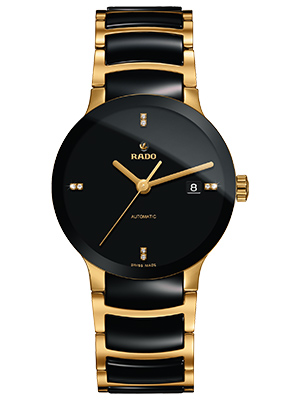 Check Price $US | See on eBay | UK Price
RADO can easily rival Movado with its selection of contemporary minimalist watches. A good example is the RADO Centrix. This visually stunning timepiece uses a black with silver accent design, which gives it a more modern edge to the traditional style of Movado.
While it may look like a modern timepiece, it still manages to include some classic luxury features in its design. The black dial takes advantage of its silver hands and glistening four markers to deliver a sleek and sexy look. It also comes with a black ceramic bezel, which further enhances its premium quality and aesthetics.
The one is also a slightly larger watch entry with a case measuring at 42 mm. Inside the exquisitely crafted case is a quartz movement with analog display to provide tip-top timekeeping capabilities. Also, the RADO Centrix is water-resistant for up to 30 meters and utilizes a durable and anti-reflective sapphire crystal window. If you like the aesthetic of this watch, check out other Rado Ladies models here.
Raymond Weil Women's Noemia Analog Gold Watch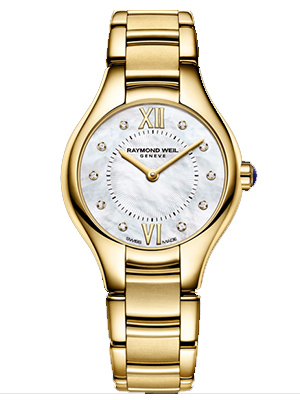 Check Price $US | See on eBay | UK Price
The Raymond Weil Noemia is undoubtedly one of the most elegant women's watches you can find today. It checks out all the essential marks when it comes to a luxury timepiece, which will definitely please watch enthusiasts.
First off, the design of the Noemia is on-point with its gold-tone with a diamond accent look. This is a timepiece designed to capture the attention of anyone who glances at it. It showcases an excellent air of confidence and sophistication that will surely entice watch lovers who can afford it.
Within the Raymond Weil Noemia is also something to celebrate. It features Swiss-quartz movement with analog display. It also comes with a mother of pearl dial that further pushes forth its premium-grade appeal. The Roman numeral hour markers also fit with the general aesthetic of the Noemia, which is that of a traditional timepiece.
Oris Women's Aquis Diving Watch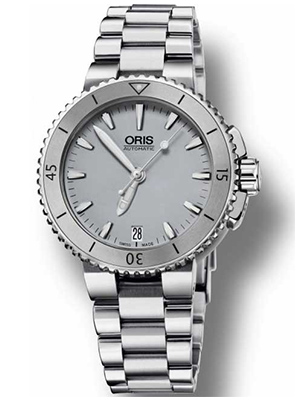 Check Price $US | See on eBay | UK Price
Let us take a break from breathtaking dress watches for the time being and look at some of the best women's watches in the outdoors and sports arena. Case in point, the Oris Aquis.
The Oris Aquis takes on a more casual contemporary approach with designs. The black rubber strap ensures comfort and flexibility, which are two must-have qualities with this type of watch. The case itself is surprisingly well-designed with some excellent inclusions that you won't expect in a dive watch.
For example, the glossy dark blue dial uses the black ceramic unidirectional bezel. Ceramic is considered a luxury material when it comes to timepieces, but the Aquis managed to implement it and have it blend perfectly with its design.
Inside the brushed 36 mm stainless steel case is a Swiss-automatic movement with analog display. The construction of this dive watch provides it with around 300 meters of water resistance — enough for it to be used during mixed-gas diving activities.
RADO Hyperchrome Ceramic Ladies Watch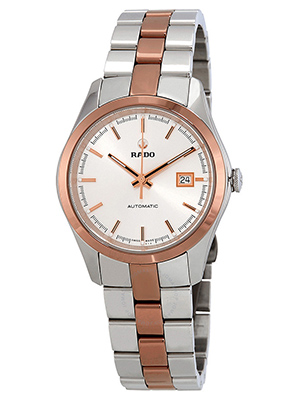 Check Price $US | See on eBay | UK Price
The RADO Hyperchrome arrives with such eye-catching aesthetics that will surely turn the heads of everyone in the room. Its pristine and almost immaculate design is its strong suit, and the primary reason customers will gravitate towards the Hyperchrome.
It takes a radically different approach with some of its essential aspects. The case, for instance, is not made from the standard stainless-steel material but high-tech white ceramic. The case measures in at 36 mm, which makes it suitable for women's smaller wrists.
Inside the Hyperchrome is an automatic self-winding movement with analog display. The white dial features markers and hands with gold and white accents. It also comes with a date display located over at the 3 o'clock position. This is one of the most visually spectacular women's watches from RADO and a perfect timepiece companion for the modern woman.
Baume & Mercier Hampton Rectangular Watch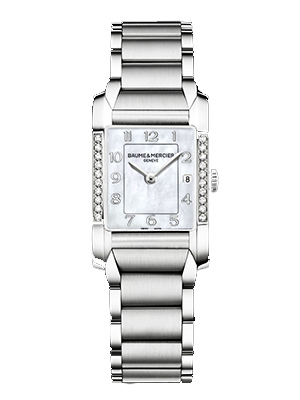 Check Price $US | See on eBay | UK Price
The Baume & Mercier Hampton takes the timeless appeal of rectangular watches and imbues it with a significant boost in the charm department. This watch is a premium grade timepiece, and it shows.
The silver and black design provide that level of sophistication that would help it stand out with other dress watches. Both sides of the case feature crystals that are intricately woven into the 40 mm case.
The Hampton utilizes quartz movement and analog display. Silver hands and markers accentuate the black and gray dial. The dial is also encased within the sturdy sapphire crystal, which also has scratch-resistant properties.
This timepiece also comes with 50 meters of water resistance, so you won't need to worry about it getting accidentally splashed by water or when caught in the rain. If you love the classy geometric look of this one, check out these other rectangular watches for women.
Garmin Fenix 6S Sapphire Multisport GPS Watch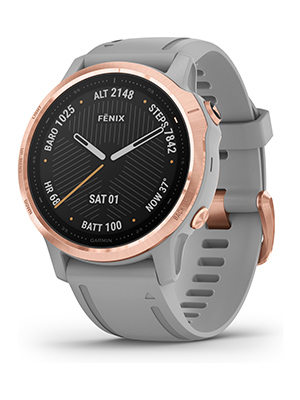 Check Price $US | See on eBay | UK Price
For those who are looking for a sports watch with top-quality design, construction, and features, you might want to take a look at what Garmin offers with the Fenix 6S Sapphire. This is a feature-rich sports watch that provides excellent activity tracking functionalities.
The rugged design is not just for show as it is well-made and built to last. The display is designed for optimum legibility even under direct sunlight. This smartwatch incorporates 10,000mAh batteries and also comes with its portable charger.
The Fenix 6S Sapphire is compatible with Android and iOS devices and is one of the most versatile Garmin watches in the market today.
Omega De Ville Ladies Watch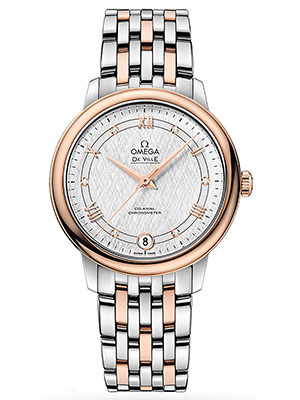 Check Price $US | See on eBay | UK Price
In regards to premium timepieces, no list is complete without the mention of Omega. The Omega De Ville exudes that air of luxury with its design and construction. Omega has always been synonymous with luxury watches, and the Omega De Ville is a worthy addition to their ever-growing catalog of excellent timepieces.
The Omega De Ville takes a more traditional approach to its design with an all-silver tone with its 27 mm diameter case and deployment-buckle bracelet. The white dial features Roman numeral markers and metallic gray hands.
The De Ville also incorporates Swiss-quartz movement into its analog display, which provides it with superb accuracy in timekeeping. Omega is a symbol of excellence and first-class timepieces; you can never go wrong with their broad selection of watches if you aim to make a great first impression.
Tag Heuer AquaRacer Ladies Watch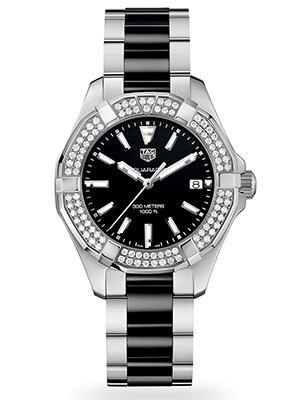 Check Price $US | See on eBay | UK Price
The Tag Heuer AquaRacer is another entry into the diver's watches. It features the silver and blue-toned aesthetic that is quite popular with watches in this category. However, this particular model has the added advantage of having access to Tag Heuer's level of quality and craftsmanship.
The AquaRacer features a beautiful polished blue dial with a silver stainless steel case that measures around 32 mm in diameter. It also comes with a unidirectional bezel and luminescent hands for optimum visibility, even in low-light environments, an essential feature with all diving watches.
As for its water resistance, this Tag Heuer watch delivers a superb 300-meter rating. Add this with its Japanese-quartz movement, and you have yourself a highly accurate watch that you can rely on when diving or snorkeling.
Movado Women's Faceto Stainless Steel Watch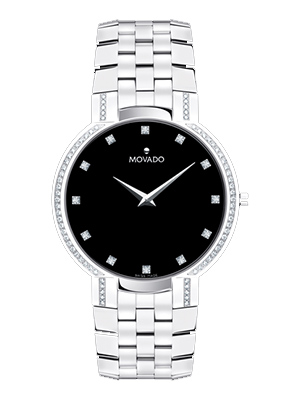 Check Price $US | See on eBay | UK Price
Movado once again makes an appearance on this list with their lovely Faceto watch. As you would expect, the Movado Faceto comes with the brand's signature minimalist design. The black dial and silver stainless case are accentuated with the placement of crystals around the case.
The case itself is quite petite at only 25 mm in diameter. Thus, making it suitable with most average to small-sized hands. Inside the compact and sleek looking case is a Swiss quartz movement with analog display to guarantee optimum accuracy in regards to timekeeping.
The Movado Faceto takes a more extravagant approach with its design while still capturing the discreet and subtle aesthetics that brought Movado to the dance.
Oris Atelier Ladies Watch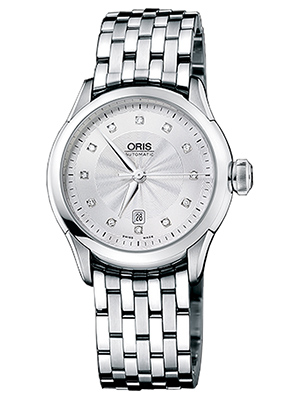 Check Price $US | See on eBay | UK Price
The Oris Atelier delivers one of the most visually exciting entries into this list with its skeletal dial design. The Atelier uses a 33 mm stainless steel case with silver-toned analog dials. Rather than using the usual steel bracelet, the Atelier balances it out with a lovely brown leather strap.
Within the case and as you can view from the skeletal dial, lies an automatic movement that provides impeccable precision. Since the Atelier's bread and butter is the intricate inner working on display from its skeletal dial, it is only natural to incorporate a high-quality glass window.
In this case, it is a sturdy sapphire crystal with screw-down crowns. This watch construction also gives the Atelier an added 50 meters in water resistance.
Tissot Women's Swiss-Quartz with Titanium Strap Watch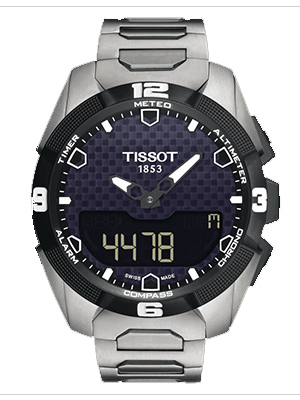 Check Price $US | See on eBay | UK Price
While Tissot watch is primarily known for its affinity to traditional watch design, the company will not have any issues experimenting and taking risks. Case in point, the modern-looking Tissot T-Touch Swiss-Quartz with Titanium Strap Watch.
This timepiece is a hybrid of classic and modern functionalities. The dial incorporates your standard analog dial but also comes with a digital screen located on the bottom. This screen allows you to use the alarm, lap timer, and altimeter.
Additionally, the durable titanium case also has compass functionality. The case measures in at 45 mm in diameter, so it is slightly on the larger side of women's watches. However, with its added heft comes additional features and an excellent structure.
Alpina Women's Comtesse Watch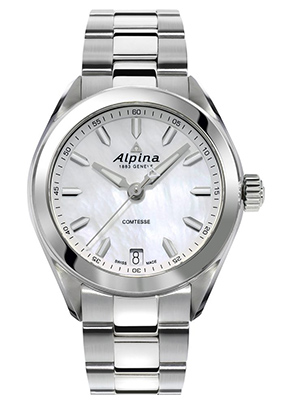 Check Price $US | See on eBay | UK Price
Most sports watch take on a particular design, which leans towards a more unisex appeal. The Alpina Women's Comtesse watch decides to deliver a genuinely feminine sports watch to their female customers.
The Comtesse delivers an Alpine feel with its silver, white, and gold aesthetics. The gold bezel features crystals that are embedded into the rim. The dial itself carries a sense of grace and beauty that is not common with most sports watch.
This timepiece features automatic self-wind movement with analog display. The stainless-steel case measures in at 34 mm, and it even has a water resistance of up to 330-feet. Don't let its doll-like features fool you; the Comtesse is as tough as they come.
Tag Heuer WAY1313.BA0915 AquaRacer Diamond-Accented Watch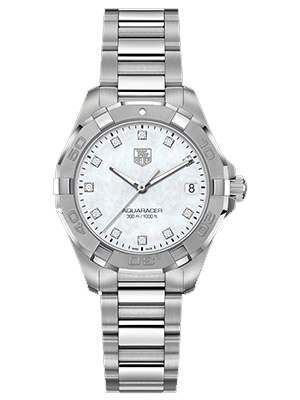 Check Price $US | See on eBay | UK Price
If you felt that the first Tag Heuer AquaRacer watch we included in this list was too masculine-looking for your taste, the AquaRacer Diamond-Accented (WAY1313.BA0915) would be an excellent alternative. With near-identical features, except for a more elegant design, this AquaRacer variant exudes that level of sophistication that is more commonly found in dress watches rather than diving watches.
To further focus on its luxurious design, this watch comes with a mother of pearl dial and 11 diamond markers. Inside is a quartz movement that powers the analog display and keeps everything in precise. Additional features include a magnified date display located on the 3 o'clock position.
Of course, since this is a diving watch, it comes with a superb water-resistance of up to 300 meters.
Oris Classic Ladies Watch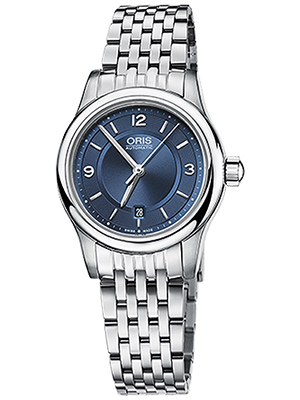 Check Price $US | See on eBay | UK Price
This is another simple yet highly stunning timepiece from Oris. The simple black and silver design of the Oris Classic will be quite alluring for those who enjoy a traditional watch that focuses on elegance rather than flashy aesthetics.
Within the Oris Classic is a Swiss movement for its analog display. The black dial features silver markers with Arabic numerals and an hour, minute, and seconds hand to help you keep track of time. A robust sapphire crystal window protects the dial.
Overall, the Oris Classic delivers what it promises. It is an excellent and elegant traditional watch made with the utmost care and skill.
Movado Women's Cerena Diamond-Accented Watch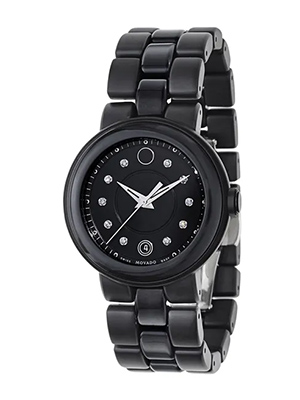 Check Price $US | See on eBay | UK Price
Movado delivers an immaculate and flawless women's timepiece with the Cerena. With a polished white silver design and dotted with stunning crystals, the Cerena offers an almost angelic appeal with its pristine appearance.
Within this lovely timepiece is the highly accurate Swiss quartz movement. The dial, which features crystal embedded markers, is protected using a synthetic sapphire crystal window. As a bonus, the Cerena also sports ceramic center links, which further enhances its refined aesthetics.
If you are in the market for premium-grade women's watches, our selection above can be considered the cream of the crop within the $2,000 market. All of the entries on the list offer their unique aesthetic while also maintaining top-notch watch craftsmanship.