To think there was a time when a watch wasn't just an accessory piece. When quality craftsmanship was appreciated above all else. This was when the Bürgin family patriarch Max Bürgin started his apprenticeship in one of the leading watch factories in Basel, Switzerland.
This article takes a deep dive into Charmex's watchmaking history and brand evolution, answering important questions that go into watch purchase decisions.
Charmex Watches Shop Display (Image Source: wikimedia.org)
Brand History
The story of what we have come to know as Montres Charmex SA began in1926 in a Swiss village of Bubendorf, where Max Bürgin apprenticed as a watchmaker. Watchmaking appealed to his meticulous nature. It's, therefore, no surprise that he rose through the ranks to head the company's technical department in no time. His superiors saw in him an unmatched talent for designing and creating. But he was hungry for more. He wanted to start his own watchmaking business.
Today, Montres Charmex SA is a Bürgin family-owned company, making low- to mid-level watches in quartz and mechanical variants. Charmex is also known for creating classical timepieces that preserve and enhance artistry and timeless functionality.
Jack-of-All-Trades
A manufacturer can easily get away with being a jack-of-all-trades. But not when it comes to watchmaking. Yet, Charmex has done just that. With their two watch lines; CX Swiss Military and Charmex of Switzerland, they have successfully cornered both the low- and mid-range market segments. This feat can be attributed to their dedication to bespoke craftsmanship and outstanding quality, combined with the use of choice materials.
Charmex of Switzerland focuses on men's and women's low-range mechanical and quartz wristwatches.
CX Swiss Military/Swiss Military Watch line produces multifunctional, mid-to high-range men's military and sports watches. Their models are sturdier (and pricier) than the Charmex Collections.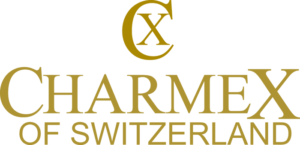 Charmex Watch Collections
Montres Charmex SA does have a wide variety of timepieces, but not all versions fit our interest, at least as far as pricing goes. With over 20 collections in the Charmex of Switzerland line alone to consider, we'll only dwell on those timepieces that are both stylish and affordable.
The Chronograph Collection

Charmex boasts a broad range of Chronographs. We had a hard time deciding which to feature on this review, but we settled for the Kyalami Chronograph Men's Watch. In addition to being a watch for any occasion, it is also multifunctional. It has a chronograph, a stopwatch, and a date calendar function with an alarm—a combination that you just don't find in alternative models.
If you are the classic timekeeper, this is the watch for you. Enclosed within the 41mm surgical grade 316 stainless steel case is Swiss Made Multifunction Ronda Quartz for precision and reliability. Legibility is wanting though, but overall, it's a handy piece.
Watches in the women's collections are anything but special. Now you know why they are called 'old man watches.' Not only are the designs mundanely uninspiring, but also depthless. One particular model stood out for us— Charmex Blue Dial Blue Leather Ladies Watch.
It has all the makings of a feminine watch. The casing is small enough for the female wrist and aligns perfectly with the blue soft leather. It has relatively large hands and hour markers for legibility, which should continue well into the night, given the luminous hands. Other than the overly protruding crown, everything else is pitch-perfect.
The Automatic Collection

As you move from the quartz collection into the automatic territory, you can expect to pay more. Watches in this collection are entry-level luxury pieces, with some models such as the Charmex Men's Jubile Chronograph Automatic likely to leave a serious dent in your bank account. They run on ETA 2824.
CX Swiss Military Collection

Charmex was so mindful of their loyalists' pockets that they created affordable low-range military watches. The military-grade CX Swiss Military Thunderbolt Nero Chrono Watch is built to handle challenging environments. Okay, maybe not the most adverse of conditions, but it can handle itself pretty well.
With a long-life battery, its reliability is assured. It comes in an eye-catching black design. Not as rugged as her sister model, CX Swiss Military Navy Diver 200 Chrono, but it's a versatile timepiece.
It comes with a 46mm PVD case and bracelet and ion-plated bezel with tachymeter markings and a conversion scale around it. The three subdials are fully functional. Not the typical dive watch, but at a 200M-water resistance rating, it will survive light recreational swimming.
And now to the king of the underwater. The Swiss Military watch 20,000 Feet Diver. A beast this one, and a pricey one at that. In addition to embodying refinement and execution of the concept, it represents Montres Charmex SA's commitment to challenging their own status quo. Not the type of watch we'd feature in this segment, but we thought we'd bring it up to show you that Charmex is not your average watchmaker. At a record-shuttering 6,000M-water resistance rating, it's more than a wristwatch. It's a survivalist tool.
Brand Reputation
Their timepieces have been deemed 'old man watches'—a big plus in the age of mass, soulless production in which we find ourselves. It also sets them apart in the fiercely competitive watchmaking space. For the seasoned watch observer, the old-man vibe associated with the watches suggests product breadth and depth. It also points to a company's horological heritage and expertise.
Choice Materials
In all fairness, in nearly any design work, striking a balance between classic and bold is an uphill task. This might explain why Charmex has two different watch lines; one for the lovers of the classic and another for the fashion-forward wearer.
Whichever piece you choose to go with, one thing is for sure: Charmex watches have exceptional build quality, made possible by the use of choice materials. Everything about their watches is refined and smooth in execution, from the operation of the features to their movements. Their quartz and mechanical movements are Swiss Made, representing a near-century commitment to excellence.
Stringent Quality Control
Only watchmakers with superb quality control processes deserve the Swiss Made label. Charmex is one of them. Everything you see in a Charmex watch is made in Switzerland, and what's more, assembling happens under near clinical conditions. Each piece goes through the company's multi-stage quality control management to ensure accuracy of movements, functionality and reliability of the various features.
Is Charmex A Good Watch Brand?
If by good, you mean recognizable, then; yes. Any serious watch fanatic would dig your Charmex wristwatch. Given their reputation for chasing excellence in every piece, not to mention the use of curated materials, your Charmex will sure turn a few heads. Who wouldn't want to be seen wearing a watch with the same name as the Guinness world record-holding diver watch?
A commitment to traditional values is what sets Charmex apart from other watchmakers. On the flip side, these very values make most of their designs, especially the low-range ones, somewhat plain. No risk.
Charmex watches have attracted some serious negative reviews over at Amazon, with most of the buyers decrying the clasp unreliability in some models. Over at watch forums, Charmex seems to be enjoying a loyal following. Reviewers seem to have all the nice things to say about the company other than a few seemingly isolated cases of negative feedback.
As for the mid to high-end models, it's an all-bets-are-off affair. You can never be sure of what to expect from a company that's known for competing against its own records. Their record-breaking water-resistance rating has dazzled tech-savvy watch buffs. Any watch follower would have been impressed with Charmex's world records—but there's more to their watches than just jaw-dropping records—so much more.
There are a number of affordable alternatives for the CX Swiss Military watches. The German Military Titanium Automatic Watch, for instance, will be a good fit for the wannabe survivalist. It comes with a sandblasted titanium case for stealth.
If your alternative must be Swiss, you will find great value in the Tissot Men's Seastar 660/1000 Stainless.
As some aficionados have called Charmex a niche brand. It offers good value for money, has a long history and using quality materials.
So while it does have a following – others have a point, that it's also a brand that's not on most people's radar. That's not to say they don't deserve more attention but compared to brands like Victorinox and Wenger – both have more worldwide brand recognition, in part due to their marketing efforts to be known as affordable Swiss brands.
Where are Charmex Made?
All Charmex-branded watches are manufactured in Switzerland. The CX Swiss Military Watches and their variants Swiss Military are manufactured for Swiss Military USA INC under license from Montres Charmex SA.
Where To Buy Charmex Watches?
You can check out their not-so-friendly online store or browse through their points of sale spread across the six continents.
If there's no Charmex dealer near you, see their watches on Amazon.
See eBay for new and used Charmex watches.
Charmex Watch Warranty
All Charmex-branded watches come with a 2-year international warranty covering "all defects due to defective materials or manufacturing." All defects present at the time of delivery must be lodged within 2 days.