Dior is a French luxury brand founded by designer Christian Dior. The brand produces a wide array of items: leather goods, footwear, makeup and skincare products, jewelry, and watches.
Dior is one of the biggest fashion houses in the world. Known for its haute couture, it continues to produce some of the fashion world's most creative and most elegant designs. This article will zero in on the brand's watches, which were first introduced in the 1970s and has improved and thrived in the years that followed.
We're going to take a closer look at the luxurious and elaborate watch models that the brand is known for, as well as explore the unique designs and what inspired them. We will also give you a number of links on where to get Dior watches, both used and brand new.
Dior Brand History


The House of Dior was founded in 1947 in Paris. Backed by businessman Marcel Boussac, the company was a couture house with designs created by Dior.
According to this article, Dior (visit the brand's website here) is one of the first fashion brands to make watches. According to this article, the company launched a collection produced by Bulova in 1968 and the famous Black Moon—the first Dior watch—in 1975.
In 2001, the company introduced the Les Ateliers Horlogers Dior SA, located at La Chaux-de-Fonds in Switzerland. This took place after it was acquired by LVMH (LVMH Moët Hennessy – Louis Vuitton SE), the largest luxury group in the world.
Dior's watchmaking greatly improved under LVMH. At this point, Dior started to show that their watchmaking is also as meticulous as their clothing and accessory lines. One of these is the La D de Dior line, which was designed by Victoire de Castellane, the brand's head of fine jewelry division.
Another popular watch was the Christal, created by designer John Galliano, who was then the brand's Creative Director. Galliano was fired in 2011 by Dior, after a video showed the designer making racist and anti-Semitic remarks. Galliano was replaced by Raf Simons.
In 2011, the brand introduced Dior VIII, where the company collaborated with Soprod, a Swiss movement manufacturer, and watchmaker Frederic Jouvenot. The product was the Dior VIII Grand Bal, a watch that's both fashionable and functional, with a dial-side rotor and couture details like feathers and diamonds (we will discuss this further below).
Today, Dior is known mainly as a women's brand. The company also has the Dior Homme label, which makes items for men, and Baby Dior, which sells clothes for children.
Dior Watch Collections
La D de Dior
The Dior La D de Dior is a collection of watches that exhibit the brand's creativity and elegance paired with the expertise of Swiss watchmaking.
One of the most noticeable things about some of the watches from this collection is the absence of indices and day/date windows, to showcase other design elements, such as the new La d De Rose Celeste, which is an embossed metal sun with an eye. There's also the 19mm La Moni d De Dior Tete de Mort with a pink mother-of-pearl skull (against a bezel and crown lined with diamonds) with diamonds dotting its eyes, crown, and bone.
There are a number of watches from the collection that have markers, such as the 25mm La D de Dior Satine, which has four diamond indexes (12, 3, 6, and 9 o'clock) which is also available in Amazon; or the 36mm La D de Dior Satine, which has 12 diamond indexes.
Those who are looking for something more colorful, there's also the La Mini d De Duir Mosaique, a 19mm quartz watch with choices of three colorful woven bracelets. Any of these models have a stainless steel case and a bezel lined with diamonds, as well as an extra bracelet in black satin with a steel pin buckle. See the different color schemes here.
Dior Grand Bal
We mentioned in our introduction that the Dior Grand Bal collection has couture-style watches. The models under this collection are unique and chic, incorporating details such as diamonds, feathers, silk, and gems.
Dior Gran Bal Wild, a 36mm watch with an automatic movement. The watch has a stainless steel case and a bezel with diamonds and a yellow gold ring. The dial, which does not have markers, only has hour and minute hands, round diamonds, and feathers. The water resistance is 50m, and the movement is a Dior Inversé 11 1/2 caliber with a 42-hour power reserve.
This watch, as well as the other models in the collection, takes inspiration from Dior's couture designs: "Refined materials and a kaleidoscope of colors evoke the magical balls that were so dear to Monsieur Dior, inviting the wearer to glide onto the dance floor."
The Dior Grand Bal Miss Dior Rouge is a 36mm that has a design reminiscent of a ball gown. This watch has a stainless steel case and a gold-tone sun-brushed dial that has a tie-dye effect, with yellow gold hour and minute hands. This striking model has a transparent sapphire crystal case back and has a yellow gold crown with a small rose-cut ruby. This is one of the brand's most expensive watches. As of posting time, this model costs $31,000 on the Dior website. Another luxury model is the new Grand Bal Miss Dior 36mm, which is currently priced at $51, 800.
Another unique design is the Dior Grand Bal Coquette, a 36mm watch with a mother of pearl ring on the bezel (which is lined with diamonds). This Watch has a sun-brushed dial with a translucent blue lacquer. The dial is decorated with pink pleats, feathers, sapphires, and tsavorite garnets, creating different layers with striking colors. The strap is a pink alligator, and the water resistance is 50m. This model is also powered by the "Dior inversé 8 1/4" caliber and has a 38-hour power reserve.
A New York Times article mentioned the Dior VIII Grand Bal Plume, which was released during the Chinese Year of the Rooster. The article mentions how the brand combined "Haute horology with haute couture."
Dior VIII
The Dior VIII is named such because it stands for the day that the fashion house was created (October 8, 1946) as well as the location of the Paris arrondissement that the Dior house was located on Avenue Montaigne. It also stands for Dior's first collection called En Huit (which translates to "In Eight."
The Dior VIII, available on the Dior website for $9,800, is a 33mm quartz has a white, high tech ceramic stainless steel case and a bezel lined with diamonds. It has a white mother of pearl ring and dial, and diamond-shaped markers applied by hand. One interesting detail about this watch is the Roman numeral marker ay 8 o'clock, staying true to the "8" theme of the collection. On the center of the watch is a ring made of diamonds, and the index markers are luminescent. This watch is water-resistant to 50m.
There is also the Dior VIII 33mm, which is available in black and white stainless steel cases. These models have a lacquered dial, diamond-shaped hour markers (and the VIII mark, like the one on the previous model), and luminescent indexes and hour/minute hands. There is a similar model lined with diamonds, which is available on Amazon.
If you don't want markers on your dial, you can also check out the Dior VIII Montaigne Clair De Lune Half Moon watch, a 36mm with an automatic movement. This one is decorated with yellow gold threads and has a yellow gold case with a bezel lined with round-cut diamonds. It has a power reserve of up to 42 hours and a water resistance up to 50m.
Check out the Chrono24 website, where you can find different Dior VIII models.
Dior Brand Reputation
Most fashion brands that have many concepts and products going on (such as clothing, footwear, and other accessories) in addition to watches are usually referred to as "fashion watches" or "designer" watch brands
Oftentimes the quality and credibility of these brands are downplayed, but Dior makes sure that a Dior watch that they release is unlike any other. While theirs may not be the first watch chosen by watch aficionados, the brand promises that they use top-notch quality Swiss watchmaking. Dior promises to pay attention to its watches that way it does in its clothing.
Some watch aficionados point out that for the price range, you could buy a Louis Vuitton or Fendi watch that generally have better movements and reputation in the watchmaking world.
For more fashion watch brands, you can check out this article that we wrote on our site.
Is Dior A Good Watch Brand?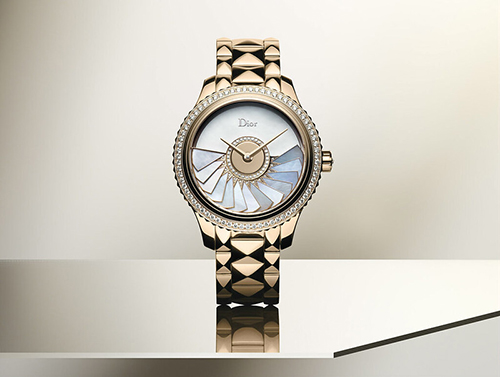 In a 2011 Financial Times article, Dior's Laurence Nicolas described the brand's watches combining the creativities of creating high fashion clothing and high-quality watchmaking: "Since 2001, our strategy has been to reconcile the creativity of haute couture – feminine, refined and elegant – with the savoir-faire of the Swiss watch, which is industrial and masculine."
Dior is one of the luxury fashion brands that has received good reviews for its watchmaking. This is because of the functions used, such as the Swiss-made automatic movement (like the Dior Inverse 11 1/2 caliber on the Grand Bal Miss Dior). There are online discussions, such as this one by Watchuseek, that talk about the brand's different movements, which include the respected Zenith. According to this article, Dior and Zenith have been working together since 2004, creating different calibres such as the Irréductible and Elite.
Some would say that with the price range of Dior, one would be better off getting watch brands such as Omega and Rolex (check out this discussion to learn more), but if you're looking for a high-quality, high-fashion, and luxurious watch, the Dior models we talked about above are excellent choices as well. You will be able to keep accurate time and enjoy the creative and elegant high fashion statements.
Check out this article by Official Bespoke talking about why Dior's timepieces are worth it.
Where To Buy Dior Watches?
You can buy the watches from Dior's official website. Make sure that you choose your location on the upper left hand of the page to get the correct currency that will be displayed on each item.
The website can also provide links to the boutiques where you can purchase the watches. Simply search for the item you're interested in, and the site will narrow down the branches that may have it.
Some Dior watches are also available on Amazon, as well as on eBay (where you can find lots of vintage pieces and used models for sale).
Other websites that you can check out include Authentic Watches, Joma Shop, and Saks Fifth Avenue.
Where Are Dior Watches Made?
All Dior watches are Swiss-made. According to the Dior website, all of the brand's watches are manufactured exclusively in the brand's workshops in Switzerland and produce all of their fine jewelry (and haute couture collection) in Dior workshops in Paris.
The company says that they frequently buy small workshops "to preserve these artisan trades (such as leatherworking in Florence, Italy, and watchmaking in Switzerland)." It is in these workshops that natural materials are selected "as well as the care taken in each phase of the process, perpetuate and renew our tradition of excellence and elegance."
Dior Watch Warranty
Some Dior items are available on the brand's website. The warranty policy is not directly indicated on the brand's site, but it mentions how a successful order is prepared.
According to the Dior US FAQ page, a validated order will be prepared in 24 hours. Each item is prepared in a Dior workshop and is individually packaged in a presentation case. This case, which contains authentication certificates and a return voucher, is then placed in a box that keeps its anonymity during shipping. You can learn more here.
Customers may bring any Dior products (whether purchased online or at boutiques all over the world) to stores for services. If your watch needs repair, you can also visit a Dior branch (which is easily found on the website) and you will be assisted with a customer service representative. The products are repaired in the brand's workshops.
Another way to inquire about repair is by calling Dior, sending them a letter, or sending them an email. All of these details are available on the Customer Service page of their website.