Samsung and Apple are no strangers in the tech industry. They have dominated the smartphone industry in the past decade and are often considered the best. This is why it doesn't come as a surprise that both brands are also some of the best in the smartwatch industry.
Their latest offerings, the Samsung Galaxy Watch 3 and Apple Watch Series 5 are looking to set new standards and are competing for the top spot in the smartwatch market. In this article, we will be talking about the key differences between these two smartwatches. And ultimately, we will help you decide which smartwatch is for you.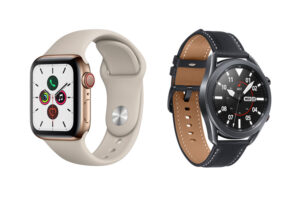 Galaxy Watch 3 vs Apple Watch Series 5
Apple Brand Overview

Apple is a brand that needs no introduction. They are one of the most renowned tech companies on the planet. They are responsible for revolutionary products such as the Macintosh, iPod, iPhone, etc. 
But aside from personal computers and smartphones, Apple is also well known in the smartwatch industry. The Apple Watch, which was first released in 2015, set the standard in which other companies were to follow. 
Even with their latest release, Apple is still uncontested in the smartwatch game. This is largely thanks to the fluidity of their hardware, their well-implemented ecosystem, and their unbeatable software. 
The only downside to their smartwatches is that they cannot be used on non-Apple devices. But if you were on an Apple device, the Apple Watch is by far the best smartwatch experience. 
Samsung Brand Overview

Samsung is another tech giant that hails from South Korea. It was founded in 1938, which makes them an older company than Apple, which was only founded in 1976. They were initially a grocery trading store before they started getting into the tech industry. 
Today, Samsung is one of the leaders in the tech industry. Their smartphones, the Galaxy S and Galaxy Note Series, are some of the most renowned enthusiast smartphones in the market.
They have even beaten Apple to become the number one smartphone manufacturer. 
Just like Apple, Samsung is a veteran in the smartwatch industry. While their Samsung Gear Watches weren't as popular as the Apple Watches, they still held their ground.   
But in February 2019, Samsung rebranded the Gear series into the Samsung Galaxy Watch Series. The new Galaxy Watch Series features better software, better build, and better features, making it one of the best competitors to the Apple Watch.   Two years later, the flagship Galaxy 3 still gets our vote for the best Samsung smartwatch to buy.
Design and Build Quality

The Apple Watch Series 5 has an elegant and premium design. It continues the Apple Watch's legacy as one of the best-looking smartwatches in the industry. It replaces Series 4 and provides minor improvements.  
The most significant addition of the Series 5 is the Always On Display. Lots of users have been asking for this feature to be implemented, especially since a lot of its competitors have already implemented this. It will drain the smartwatch battery faster, but it is still expected to survive the day even when this is turned on. 
Just like Series 4, Series 5 comes with two versions. These are the 44mm and the 40mm variants. In terms of aesthetics, the Series 5 follows the same shape as all Apple Watches. It is still rocking the same square display that is efficiently used by its user interface. The Apple Watch Series 5 is running Apple's latest Watch OS 6. 
The Samsung Galaxy Watch 3, on the other hand, has a different approach. It is a lot closer in terms of design to the classic analog watch designs. However, it is just as efficient as the Apple Watch Series 5 and offers a similar feature set. 
The Galaxy Watch 3 is made of stainless steel and has a rotating bezel that allows you to control the interface without smearing the screen. Just like the Apple Watch, the Samsung Galaxy Watch has 2 sizes to choose from, the 45mm and the 41mm.  
Both smartwatches are dust-proof and water-resistant up to 5ATM. Both watches are swim-proof.  Additionally, both smartwatches are sweat-resistant, meaning you can confidently use them for sports and other outdoor activities.
Weight and Dimensions 
The Apple watch series 5 has the following dimensions: 44 mm/40mm/40 x 38 x 10.7 mm. It weighs 47.8 grams. 
The Samsung Galaxy Watch 3, on the other hand, has the following dimensions for the 45mm version: 45 x 46.2 x 11.1. It weighs 53.8 grams, which is heavier than the Apple Watch.  
Screen Quality 
Both the Apple Watch Series 5 and the Samsung Galaxy Watch 3 have excellent class-leading displays. The Apple Watch Series 5 has a 1.78" LTPO OLED Display that utilizes sapphire crystal glass for screen protection. It has a screen resolution of 448 x 368 pixels with a pixel density of 326 PPI.  
The Samsung Galaxy Watch 3, on the other hand, has a 1.4" super AMOLED display with a screen resolution of 360 x 360 pixels and a pixel density of 364 PPI. It utilizes the latest Corning Gorilla Glass DX+ for the display protection of the watch.
Both smartwatches have a very detailed and vibrant display. They are just as good as their smartphone counterparts. They both work well regardless of the lighting condition. 
Each smartwatch has a unique feature that helps with software navigation. The Apple Watch Series 5 features Force Touch. Just like with Apple smartphones, pressing the screen harder will give different options.
The Samsung Galaxy Watch 3, on the other hand, features a rotating bezel. This allows for easy software navigation without touching the screen. Both watches feature an always-on display as well as customizable watch faces. 
Features

Both watches feature similar smart notifications. Both can receive emails, texts, calls, weather forecasts, calendar reminders, and more. Both watches have the ability to make and answer calls because of the built-in mic and have a loudspeaker.  
Also, both Apple Watch 5 and Galaxy Watch 3 have voice commands and have a built-in camera remote control function. Apple Watch allows you to make FaceTime audio calls to your contacts when connected to cellular data or WiFi via the Phone app; it does not support FaceTime video calls. 
The Samsung Galaxy Watch 3 features smart gestures such as twisting the wrist to silence any active alarm or incoming call. You can also clench and release your first to answer an incoming call or snap a picture in the camera app. 
Both devices allow you to locate your smartphone in case you misplace it. They can also stream music stored in the watch or in third-party streaming services such as Spotify. 
The Galaxy Watch 3 and Apple Watch Series 5 work well in their respective ecosystems. However, Samsung's ecosystem isn't as advanced as Apple's. 
They don't have as many third-party apps as watchOS. However, this can improve in the coming years. 
As for the sensors, the Apple Watch Series 5 includes the Accelerometer sensor, gyroscope sensor, heart rate sensor (2nd Gen), barometer sensor, ambient light sensor, wrist heart rate sensor, cadence, and compass. All of these sensors are present with the Galaxy Watch 3 except for the compass and cadence sensors.
Health Tracker

While both smartwatches aren't specifically marketed as fitness tracking devices, they both have excellent fitness tracking capabilities. They cover all the basics and are fairly competitive with competing smartwatches.  
In terms of their fitness tracking capabilities, the Apple Watch Series 5 can track activities such as distance, step, and sleep. It can also measure pace, calories burned. Additionally, it automatically detects activities and will constantly provide activity reports. 
The Samsung Galaxy Watch 3, on the other hand, can track activities such as sleep, steps, floors climbed, heart rate, calories, distance, stress, VO2 max, and menstrual cycle. It provides activity reports as well as sleep reports.
Additionally, both watches can track elevation, have a goal-setting, have a multi-sport mode, have exercise tagging, and have a stroke counter swimming. They can also monitor cycling, running, and swimming in open water. And lastly, both watches have ECG tracking, blood pressure monitoring, blood oxygen tracking, SpO2, fall detection, and safety tracking.  
Health tracking and proactive alerts have really been game-changer including detecting irregularities such as arrhythmia and ECG both of which have enabled the Apple Watch to save lives (half a dozen times!)
As for their GPS, the Apple Watch Series 5 has GLONASS, GALILEO, and QZSS. The Galaxy Watch 3, on the other hand, has A-GPS, GLONASS, GALILEO, and BDS.
Connectivity
One of the major differences between the Samsung Galaxy Watch 3 and the Apple Watch Series 5 is their connectivity. The Galaxy Watch 3 is optimized for Samsung Galaxy devices. However, it is still compatible and works well with most Android devices.  
It can also work with iOS devices. However, the experience will inevitably be different. Some features may also not work due to the difference in the operating system. 
The Apple Watch Series 5, on the other hand, is only compatible with Apple's iOS devices. There are no workarounds to make them work for Android devices. This is mostly because most of the Apple Watch Series 5's features are made to interact with the features found on iOS. 
Both watches have LTE-ready versions. You will be able to slot in your SIM card and have an internet connection away from your phone, allowing you to take phone calls and use online features while on the move.
Both feature wireless and automatic syncing. Both watches support Wi-Fi, Bluetooth, and NFC. 
Battery 
Given the number of features that they support, both watches have decent battery life. But out of the two, the Samsung Galaxy 3 is the one that has better battery life. 
The Apple Watch Series 5 can last up to 18 hours. This means that the watch can last throughout the whole day. However, you will need to recharge it when you get home. Also, you won't be able to use its sleep tracking capabilities if you are low on battery. 
The Samsung Galaxy Watch 3, on the other hand, can last up to three days with mixed usage. With heavy GPS usage, it can last up to one and a half days.
But if long smartwatch battery life is a top priority for you, actually neither of these watches get top marks.
Overall Winner 

It is tough to crown an overall winner in this comparison. Just like their smartphone counterparts, both smartwatches stand toe to toe and are considered the best in the industry. However, there are some aspects where Apple has an advantage. 
In terms of software experience, the Apple Watch Series 5 still has the upper hand. The software, as well as its integration with the rest of the devices from the Apple ecosystem, is better compared to Samsung's current implementation. 


But with that said, the hardware and the experience of using these smartwatches are very similar. So, in the end, it will come down to which device you are using. 
If you are an Apple device user and if you have other Apple devices in your household, then the Apple Watch Series 5 is the clear winner. However, if you have an Android device or if you have invested in the Samsung ecosystem, then the Samsung Galaxy Watch 3 will be the better choice. 
Specs: Apple Watch Series 5 vs. Samsung Galaxy Watch 3
Brand
Apple
Samsung
Model
Watch Series 5
Galaxy Watch 3
Screen Size
1.78" (4.52 cm) LTPO OLED Display
1.4" Super AMOLED Display
Screen Protection
Sapphire crystal glass and ceramic back
Corning Gorilla Glass DX+
Screen Resolution
448 x 368 pixels
360 x 360 pixels
Pixel Density Sharpness
326 PPI
364 PPI
Touch Type
Multi-touch
Multi-touch
Watch Dimensions
44 x 38 x 10.7 mm
45 x 46.2 x 11.1 mm
Weight
47.8 grams
53.8 grams
Watch Case Material
Aluminum, Stainless steel, Ceramic, Titanium
Stainless steel frame 316L
Watch Design
Rectangular, Curved Dial Design
Circular  Design
Strap Size
22mm
24mm
22mm
Watch Colors
Black, Pink, Silver, Black, Gold
Mystic Black, Mystic Silver, and Mystic Bronze
Water Resistance
Waterproof (5ATM)
Waterproof(5ATM)
Swim-proof
Yes, recommended
Yes
NFC
Supported
Supported
GPS
With GLONASS, GALILEO, QZSS
With A-GPS, GLONASS, GALILEO, BDS
Connectivity
-Wifi 802.11b/g/n 2.4GHz
-Bluetooth v5.0, A2DP, BLE
-Wi-Fi, 
-Bluetooth® 5.0
802.11 b/g/n 2.4GHz
-LTE and UMTS
SENSORS
     Accelerometer
Yes
Yes
    Heart Rate
Yes
Yes
    Compass
Yes
Yes
    Gyroscope
Yes
Yes
    Barometer
Yes
Yes
    Altimeter
Yes
Yes
    Blood Ox
Yes
Yes
    Elevation 
Yes
Yes
    Ambient Light
Yes
Yes
    Fall Detection
Yes
Yes
    ECG
Yes
Yes
    Cadence
Yes
No
FITNESS TRACKING
     Sleep Tracking
    Steps
Yes
Yes
    Floors Climbed
Yes
Yes
    Heart Rate Monitoring
Yes
Yes
    Calories
Yes
Yes
    Distance
Yes
Yes
    Stress
Yes
Yes
    VO2 Max.
Yes
Yes
    Blood Oxygen
Yes
Yes
    Blood Pressure
No
Yes
    Menstrual Cycle Tracking
Yes
Yes
    Swim Tracking
Yes
No
    Underwater Heart Rate   
          Tracking
Yes
No
    On-screen workout modes
Yes
Yes 
    Triathlon Mode
Yes
No
    ECG Tracking
Yes
Yes
    Preloaded sport modes
Yes
Yes
    Safety Tracking
Yes
Yes
Battery Life
Up to 18 hours
All-day battery life is based on 18 hours with the following use: 90-time checks, 90 notifications, 45 minutes of app use, and a 60-minute workout with music playback from Apple Watch via Bluetooth over the course of 18 hours.
Up to 2-3 days-mixed usage with always-on display up to 24 hours
Using GPS 1.5 days
Battery Technology
Li-Ion
Li-Ion
Charging Time
About 2 Hours
Up to 3 Hours
Charging Type
Apple Watch Magnetic Charger/Wireless Charger
Qi wireless charging
Compatible OS
iOS 13 or later
MAC Os
–
Android: Android 5.0 or higher & RAM 1.5GB or above
 iOS: iPhone 5 and above, iOS 9.0 or above
NOTIFICATIONS
     Email alert
Yes
Yes
    SMS alert
Yes
Yes
    Calls alert
Yes
Yes
    Event reminder
Yes
Yes
    Weather
Yes
Yes
    Third-party apps
Yes
Yes
MEDIA
     Audio
mp3/mp4
mp3/mp4
    Music Streaming
Yes
Yes
    Bluetooth music
Yes
Yes
    Radio
No
No
    Loudspeaker
Yes
Yes
    Microphone
Yes
Yes
CLOCK FEATURES       
     Time/Date
Yes
Yes
    Stopwatch
Yes
Yes
    Alarm
Yes
Yes
OTHER FUNCTIONS
     Control camera
Yes
Yes
    Music control
Yes
Yes
    Find phone
Yes
Yes
    Text response
Yes(iOS)
Yes(Android)
    Answer call
Yes
Yes(Android)
MISC
     Payment system
Apple Pay
Samsung Pay
    Companion app
Apple Watch Companion" app
Galaxy Wearable and Samsung Galaxy Watch Apps
    Customizable watch face
Yes
Yes
    Interchangeable band
Yes, 22mm and 24mm
Yes
    Voice command
Yes(SIRI)
Yes(BIXBY)
Internal Storage
32GB
8GB
Operating system
WatchOS 6.0
Tizen-based wearable OS 5.5