To some readers, this brand comparison may seem totally off the mark. Why would we even compare a young brand like Luminox that was born in the late 1980s and focuses on watches worn by Navy Seals with a brand that is almost 100 years older and known for its stylish dress watches, classic field watches like the Khaki line and Avant guard design – such as the striking and now-iconic triangular case of the Ventura, made famous by Elvis Presley. 
So, why are we even comparing them? 
If you take a close look at the brands' histories, they actually have more in common than you might think. Luminox's whole premise and R&D hinge on their military and tactical approach to watchmaking while Hamilton also has a military connection going back to its very earlier roots when it was contracted by the US military.
While some of their watches are too far apart to even compare, there are plenty of match-ups that make for an interesting look.
Both watchmakers are well-known for their excellent field watches. Not only are Luminox and Hamilton excellent choices for their functionality and build, but they also provide an outstanding selection of stylish timepieces.
Luminox Brand Overview


Founded in 1989 by Barry Cohen, Luminox is considered a relatively new watchmaker in the industry. However, it wasn't until 2006 that the fledgling watchmaker gained world popularity when they were purchased by Mondaine. This acquisition allowed Luminox to tap into the market of over 30 countries, greatly expanding its reach. In terms of reputation, Luminox is primarily associated with military and tactical timepieces. The brand's first foray into the watchmaking industry is by supplying timekeeping devices for the U.S. Navy Seals.
Luminox watches are worn by special forces and also a staple within law enforcement, coast guard, and other military forces.
As you would have guessed based on Luminox's prior partnerships, the brand is well-versed in developing timepieces designed to handle rough terrains and environments. While Luminox won't win any awards when it comes to a refined aesthetic, it is a timepiece you would want with you when taking on the great outdoors. This reputation is further reinforced by the brand's signature Luminox Light Technology which claims to allow the dial to be "Always Visible", and judging from our experience – this claim holds. This constant luminosity is achieved thanks to the use of tritium tubes built into the watch hands producing luminescence without any need for external light sources.
When it comes to tactical watches, Luminox has certainly proved itself in this field. If you are looking for a reliable timepiece to wear for outdoor activities such as camping, hiking, and even swimming – you can't go wrong with a Luminox watch.
Learn more about the quality of Luminox watches here.
Hamilton Brand Overview


Hamilton is another well-respected watch brand that has built a reputation with its excellent collection of field watches. While now considered as a Swiss watch brand, Hamilton was originally based in Lancaster, Pennsylvania. The company first manufactured pocket watches and was primarily used by railroad companies during the late 1800s. Since the focus of their pocket watches was for use with trains and railroads, Hamilton focused on delivering accurate and reliable timepieces, which is a mindset that they took to heart even to this day.
Hamilton landed a contract with the U.S. Armed Forces as the army's official supplier. It wasn't until 1917 when Hamilton officially entered the consumer watch market, they took a lot of the lessons they learned from their time developing watches for soldiers and implemented them into their commercial watches.
In regards to reputation, Hamilton has ingrained itself into the American pop culture as the brand has appeared in hundreds of high-profile movies. Some examples include the first electric watch in the market, the shield-shaped Hamilton Ventura, became a personal favorite of the King of Rock and Roll himself, Elvis Presley. Another milestone for the brand came when Hamilton was approached by legendary filmmaker, Stanley Kubrick, to design timepieces for his now-classic science-fiction opus, 2001: A Space Odyssey.  
Hamilton is one of the most versatile watch brands in the market today as they provide a collection of excellent timepieces designed for several applications. From outdoor to pilot watches, you can expect Hamilton to deliver a veritable selection of accurate and stylish timepieces.
If you'd like to learn more about the brand, see our detailed review of Hamilton watches.
Luminox vs Hamilton
Tactical Watches
Luminox Recon SPC 8830 Series (XL.8831.KM.L)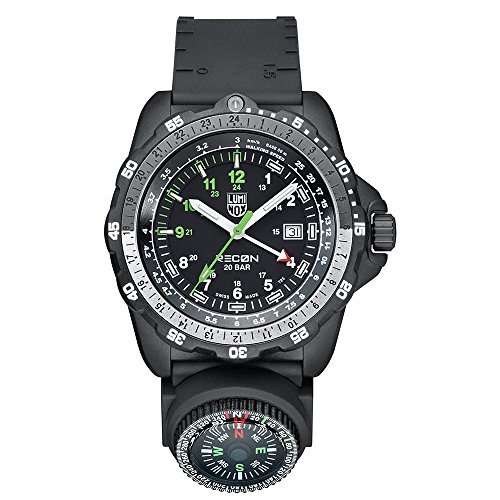 The Luminox Recon SPC 8830 nails the "tactical" part with its multi-functional design. This timepiece is equipped with highly professional military functionalities that will surely be a hit with individuals in that profession, as well as those who have an adventurous spirit. The Recon SPC 8830 is specifically designed for land use. It features several functions, most notably the tachymeter that measures your overall walking speed which will help in calculating the distance you have traveled. As you would expect, this particular feature is incredibly helpful for mountaineers, cyclists, hikers, and for use by army soldiers and operatives.
As for the physical attributes of this watch, it is certainly a substantial wristwear with its carbon-reinforced poly-carbonate 46mm case. That's pretty big and might not complement those with smaller wrists. The tank-like case is also equipped with a sapphire crystal window with an anti-glare finish, which completes the outdoor-centric element of this timepiece. Another notable element of the case is the unidirectional bezel. The Recon SPC 8830 Series is also equipped with the Ronda 515 caliber movement which delivers an excellent level of accuracy.
This Luminox watch also comes with a nifty detachable compass on the strap and a water resistance rating of 200-meters. Of course, this is not a Luminox watch without their signature luminous technology that uses tritium tubes built into the dial hands.
Luminox has since come out with a newer version of the same concept with a built-in compass, this time as a collaboration with survivalist Bear Grylls and the Survival LAND Series – 3782 Tool Watch.
Hamilton Khaki Field Day Date Auto (H70695735)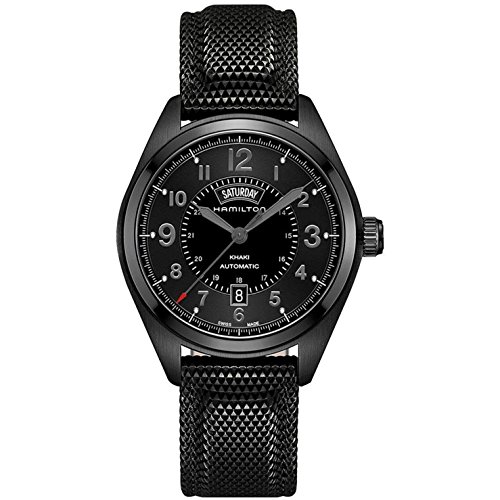 Applying a highly rugged all-black design, this Hamilton Khaki Automatic Field watch model certainly commands the attention it deserves. Equipped with Hamilton's H-30 caliber automatic movement, you can expect top-notch accuracy with this timepiece. The watch movement also provides up to 80-hours of power reserve, making this watch highly reliable at all times. We also liked the textured pattern used on the black rubber straps which give the Khaki Field a level of complexity and distinctiveness from its competition.
As for key specifications, the Khaki Field Day Date Auto timepiece is relatively sleek with its 42mm stainless steel case. The dial features a day and date display with luminous hour markers to help legibility in low-light environments. The watch has a water resistance build of up to 50-meters, enough protection from the occasional splashes of water.
Pilot Watches
Luminox F-117 Nighthawk (XA.6422)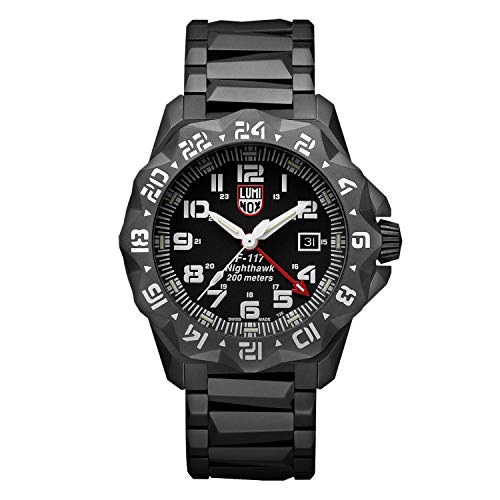 Featuring a robust gunmetal aesthetic, the Luminox F-117 Nighthawk is one serious-looking timepiece. It features a 45mm PVD-plated stainless-steel case and a bidirectional rotating bezel. The dial window is made from durable sapphire crystal that is also coated with an anti-glare finish for improved legibility. The hour markers are bold and are quite easy to read. As pilot watches must deliver in legibility, the Luminox F-117 Nighthawk is designed so that you can check the time with a glance. This is further highlighted by the use of Luminox's signature feature, the Luminox Light Technology which is also enhanced by the implementation of Super Luminova coating on the Arabic numeral markers as well as the bezel.
Another notable element is the water resistance of the F-117 Nighthawk which is rated at around 200-meters. That's a pretty decent water resistance rating for what is designed to be a pilot watch.
Hamilton Khaki Pilot Watch (H64715535)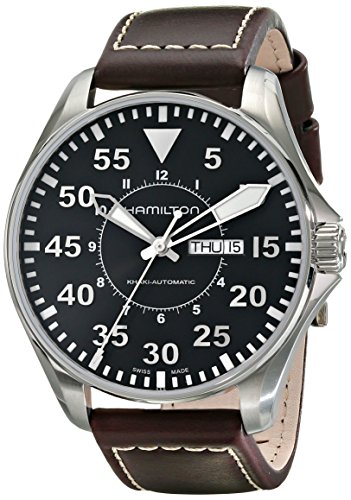 Hamilton produces some of the best pilot watches in the business, and the Khaki Pilot Watch model number H64715535 is a perfect example. Featuring a classic and rugged design, this pilot watch is designed with professionalism in mind. The traditional aviator-style design of the dial ensures complete legibility at all times.
To provide optimum readability, the Hamilton Khaki Pilot Watch features a 46mm stainless steel case, thus, this is quite substantial in size.
The dial design is classy with bold Arabic numeral minute markers and a sub-dial in the middle that shows the hour markers. There is also a day and date display which is located over at the 3 o'clock position. This timepiece features automatic self-winding movement for optimum accuracy. Also, the case is designed to provide up to 200-meters of water resistance as well.
Luminox vs Hamilton – Which is Better? 
Both Luminox and Hamilton come with a background in the military, making their timepieces somewhat similar. We feel that Hamilton does have the edge over Luminox based on several factors.
First, Hamilton has more heritage than Luminox and a much broader collection, this is a major factor for most watch enthusiasts. You will also get ETA movement with Hamilton as compared to the Swiss quartz movement that Luminox typically uses.
In terms of aesthetics, Luminox generally comes across as a tactical watch before anything else, like a very premium G-shock. That's a generalization since they do have classic-looking field watches such as the Atacama series but overall the vibe is chunky and tactical. 
Hamilton, on the other hand, is a more traditional watchmaker. They have a long history of making classic and timeless designs but they do throw in some wild curveballs in there like the Ventura series. Hamilton also has a wide selection of ladies' watches, so for our female readers, Hamilton is the clear winner.
Overall, we feel that Hamilton has more to offer for someone looking for everyday watches or something a bit more formal or classy. However, if you're looking for a purely tactical watch and prioritize luminosity – then Luminox is hard to beat.