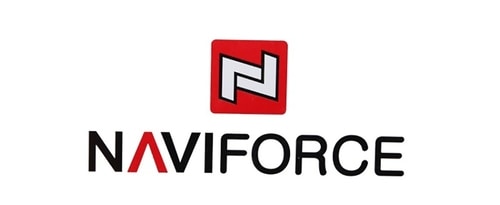 Founded in 2012, Naviforce is a Chinese brand known for its affordable tactical and sports watches and inexpensive women's dress watches. Although relatively new in the watchmaking industry, it believes it can make a difference by creating timepieces that have personality and durability.
With humble beginnings in the city of Guangzhou, its founder valued from the very beginning the importance of delivering watches that are well-built and well-designed. The brand's design philosophy, "Personality and durability," is apparent in the different watch collections it has released through the years.
Not too long after its inception, Naviforce was able to find its footing in the international market. Today, it manufactures watches that are sold not only in China but also around the world. It has gained a good amount of global popularity too and is recognized as a quality and reasonably-priced watch worth investing in.
Naviforce Brand History
Naviforce was founded by a Chinese man named Mr. Yang. After completing his university studies and military service, he wanted to do something different. As a watch aficionado, he thought about jumping into the world of watchmaking. With enthusiasm and perseverance, he made good use of his watch knowledge and built a watch manufacturing company.
In 2012, Naviforce was born. It was a dream-come-true for Mr. Yang whose love for watch design and watchmaking was unparalleled.
From the start, the company's goal is to make watches that are durable and affordable. As indicated by its brand name, it wants to embody the force and vigor that the Navy Seals in the military are known for. It aims to build an identity that both the young and old generations can appreciate and value. It strives to be an innovator and pioneer when it comes to high-quality reasonably-priced timepieces.
Over the years, Naviforce has created a wide variety of watches for men and women. Using only top quality and durable materials and reliable and dependable movements and technologies, it is committed to introducing to the world products that reflect the brand's soul and slogan, "Dream It, Do It."
Naviforce Watch Collections
Naviforce prides itself on making watches that are durable and have personality. Its diverse collection of timepieces features fun and unique designs that embody the brand's philosophy. Made for both men and women, its stainless steel and leather watches are perfect for casual, formal, or outdoor wear. The list below showcases some of the company's bestselling watches.
Naviforce NF9134 Men's Watch


Read Amazon Reviews
The NF9134 Men's Watch is a robust and rugged wristwatch made for adventure-seekers. Encased in stainless steel, it is water-resistant and has chronograph and alarm functions, which are features that can be useful when exploring the outdoors. Its dial is a mix of grey and black and has both analog and digital displays. It also has a day, date, and time display, and chimes every hour. Powered by dual-core and quartz technology, it comes with a brown or black leather band.
Naviforce NF9099 Men's Watch


The NF9099 Men's Watch is a bold and sleek looking watch. Featuring a reliable quartz movement, it is almost entirely black except for a little bit of red, grey, and white on the dial. Its numbers and markings are grey and white, and the brand logo right below 12 is red. Made with strong and thick stainless steel, it also has a date and hours display. It is water-resistant and comes with black, dark brown, or light brown leather strap.
Naviforce NF3007 Men's Watch


The NF3007 Men's Watch is a slim and light timepiece with a casual style. Running on reliable quartz movement, it is durable and water-resistant. It has a stainless steel case and band, and its bezel and its dial come in a variety of colors — rose gold, gold, and silver, blue, black, and white. It also has a day, date, and time display. Its eye-catching design can spruce up your look whether for everyday, casual, or outdoor use.
Naviforce NF3006 Men's Watch


The NF3006 Men's Watch is a quartz watch with a classy aesthetic. Encased in round stainless steel, it has rose gold, coffee, or black bezels and matching colored stainless steel band. Featuring a backlight, its dial comes in silver, coffee, black, or coffee and has Roman Numerals as hours. Water-resistant, it has a complete calendar display as well as stopwatch and alarm functions.
Naviforce NF9148 Men's Watch
The NF9148 Men's Watch is a fashion and casual watch with a fun design. Its dial looks a bit like a roulette wheel and features three subdials that show the days of the week, dates, and months. Made with a stainless steel case, its dials come in black, blue, and white, and its bezel in silver, rose gold, and black. It is also water-resistant and has luminous hands. Powered by a quartz movement, its band is made of high-quality leather.
Naviforce NF5001 Women's Watch


The NF5001 Women's Watch is a chic, slim wristwatch perfect for casual or formal use. Made with a durable alloy case, it is round and has a gold bezel. It also has a leather band that comes in blue, black, grey, purple, rose gold, or gold, giving you several options for an accessory that can best match your wardrobe. Water-resistant and shock-resistant, it has a quartz movement. It also has a blue, black, or white dial that features an analog date display with a pretty flower next to it.
Naviforce NF5008 Women's Watch


The NF5008 Women's Watch is one of the brand's top-selling dress watches for women. An excellent gift for a special woman in your life, it embodies high-fashion with its rose gold, blue, or silver stainless steel case and band. Its blue or white dial is straightforward yet appealing, featuring only the second, minute, and hour hands, and an analog date display. A reliable luxurious quartz watch, it is also resistant to water and shock.
Naviforce NF5005 Women's Watch


The NF5005 Women's Watch is a good-looking dress watch for women. Made with stainless steel, it comes in different grand and elegant colors — rose gold, royal blue, silver, and purple. Its bezel comes in either silver or rose gold and is adorned with small, sparkling stones. Its dial also features glistening jewels to mark the hours and minutes. Offering good resistance to shock and water, it has a quartz movement and an analog date display.
Naviforce NF5007 Women's Watch
The NF5007 Women's Watch is a lady's dress watch that gives off high elegance and sophistication vibes. Made with stainless steel, its bezel features small precious stones that glimmer. It has a red, black, white, or blue dial with a minimal yet classy design — gold hands, an analog date display, and a large Roman Numeral 12 as an hour marker. Shock and water-resistant, it comes with a high-quality leather band.
Naviforce NF5004 Women's Watch
The NF5004 Women's Watch is a beautiful watch that embodies elegance and sophistication. With its silver or rose gold steel case and bezel and a black, silver, or rose gold stainless strap, it can make any woman who wears it look classy and high-fashion. Perfect for parties, formal gatherings, professional settings, or daily use, it exudes a certain kind of taste and style that stands out. Water-resistant and shock-resistant, it also has a calendar display and runs on a quartz movement.
Naviforce Brand Reputation
Naviforce may not have been in the watchmaking business as long as the other more popular watch brands, but it has found its niche in the very affordable watch sector and does well in online sales competing against other more known brands in the same price range.
However, because it is a Chinese brand, it cannot escape the opinions that China-made products are inferior in terms of quality and are not going to last a long time. But instead of backing down, the company continues to make watches that are excellent representations of its "Personality and Durability" philosophy.
Is Naviforce A Good Watch Brand?
Although Naviforce is a relatively new watch brand, it has surprised some people with its quality and affordability. For a fraction of a cost, it offers styles, designs, and functions that are on par with more famous and expensive watch brands. It looks solid and well-built, a bit larger than many watches, and its movement is accurate and precise. It also is supported by a good quality yet inexpensive battery that should make long-term use not an issue.
However, some find it to be a waste of money. Its durability, water-resistance, and other supposed features, according to a few who have purchased it, do not live up to the expectations.
Compared to more renowned Asian watch brands, such as Citizen and Seiko, many may choose to spend more to get either of these two because of their long history in the industry and the quality and guarantee that they provide.
While it is hard to find a tactical or sports watch for this price, many would watch aficionados would recommend upgrading to an entry-level Casio G-shock or Timex that are both reputable brands that offer similar style sports and tactical watches. If you're looking for a comparable brand, Armitron competes in the same price range and many of the same styles.
Where To Buy Naviforce Watches?
If any of the Naviforce watches available today has caught your eye, you can go to the official Naviforce online store to place an order. Wherever you are in the world, you can get your own original and authentic Naviforce watch and avail of free shipping.
You can also visit online retail stores for new or pre-owned Naviforce.
See Naviforce on Amazon.
See Naviforce on eBay.
Shop Naviforce on Walmart.
Where Are Naviforce Made?
The Naviforce headquarters is located in Guangzhou, Guangdong, China, and since its establishment in 2012, all of its watches have been manufactured at their facility China.
Today, Naviforce watches are sold not only in China but also in different parts of the world.
Naviforce Warranty
Naviforce watches are covered by a one-year warranty. The warranty covers the watch movements, dial, and hands.
If you purchased a watch with a defective component covered by the warranty, you can get it repaired or replaced free of charge. You have to make sure to keep your receipt or proof of purchase because it is a requirement to avail of the warranty.
The warranty does not cover the bracelet or strap, glass crystal, or case. It also excludes damage due to lack of care, normal wear and tear, accidents, improper handling, or water damage unless marked "waterproof."
The warranty is void if the damage is caused by unauthorized service and repair, negligence, or other factors not due to defective workmanship or materials.
For more information and queries, you can contact Naviforce via:
Email: [email protected]
Phone: +86-020-61118320
Contact form