Omega is one of the most luxurious watch brands in the world today. It is right up there along with Rolex in terms of brand recognition and is one of the most sought-after timepieces in the market by many watch enthusiasts. One of the brand's flagship watch lines is undoubtedly the Omega Seamaster. One particular entry in this collection that has turned a lot of heads is the Planet Ocean.
The Omega Seamaster Planet Ocean is a dive watch and features an automatic Swiss movement that was made in-house and was debuted back in 2005. Its reputation within watch aficionado circles cannot be refuted as it is certainly one of the finest entries in this particular watch category.
Not only is the Omega Seamaster Planet Ocean a fantastic dive watch, it is also stylish enough to go along with any attire from casual to elegant. The Omega Seamaster's impeccable sense of style, which is expected in any Omega timepiece, has made it one of the best examples of a watch that blends practicality and panache into one sleek package.
The Omega Planet Ocean is a pure marvel in watchmaking and comes packed with premium-grade features that help elevate it above the competition. The primary and main selling points of an Omega Planet Ocean includes a high-precision in-house watch movement, chronograph functionality as well as time/date and GMT displays. The Omega Planet watch also comes in a wide variety of sizes and other models utilizing different materials.
As this is a dive watch, one of the best in the market, the Omega Planet Ocean delivers outstanding marine capabilities. Omega saw fit to incorporate top-tier configuration into the Planet Ocean such as helium escape valve and screw down crown and back case to deliver an exceptional water resistance of up to 600-meters (2,000-feet)!
In terms of price, you can expect the Omega Planet Ocean watch to be quite expensive with certain models of this particular Omega watch line reaching anywhere in between $2,000 to $10,000. You can check out a comprehensive list of models on Omega's official website.

Best Omega Planet Ocean Alternatives from Budget to Luxury
Are you really digging the aesthetics of the Omega Planet Ocean timepiece but don't have the budget? Don't worry as we have compiled 12 of the top watch homages to the Omega Planet Ocean dive watch. Do not mistake these as cheap knockoffs though as each entry in this list comes from reputable brands known for their own exceptional watch craftsmanship. Well, then – let us begin.
Orient Mako XL
The Orient Mako watch line has certainly built a reputation for itself in the market. It cannot be denied, however, that the Mako took some visual cues from the Omega Seamaster Planet Ocean model. This particular model of the Mako, the Mako XL, specifically – features a bold orange tint bezel that captures a similar aesthetic to Omega's dive watch.
The Mako XL, as you would expect, is a larger variation of the Orient Mako. It comes in at a girthy 46mm diameter stainless steel case and features an automatic movement with a 21-jewel construction. The hour markers and hands are all coated with a luminous finish and feature a sleeker version of the arrow-shaped hands of the Omega Planet Ocean.
The Mako XL also comes with a day/date display over on the 3 o'clock position as well as a 200-meter water resistance which makes this a viable alternative to the Planet Ocean while also being a reliable dive watch in its own right. Orient is a well-established watch brand as well so the Mako XL has that going for it as well.
Seiko Samurai Prospex
Here we have another notable brand in the form of the Japanese-based watch manufacturer, Seiko. The Seiko Prospex Samurai is one of their flagship watch series. The Samurai model, in particular, gives off a definite Omega Planet Ocean vibe with its overall aesthetics. The Seiko Samurai Prospex features a 43.8mm diameter case and uses a Seiko caliber 4R36 automatic self-winding with 23-jewel movement.
The Samurai Prospex features a pure black dial accompanied by large luminous dial indices. Other notable features include a date display that is neatly positioned over on the 3 o'clock position. It features a screw-down crown and back case which gives the Samurai Prospex its 200-meter water resistance rating.
Seiko 5 SNZH55
We have another Seiko watch entry in the form of the Seiko 5 SNZH55 model. This is a more affordable model than the Seiko Prospex and features some excellent timepiece performance as well. The Seiko 5 SNZH55 has a 42mm diameter stainless steel case and that classic dive watch design with its unidirectional bezel.
The Seiko 5 SNZH55 also comes with a day and date display which takes up the 3 o'clock marker's position. The hour and minute hands feature s sword-like shape with the seconds hand incorporating a more arrow-like look. Both markers and hands all have a luminous finish for optimum visibility even in low-light environments.
In addition, the Seiko 5 SNZH55 comes in two color variants: black and silver and black and blue. As for its marine capabilities, this Seiko watch provides up to 100-meters of water resistance.
Rotary Ocean Avenger
The Rotary Ocean Avenger is another excellent Omega Seamaster homage timepiece. It comes in with a sleek 40mm stainless steel case accompanied by a black bezel as compared to the orange bezel that the Omega Planet Ocean has. What we liked about the Rotary Ocean Avenger is with its domed crystal dial window which adds to its overall sophistication.
Inside the outstanding exterior shell is a Swiss automatic movement with analog dial display. The bezel is well-designed and feels like a premium-grade. While it certainly looks like a dive watch, the Rotary Ocean Avenger is designed to only deliver up to 50-meters of water resistance which makes it suitable for quick immersions, but nothing more.
Hamilton Navy Scuba H82315331

The Hamilton Navy Scuba is one of the finest alternatives to the Omega Planet Ocean and significantly comes at a lower price tag. That said, the Hamilton Navy Scuba can go blow-by-blow against the Planet Ocean in terms of features. The Navy Scuba also brings some slight visual tweaks to the dial to help separate it from the Omega Planet Ocean.
The Hamilton Navy Scuba utilizes a 40mm stainless steel case which is also equipped with a unidirectional rotating bezel. There are a handful of considerable design choices that help elevate the Navy Scuba from being another homage watch. Other than its more compact size, for example, the Navy Scuba positions the date display in between the 4 o'clock and 5 o'clock markers.
As for water resistance, the Navy Scuba provides a decent 100-meter rating in this area. You can also choose between the stainless-steel bracelet or the NATO strap variation.
Alpina Seastrong Diver Watch


The Alpina Seastrong dive watch definitely dances to the beat of its own drum when it comes to its aesthetics, but you can certainly see that it has took some inspiration from Omega's popular dive watch series. The Alpina Seastrong dive watch features a 44mm stainless-steel case which can be attached to either a stainless-steel bracelet or to a rubber strap.
This timepiece comes in four versions: black, blue, red, and orange bezel. The orange bezel is the closest to the Omega Planet Ocean's signature look, but Alpina throws in enough visual curveballs in there to allow the Seastrong to stand on its own.
As for its main features, the Alpina Seastrong definitely impresses. It features a unidirectional luminous bezel, date display over at the 3 o'clock position, and a water resistance of up to 300-meters. This timepiece from Alpina also incorporates a high-precision quartz movement.
Longines Hydroconquest

Another luxury watch that can be a great alternative to the Omega Planet Ocean timepiece comes from the beloved Longines watch brand.
The Longines Hydroconquest is an excellent dive watch can easily match up to Omega while offering a more reasonable price tag. The Hydroconquest dive watch provides a fantastic 300-meter water resistance while taking a more traditional approach with its aesthetics.
Additionally, Longines watches feature in-house watch movements which adds to its overall high-end status. The Hydroconquest comes in with a 43mm diameter stainless steel case. It also features a unidirectional bezel and sapphire crystal window. Also, this timepiece is a masterfully crafted polished blue dial watch which truly hammers in that marine aesthetic.
Zodiac Super Sea Wolf 53

While the name of this Zodiac timepiece definitely sounds a bit cheesy, the Super Sea Wolf 53 is definitely one of the more exceptional dive watches in the market today. It has a somewhat slight similar appearance to that of the Omega Planet Ocean, but puts a few twists of its own to give it a more contemporary appeal.
The Zodiac Super Sea Wolf 53 is also sleek with its 40mm stainless-steel case with a unidirectional rotating bezel. The watch gives off a more minimalistic or subdued approach to its design which will definitely appeal to modern watch enthusiasts.
The compact design of the Zodiac Super Sea Wolf 53 was achieved with its use of the STP Swiss automatic movement and analog dial which is valued for its smaller yet equally accurate build. If you are looking for an Omega Plane Ocean alternative that brings its own unique flavor, the Zodiac Super Sea Wolf 53 is certainly one to look out for in the market.
Christopher Ward C60 Trident Pro 600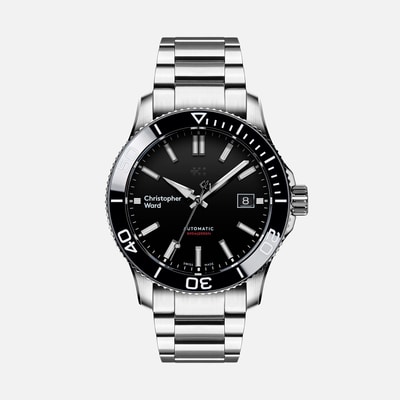 See on Christopher Ward | Check on eBay
The Christopher Ward C60 Trident Pro 600 is an impressive piece of watch in its own right. It also comes in two size variations with the 38mm aimed towards women and the standard 43mm stainless steel case for the men. Both of these models incorporate a unidirectional bezel and an automatic movement with analog dial display.
There is the C60 300 model that is comes at a lower price tag but is nearly identical to the Pro 600 with the key difference being that the former features a quartz movement. All in all, the Christopher Ward C60 Trident Pro 600 certainly stands on a league of its own with its impeccable watch craftsmanship. As the name implies, the Pro 600 also comes with a 600-meter water resistance making it suitable for all types of marine activities.
Davosa Argonautic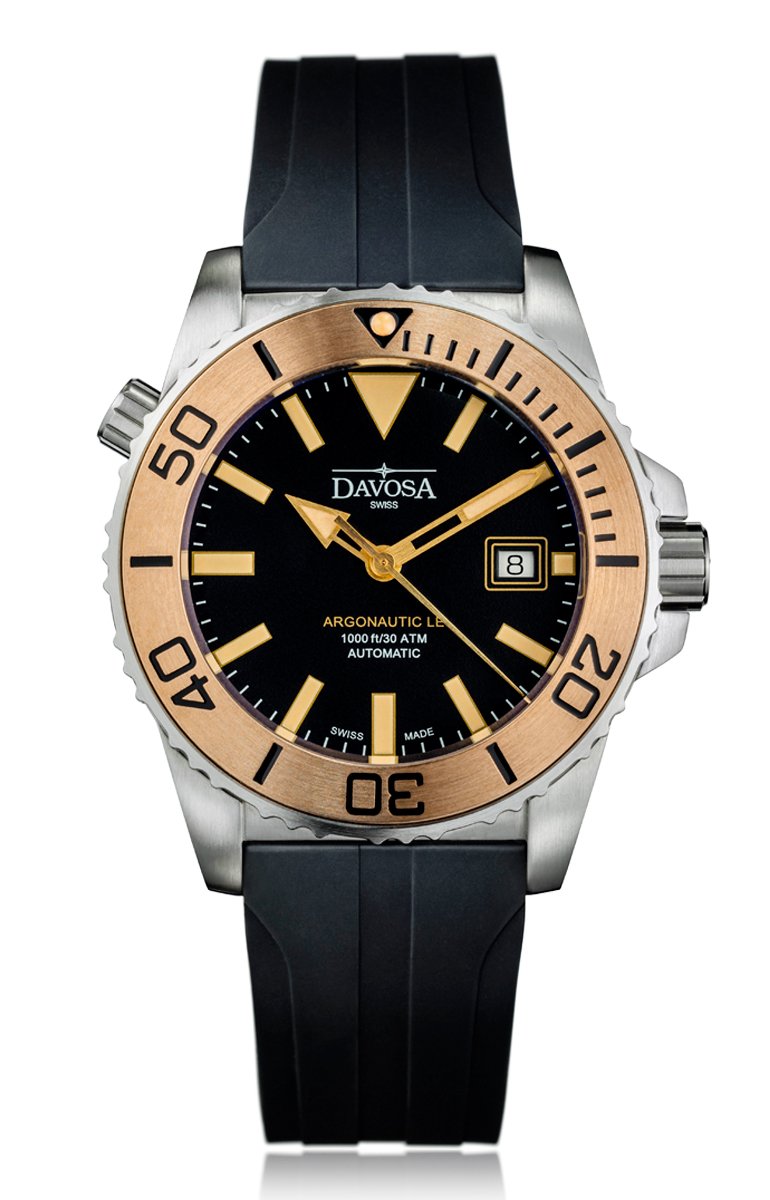 Let us take a dip onto the luxury watch category with the stunning Davosa Argonautic watch. This is one of the most refined Omega Seamaster Planet Ocean alternatives today and it certainly brings its own fresh style to the table.
The Davosa Argonatic watch features a sleek 42mm stainless-steel case. The watch is premium-grade with its outstanding craftsmanship, high-quality materials, and build. The dial is encased inside a sapphire crystal window which is known for its high scratch-resistance. The window dial also has an anti-glare finish for better legibility in an outdoor environment.
The Argonautic also incorporated an exceptional watch construction which included using helium release valves which allowed it to deliver its 300-meter water resistance rating. Other notable features include a unidirectional bezel, luminous hands and markers, as well as date display on the 3 o'clock position.
Tudor Pelagos Blue Dial Watch

The Tudor Pelagos is a true high-end luxury homage to the Omega Planet Ocean but with a relatively lower price tag. Make no mistake about it though, this is a genuine luxury timepiece that can easily stand on its own.
What we like about the Tudor Pelagos is its impeccable craftsmanship and use of top-tier watch movement. The Pelagos utilizes an in-house automatic movement that comes with a COSC certification which guarantees its nigh perfect precision. It uses a 42mm titanium case which makes it lighter than your typical stainless-steel case.
In addition, the stunning blue dial and rotating bezel manages to effortlessly land its aquatic theme. This is further cemented with a fantastic 500-meter water resistance. As a little trivia, the Tudor Pelagos is also made in the same factory as Rolex watches. If you like the look of this watch but not the price tag- check out these affordable Pelagos alternatives.