Orient and Hamilton exist within the same watch market as both offer excellent mid-range watches with top of the line quality precision. Both have a rich history in the industry and are considered as among the trailblazers that helped innovate the market to what it is today. While it may sound as both brands are past their prime, that is not the case. Both Orient and Hamilton regularly manage to surprise with their fantastically designed timepieces.
If you are looking for mid-range watches, it would be a mistake to look over what Orient and Hamilton offer. That said, which between the two "old guards" have a better selection of timepieces? Let's find out.
History of Orient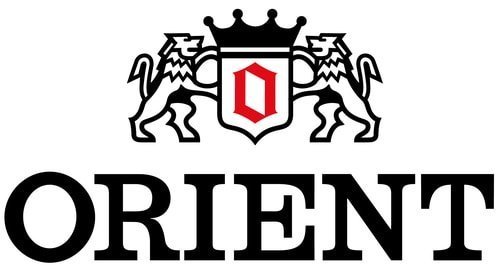 The company that was to be known as Orient was founded in 1901 and was exclusively a wholesale shop for timepieces. Then known as the Yoshida Shop, after its founder Shogoro Yoshida. It was not until the 1950s when the company finally landed on their current moniker, Orient, which they use to this day. During the unveiling of their new name, Orient also released one of their benchmark timepieces – the Orient Star.
One of Orient's defining traits is their in-house mechanical watch movement – they are among the few brands that develop their watch movement. The advantage here is that in-house movements tend to be quite reliable, which is the case here with Orient's timepieces.
Orient's timepieces maintain a sense of timeless tradition that makes their brand an enduring part of the watch industry. The quality of their craftsmanship and precision of their watch movement is unquestionable, which is among the top reasons why Orient is still going strong to this day.
Orient became a member of the Seiko Watch Group in 2001 and was fully purchased by Seiko by the end of the decade. Orient still has freedom and independence when it comes to manufacturing their timepieces, which is a smart move as the watchmaker's biggest strength is with their distinct design and craftsmanship.
Nowadays, Orient is enjoying quite an excellent reputation as one of the finest watchmakers within the mid-range market. They also offer a wealth of selection with their watch catalogs that ensure there is a timepiece for everyone.
History of Hamilton


Hamilton is an American-based watch company that has been in the industry for quite some time now. They also did not exclusively stay within the watchmaking industry as the company landed an exclusive partnership with the U.S. Army during World War 2. During this time, Hamilton helped develop timepieces for the army's equipment. You can guess how accurate and precise Hamilton's watches are that they were trusted to create timers for the military during a crucial point in human history.
After the end of the Second World War, Hamilton returned their focus on developing consumer-grade timepieces. While Hamilton was initially an American-based watch company, they did shift their central office to Switzerland once they bought the Buren factory. This factory acquisition and move to Switzerland gave Hamilton two benefits; they can now develop their timepieces in-house, and they can now take full advantage of the high-precision Swiss quartz movement technology.
By the mid-70s, Hamilton joined the Swatch Group and has since been a part of mega-conglomerate ever since. This acquisition also benefited Hamilton as they managed to enter various markets that were covered by the Swatch Group company.
Today, Hamilton is known for its broad range of timepieces that cover the whole spectrum of the price bracket. Their watches also come with that signature rugged American style that is highly sought-after in the market.
Chronograph Watches – Orient Star Retrograde VS Hamilton Khaki-X Wind
Orient Star Retrograde Review
Read Amazon Reviews | See on eBay
The timeless appeal of the Orient Star Retrograde is in full display here. Orient managed to take the typically bulky appearance of the chronograph and infuse it within a sleek and classy design; the result is the Orient Star Retrograde.
In fact, at first glance, you can be forgiven for thinking that the Orient Star Retrograde is a dress watch. Closer inspection though will show you some stylishly placed chronograph sub-dials that enhance the watch's overall functionality.
Within its sleek 39.5mm, the stainless-steel case is Orient's proprietary caliber 40150 hand-wind movement. The movement also comes with a substantial 40-hour power reserve; this means the Star Retrograde won't run out of juice accidentally.
The Retrograde is a feature-rich watch as well, thanks to the multitude of displays on the dial. What's more, these additional displays are located in a way that the timepiece does not feel cluttered at all. The Star Retrograde manages to maintain that classy charm even with all the detail available on full display.
The displays all provide relevant information: the three sub-dials display hour, minute, and second trackers. There is also a sub-dial that shows the current power reserve and a date-day display, as well. For additional style points, the Orient Star Retrograde also incorporates a transparent back case. This is a perfect complement to any timepiece as it showcases the complexity of how these timekeepers work.
The Orient Star Retrograde is quite simply one of Orient's most exquisite timepieces. For watch enthusiasts and collectors, this is one that you want to be added to your collection.
Hamilton Khaki-X Wind Review
Read Amazon Reviews | See on eBay
As expected from a Hamilton watch, the Khaki-X Wind incorporates that signature ruggedness with its design echoing the Swiss brand's American roots. This is also a highly functional watch that perfectly accentuates its adventurous spirit aesthetics.
In terms of toughness and functionality, the Khaki-X Wind is among the best chronographs you can find that also blends in an excellent sense of style. The dial is packed with information without it feeling cluttered. It also uses the superbly durable and scratch-resistant sapphire crystal glass window making this timepiece suitable for everyday and outdoor use.
The 44mm diameter stainless steel silver and back case is perfectly partnered up with a brown cow leather strap. The watch itself is filled to the brim with features such as three sub-dials and a date display located on the 9 o'clock position. Within the Khaki-X Wind is Swiss self-winding automatic movement for optimum reliability and precision.
Best Chronograph Watch – Draw!
We can't get a consensus on which one between the Orient Star Retrograde and Hamilton Khaki-X Wind is the better chronograph. Both timepieces provide excellent functionality and design. While the Khaki-X Wind feels more suited for outdoor use, the Orient Star Retrograde is equally just as sturdy. The Retrograde does have a more premium appeal with its all-stainless-steel construction, though.
Dive Watch – Orient Mako II VS Hamilton Khaki Navy Scuba
Orient Mako II Review
Read Amazon Reviews | See on eBay
Dive watches are among Orient's bread and butter in the market. They have built up a fantastic catalog of dive watches that covers a broad price range. At the forefront is the Orient Mako line, which is their premier series in the dive watch category.
The Orient Mako II is a pretty unassuming timepiece at first. It incorporates contemporary design with its polished stainless steel 41mm stainless steel case and bracelet. We also found that the black dial brings a sense of equilibrium to the primarily silver aesthetics.
As stated previously, don't let the Mako II's initial appearance fool you. This is one outstanding dive watch that you need to look out for. To go into further detail, Orient infused the Mako II with its most exceptional features. Within the stainless-steel case is the Orient F6922 automatic movement. Over on the outer rim is a 12-click unidirectional bezel. It also comes with luminous markers and hands, as is the norm with diving timepieces.
The Mako II is designed to provide up to 660-feet water resistance, making it suitable for most water-based activities. If you are looking for a top-notch dive watch within the mid-range market, then it is smart to check out Orient's offerings.
Hamilton Khaki Navy Scuba NATO Review
Read Amazon Reviews | See on eBay
The simple aesthetic design of the Hamilton Navy Scuba fits perfectly with its target customers. The casual appearance of this timepiece conceals its premier construction within. Inside is the proprietary Hamilton caliber H-10 automatic movement, which contains 25 jewels and clocks in at 21,600VPH.
The Hamilton Khaki Scuba also delivers a whopping 80-hours of power reserve, meaning it is virtually impossible to drain its battery even in moderate to light use. The Khaki Navy Scuba NATO is relatively sleek with its 40mm diameter case and a 12.95mm thickness.
The dial design is pretty straightforward with a 24-hour marker and a minute marker over on the outer rim. It is also designed for use in low-light environments thanks to the luminescent hands and markers. Also, there is a date display neatly placed in between the 4 and 5 o'clock position. As for its diving capability, it is marketed as being able to withstand up to 330-feet of water resistance.
Best Dive Watch – Orient Mako II
The Orient Mako II sweeps this round on all fronts. The Hamilton Khaki Scuba NATO takes on a more casual design, which makes it ideal for everyday use. However, its water-resistance capability is limited compared to the Mako II. For beach use, Hamilton Scuba NATO will suffice, for more demanding water activity, stick with the Mako II.
Orient VS Hamilton – Who Has the Better Watches?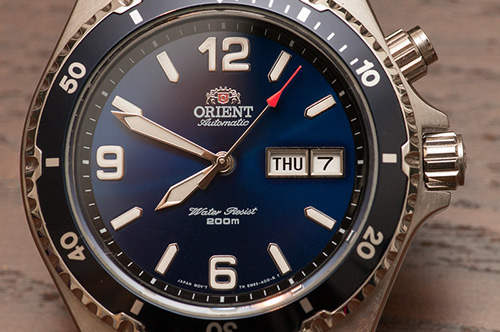 This one will boil down to what type of timepiece you are looking for – are you looking for a premium luxury watch? Hamilton has a slew of options to choose from. For those looking for a dive watch within the mid-range category, Orient is a good brand to start your search. Overall, Orient is the practical choice for dive watches, but Hamilton delivers the overall premium specs, quality, and design with the majority of their observations.