The movement in a watch is often thought of as a timepiece's heart or its engine. The movement is defined as the parts below the surface that keep the watch operating. The majority of the time you can not see the movements unless you have a Skeleton Watch
In this article, we are going to look at Quartz vs Automatic Watch Movements. To put it simply, a Quartz movement is powered by a battery, whereas an Automatic movement is powered by the motion of the watch wearer's wrist.
Photo Credits (1. Creative commons / 2. Creative commons)
What is a Quartz Movement?
As we have mentioned above, Quartz is defined as a watch that gets its power from an internal battery. Quartz watches are very reliable, renowned for being accurate, and aside from battery replacements, require very little maintenance to keep them functional. 
Broadly speaking, Quartz watches are often of better value than other watch types as they have less intricate parts and have the battery in place of some of the other mechanisms. 
To watch collectors, Quartz Movement watches are often seen as a more simplistic watch and less desirable than an Automatic Movement, for instance. This is due to the lack of craftsmanship and expertise that is required to create them.
Despite this, a lot of luxury Swiss watch brands have Quartz Movement watches and can still be seen as high-end watches, due to the quality standards required for Swiss Movement watches.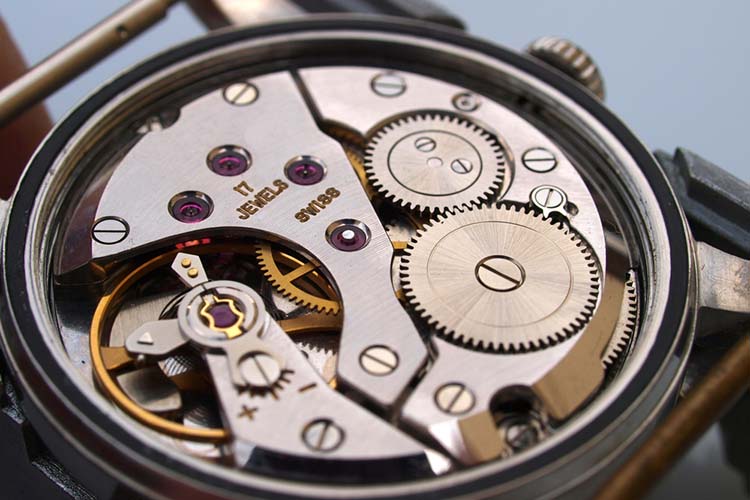 How Does Quartz Movement Work?
A Quartz Movement watch is powered by a battery, and is often found in more common watches, but can be found in all price levels of timepieces.
Quartz works by the battery sending an electric current through a quartz crystal, hence the name. This current creates vibrations or mini shock waves that keep the movement in motion and the watch powered.
Notable Quartz Watches
Affordable – Invicta Pro Diver Quartz Chronograph 

If you are searching for an affordable and stylish Quartz Movement watch, then look no further. Invicta has countless watches that are designed for everyday usage and can be paired with either formal or casual wear.
Mid-Range – Citizen AG8342-52L Gold Quartz Watch

This Citizen Japanese Quartz Movement watch has an heir of tradition and elegance surrounding it with its gold strap and black face. This is a perfect example of a mid-range Quartz Movement watch and shows the versatility of these styles.
Luxury – TAG Heuer Formula 1 Swiss Quartz Movement 

TAG Heuer is one of the premier Swiss watchmakers and has been dominant in the market for decades, and for good reason. The Formula 1 Quartz Movement watch is a beautifully simplistic and elegant-looking watch that would be welcomed alongside a suit, or a more relaxed look.
What is an Automatic Watch Movement?
Automatic Watch Movements are a form of mechanical movement that you may have heard referred to as self-winding watches. As the name suggests, the movement is powered automatically just by the user wearing the watch and the movement of their wrist.
Watches with Automatic Movements will maintain power and do not require winding, as long as they are worn often, which makes them a great everyday watch with great longevity. 
Automatic watches have become very popular in recent years due to their ease of use and the fact they do not require constant winding, making them a simple, effortless watch to add to your collection.
How Does Automatic Movement Work?
As we have mentioned, an Automatic Movement Watch works when the wearer moves, but how exactly does this work? Inside the watch is a metal weight known as a rotor, this is part of the movement and has the ability to freely rotate.
Every time the wearer moves their wrist this rotor will move which creates energy that automatically winds the watch. So contrary to popular belief, if you do not wear your watch often, you will lose power and need a manual wind to restart the process.
Notable Automatic Watches
Affordable – SEIKO SNZG15 5 Automatic Watch

SEIKO has long been a reliable and affordable watch brand that is accessible to everyone and anyone. This casual and sporty-looking automatic watch would be a perfect everyday watch with its nylon strap and black and silver face.
Mid-Range – Citizen Promaster Nighthawk 

Similar to Invicta, Citizen has their fingers on the pulse of the watch market. They are always coming out with watches that keep up with modern trends and have a stylish elegance. The Promaster Nighthawk is no exception to the rule.
Luxury – Breitling Superocean Heritage II

Breitling is a long-standing luxury Swiss brand and the Superocean Heritage II showcases the best of the brand. The classic silver paired with the navy blue dial has an intricate nautical design with an elegant but simple design.
Quartz Movements vs. Automatic Movements (Pros & Cons)
We are going to quickly look at some differences between Quartz Movement and Automatic Movement watches. We will do this by highlighting a couple of pros and cons of each style to make it a simple comparison
Quartz Movements Pros
Cheaper Option
As a general rule, Quartz watches are cheaper than their Automatic Movement counterparts. This is due to the lower amount of effort when making a Quartz watch and thus a cheaper overall product.
Widely Available 
Due to being easier to manufacture, Quartz movement watches are widely available with a plethora of different watch brands. Some more affordable brands focus more on Swiss or Japanese Quartz movements than other styles.
Quartz Movements Cons
Seen as Less Traditional
As a counterpoint to the above, to the more serious collectors and watch enthusiasts, Quartz movement can be seen as less traditional. To most, this should not be an issue but is seen as a con to some.
More Maintenance 
There is more upkeep needed on a Quartz watch due to the fact they have a battery, something that needs to be replaced every couple of years or so. Batteries are the most common thing that needs maintenance on a watch and can damage the watch if unchanged.
Automatic Movements Pros
Simple to Operate
One of the major benefits of an Automatic Movement timepiece is the fact that it requires less winding. If you wear it daily, you will probably never need to wind it, if you wear it less frequently, it may require a start-up wind to get the initial power back.
Better Craftsmanship 
As we have alluded to, Automatic Movement watches are much more intricate with better craftsmanship, in keeping with traditional watchmaking. The design quality of utilizing the wearer's movement is ingenious and it shows.
Automatic Movements Cons
Can Stop If Not Worn
A downside of a watch that is powered by movement is that if you are not wearing it for a while it will lose its power. If you are unfamiliar with an Automatic Movement you may even think your watch is broken.
Price Point
There are a lot of factors that affect watch prices, but a sure-fire way to find a more expensive model is to find yourself an Automatic Movement watch. As a rule of thumb, they are a higher price and may be less accessible for someone starting their collection.
Quartz vs Automatic Watch Movements Summary
As you can see from the above, both of these movement types are popular and have a lot of interesting models and history. 
One of the other movement types we did not cover is the hybrid between these two called Kinetic Movement. The Kinetic watch allows the wearer's movement to be converted into energy which charges a self-charging battery.
Whatever movement you choose, ensure you actually like the timepiece, picking on solely on this is not the right way to decide on a watch. 
Both have their merits and drawbacks so pick the movement that fits you, and the frequency you plan on wearing the watch. An everyday watch would benefit from being automatic, but if it's in a drawer for months at a time, there's no real benefit.