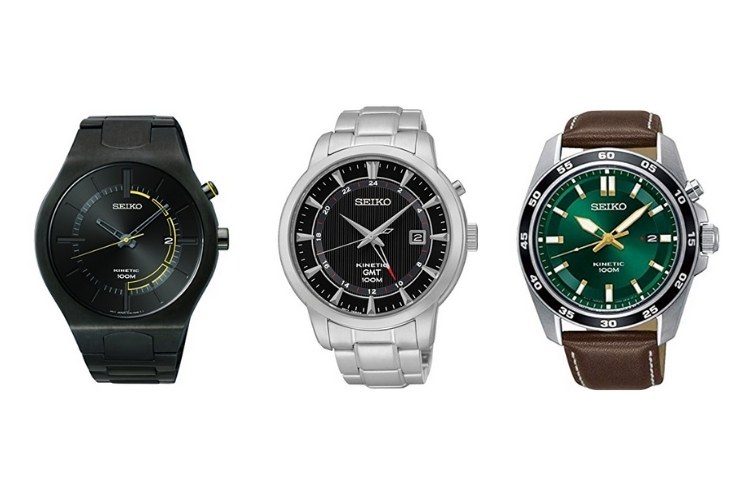 Kinetic, as you may already know, is energy generated through movement. This makes kinetic watch pretty self-explanatory as, you guessed it, this timepiece is powered by physical motion. Every subtle movement that you do with your arm will facilitate the rotation of the oscillating weights within the timepiece, which powers up the watch causing the hands to continue moving. Basically, as long as you are active when wearing a kinetic watch, it will continue to tick.
Kinetic watches work via a rotating pendulum that is attached to a small pinion and is connected to a miniature electrical generator. When this mechanism detects motion, it causes the pendulum and the pinion to spin at high speeds. Thus, recharging the generator and powering up the watch. You can learn more about how kinetic watches work here.
Kinetic or Solar? Which is the Best Eco-Friendly Timepiece
Both kinetic and solar watches are known for their low-maintenance and eco-friendly properties. However, determining which is the better type of timepiece is subjective. Both have their strengths and weaknesses. For example, kinetic watches are powered through motion – which basically means that as long as you wear them, they won't stop ticking.
As for solar watches, they recharge themselves as long as there is light, whether natural or artificial and their batteries are known to last for up to a decade. We go further in-depth about this particular discussion in our Kinetic vs. Solar Watches article which we highly suggest you check out if you are interested in these types of a timepiece.
A Quick Look at Seiko's Kinetic Watches
The first-ever kinetic watch was showcased by Seiko back in 1986 and was in full-production by 1988 under the category of 'Auto-Quartz' watches. By 1991, Seiko changed the auto-quartz categorization to what we know today, the Seiko Kinetic watch series. Nowadays, Seiko is the leading brand when it comes to kinetic movement watches. Their top kinetic watch models can cost thousands of dollars, and they have also implemented this technology with their Pulsar and Lorus watch series.
The advantages of kinetic watches are unquestionable, and if you are looking for one, Seiko should be the first place for you to look. If you are in the market for a kinetic watch, then you have come to the right place, my friend.
We have compiled the finest kinetic timepieces in the market today for your convenience. The ones we included in our list are the top dogs in the business and are guaranteed to provide top-notch quality kinetic timekeeping. So, without further ado, we introduce to you our –
Best Kinetic Watches
Seiko Kinetic Black Dial Watch (SKA781)
When it comes to kinetic watches, expect Seiko to set the bar. Their list of kinetic watches is available in a broad price range, making Seiko kinetic watches the most accessible in the market. Case in point, the Seiko Kinetic Black Dial Watch (SKA781) and its relatively affordable price tag. In terms of aesthetics, the Seiko Kinetic SKA781 takes a classic approach with its low-key dial.
The black dial is complemented by luminous silver-tone hands which helps optimize legibility in the day as well as low-light environments. Flipping the timepiece around will give you a transparent back case that gives you a full view of the inner working of a kinetic movement timepiece.
Other notable exterior features include a fixed bezel and a pull/push crown. The stainless-steel case comes in with a diameter of 40mm. The black dial also uses traditional Arabic numeral hour markers. There is an additional feature in the form of a date display that is located visibly on the 3 o'clock position. We would also like to point out that the build of the Seiko Kinetic SKA781 provides it with a decent 100-meter water resistance rating.
Seiko SUN065 Special Edition PADI Kinetic GMT Diver Watch
Feature-rich and comes with a robust dive watch build, the Seiko SUN065 is one of the most versatile kinetic watches on our list. The stunning blue and silver aesthetic land its marine-themed specialty from the get-go and it achieves top marks in this category, as well. The Seiko PADI Kinetic is also equipped with GMT functionalities which means it can display another time zone – handy for when you travel around a lot.
The Seiko PADI is powered by the Caliber 5M85 kinetic quartz movement and analog dial display. Once fully charged, you can expect it to pack enough power to last for 6 months. You can also check how much juice is left by pressing the push-button crown on the upper right corner (2 o'clock) of the case. Speaking of the case, the PADI features a 47.5mm stainless steel case making it quite large. The build of this timepiece also gives it excellent 200-meter water resistance.
Seiko Kinetic Blue Watch (SRN047P1)
The Seiko Kinetic SRN047P1 is as sleek as they come. It features a 'sportscar-like" vibe with its stunning velvet blue dial and unique day and date display. It comes with a 42mm diameter stainless steel case and fold-over release clasp bracelet. The strikingly designed dial is well-protected within a Hardlex crystal glass window which is known for its high resistance to scratches. The watch also offers a decent 100 meters of water resistance.
Seiko Kinetic Classic Watch (SRN043P1)
If you liked what the previous entry (Seiko Kinetic Blue SRN047P1) offers in terms of aesthetics but want something that leans more on the luxurious appeal – the SRN043P1 might be what you are looking for. The Seiko Kinetic Classic features an all-silver aesthetic. The polished silver-tone look of the Seiko SRN043P1 exudes an air of sophistication and fits nicely with executive attire.
The dial features a sleek date and day display on the lower right area of the watch. This timepiece also incorporates a sturdy and scratch-resistant sapphire glass dial window. Additionally, the timepiece offers a water resistance rating of up to 100-meters.
Seiko Kinetic Watch with Leather Strap (SKA791P1)
With its soothing emerald green dial and brown leather band, the Seiko Kinetic SKA791P1 is certainly pleasing to the eyes. The earthy aesthetic of the Seiko Kinetic SKA791P1 leans more on the elegant side of things.
That said, the traditional appeal of this kinetic watch will certainly capture the attention of all watch enthusiasts. The watch features a 43mm diameter stainless steel case along with a rotating bezel. There is also a date display that is located at the 3 o'clock position. Overall, this is a rugged kinetic watch that will appeal to one's adventurous spirit.
Seiko SUN033P1 Kinetic GMT Watch
The Seiko SUN033P1 Kinetic GMT oozes cool with its sharp design and use of contrasting silver and black color tones that perfectly complement each other. It features a 43mm diameter stainless steel case. The dial is encased within a durable mineral crystal glass window. The dial itself looks quite snazzy with its black and silver aesthetic which is further by a red-tipped seconds hand.
Other notable features of the Seiko SUN033P1 are its 100-meter water resistance rating which allows it to withstand the occasional quick immersions underwater.
Seiko Kinetic Rose-Gold Stainless Steel Fashion Watch (SRN062)
The Seiko Kinetic Rose-Gold is another variation of the Seiko entries from #3 and #4. What separates it its focus on style and finesse. Everything else is pretty identical though. This kinetic movement watch certainly feels much more refined with its intricate color combinations. Of course, it doesn't just look impressive; it has a robust build as well.
It features Hardlex crystal glass, and the heft of the watch gives off that durable vibe that guarantees longevity. As for its timekeeping functionalities, it comes with the series' signature day and date display and an impressive 100-meters of water resistance.
Seiko Watch (SKA785P1)
Rugged with a dash of class, the Seiko Kinetic Watch SKA785P1 features a unique blend of contrasting styles. This kinetic timepiece can easily double as an executive watch as well as an everyday casual timepiece. This Seiko kinetic timepiece's impressive frame measures 42mm in diameter. It utilizes a slick back dial with luminous hands and hour markers. There is also a date display located over on the 3 o'clock position.
The dial window is made from durable Hardlex glass, and there is also a fixed bezel incorporated in the case's design. Additionally, the Seiko Kinetic Watch SKA785P1 also offers 100-meters of water resistance.
Seiko Year-Round Titanium Watch (SKA765P1)
The silver and gold-tone aesthetic of the Seiko Year-Round is meant to captivate and captivate it did. This stunning kinetic timepiece features a sleek design and builds with its 41mm diameter polished case. The case is made from titanium which gives it a lighter weight than stainless steel without sacrificing a significant portion of its durability.
The dial uses Hardlex glass for protection, which it meets with minimal effort. The dial brings the sizzle as well as the steak with its black with gold markers and hands. The hands also have a luminous finish for optimum visibility, even in the dark. Additionally, the Seiko Year-Round provides a solid 100-meter of water resistance which further hammers in its rugged yet elegant theme.
Seiko Japanese Quartz Black Analog Watch (SKA649)
My personal pick in this list, the modern and sleek design of the Seiko Japanese Kinetic Quartz SKA649 is a sure treat for those who enjoy a balance of functionality and style. This kinetic movement watch can last up to 6 months with one full charge. The minimalist design of the dial gives it a unique charm. The black dial with a neon-yellow accent gives it that sporty feel. The Seiko Kinetic Japanese Quartz Watch SKA649 also has a 100-meter water resistance making it suitable for recreational water activities such as swimming.
Seiko Premier Kinetic Perpetual Novak Djokovic Special Edition (SNP149P2)
As expected from a special edition timepiece, the Seiko Premier Kinetic Novak Djokovic is a visual feast and a stylish wristwatch that just so happens to use a kinetic movement. Especially, it uses the caliber 7D56 kinetic movement with an analog dial display. This timepiece comes with two sub-dials (one tracks hours and the other displays the month). There is also a date display that is prominently shown on the top area of the dial, below the 12 o'clock marker. The sophisticated aesthetics of the Novak Djokovic timepiece will fit nicely with the dapper gentleman attire.
Seiko Velatura Kinetic Direct Drive SRH013 Watch
Looking for something that will complement your adventurous and thrill-seeking lifestyle? You might want to check out the Seiko Velatura SRH013 with its sports-like design. The all-black kinetic watch features a 42mm black stainless-steel case. The rubber band strap features a threaded tire design that completes its racing car motif. The kinetic quartz movement within operates the dial as well as the day and date display. You also don't need to worry about the dial as it is encased within a durable and scratch-resistant synthetic sapphire crystal.
Seiko Premier Kinetic Watch SNP141P1
If you enjoy the overall aesthetic of the Seiko Novak Djokovic but prefer something a little more subtle, then you should check out the SNP141P1 model. This version features a polished stainless-steel build and an accented black and gray dial. It features silver-toned Roman numeral markers and hands. Two sub-dials show the month as well as track hours. It also features a date display below the 12 o'clock position.
The Seiko Kinetic SNP141P1 comes with a 42.9mm diameter case. It also takes advantage of the durability and high scratch-resistance of the sapphire crystal which it uses for its dial window. The build of the Seiko Kinetic SNP141P1 also gives it a solid 100-meter water resistance making it suitable for light recreational water activities as well.
Seiko Prospex GMT Business Kinetic Watch (SUN049P2)
This sports casual kinetic watch from Seiko comes from their flagship Prospex series. As you would expect, this is a top-tier timepiece with an excellent build and design in the horological sense.
The Seiko Propsex GMT Kinetic (SUN049P2) takes a sporty and edgy approach with its design. That said, it is not all flash as it comes with excellent functionalities as well.
First of all, the kinetic movement fits its sporty aesthetics perfectly. It also has GMT features that give wearers access to a second-time zone. Perfect for those who travel around a lot. The Seiko Prospex series is also known for its tough as nails structure which I'm pretty sure is also present in this particular model.
Seiko Le Grand Sports Kinetic Watch (SKA551)
The Seiko le Grand exudes a confident charm with its solid build and refined style. The coin-edge bezel gives the Le Grand an added sense of finesse along with its black and silver color tone. The silver-toned hands and markers accentuate the black dial while the red accent minute hand stops the aesthetics from being monotonous. The Le Grand measures 41mm in diameter and features the high-precision Caliber 5M63 kinetic movement. It also has 100-meter water resistance to cement its rugged charm further.