With its connection to both nature and money, green is a color with deep meaning and vast cultural significance. Whether we're talking about pursuing "greener pastures" or expressing our love of the outdoors by calling ourselves "green thumbs," the color plays an important function in the English language.
Green is most commonly associated with life and growth. From the beginning of human civilization, people have associated the color with being alive, probably because in the time before technology, the most common color in the natural world was green. It's the color of the plant world and, as a result, has come to be shorthand for healthy living and organic food.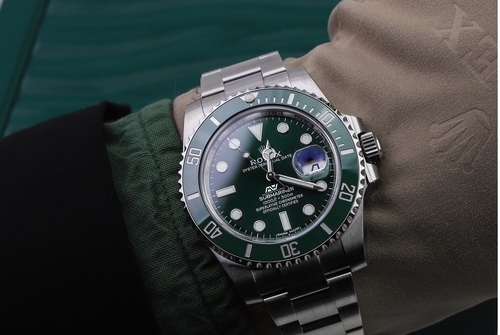 Perhaps it is because of its close connection to the natural world that people so often turn to green to express the varied aspects of human experience. When Shakespeare first coined the term "green-eyed monster" in his play, Othello, he tapped into an idea that immediately made sense to his audience. There's something about the color that expresses desire.
In fact, green has come to symbolize both aspects of desire: the healthy pursuit of life and renewal, and the thrilling dangers of greed and jealousy. It's likely why the color is so prominent in fashion and accessories. It's a powerful reminder of the duality of our own nature. A green watch, for instance, is frequently a symbol of power and status. It communicates that the wearer is attuned to his own desires.
If you are guided by your desires, consider these impressive green dial watches for men.
Best Green Dial Watches For Men – Our Favorite Picks
Timex Men's Expedition Scout Watch
Read Amazon Reviews | See on Timex.com
The Timex Expedition Scout delivers that classic outdoor charm with its earthly green dial and brown aesthetics. It undoubtedly fits the attire of any rugged adventurer and something you would expect Indiana Jones to be wearing.
As this is an outdoor watch, expect it to provide additional functionalities. In this case, it comes in the form of its chronograph feature. The case is made from brass material which gives it added durability and a rugged charm as well. The case measures in at 42 mm, making it suitable for medium to large-sized hands.
Inside the case are a Japanese-quartz movement and analog display. The dial features Arabic numeral markers and the sub-dials track minutes, seconds, and 1/20th of a second. The dial window is made from mineral glass material which provides the right level of durability.
The straps are also made from genuine leather which gives it durability and flexibility for added comfort. Additional features included in the Timex Expedition Scout includes INDIGLO Night-Light and night mode for enhanced visibility even in low-light environments.
Nixon Sentry SS Watch
Read Amazon Reviews | See on Nixon.com
If you are in the market for an outdoor watch that also delivers both in reliability and style, the Nixon Sentry SS might be a worthwhile look. The sleek green and gold design is quite stunning and will undoubtedly be quite an attention grabber.
The watch comes with a 42 mm stainless steel gold-tone case and a fold-over clasp gold-tone bracelet as well. Nixon Sentry SS uses quartz movement with its analog display while the dial features a relatively traditional and smart looking design with its simple gold-tone markers and hands.
An added feature includes a day and date display that is neatly located over at the 3 o'clock position. The timepiece also comes with a surprising 100-meter water resistance rating.
Fossil Men's Minimalist Watch
Read Amazon Reviews | See on Fossil.com
As the name implies, this Fossil timepiece incorporates a minimalist design. It did go the extra mile with its brown leather straps as it comes with a striking blue streak accent. This simple design choice gave the Fossil Minimalist Watch a substantial boost in its charm without sacrificing its minimalist aesthetics.
All things considered; the Fossil Minimalist watch takes its moniker to heart. The clock does not come with additional bells and whistles such as date displays. The stylish green dial remains pretty much pristine with its use of slim hands and markers.
The second's hand comes with a bright red color which makes it a prominent feature over the glossy green backdrop. Inside the case is your standard and tested quartz watch movement. The Fossil Minimalist is a casual timepiece that delivers its particular smart charm.
Fanmis Quartz Stainless Steel Watch
Read Amazon Reviews | See on eBay
The Fanmis watch comes with a traditional design with its stainless-steel case and bracelet. It shakes things up with a green dial that complements the general executive aesthetics of the watch. This particular Fanmis timepiece comes with a 40 mm stainless steel case and bracelet with a fold-over clasp.
Within this classy timepiece is a Japanese-quartz movement with analog display for optimum precision. The dial uses sapphire glass windows for protection which is known for its durability and high level of scratch-resistance.
The dial also comes with several convenient features such as a magnified date window and luminous hands and markers for improved visibility in a low-light environment. However, note that this timepiece only comes with a 30-meter water resistance rating so make sure you don't accidentally submerge the watch underwater.
Timex Men's Weekender Chronograph Watch
Read Amazon Reviews | See on Timex.com
The Timex Weekender Chronograph watch features a trendy and chill design that will surely attract modern watch enthusiasts. The brown leather strap perfectly accentuates the eye-catching green dial within the stainless-steel case.
The simple structure is part of the Weekender's charm, but it surely did not skimp on functionalities. The Weekender is a chronograph watch and includes three sub-dials that track 30 minutes and 1/20th second.
The Weekender also comes with a decent size at 40 mm in diameter with its sturdy brass case. Alongside the case is a mineral glass window that provides more than adequate protection scratch-resistance.
Additional features include INDIGLO night-light, luminous hands and markers, as well as a water resistance rating of up to 30-meters. This means it can withstand the occasional splash of water but refrain from submerging it completely underwater for any amount of time.
Invicta S1 Rally Automatic Black and Green Dial Watch
Read Amazon Reviews | See on InvictaStores.com
The Invicta S1 Rally is one of the most stylish watches that we will include in this list. It takes on a modern and sporty design with its black and green silicone aesthetics. The rectangular stainless-steel case utilizes a dark-green matte hue which stands out when partnered up with its black silicone and leather band.
The dial also brings in the sizzle with its skeletal design which allows you a sneak peek of the inner workings.
Speaking of the Invicta S1 Rally's inner workings; this watch uses an automatic movement with its analog display. The watch measures in at 42 mm and uses a flame fusion crystal window for optimum durability. It also has a 100-meter water resistance that allows it to withstand the occasional splash of water of quick submersions easily.
Seiko Men's Solar Recraft Stainless Steel Watch
Read Amazon Reviews | See on eBay
Classy would be the best word to describe the Seiko Solar Recraft watch. This Seiko watch utilizes self-winding automatic movement with its analog display. The dial's design is simply stunning with its blend of green and gold, making this watch an excellent timepiece for formal occasions.
The automatic movement also has a power reserve of up to 41 hours, so you don't need to worry about it stopping even if you did not wear it for a whole day. The stainless-steel case measures in at a relatively compact 39 mm diameter. The structure of the Solar Recraft also provides it with a decent 50-meter water resistance rating.
The Seiko Solar Recraft Watch is a smart and chic timepiece that will surely appeal to both modern and traditional watch enthusiasts.
Citizen Eco-Drive Pro-Drive Promaster Watch
Read Amazon Reviews | See on Citizenwatch.com
The Citizen Promaster series is one of the most robust timepieces in the market today, to give you an idea as to what to expect from this entry. The Eco-Drive Pro-Drive Promaster features a decent 42 mm diameter stainless steel case. The dial design highlights that organized quality and will surely fit the personality of most outdoor enthusiasts.
Citizen did not take any shortcuts with the Pro-Drive's design as the timepiece manages to provide water resistance of up to 200-meters. The stainless-steel case and bracelet also utilize anti-rust coating that will help it maintain its polished appearance for quite a long time.
This timepiece also features Citizen's patented Eco-Drive movement technology. This allows the watch to recharge its battery using both natural and artificial light. The dial is also encased within a durable sapphire crystal window with anti-glare coating. The military green perfectly encapsulates the qualities of this timepiece – robust and reliable.
Victorinox Swiss Army Men's Chronograph Watch
Read Amazon Reviews | See on Victorinox.com
You can tell a lot about this watch just by its moniker. The Victorinox Swiss Army Men's Chronograph watch is a well-made and well-oiled timepiece that delivers reliability, functionality, and style. It exudes confidence with its traditional and sophisticated design.
While it certainly looks elegant enough for formal events, you can still wear it during a casual day outside.
The Victorinox Swiss Army Chronograph watch features two-tone silver and gold aesthetics with both its case and bracelet. The polished stainless steel gives the watch a sheen that highlights its elegant design even more.
With its impressive exterior design hitting all the right targets, how does it fare in terms of its functions?
Well, it gets top marks here as well. This Victorinox watch features an analog quartz movement. It also comes with chronograph features and a tachymeter with unidirectional bezel. This is quite simply a masterfully designed and constructed timepiece worth of the Swiss Army name.
Alpina SmartimePilot Analog Watch
Read Amazon Reviews | See on eBay
Alpina SmartimePilot Watch is another handsomely crafted timepiece that manages to infuse the 44 mm diameter case with top-notch quality features. First off, you will notice its chronograph functionality which can precisely track minutes, seconds, and 1/10th of a second.
Within the metallic black PVD stainless steel case is an analog quartz movement that makes sure the dials all retain its precision in timekeeping. It also utilizes Swiss-quartz movement with analog display. The SmartimePilot watch has a decent 100-meter water resistance rating as well.
The Alpina SmartimePilot watch exudes an excellent mixture of adventurous charm and rugged outdoor appeal. The green dial has Arabic numeral hour markers with the outer rim having the minute markers, which allows for a less cluttered but offering higher level of detail.
Shinola Detroit Unisex Runwell Watch
Read Amazon Reviews | See on eBay
The Shinola Detroit Unisex Runwell watch is a casual timepiece with a lean towards a more classical aesthetic approach. The watch features a beautiful green dial which is accentuated by the bold Arabic numeral markers.
The watch also comes with an extra sub-dial that tracks the seconds (60). This is a nifty tweak that removes the need for a third hand while also improving its overall design. The watch comes with a stainless-steel case that measures around 41 mm in diameter and utilizes a Japanese-quartz movement.
The Shinola Detroit Runwell is an excellent timepiece for those looking for a casual yet eye-catching watch. This watch does its job, and it does it exceptionally well and with a conservative charm.
Movado 800 Series Watch
Read Amazon Reviews | See on eBay
With its polished stainless-steel case and bracelet, combined with the strikingly beautiful emerald green dial, the Movado 800 is a marvelous timepiece to behold. The Movado 800 also features Swiss-quartz movement with analog display.
The 28 mm in diameter case makes this one of the smallest entries in this list. This, in turn, makes the Movado 800 a good watch for both men and women. While the timepiece sports a generally traditional looking design, it does include some contemporary minimalist motif.
The beautiful emerald green dial uses a sapphire crystal as its window. This gives the Movado 800 a highly durable and scratch-resistant glass which is considered to be one of the top materials to use when it comes to creating dial windows. Also, the watch has a date display neatly positioned beside the 3 o'clock marker.
Oris Divers Sixty-Five Watch
Read Amazon Reviews | See on eBay
Simple, sleek, and comes with a beautiful and relaxing green design, the Oris Divers Sixty-Five watch is more than it seems. The case measures in at 42 mm in diameter and also has a unidirectional bezel and a silver-toned minute scale.
The green dial features beige-colored and luminous hands and markers. You can find the prominent Oris logo over on the 12 o'clock position. The Divers Sixty-Five also comes with a date display that is located beside the 3 o'clock marker.
The watch also uses the impeccable Swiss automatic movement, Oris calibre 733 with 26 jewels and clocks in a power reserve of up to 38 hours. As we have stated earlier, this Oris watch should not be taken lightly as under its relatively simple aesthetics is a premium-level performance and accuracy.
Rolex Submariner Watch
Read Amazon Reviews | See on eBay
Speaking of premium grade watches, let us end the list with one of the best premium watchmaker brands in the market today, Rolex. The Rolex Submariner can be considered a cut above the rest with its use of oystersteel for the watch case.
This material is more commonly used in the aerospace and chemical industry, which means it provides top-tier resistance to corrosion and natural elements. The Rolex Submariner is designed to withstand the most extreme environments without even blinking.
The Submariner features a polished green dial with markers made from 18ct gold to prevent fading. Within this beautifully handcrafted dial is a self-winding calibre 3135 movements with analog display. This ensures that the watch will be able to deliver impeccable precision when telling time.
Also, the Submariner features a Parachrom hairspring which helps significantly improve its shock resistance and extreme changes in temperature. It also comes with a magnified date display on the 3 o'clock position. Overall, this is a masterclass in watchmaking and design by one of the best in the industry.
See Certified 100% Authentic Rolex Hulk (116610LV) HERE.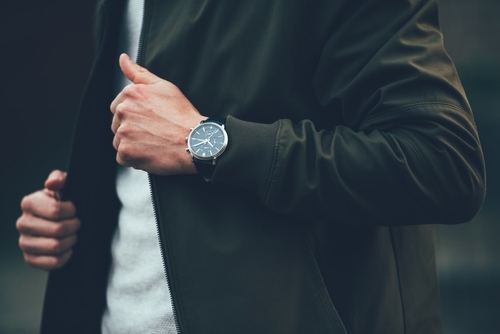 Featured Image by MillenaryWatches