Rotary Watches Limited hits the spotlight for this article. This award-winning brand sells timepieces all across the globe. It started small, in La Chaux de Fonds, a small town in Switzerland. It was founded by Moise Dreyfuss in 1895, giving the brand a rich history and long legacy to live up to. Perhaps the most impressive feat of this company is that after over a century later, it remains family-owned by the Dreyfuss Group.
Moise was keen about making beautiful timepieces that had a style to withstand time. He was very particular about the tiniest details and made sure that each watch was created with the highest quality and service possible. This was the secret to the brand's quick growth and success. Only 12 years after its founding, he was able to open its UK office. With headquarters in London, many consider it a British watch brand with Swiss roots.
The Rotary logo was quite famous by 1925. Its winged emblem was launched, and when the war ended, the company kept growing under the leadership of Teddy Dreyfuss. They produced more advanced watches, luxurious collections, and effective marketing and advertising campaigns.
Today, Rotary sells watches in more than 65 countries all over the world. Specializing in stylish watches that are accessible and affordable, the brand gives you the best of both the old and the new with their unique watch collections.
Rotary Brand History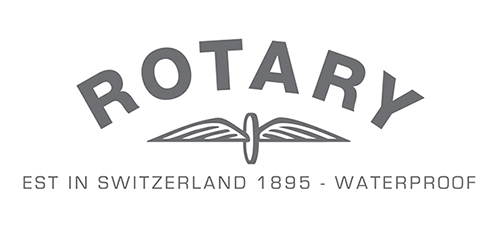 As mentioned earlier, it all began when Moise Dreyfuss started the company back in 1895. It began with a single factory in the small Swiss town. Because of the good demand for exceptional quality watches, the brand grew and saw success.
After 12 years in business, Sylvain and Georges Dreyfuss opened the Britain office, importing the family watches. The iconic Rotary logo was introduced in 1925, famous for its winged wheel look.
By 1934, they introduced their first shockproof watch. In 1940, the brand was appointed as the British Army's official watch supplier. In 1942, it introduced its first automatic timepieces, which were powered by the user's wrist. 1973 saw the birth of the first Rotary quartz watch, which used advanced electronic oscillator technology.
Fast forward to 2005, the brand announced its Dolphin Standard, a new technology that lets divers and swimmers enjoy water-resistant timepieces all day. The company reached Superbrand status in 2006, the same year when it introduced its patented Rotary Round Revelation™. And in 2009, the brand launched two of its biggest projects: the Lifetime Guarantee and Waterproof Standard, along with two additional brands: Rotary Les Originales and Rotary Aquaspeed.
Rotary Watch Collections
AVENGER WATCHES: RETRO STYLE
Read Amazon Reviews | See on eBay
The Avenger model was pulled out of production but is now back – and it's here for good. It was originally introduced in 1960. As the name implies, this collection is all about neat vintage styles. It makes a statement on your wrist. It takes inspiration from Rotary's rich history of museum pieces and bases off of the retro quartz models. Even today, it maintains its retro aesthetic of bubble mineral glass and clean lines. It is upgraded with a number of subtle modern brush-ups.
The case is bigger now at 38mm. The dial has a dual contemporary finish. The inner dial has a galvanic finish while the outer dial has a radial brush. The hands and hour markers are luminous, making it easy to read the time even in the dark. Accentuating the overall vintage look are the three-link bracelet and calf leather straps.
CAMBRIDGE WATCHES: MILITARY INSPIRATION
Read Amazon Reviews | See on eBay
As a brand that was around during the war, it is expected for it to have a military-inspired collection. The Cambridge series features automatic movements. The watches are unique with a hidden crown and single-domed Sapphire glass, counter-sunk date windows, domed Roman numeral dials, and a 41mm stainless steel case – the color of which you can choose from. These are water-resistant up to 50m.
CANTERBURY WATCHES: INTRICATE & TIMELESS
Read Amazon Reviews | See on eBay
This collection is available in female and male models. The Canterbury series is an iconic range that blends affordability with amazing design. The watch features the Clous de Paris dial, which adds contrast and texture to the Roman numeral hour markers and intricate hands. The overall design is eye-catching and is protected by the domed, scratch-resistant sapphire glass. As a result, you get a mix of vintage aesthetics and traditional ornamental design. Each watch comes with a dependable quartz movement in either the 30mm or 38mm case. You can get them in a leather strap or a 7-link bracelet.
HERITAGE WATCHES: 125 Years
Read Amazon Reviews | See on eBay
Specifically created for Rotary's 125th birthday this year (2020), the brand looked into its archives and created a collection that celebrates the company's iconic designs and history. They made watches that carried the effortless style and classic aesthetic. These watches are now an iconic testament to the power that timeless style and long-lasting quality can bring.
LONDON WATCHES: EXPANDING BRACELETS
Read Amazon Reviews | See on eBay
The London collection is made up of sophisticated expanders. They are fashion-forward, refreshing, and a lot of fun. They aren't just budget-friendly – but also chic and minimalistic. They're a great way of introducing classic style into the 21st century.
HENLEY WATCHES
Read Amazon Reviews | See on eBay
The Henly GMT is robust and confident. It uses a ceramic, scratch-resistant uni-directional bezel, a stainless steel 3-link bracelet, and sapphire glass. It takes 24 hours for the red arrow tip hour hand to make a full sweep of the dial. It can be set apart from the main hour hand, letting you add a second time zone to be shown. A third time zone can be calculated via the rotating bezel as well. If you travel a lot, this is ideal for you. It includes big luminous hour markers and hands, encased in a 41.5mm watch face. It's also resistant to water up to 100m.
OXFORD WATCHES
Read Amazon Reviews | See on eBay
The Oxford range mixes traditional case designs with modern dial styles, giving you the ideal picture of both worlds. They come with unique calf leather straps and three-link stainless steel bracelets. These watches are also incredibly easy to read because of the dials, available in various colors. The angled index hour markers manage to catch light no matter how bright it is outside. The Dauphine hands are also a distinguishing feature of these beautiful timepieces.
ROTARY ULTRA SLIM
Read Amazon Reviews | See on eBay
The new generation Ultra Slim watches are only 5.7mm thick. They carry a refined and classic look about them. Needless to say, they are lightweight and rest on your wrist with enough room to slip them under your shirt cuff. Each watch is geared with quartz movement, encased in a stainless steel case with a two-step dial. The guilloche pattern inside is protected by the scratch-proof sapphire glass.
ROTARY LES ORIGINALES: Swiss-Made Luxury
Read Amazon Reviews | See on eBay
This range is the brand's premier luxury collection, made for both women and men, under high specifications. The sapphire glass and deployment clasp give off the feel of a truly Swiss-made timepiece.
ROTARY AQUASPEED: Professional Instrumentation
Read Amazon Reviews | See on eBay
The Aquaspeed is the collection of modern sports watches from the brand. It is suited for anyone who needs a robust but aesthetic watch to complete their performance. It features professional functions, such as circular slide rules and chronographs. They are both practical and elegant.
ROTARY PRECIOUS METALS: Treasured Gold & Silver
Read Amazon Reviews | See on eBay
This selection includes watches that are not simply classic, but also ornate with some of the most precious metals: 9-carat gold, 18-carat gold, and sterling silver for all your special occasions and events.
ROTARY REVELATION: Clearly Inspired
Read Amazon Reviews | See on eBay
The Revelation collection shows two faces, two time zones, and slick dials that are shielded by sapphire glass. The overall design is truly a revelation. The dual style and purpose are completed by sophisticated leather straps. You can choose from either stainless steel or PVD plated cases. These watches are designed for those who often travel.
Rotary Brand Reputation
So what do people think of Rotary Watches? Apparently, there is some discussion going on to this day. Mainly, new watch enthusiasts who are just discovering the brand are seeking advice regarding the watchmaker. There are several forum discussions going on to this day about Rotary Watches. And if you go on to Quora, there are still several unanswered questions regarding their timepieces. Hopefully, we can shed some light on these questions.
The brand has become a Superbrand for several years, which is a major highlight of the company's heritage and reputation. It has been awarded consistent applause for its core values, innovation, and quality, but most of all, it is acclaimed for its value for money.
They are a member of the Federation of the Swiss Watch Industry FH, which in itself is a guarantee of their watches' performance and reliability. You can get Rotary watches at different prices, from higher-end Swiss models to more affordable ones using Chinese or Japanese movements. Of course, you can also choose based on an entire range of designs and styles.
It's more than fair to say that Rotary can offer something ideal for anyone, regardless of style preference or budget. Value for money is the strongest asset that this brand brings to the market without compromising the build and diversity of its designs.
Is Rotary A Good Watch Brand?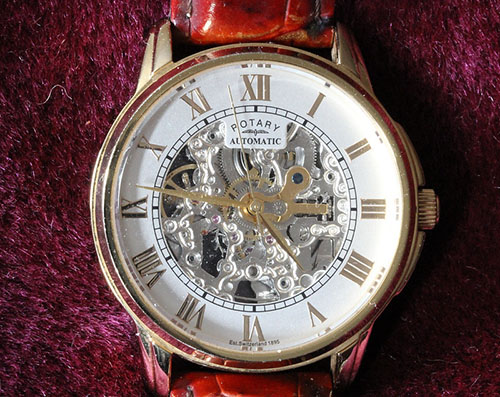 Overall, we can say that Rotary is a good brand. It is popular in some countries than in others. For instance, it has a bigger audience in the United Kingdom. Rotary produces two levels of watches: those made in Switzerland, which have the high-end components and movements; and those assembled in China, which use either Chinese or Japanese movements. Without a doubt, Swiss-made Rotary models are more dependable and contain high-quality ETA movements.
The great thing about this brand is that it has been able to maintain its long legacy and history of being an independent company, run by its founding family. For many watch fans, this is important. Still, the Rotary market targets affordability in the quartz market, making it a good brand for the average joe. To add value to their watches, they come with lifetime warranties as well.
If you value commitment to legacy, affordability, and dedication to quality, then Rotary Watches could be a great brand for you. If you're considering buying a Rotary watch, you may also want to look at brands such as Seiko or Citizen that offer a wide array of dress watches in a similar price range. If you're looking at the more expensive Rotary Swiss-made models you could compare to brands like Tissot or Hamilton.
Where To Buy Rotary Watches?
You can get a Rotary watch wherever you are in the world. Click to find a Rotary Watches stockist.
Alternatively, you can order online via the official Rotary store on Amazon.
If you are in the market for pre-loved models and even collector's finds or are looking to bid in online auctions, check eBay for constant listings for Rotary watches.
Where Are Rotary Watches Made?
The brand got its start in La Chaux de Fonds in Switzerland. This is pretty much the center of Swiss watchmakers. To this day, the brand is dedicated to making beautiful timepieces while providing great customer service. Because of these core values, the brand was able to quickly grow and expand. The quick expansion allowed the brand to move to London, which led the brand's British influence (can be seen in some of its collections: Henley, London, Oxford, Cambridge).
Today, Rotary is headquartered in Clerkenwell, London. All of their watches are designed in-house. They have a state-of-the-art design studio in the thriving city. Following the motto British design, London style, Rotary was able to make itself a well-renowned brand in the UK and abroad. Today, it is sold globally.
Rotary Watch Warranty
All Rotary watches come with a Lifetime Warranty. To ensure the protection and coverage of your watch, be sure to head over to the official website's Guarantee Page. Here, you will be asked to register your watch for official servicing and coverage. Registering your purchase also allows you to extend your two-year guarantee. Visit this page to check out all the terms required for the guarantee, and to see if you are eligible.