Winner: Huawei Watch GT 2
The former flagship smartwatch from Huawei is simply better designed and has better software compared to the entry-level TicWatch E2. 
TicWatch E2 vs. Huawei Watch GT 2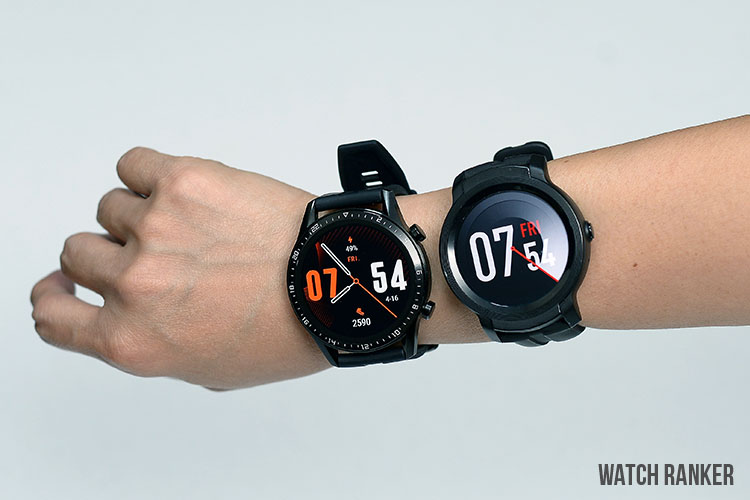 There are lots of great options when it comes to budget smartwatches. But one brand that always stood out in this price segment is Huawei.
Their GT 2 and GT 2e watches that we have reviewed have stood the test of time and offer everything you would ever need in a budget smartwatch. 
However, there are some users who are looking for more advanced functionality and customizability in their watches. And for Android users, the most powerful platform is the Wear OS platform. But the thing is, there are very few budget Wear OS smartwatches that perform well. 
Mobvoi has tried to address this with the TicWatch E2 and S2. And if you would like to learn more, check out our full review of the TicWatch E2 and TicWatch S2. 
In this article, we will be comparing the budget Wear OS-based TicWatch E2 against Huawei's former flagship Huawei Watch GT 2. And hopefully, we will answer whether or not a budget Wear OS smartwatch is worth getting. 
Please note, we purchased the TicWatch E2 was bought directly from mobvoi.com on 03/04/2021, click here to check their current prices.
TicWatch Brand Overview  



Mobvoi Information Technology Company Limited is a tech company based in Beijing, China. They were founded in 2012 by Google AI experts, Nokia employees, and researchers from top universities such as Harvard and Cambridge. The primary goal of this company is the integration and advancement of voice AI communication.
Some of their revolutionary products include voice search engines featured on WeChat. Mobvoi has also developed its own voice search app engine called Chumenwenwen. 
It was in 2014 when Mobvoi started venturing into the consumer electronics market. They developed an Android-based smartwatch operating system called TicWear OS. And soon after, they worked together with Frog Design to release the TicWatch. 
The TicWatch brand differentiated itself from other smartwatches by having a strong integration with their AI technology. Its launch was very successful and only trails behind the Apple Watch in the domestic Chinese market. 
Today, Mobvoi continues to bring their expertise to the smartwatch market with the newer versions of the TicWatch. And with each new iteration, TicWatch gets one step closer to fulfilling its dream of ushering in the next generation of human and computer interaction.
Huawei Brand Overview



Huawei is no stranger to the smartwatch market. They have made successful smartwatches in the past, such as the original Huawei Watch and Huawei Watch GT. However, the success of their watches has largely been overshadowed by the success of their smartphones. 
Their wearables have been mostly a side project in the past. However, in recent years, they have been consistently revamping their lineup and are proving to be a fierce competitor in the smartwatch market. This is evident with the successful release of the Watch GT Series. 
Huawei has most notably moved away from Google's Wear OS platform and has developed its proprietary operating system called the Huawei Light OS. Their current lineup is simple and is easy to follow. It consists of the flagship Watch GT 2,  the midrange Watch GT 2, and the original Watch GT (which may be discontinued in the future). 
You can learn more about Huawei's history and product lineup in our Huawei Brand Overview. 
Packaging and Unboxing Experience 

Winner:  Tie
Both watches do not disappoint when it comes to their unboxing experience. The Huawei Watch GT 2's packaging is very similar to their high-end smartphones. The box has an all-black finish with a gorgeous photo of the watch in the front. 
Everything inside is neatly arranged, and each accessory has its own component. The TicWatch E2 also takes a similar approach by also having a clean and minimalistic presentation. 
The E2 comes in a small and compact box. It has all the details, such as the specs on the sides, and has a very nice image of the watch on the front. The unboxing is rather straightforward, but the presentation is very impressive since it mimics that of a premium wristwatch. 
There is no clear winner here since both brands exhibit impressive design language in their boxes. 
Design and Build Quality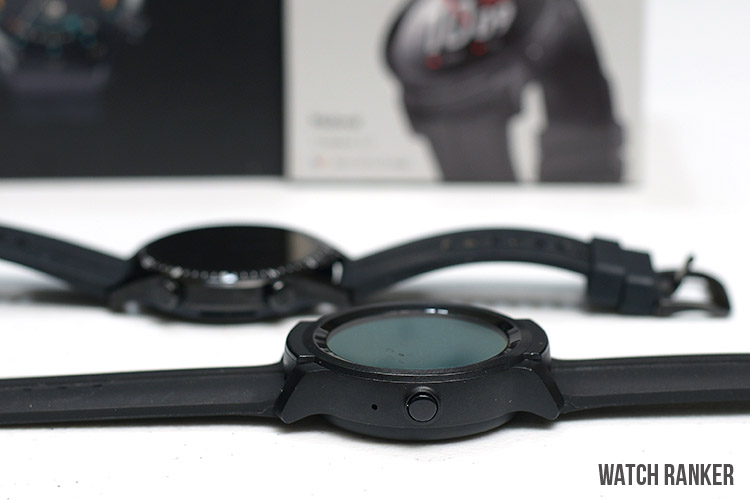 Overall Winner: Huawei Watch GT 2
Both of these watches are completely different when it comes to their design and build quality. The reason for this massive disparity is due to how each smartwatch is marketed. 
The TicWatch E2 is a budget-priced smartwatch that is meant to act as the gateway to the TicWatch experience. The Huawei Watch GT 2, on the other hand, is meant to give a premium smartwatch experience that perfectly complements Huawei's smartphones. The difference in each company's design philosophy is clearly reflected with these two watches. 
Mobvoi has opted for a simpler approach with the TicWatch E2. The E2 has a more basic build and utilizes plastic for the majority of its watch case. The overall design does look clean and minimalistic but lacks any appeal or wow factor. 
The use of plastic does, however, significantly decrease the weight of the watch. This makes it comfortable to wear for all-day use and for working out. Mobvoi has also stated that the E2 has a US Military Standard 810G Rating, which ensures its durability. 
The TicWatch E2 features a single button on the side. It feels tactile and great to press. However, having only one button seems like a major misstep, especially since having additional buttons would vastly make navigating Wear OS a lot easier. 
The Huawei Watch GT 2, on the other hand, is the complete opposite of the TicWatch E2. Everything from its aesthetics to its build quality is clearly superior. 
The Huawei Watch GT 2 uses aluminum and plastic for its watch case. It is still lightweight but does add some heft to give it a premium feel.
Unlike the TicWatch E2, the Huawei Watch GT 2 has bezel markings and has a 3D curved display. And when it is placed side by side with the TicWatch E2, there is simply no competition. The Huawei Watch GT 2 easily feels more expensive than its asking price. 
Display Quality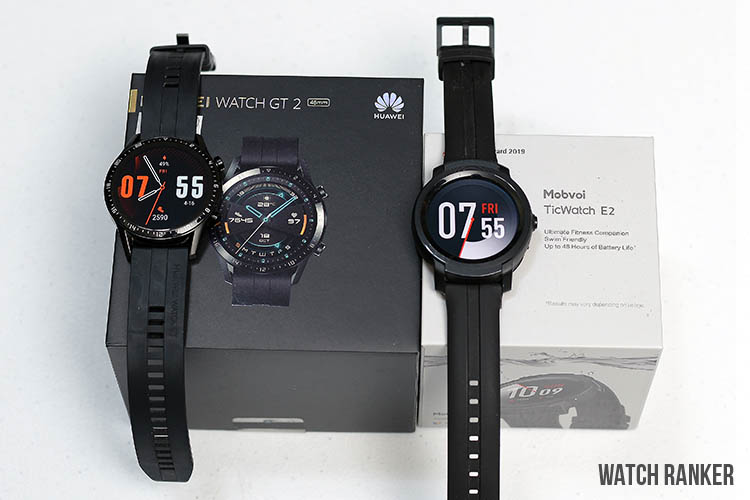 Winner: Huawei Watch GT 2
Fortunately, unlike its build quality, the TicWatch E2 has a great-looking AMOLED display. Its display is clear and vibrant and can easily be seen outdoors. The images are also sharp, making text easy to read. 
Additionally, the TicWatch E2 uses Corning Gorilla Glass 3 to protect its screen. This gives its users confidence in using it in outdoor activities. 
But with that said, the Huawei Watch GT 2 clearly edges out the TicWatch E2, thanks to its beautiful curved display. Using the touchscreen is a treat, especially since the edges are very smooth. The AMOLED display is also bright and vibrant, which truly makes watch faces pop. 
The only disadvantage with the GT 2's display is that it has no official glass protection. However, we have been using it for more than a year, and it has held up very well despite seeing lots of accidental bumps. 
Features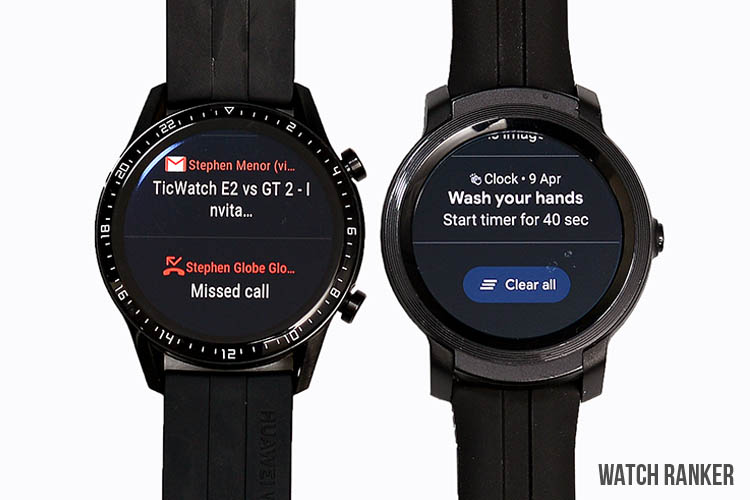 Winner: TicWatch E2
The biggest reason to purchase the TicWatch E2 is, of course, Wear OS. And with Wear OS., you are getting the best feature set out of any smartwatch at this price point. 
The TicWatch E2 is running the latest version of Wear OS, which gives it access to lots of first-party Google apps as well as third-party apps from different developers. This basically makes the TicWatch E2 a miniature Android device. 
Of course, the TicWatch E2 does not skimp out on the basics. It has great built-in fitness and health tracking features through TicHealth and Google Fit, it has built-in GPS, It has basic features such as alarm, timer, weather, find my phone, and it has good notification support.
But what sets the E2's notification system apart from its competitors is its ability to respond to certain notifications such as text messages. Additionally, you can use different input methods such as your voice or your onscreen keyboard. 
And since it has a microphone, it also has access to the Google Assistant. Unfortunately, you cannot use the watch for calls since it doesn't have a speaker. Google Assistant's responses will also have to be read manually. 
The Huawei Watch GT 2 is also no slouch when it comes to its feature set. It also covers the basics and even adds unique features such as the compass. However, its more basic operating system is no match compared to the more advanced features of the TicWatch E2. 
Unlike the E2, the GT 2 cannot install applications. Huawei does add new features via software updates. But this, of course, is not as convenient as having the freedom to add the apps that you want. The only perk here is that every new feature that is added is already tested and optimized by Huawei. 
One feature that the Watch GT 2 has that the E2 doesn't is the ability to make and answer calls. Also, Huawei's voice assistant Celia is planned to be added via a future software update. 
There are some omissions in both watches. The TicWatch E2 and the Huawei Watch GT 2 both lack a speaker. Also, both watches lack NFC for cashless transactions. Huawei does not offer this in any of its watches. Mobvoi, on the other hand, has support for Google Pay through their higher-end watches. 
Health and Fitness Tracking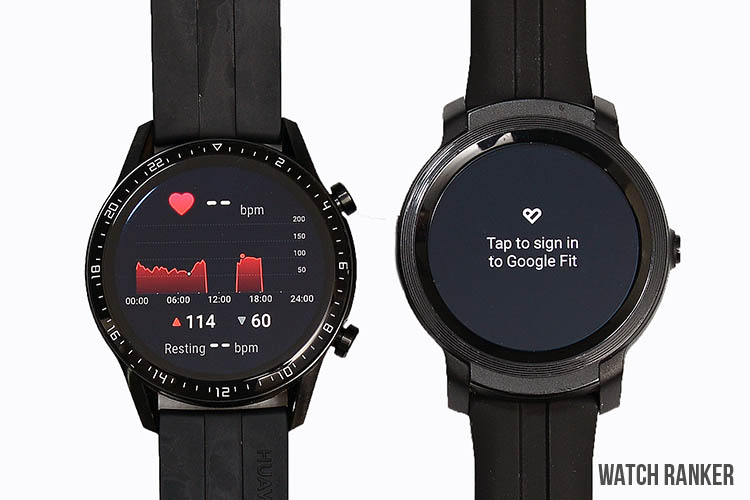 Winner: Tie
Both of these watches do a great job when it comes to health and fitness tracking. This is despite the fact that both aren't designed specifically for these tasks. 
Both watches have reliable heart rate tracking with accurate results thanks to their optical heart rate sensor. They also have a fast and reliable GPS. 
Additionally, both the GT 2 and E2 have their own unique features. The GT 2 stress tracking and period tracking. The E2, on the other hand, has several breathing exercises and relaxation features right out of the box. 
In terms of workout features, both watches have plenty of activities. However, with the TicWatch E2, you can add more fitness activities via the Play Store. 
The main difference between these two watches is that Google and Mobvoi's apps come pre-installed with the TicWatch E2. And while this may seem good, the major downside is that managing data between these apps make the experience less seamless. 
Huawei, on the other hand, has a more cohesive experience since everything is handled by the Huawei Health App. 
The biggest omission from the TicWatch E2 is the lack of sleep tracking. This isn't Mobvoi's fault since Google has not implemented this feature natively in Wear OS. There are some apps that you can try in the Play Store. However, we did not find one that worked as well as GT 2. 
Also, you probably don't need sleep tracking with the E2 due to its battery life. We will be talking more about that in the battery life section of this comparison. 
Overall, both watches have their pros and cons when it comes to health and fitness tracking. But at the end of the day, both perform well and will surely satisfy most users' needs. 
Watch Software Performance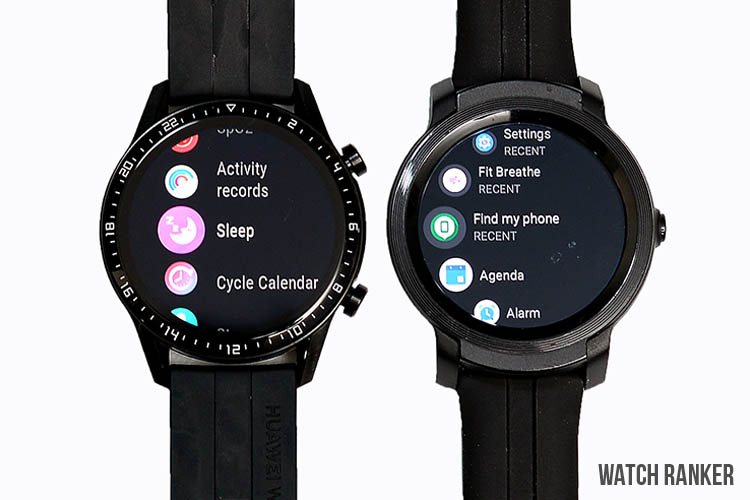 Overall Winner: Huawei Watch GT 2
Based on the feature set, you might think that the TicWatch E2 also beats the Huawei Watch GT 2 in terms of software performance. However, this is not the case. 
Given that the TicWatch E2 is a budget smartwatch, there are bound to be compromises. But unfortunately, those compromises were made in the hardware of the E2, which directly affects the software performance. 
The TicWatch E2 utilizes the older Snapdragon 2100 processor and only pairs it with 500 MB of RAM. These aren't enough to run Wear OS smoothly. And as a result, navigation feels very sluggish. 
The E2 sometimes drops frames during navigation. Opening both built-in and third-party apps is also slow. And worst of all, opening apps such as the Google Play Store sometimes leads to a crash. 
The watch is still usable. And there are even some ways to potentially speed up the Wear OS experience. You can go to developer options to adjust animations. However, we believe that a good product should be ready to go out of the box and should not need user modifications to make it usable. 
The Huawei Watch GT 2, on the other hand, is much faster thanks to its more efficient software and hardware. Huawei's in-house Kirin A1 processor is optimized to run well with the software. And as a result, you get a very stable and reliable system that is free from random crashes. 
The GT 2's performance is still not perfect. We do get some occasional framerate drops from time to time. However, this is far more tolerable than the TicWatch E2's very laggy performance. 
Battery Life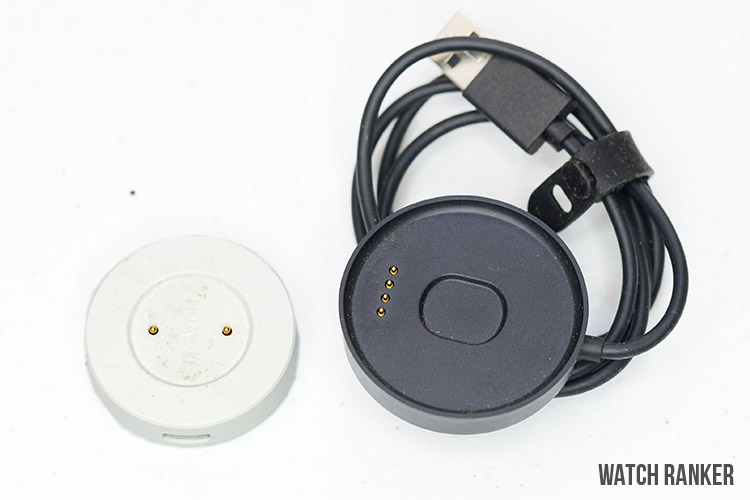 Winner: Huawei Watch GT 2
In terms of battery life, Huawei is the clear winner here. The Watch GT 2 can easily last up to two weeks. And even when using features such as AOD and GPS, it will still last for at least a week. 
The TicWatch E2, on the other hand, only managed to survive for two days. And in most scenarios where we used most of its features, it already needed a recharge by the end of the day. 
The charger of the Watch GT 2 is also superior to the TicWatch E2. The GT 2's magnetic charger featured a removable USB Type-C cable which means that we only needed to carry the small charger if we wanted to take it with us. 
This wasn't the case with the E2's charger. It featured a non-removable cable which made the cable very bulky. This also means that you have to replace the whole charger if the cable breaks. 
Comparison Winner: Huawei Watch GT 2
The TicWatch E2 is a very promising smartwatch when it comes to its features. And if its feature set and software were executed better, it could have been a massive game-changer. 
But sadly, the TicWatch E2 has too many shortcomings for it to be a truly great Wear OS watch. It is still a decent budget smartwatch. But compared to the Huawei Watch GT 2, it is simply no match. 
Unless you know what you are getting yourself into, we highly recommend the Huawei Watch GT 2 over the TIcWatch E2. And if you want a better Wear OS experience, we recommend going for the TicWatch C2+ or the TicWatch Pro 3. 
Specifications 
Huawei GT2
Mobvoi TicWatch E2

Brand
Huawei
Mobvoi
Model
GT2
TicWatch E2
Screen Size
1.39" AMOLED Display
1.39 "AMOLED Display
Screen Protection
No Official Certification
Corning Gorilla Glass 3
Screen Resolution
454 x 454 pixel
400 x 400 pixel
Pixel Density
326 PPI
407 PPI
Input Type
Touch Screen/ Physical Buttons
Touch Screen/ Physical Buttons
Watch Dimensions
46.9 x 52.2 x 12.9 mm
46.9 x 52.2 x 12.9 mm
Weight
53.2  grams
53.2  grams(with strap)
34.4g (without strap)
Watch Case Material 
Stainless Steel + Plastic
Polycarbonate
Bezel Material
Polycarbonate
Polycarbonate
Watch Design
Circular
Circular
Strap Size
22 mm
22 mm
Watch Colors
Matte Black, Pebble Brown
Black
Water Resistance
Waterproof (5ATM)
Waterproof (5ATM)
Swim-proof
Yes, recommended
Yes, recommended
NFC
Not Supported
Not Supported
GPS
GPS/GLONASS/Beidou
With GLONASS
CONNECTIVITY
     Wi-fi
No
Yes
    Bluetooth
Yes 
Yes 
 SENSORS       Accelerometer  
Yes
Yes
    Heart Rate
Yes
Yes
    Compass
Yes
No
    Gyroscope
Yes
Yes
    Altimeter
Yes
No
    SPO2
Yes
No
    Elevation  
Yes
Yes
    Ambient Light
No
No
    Barometer
No
No
FITNESS TRACKING
     Sleep tracking
Yes
Yes
    Steps
Yes
Yes
    Floors Climbed
No
No
    Heart Rate Monitoring
Yes
Yes
    Calories
Yes
Yes
    Distance
Yes
Yes
    Stress
Yes
Yes
    VO2 Max
Yes
Yes
    Blood Oxygen
Yes
No
    Blood Pressure
No
No
    Menstrual cycle tracking
Yes
No
    Swim tracking
No
No
    Underwater heart rate  
          tracking
No
No
    On-screen workout modes
No
No
    Triathlon mode
Yes
No
    ECG tracking
No 
No 
    Preloaded sport modes
Yes
Yes
    Safety tracking
No
No
Battery Life
7-14 Days
Standby: 2 days+; Mixed usage: 1 day+
Battery Technology
Li-Ion
Li-Ion
Charging Time
About 1-2 Hours
About 1-2 Hours
Charging Type
USB based charging dock
USB based charging dock
Compatible OS
Android
 iOS
Android
 iOS
NOTIFICATIONS
     Email Alert
Yes
Yes
    SMS Alert
Yes
Yes
    Calls Alert
Yes
Yes
    Event Reminder
Yes
Yes
    Weather
Yes
Yes
    Third-party Apps
No
Yes
MEDIA
     Audio
mp3/mp4
mp3/mp4
    Music Streaming
Yes 
Yes 
    Bluetooth Music
Yes
Yes
    Radio
No
No
    Loud Speaker
Yes
Yes
    Microphone
Yes
Yes
CLOCK FEATURES
     Time/Date
Yes
Yes
      Stopwatch
Yes
Yes
    Alarm
Yes
Yes
OTHER FUNCTIONS     Control camera
Yes
Yes
    Music Control
Yes
Yes
    Find Phone
Yes
Yes
    Text Response
No
Yes(Android Only)
    Answer Call
Yes
Yes
MISC 
     Payment System
No
No
      Companion App
Huawei Health
Mobvoi App
Customizable watch face
Yes
Yes
Interchangeable band
Yes
Yes
Voice command
Yes
Yes
Internal Storage
4 GB
4 GB
Operating system
Huawei Lite OS
Wear OS by Google™