James Bond is the epitome of a suave gentleman, which makes it not that surprising to learn that the character's film appearance, dating back to Dr. No (1962), has worn his fair share of expensive high-class timepieces. James Bond has been seen wearing several high-end timepieces such as Rolex or Breitling, and even high-tech watch models from Seiko. However, we won't be going through all the watches worn by the British superspy throughout his epic film franchise. Instead, we will be focusing on the current 007 (Daniel Craig) iteration. Specifically, we will be focusing on Craig's first outing in the iconic role, Casino Royale (2006).


Different Era, Different Watch
In the current 007 franchise film series, it is Omega who landed the exclusive partnership deal to be the official timepiece of James Bond. Omega's exclusive deal with the franchise began during Pierce Brosnan's run in the iconic tux back in Goldeneye (1995). To read more about the Omega Watches Worn By James Bond click here.
Back in the original Sean Connery version of Bond, Rolex was the official timepiece worn by agent 007. During Roger Moore's turn in the role, Seiko became the official watch of James Bond.
Be sure to check out all the watches worn by James Bond here. 
A Rookie 007
Casino Royale is the first film in the illustrious film franchise that shows Bond as a still novice agent. The film begins at the time when Bond gets promoted to a 007 agent. This is quite an interesting direction, especially for long-time James Bond fans who are used to seeing the cool and collected superspy, as we get to see Bond as more of a blunt instrument rather than a precision blade. Don't worry though, as we do get to see that signature smooth and charming Bond take center stage.
Watches Worn by James Bond in Casino Royale
In general, we get to see James Bond wear different Omega timepieces in the film. The first one can be seen during that epic parkour chase scene. It is also interesting to note the differences between the two Omega timepieces that we see in the film, corresponding to their specific scenes.
Omega Seamaster Planet Ocean (2900.50.91)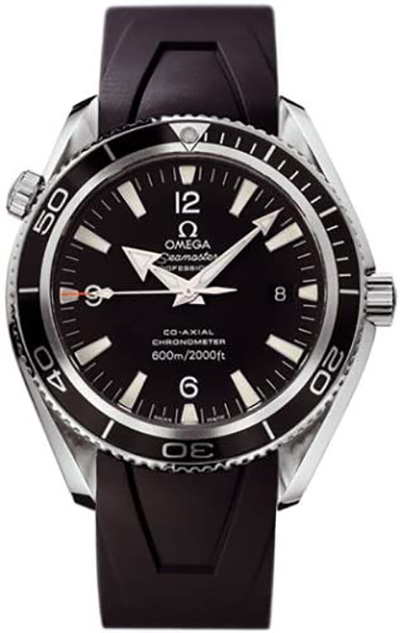 This rugged Omega timepiece can be seen during the pulse-pounding chase scene at the start of the movie. You can check out the high-octane scene right here, and tell us if you manage to get a glimpse of the Omega Seamaster Planet Ocean:

As you can see from that intense scene, you would need a timepiece that can go through hell and back without breaking a sweat. The Omega Seamaster Planet Ocean (2900.50.91) features the perfect blend of style and substance with its sleek build and incredible durability. With its polished 45mm diameter stainless-steel case and domed sapphire crystal window, the Seamaster Planet Ocean certainly delivers in the style department.
The use of flexible and tough black rubber bands also helped in creating a more comfortable experience when wearing this timepiece when chasing a criminal through a construction site.
Of course, the exterior is just one-half of the timepiece, it is what's inside that is the key. In that regard, the Omega Seamaster Planet Ocean perfectly complements this version of James Bond. A combination of ruggedness and bravura on the outside, but absolute precision on the inside. As such, the Seamaster Planet Ocean utilizes a high-quality precision Swiss automatic movement with its analog dial display. The case is also designed to provide outstanding 600-meter water resistance, making it suitable for swimming, snorkeling, and scuba diving.
This particular Omega watch model is the perfect timepiece for the scene above. It showcases Omega's refined style, construction, and durability while the use of a tough rubber band strap enhances the timepiece's overall practicality during intense physical activity. This scene manages to organically implement a product without sticking out like a sore thumb. You can easily see Daniel Craig's version of James Bond is a fan of Omega's watch line, and that's perfect marketing right there.
It's no surprise that Daniel Craig's watch collection includes this and other models as he's been spotted wearing it off-screen as well.
Omega Seamaster Co-Axial Diver 300M (2220.80.00)
During the poker scenes in the movie, Bond decided to switch to a different Omega timepiece model, the Seamaster Co-Axial Diver (2220.80.00). Again, this choice in wristwear matches what the scene requires: a more refined and calculated approach as compared to the explosive and intense chase scene at the beginning. The Omega Seamaster Co-Axial Diver 300M perfectly fits that mold. This also highlights how the Seamaster Co-Axial Diver looks quite dashing in formal attire.
In this scene, we get verification from Bond as to what watch he is wearing during his conversation with Vesper Lynd (Eva Green). Once again, the product advertisement blended organically into the scene and even added to it:

The Seamaster Co-Axial model is a classic Omega dive watch that features a prominent and distinguished aesthetic. As a dive watch, the dial incorporates bold and notable hands with contrasting color schemes to the dial. This gives the Seamaster Co-Axial excellent readability, which is essential for these types of watches. The blue dial also features wave patterns which further highlights its aquatic theme.
This Omega Seamaster watch is also significantly sleeker than the Planet Ocean we discussed above, making it a suitable dress watch as well. Besides the crown on the side, the Co-Axial also features an escape valve which is located over at the 10 o'clock side of the case. This position of the valve is notable as it is not often placed there, which, in turn, gives this Omega timepiece a unique hook with its design.
As with all Omega Seamaster watches, the Co-Axial also incorporates a high-precision Swiss automatic movement with an analog dial display. The polished stainless-steel case is accompanied by the tough and scratch-resistant sapphire crystal and is presented with a domed style for an enhanced level of class. Other notable features include a date display which is located at the 3 o'clock position and 300-meter water resistance.
While James Bond has been known to wear Rolex watches for the majority of past films, Omega has steadily ingrained itself as the official timepiece of the debonair super spy. We have to admit that with the modern iteration of James Bond, Omega certainly fits the character like a glove.
Craig's Bond is cunning, quiet, reserved, and intense – but can also be extremely charming when the need arises. We can say that as well with Omega timepieces, don't you agree?