The Fast and the Furious is certainly one of the more interesting film franchises out there today due to the extreme contrast of the first entries as compared to the last couple of ones. From starting as a grounded high-octane crime thriller in the vein of Point Break to a big-budget over-the-top action film, The Fast and the Furious series certainly evolved throughout the years.
Now, whether this is good or bad is debatable. Personally, I think it is smart business for the action film series to shift gears and build a franchise around a group of badass men and women who loves to drive fast cars furiously (sorry about that). It would have never gotten the mileage that it has if it stuck with its original premise, that's for certain.

As the film pretty much centers around high-octane car chases, time is always a key element. As such, this franchise comes with an excellent variety of watches that complement the cast. Let us take a look at these timepieces, but first, let's go through several interesting trivia about the adrenaline-pumping film franchise.
Runner-Ups for The Role of Brian O'Connor
Before the late Paul Walker became synonymous with the Fast and Furious franchise with his memorable role as Brian O'Connor, several high-profile actors were considered for the role. Mark Wahlberg and Christian Bale were in the running for the role during the casting process. The most interesting name on the list though is rapper Eminem, who was also considered for the role of O'Connor.
The Film Series is Not in Chronological Order
If you want to watch the film series properly (story-wise), you will want to watch it in this order: 1, 2, 4, 5, 6, 3, 7. This is because in the third entry, The Fast and the Furious; Tokyo Drift, we see the character of Han die near the end. But in the fourth and following installments, Han is still alive and kicking. This is because Tokyo Drift's events happened between the sixth and seventh entries.
Tokyo Drift King
Speaking of the third Fast and Furious film, we get to see the real 'Drift King' in the film. Just not behind the wheels though. Keiichi Tsuchiya, a professional race driver and is legit known as the Drift King in Japan, can be seen as a fisherman who criticizes the protagonist, Sean Boswell (Lucas Black), during his drift driving lessons. However, Tsuchiya did do all the driving stunts for Sean.
Cars Needed to Audition as Well
As the Fast and Furious films are wet dreams for gearheads, the director, Justin Lin, needed legit mechanical chariot beasts. During pre-production, the filmmakers will meet up with several people who will then showcase their cars. Specific drivers were also chosen depending on what type of scenes are in the movie.
Vin Diesel Did the Tokyo Drift Cameo for Free… Kind of
Universal Studios asked Vin Diesel to make a cameo appearance in Tokyo Drift to bolster its star power. Diesel agreed to do so only if Universal Studios gave the rights to the Riddick film franchise to his film production studio, which they did.

Watches Worn in Fast and Furious
Brian O'Connor (Paul Walker)
Jaeger LeCoultre Master Compressor Navy SEALs Dive Watch – Fast Five (2011)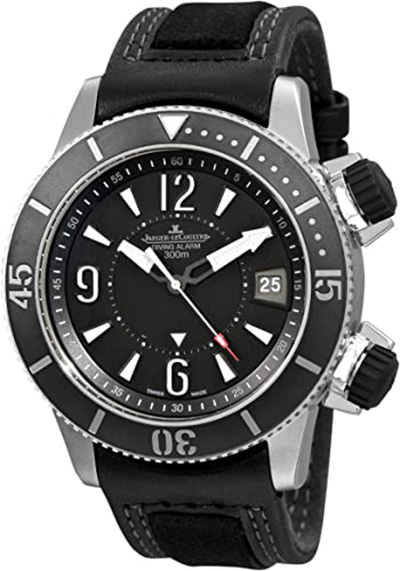 Paul Walker can be seen exclusively wearing Jaeger LeCoultre watches in the film franchise, beginning in the fifth installment, Fast Five.
In this movie, Walker can be seen wearing a Jaeger LeCoultre Master Compressor.
This timepiece is designed in collaboration with the U.S. Navy SEALs and is as tough as you would expect. Along with the robust 42mm titanium case is a flexible and equally durable ribbed black rubber band strap.
The case also features a black ceramic bezel that is shot-peened, which is pretty similar to sand-blasting, giving it a somewhat rugged surface. Inside the titanium case is the JLC caliber 899 automatic 3 jewel movement. This watch movement currently clocks a 28,800VPH, making it a highly accurate timepiece.
It also provides a solid 43-hour power reserve. As a dive watch, the JLC Master Compressor has a 300-meter water resistance rating.
Jaeger LeCoultre Master Compressor Deep Sea Chronograph Watch Q2068570 – Fast & Furious 6 (2013)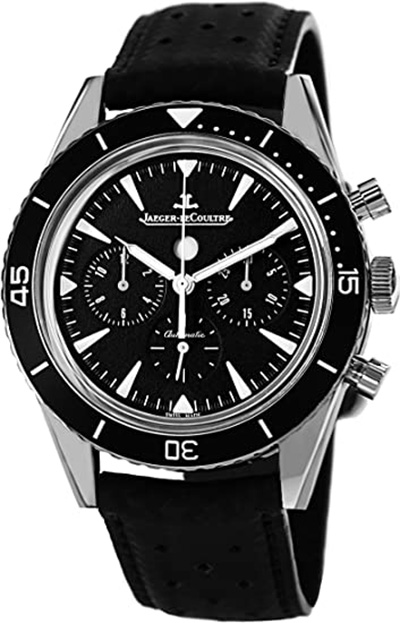 Featuring a more contemporary design, the JLC Master Compressor Deep Sea Chronograph comes with a monochrome color tone case and a patterned black leather strap with a tang clasp. This timepiece from JLC manages to blend a sporty charm with a dash of class that makes it suitable for formal occasions as well.
The case incorporates a coin-edge unidirectional bezel made from stainless steel. The use of polished silver-tone hands and hour markers atop the black dial also gives the Deep Sea Chronograph naturally enhanced readability.
The analog dial and sub-dials are operated with precision by the JLC caliber 758 automatic movement which is constructed with 37 jewels. The high-precision automatic movement also brings a power reserve of 65 hours and clocks in a 28,800VPH.
The exterior of the case is well-built which is further improved by a scratch-resistant sapphire crystal window. The Deep Sea Chrono also has a 100-meter water resistance rating.
Luke Hobbs (Dwayne "The Rock" Johnson)
Panerai Luminor Submersible PAM00024 – Fast Five (2011)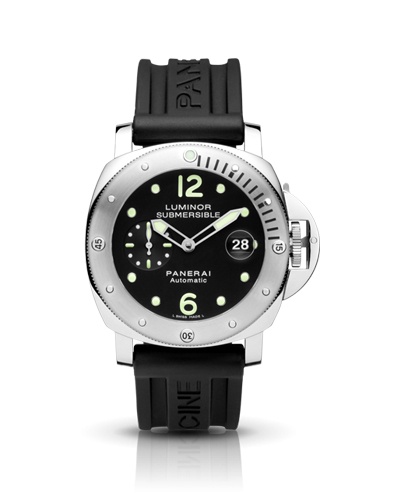 The Rock makes his debut in the action-packed film franchise in the fifth installment as a hard-nosed federal law enforcement agent, Luke Hobbs. Hobbs, during his first outing in this series, is tasked to take down Dominic Toretto (Vin Diesel) and his team – and he does so with extreme tenacity.
What type of timepiece would a laser-focused mountain of a man wear? Well, Panerai watches are known for their resilience and rugged aesthetic so it is not entirely surprising that this is Hobb's watch of choice.
In Fast Five, we see Luke Hobbs wearing a Panerai Luminor Submersible and a watch needs to be on a whole other level of toughness to keep up with The Rock. As we can see from the movie's numerous intense action scenes, the Panerai Luminor Submersible more than kept up, it delivered in spades.
With 300-meter water resistance and Panerai's excellent luminous technology, the Luminor Submersible is exactly what you will need for serious ocean diving activities. It features a solidly built 44mm stainless-steel cushion-style case which is partnered up with a durable and flexible rubber strap.
Notable specs of this Panerai timepiece include the signature crown protector design, a unidirectional bezel, anti-glare sapphire crystal, and a magnified date display at the 3 o'clock position. The Luminor Submersible is also equipped with the Panerai Caliber OP III with 21 jewel construction, a power reserve of 42 hours, and a biting 28,800VPH.
Click here to see "The Rock" Johnson's watch collection.
Panerai Luminor Power Reserve Automatic PAM00090 – Fast and Furious Presents: Hobbs & Shaw (2019)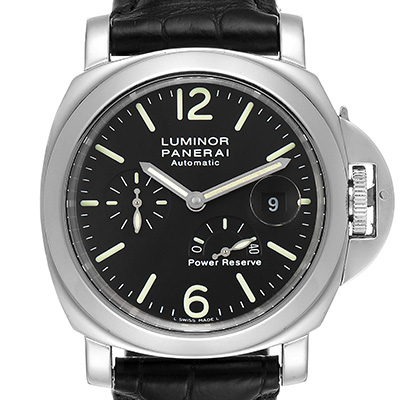 The Rock once again sports a Panerai watch in the Fast and Furious spin-off film, Hobbs and Shaw.
In this movie, Hobbs wears a Panerai Luminor Power Reserve with a more traditional leather strap. The Luminor Power Reserve has a slightly sleeker build with its 42mm stainless steel case. The case also comes with a silver-tone bezel which perfectly complements its black dial.
The dial features highly luminous hands and hour markers, which utilizes bold Arabic numerals for the 6 and 12 markers. There is also a power reserve indicator that is positioned at the 4 o'clock position. This impeccable timepiece uses a Panerai Caliber P-6762 automatic movement with an analog dial display and provides a 42-hour power reserve.
As a dive watch, the Luminor Power Reserve offers 300-meter water resistance. With its more refined style, the Luminor Power Reserve reflects Hobb's practical, resourceful, and smart character traits that we get to see in this film.
Deckard Shaw (Jason Statham)
Rolex Submariner Automatic Vintage Watch 5513 – Fast & Furious 6 (2013)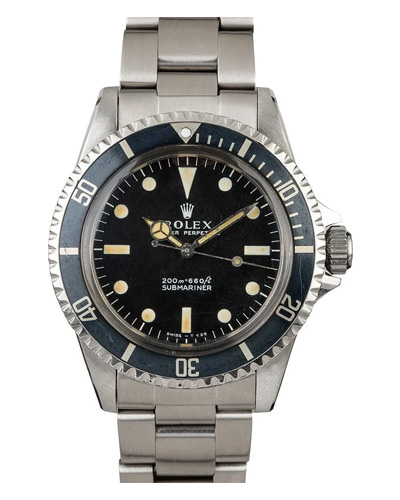 Jason Statham's Deckard Shaw first appeared in the ending of the sixth installment of the Fast and Furious franchise and as the main antagonist of the seventh entry. Deckard Shaw seeks revenge for his younger brother, Owen Shaw (the main antagonist of Fast & Furious 6), who was taken down and arrested with the help of Dom's team.
Deckard Shaw is a former MI6 agent who became a mercenary and assassin. It is not surprising that a highly-skilled mercenary would like to enjoy the finer things that life has to offer, which is why we get to see him primarily wearing Rolex watches.
In Fast & Furious 7, Deckard Shaw can be seen sporting a Rolex Submariner Automatic Vintage Watch.
This premium-grade timepiece comes with a 40mm stainless steel case and bracelet with a plexiglass crystal window. The case also has stainless steel with a black insert rotating bezel.
Underneath the iconic Rolex aesthetic lies a Caliber 1520 automatic self-winding movement with an analog dial display. The movement features 26 jewel construction and 18,000VPH. What else can be said? This is a Rolex watch and that alone should give you an idea of what to expect.
See Jason Statham's watch collection here.
Tej Parker (Ludacris)
Carl F. Bucherer Patravi Auto Date Two-Tone Watch – Fast & Furious 6 (2013)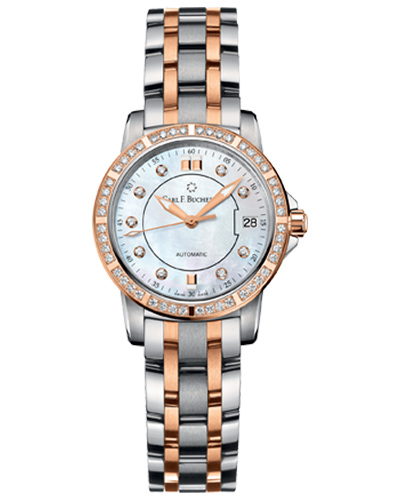 Tej Parker, played by rapper/actor Ludacris, is seen wearing this incredibly stylish two-tone gold and silver Bucherer watch in Fast and Furious 6. Tej has always been known to have a surprisingly refined taste when it comes to his style, so it is not surprising to see him prefer accessories with gold in them. The way he got the watch is also quite a funny scene in the movie.
The Bucherer Patravi Auto Date is a sleek luxury watch with a 38mm stainless steel and 18k rose gold case. It also has a sapphire crystal window which significantly enhances its durability. Within the snappy dress watch is a Caliber CFB 1950 automatic movement with an analog dial display.
The watch movement also comes with a 38-hour power reserve. This timepiece also has a decent 50-meter water resistance to top things off.
Mr. Nobody (Kurt Russell)
Niall GMT Noir Watch – The Fate of the Furious (2017)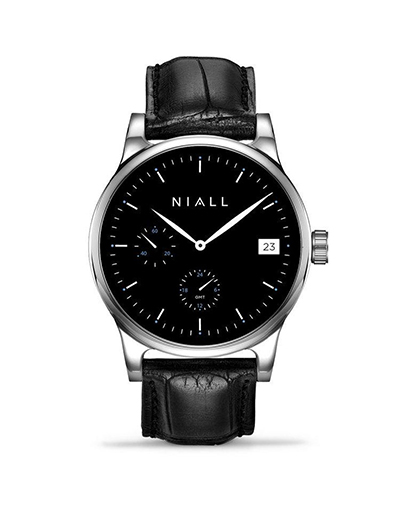 Kurt Russell plays the government secret operative and archetypal 'man in black' only known by his codename, Mr. Nobody. As such, a sleek and all-black professional-looking timepiece is the perfect choice for such a mysterious character.
Unfortunately, the manufacturer Niall has already closed up shop which is a damn shame seeing how stylish the GMT Noir watch is. It features a stainless-steel 40mm case and is deceptively modern and durable with its use of Corning Gorilla Glass crystal window. In terms of precision, the Niall GMT Noir is equipped with a Swiss automatic movement with a power reserve of 65 hours.
You should check out the Niall GMT Noir if you manage to find one out there in the wild as it certainly has a uniquely refined charm.