Wes Anderson is one of the most influential auteur directors of his generation. Known to direct movies with distinctive visual styles, his trademarks include symmetry, recurring actors (such as Bill Murray, Owen and Luke Wilson, Tilda Swinton, and Anjelica Huston), limited color palettes (the usual usage of pastel tones), and distinct costume design.
The costume designs in a Wes Anderson movie are equally important as the story and the actors who make it come to life. If one pays close attention to these scenes, they will notice small, important details that make the movie a whole lot more interesting. One of these costume elements is watches—these aren't always the main costume highlight, but sharp-eyed fans have spotted a number of interesting watch scenes in his movies.
The director recently celebrated his birthday, and Vogue wrote an article that takes a look back at some of the most important costume and fashion themes in his movies. You can find the article here.
This article will zero in on the watches featured in Wes Anderson's films. Some do not directly have a brand, but we'll provide the watches that they might have been based on.
Watches Worn in Wes Anderson's Movies
"Zissou" Amphibia – The Life Aquatic with Steve Zissou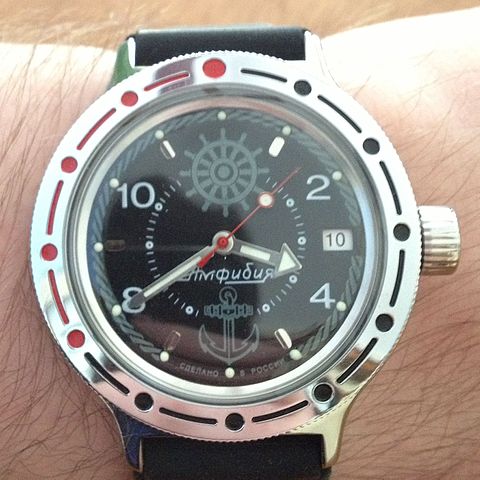 Vostok is a Russian watchmaker that revolutionized dive watches. The company, which originally produced military equipment, started making them in 1967. The creators were tasked to make a dive watch for the Soviet defense department—it needed to be reliable to 200m and can handle pressure and temperature changes.
According to an article on Hodinkee, the designers used the name "Amphibia" because the watch is for land and underwater. Read more about how the Vostok was made here.
Over the years, it has become a cult classic—a must-have for dive watch collectors. It has similar qualities as their Swiss counterparts, with the same water resistance and durability, but they cost way less (around $100, and maybe higher for some vintage models such as this one on eBay).
The Life Aquatic with Steve Zissou is an homage to French diving pioneer Jacques Cousteau. The film tells the story of the quirky oceanographer Steve Zissou, played by Bill Murray, who is working on a documentary at sea. In the movie, he wears a special Vostok Amphibia.
The costume department did their research well, as Cousteau was also known to wear a Vostok. The watch that Murray wears in the movie is a special one, and today you will find a number of versions of it on the brand's website. All of these watches are below $100, like this automatic model that has water resistance to 200m and an extremely durable stainless steel case.
"Chesterton Perpetual" – The Fantastic Mr. Fox

This movie will make more appearances below, as it had one scene where a number of watches were shown at the same time.
The Fantastic Mr. Fox, based on a Roald Dahl book of the same title, is Wes Anderson's first stop-motion animation film. The critically-acclaimed movie is an ambitious project that exhibited Anderson's creativity—while there are no actors, the movie retained his trademark style in colors and witty lines, and of course, it has well-thought-out costumes.
There is one scene in the movie where the characters (the beaver, mole, field mouse, and Mr. Fox) need to synchronize their watches, and this is where we catch a glimpse of four models most watch fans will be familiar with. One of the watches shown is a watch with a "Chesterton Perpetual" on the dial. Watch fans would know that this is not an actual watch but looks like a version of a gold Rolex Submariner no date.


The Submariner with no date is the original version of this classic (one of the most popular Rolexes). It was released in 1954 and didn't have the date display until after a decade. Some of the main features of the watch include a stainless steel case, black dial and bezel, and water resistance to 200m (the first models were only resistant to 100m).
The older models continue to be available in third-party markets like this one on eBay, but Rolex released a new version of the watch last year.
"Time-Date" watch – The Fantastic Mr. Fox

The mole is seen wearing a Time-Date digital watch. Again, there is no brand, but the shape, style, and color of this watch make it look like the classic Casio A158WA-1, a simple everyday watch by the Japanese brand.
The Casio A158WA-1 became popular in the 90s. The key features include an auto calendar, hourly time signal, and daily alarm. The watch is resin/chrome-plated, with a stainless steel band and resin glass.


This watch is a variant of the classic Casio F-91W, which is one of the brand's best-selling watches (the annual production of this model alone is around 3 million pieces). The F-91W is made of plastic, with a stainless steel case back and a resin strap. Some of the key features include is a 1/100 second stopwatch, LED backlight, and splash/rain resistance. Check out our article on Iconic 80s watches to learn more about this and other Casio models.
A field watch is a simple, analog military watch that was originally designed for soldiers during WW1. These watches are easy to read and durable—they are usually made of stainless steel casing and have a canvas or leather band.
One model that looks like the field watch on the movie is a Hamilton Khaki Green Field Officer watch.
"Field Watch" – The Fantastic Mr. Fox

Another character on the watch synchronization scene is a type of field watch—worn by a field mouse. There was no brand, but some of the closest looks are by brands like Hamilton, Timex, and Citizen.
The watch worn by the mouse looks like the Hamilton Khaki Green Field watch, a mechanical timepiece powered by the H-50, a caliber especially developed for Hamilton's hand-winding watches. It has an extended power reserve of 80 hours, and water resistance to 50m. The watch has a 38mm stainless steel case, sapphire crystal, and a green canvas strap with a pin buckle.
Another field watch that looks like the one in the movie is the Timex Weekender watch, a 38mm model with a silver-tone brass case and a nylon strap. This one has Arabic numeral markers with smaller military time below them. This, like most Timex watches, is powered by Indiglo, which means that the case can be easily seen in the dark.


Lastly, there's the Citizen BM8180-03E, a field watch with a silver-tone stainless steel case, canvas strap, and Arabic numeral markers. This quartz watch has a day/date window at 4 o'clock and is water-resistant to 100m.
Calculator Watch – The Fantastic Mr. Fox

A calculator watch also made an appearance in the stop-motion film. The watch worn by Mr. Fox looks a lot like a calculator watch made popular by Japanese watchmaker Casio.
A model that looks similar to what Mr. Fox is wearing is a Gold Casio Databank, which has features like a 25-page databank, an 8-digit calculator, a countdown timer, daily alarm, World Time, five alarms, and an auto calendar. The data feature is excellent for those who would like to go back to using technology—sure, a phone can easily store all the information one needs, but being able to view them from an analog watch is something refreshing.
The Casio Databank also has a 1/100 second stopwatch and has both 12 and 24-hour formats. The battery life is up to three years (CR 1616).
This watch is also a common model used on shows set in the 80s. If you'd like to learn more about calculator watches here.