Wenger and Victorinox are two Swiss-based companies that are known not just for their watches but with other products as well. For example, Victorinox started by manufacturing Swiss army knives.

Victorinox's quality Swiss army knives were renowned for its durability, quality, and functionality. Wenger, on the other hand, is a company that built a commendable reputation with its excellent luggage travel bags but has also recently entered into the watchmaking business.
An interesting factoid about this comparison is that Wenger and Victorinox are the same company. The Wenger brand was purchased by Victorinox back in 2005. Fortunately, this merger did not remove both the brand's unique style and quality.
In this article, we will be taking a look at Wenger, and Victorinox watches. Which one can successfully claim to have a better timepiece? Let's take a look.
History of Wenger


Wenger first began as a cutlery house in 1893, in Courtételle, in the Swiss Jura region. During the early 1900s, Wenger primarily stayed within this market. The company then shifted to manufacturing Swiss Army knives which positioned them against another rising Swiss company, Victorinox.
It was not until 1988 when Wenger finally entered the watchmaking business. Wenger did reasonably well within this market. The brand was primarily famous within traveler's circles as Wenger is quite synonymous with travel bags/luggage.
Hence, most of their loyal customers in that category also transferred over to their timepiece products as well.
In 2005, Wenger was successfully purchased by Victorinox. This acquisition proved fruitful for both parties, especially for Wenger, who was able to develop their brand further.
In 2013, Wenger's knife products were integrated under Victorinox's umbrella. This allowed Wenger to pour their resources and focus onto their travel accessories and watches.
Presently, Wenger is one of the leading brands when it comes to travel gear, and to some degree, watches as well. While still relatively new in the watch market, it is clear that Wenger can deliver on their unique take of timepieces.
Only time will tell if Wenger can reach their full potential in this market.
History of Victorinox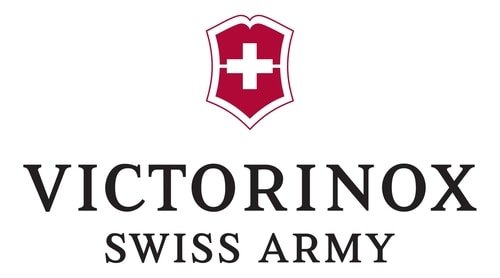 Victorinox was founded back in 1884 in Schwyz, Switzerland. Similar to Wenger, Victorinox didn't begin as a watchmaker. Instead, the company primarily crafted army knives for the Swiss Army. In 1908, the Swiss Army contracted Victorinox and Wenger to supply knives for the Swiss Armed Forces.
Both Wenger and Victorinox marketed their knives in a rather peculiar yet interesting manner. Wenger marketed theirs with the tagline of "Genuine Swiss Army Knives", and Victorinox sold theirs as "Original Swiss Army Knives".
It was in 1989 when Victorinox started producing its own line of watches. Their first crack at the market was in the United States where they sold timepieces under the moniker "Swiss Army".
In 2005, Victorinox acquired Wenger, which was beneficial for both companies as they were able to expand their brands into new territories. While also improving upon their current line up of products.
Victorinox currently has five product categories under its banner at the moment. They are known for producing Swiss Army knives, household and professional cutlery, travel equipment/accessory, fragrances, and watches.
Wenger and Victorinox – Watch Comparisons
We will be taking a look at their timepiece line to see how well they fare with other prominent brands in this market. Notably, we will be comparing two watch lines within their company, the other being Wenger watches.
Chronograph Watches
Seeing as both Wenger and Victorinox both sharpened their teeth in the Swiss Army knife market before entering the watchmaking industry. It is best to start the comparison with a watch type known for its reliability and functionality.
We are, of course, talking about chronograph watches. Since the two brands are related, don't be surprised to see some similarities between their timepieces.
Wenger Urban Classic Chrono Watch

The Wenger Urban Classic watch line is one of their most popular timepieces, and it is quite easy to see why. The Urban Classic collection features a wide variety of models that guarantees you will find one that will suit your style.
The Wenger Urban Classic is available in several straps from leather to stainless steel. Due to its versatility, the Urban Classic watches are quite famous for both men and women. Design-wise, the Wenger Urban Classic aims to provide a reliable timepiece for both outdoor/sports enthusiasts and casual watch lovers.
This particular model comes with a 43mm stainless steel case. It also uses Swiss quartz movement with analog display. In terms of functionality, the Urban Classic Chrono is pretty standard and reliable. It features a 30-minute chronograph sub-dial and durable leather straps.
This model is available in several variations which further pushes Wenger's aim of providing versatile timepieces to their customers. Some of the notable features included with the Urban Classic Chrono is the date display which located over at the 6 o'clock position. The Urban Classic is also designed with a water resistance of up to 100m.
Overall, the Urban Classic Chrono watch from Wenger is undoubtedly a nice, comfortable, and casual watch for outdoor and everyday use. While it doesn't come with a lot of bells and whistles, the Wenger Urban Classic does an excellent job when it comes to timekeeping while looking quite right in the process.
Victorinox Swiss Army Alliance Chronograph

Similar to the Wenger Urban Classic, the Swiss Army Alliance series by Victorinox also boasts a vast selection of variant models. This ensures that both men and women can find the perfect Swiss Army Alliance chronograph that will suit their style.
The first aspect of the Alliance collection you will notice is that it has a more luxurious design and appeal compared to the Wenger Urban Classic. While it may seem to feature a traditional approach with its aesthetics, closer inspection will highlight some applause-worthy features.
For starters, the 44mm stainless steel case is crafted with absolute attention to detail. Every facet of this timepiece was carefully considered to maximize features and functionality. Within the sturdy round case is a highly reliable Swiss quartz movement with analog display.
It comes with three sub-dials and a date display which is placed over the 6 o'clock position. The watch has a minute tracker as well. The dial is protected by scratch-resistant and anti-reflective sapphire crystal window for optimum legibility outdoors.
This is also constructed to provide 100m of water resistance which allows it to be used for swimming but not diving. The Alliance chronograph comes in several variations with some models utilizing leather straps while others come with stainless steel bracelets.
All in all, the Victorinox Swiss Army Alliance is a solid entry into the chronograph watch and can even be considered as a more elegant alternative to Wenger's Urban Classic timepiece.
Best Chronograph Watch style="font-weight: 400;"> – Both the Wenger Urban Classic and the Victorinox Swiss Army Alliance utilize similar clockwork craftsmanship. In terms of performance and precision, both watch lines are near identical as well. It is impossible to pick a winner based on their functionalities. That is why we will shift towards aesthetics and price. Overall, Wenger provides a more casual, contemporary, and affordable watch. Victorinox will perfectly suit those who prefer something a bit more premium looking.
Diving Watch
A watch category that both Wenger and Victorinox seem to also have a good grasp of is diving watches. Both brands have some of the most visually striking diving watches in the market today. Which one is considered the better aquatic timepiece? Let's find out.
Wenger Sea Force 3H Analog Watch

The sporty appearance of the Sea Force 3H Swiss quartz watch perfectly blends with the functionality it is marketed. The Sea Force 3H features 43mm stainless steel case and is available in stainless steel bracelets, leather, and silicone straps.
The Sea Force 3H features a rotating bezel and utilizes Swiss quartz movement with analog display. The dial also features a date display which is neatly located at the 3 o'clock position. The glossy silver dial is perfectly highlighted with the eggshell white hands and markers.
For optimum protection, the Sea Force uses a sapphire mineral window. This material is a highly scratch-resistant material and also has anti-reflective properties. As for its main feature, the water resistance, the Sea Force 3H is designed to be water-resistant for up to 200m.
The Wenger Sea Force 3H stays true to the brand's signature quality. It is a highly reliable and affordable diving watch that is also an excellent everyday casual wristwatch.
Victorinox I.N.O.X. Watch

Quite possibly one of the most visually striking timepieces that Victorinox has in their diving watch category.
The Victorinox I.N.O.X. features excellent watch craftsmanship with unique case design. The lightweight construction is thanks to its 43mm titanium case. The I.N.O.X. series also comes in a wide variety of models such as ones that use leather, stainless steel, and silicone bracelets.
The I.N.O.X. series comes in 25 different variants with styles ranging from sporty to something more akin to a dress watch. One feature that we quite welcome is its removable protective bumper. While a durable sapphire crystal window already protects the dial, it is always better to have an extra layer of protection, especially for a watch designed for outdoor use.
The I.N.O.X. watch also uses Swiss quartz movement and with analog display. Overall, this is undoubtedly one of my personal favorite Victorinox watches. It is a reliable, robust, and accurate timepiece that also brings an eye-catching sense of style to the table.
Best Diving Watch – In terms of design, the Victorinox I.N.O.X. is a clear winner. Similar to our previous comparison, both Victorinox and Wenger utilize identical watch movement technology. The Wenger Sea Force feels like it will be able to handle rougher usage though. That being said, the Victorinox I.N.O.X. delivers in both performance and presentation. The I.N.O.X. is slightly more expensive though.
Conclusion: Wenger vs Victorinox – Which is the Better Watch
Both Wenger and Victorinox are excellent watch brands that bring their unique takes when it comes to their timepieces. Wenger feels more durable and comfortable to wear, which is no surprise as Wenger is known for their travel gear products.
Victorinox feels more like a traditional timepiece that leans toward a more premium appeal while Wenger is designed with a modern casual appearance. Overall, both are trustworthy timepieces in regards to accuracy and durability.