Withings is one of the companies that offer a unique take on the smartwatch concept. Unlike other brands that tend to incorporate the latest tech into their products, Withings keeps it simple. Their formula for success involves making simple and reliable smartwatches that look and feel great while offering all the smartwatch essentials.
However, before Withings became a successful brand, they had to go through major challenges. At one point, they were even rebranded and became part of Nokia's fitness line. This stint was not successful and almost ended Withings' chances of success in the smartwatch market.
In this article, we will be checking out Withings' history, brand reputation, and smartwatch collection. And by the end of this article, you should have a better idea of whether or not Withings' smartwatch collection is right for your style and your needs. Keep on scrolling to find out more.
Withings Brand History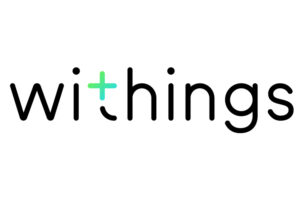 Withings is a French patron electronics corporation headquartered in Issy-les-Moulineaux, France.  Compared to its competitors, Withings is a relatively new company. They were founded in 2008 in Issy-les-Moulineaux, France. Its three founders were professionals from the telecom industry. 
Éric Carreel was the co-founder of Inventel (sold to Technicolor in 2005). Fred Porteur was the co-founder of Cirpack, which was also acquired by Technicolor. And finally, Cédric Hutchings was one of the product managers at Inventel. 
The company's first product is a connected scale officially launched in 2009. In September 2010, Withings carried out its first fundraising and received 3.8 million euros from Ventech to finance the development of the company's next two products. 
A year later, Withings announced that their second product would be a blood pressure monitor that could connect to the iPhone. The company then carried out another fundraising and received funding amounting to 30 million euros, half of which came from Bpi France. 
Subsequently, the company continued to grow as it joined Apple's HealthKit platform in 2014. And in 2015, it announced a partnership with MyFitnessPal to combine the Withings app with nutrition data from MyFitnessPal to let users know if they are getting enough exercise in proportion to their diet.
Withings was bought by Finnish commercial enterprise agency Nokia on 26 April 2016 and became part of Nokia Health. However, in 2018, Nokia decided to sell its health and fitness division. 
It was acquired by Withings co-founder, Éric Carreel, who left Withings when Nokia acquired the company. Starting that year, the Withings brand was able to regain its name and once again became an independent brand.
Withings Watch Collections
Withings Steel HR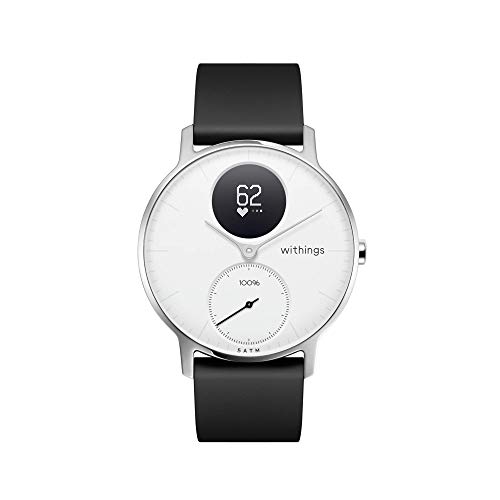 The Steel HR by Withings is one of the best hybrid smartwatches on the market.

Withings excels at monitoring your health and activity metrics and the Steel HR is no exception. In addition to standard smartwatch features such as calling, texting, and app notifications; the Steel HR includes 24/7 heart rate and automatically recognizes and monitors a wide variety of activities, counts steps, and is water-resistant to 50m – making it a good option for swimming and other water sports. 
The Steel HR also tracks your sleep and assigns a Sleep Score, through the companion Health Mate app, based on your sleep duration and patterns. The unique Smart Wake-up feature can wake you at the optimal time based on your sleep cycle. 
The Steel HR Sport edition includes additional health features such as a VO2 Max estimation and fitness level assessment. 
The watch also has a Multisport Tracking feature for workouts and fitness activities for over 30 different sports. The Steel HR syncs with Apple Health and 100+ other partner apps. The integrated GPS is compatible with Strava and other GPS apps, allowing you to accurately map your runs, bike rides, and other workouts.
Withings includes free data storage with your purchase, giving you unlimited access and control of your data with no additional costs or time limit.
The watch can also be customized with different strap colors and materials such as leather, silicone, or metal.
It has a rechargeable battery with an impressive battery life of up to 25 days which landed it on our list of best smartwatches for long battery life.
The Steel HR is compatible with both Android (6.0 and higher) and IOS (10 and higher).
Withings ScanWatch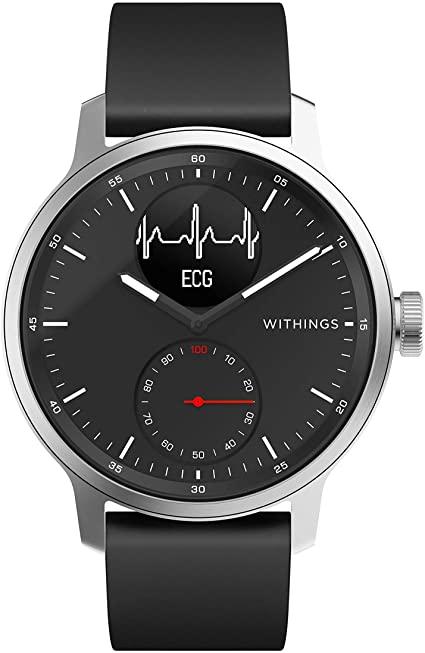 The Withings ScanWatch is the first hybrid smartwatch to constantly scan quintessential parameters to emerge as conscious of coronary heart health stipulations and help enhance everyday fitness. The Withings ScanWatch has an impressive suite for tracking your cardiac health. 
The ScanWatch is designed for serious athletes as well as for consumers who are on a tight budget. This watch has a premium-looking design, which is similar to analog watches. But despite the simple and minimalist design, it has a solid build quality. It is made of 316L stainless steel and a sapphire glass display with an FKM strap. It comes in two sizes, the 38mm and 42 mm versions.
This Withings model has a big and bright PMOLED display. However, it has a fairly low resolution and monochrome colored display. It also lacks a touch screen display. However, it has a rotatable crown on the side, which is faster and easier to use compared to traditional buttons.
The watch also allows exercising monitoring for pretty extreme varieties of exercises (both indoor and outdoor). However, there is no built-in GPS meaning it will have to rely on the one found on your smartphone. The watch boasts a medical-grade ECG, an oximeter for SpO2 measures, and an exceptional battery life of up to 30 days.
Withings Move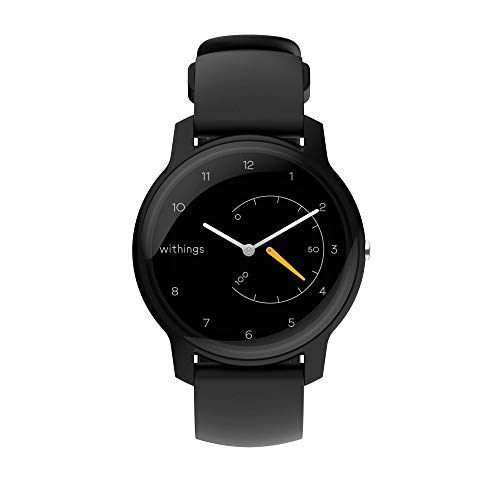 The Withings Move is a premium smartwatch that seamlessly tracks walking, running, sleeping, swimming, and much more. Plus, it features Connected GPS to map your path. It also syncs with the free Health Mate app so you can view your activities and improve their efficiency, which helps achieve better results.
The Withings Move is a unisex smartwatch. It fits both men's and women's wrists. With its 38 mm case and single button design, the Move is more on the minimalist side. But of course, it is still very durable. 
The body is made of polycarbonate, and stainless steel back and only weighs 31 grams. It also has a 50-meter water resistance making it great for showers or activities such as swimming. The Withings Move is compatible with both iOS and Android devices. 
Withings Move ECG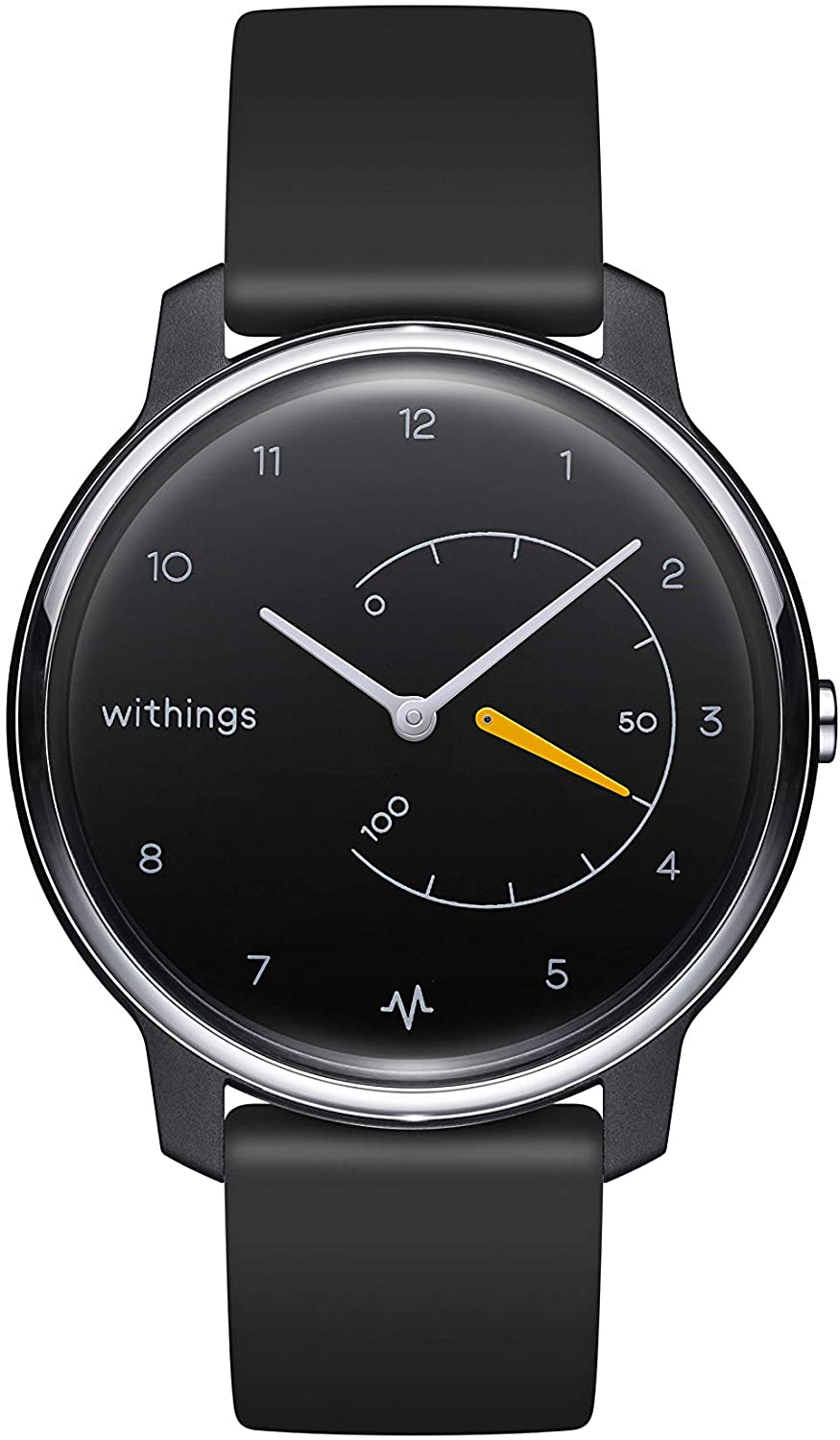 The Withings Move ECG is a less expensive hybrid smartwatch that tracks basic exercises such as walking, swimming, and more. It is the world's first analog watch with a built-in electrocardiogram to detect atrial fibrillation. You can record an ECG with or without your phone nearby. The data can be stored in the watch until you sync it to your smartphone.
The Move ECG is very similar to the Withings Move, but with the addition of the ECG function. Compared to other Withings hybrid watches, the Move ECG is comparably small.  This makes the Move ECG elegant and comfortable to wear wristwear. 
It is, however, lacking some features such as continuous heart rate monitoring. Additionally, the watch is mostly made of plastic. But, of course, it helps achieve a lightweight design. The Withings Move ECG only weighs 32 grams, which is similar to the Move. It is also water-resistant up to 5 ATMs and swim-proof. 
The Move ECG has an altimeter for measuring the number of staircases climbed each day. However, it lacks its own GPS chip for tracking outdoor runs. Instead, the watch can use your smartphone's GPS by means of its Bluetooth connection. 
The Withings Move ECG uses a replaceable CR2430 button battery, which the company says lasts up to 12 months on regular usage. This easily makes the Move ECG last longer than other hybrid smartwatches. 
Withings Pulse HR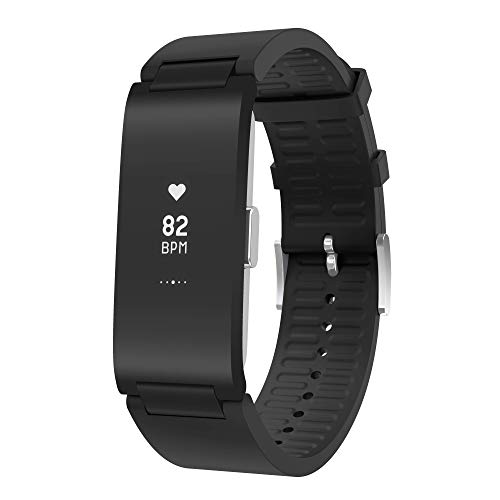 The Withings Pulse HR is a fitness tracker specifically designed to keep track of daily activity and training sessions. It includes a continuous heart rate to help you get the most out of your workouts. It also has connected GPS to map your route and automatic sleep tracking with a daily Sleep Score. Also, it can display most of your smartwatch notifications.
In regards to its design, the Withings Pulse HR looks very similar to the Pulse Ox, which launched way back in 2014. It is a slim all-black band with a silicone rubber strap. It also has a curved front and is made of plastic, with its underside being made from 316L stainless steel.  
Its minimalistic nature makes viewing in direct daylight easy. Additionally, the Pulse HR is quite light and only weighs 45 grams, making it one of the most comfortable devices to sleep with. Its heart-rate monitor keeps track of pulse all day and all night, so its design had to be suitable for 24-hour wear. This watch can even be worn in the shower thanks to its 50m water resistance.
In terms of its battery life, the Pulse HR has a long-life battery of up to 20 days, so you can spend more time moving and less time charging.
Overall, the Pulse HR reliably does everything that you need out of a fitness tracker and also a good alternative to Fitbit.
Withings Brand Reputation
Withings may have a rocky history of being acquired by Nokia and trying to re-establish themselves as an independent brand a year later. However, Withings has many noteworthy achievements that help improve the well-being of its consumers. 
In 2019, Withings launched watches that feature detection of breathing disturbances as well as watches with sleep tracking capabilities.
A medical-grade electrocardiogram was also added to the Withings Move ECG. A partnership with the World Heart Federation was also signed to raise awareness of cardiovascular diseases.
In 2020, Withings raised $60 million to become a data-enabled bridge to healthcare professionals and patients. In 2021, Withings had a partnership with Redox as a remote for easier monitoring of healthcare professionals to their patients. Withings also Joined DTRA (Decentralized Trials and Research Alliance) to democratize and accelerate clinical trials.
Is Withings A Good Watch Brand?
Withings takes a different approach compared to most smartwatch brands. Their watches have more emphasis on simplicity and functionality. Some of their smartwatches, such as the ScanWatch, may seem odd considering its asking price despite the lack of a sophisticated operating system and a touchscreen. However, the health monitoring and fitness tracking features of their watches are some of the best.
Additionally, Withings smartwatches are great for less tech-savvy people or people who generally just want a reliable smartwatch for their exercise routines or general health maintenance. 
If you are looking for the latest breakthrough in smartwatch tech that will go nicely alongside the latest smartphones, then Withings may not be the watch for you. But if you are more of a minimalist and prioritize health and fitness benefits, then Withings smartwatches may catch your interest. 
Where To Buy Withings Watches?
Withings smartwatches are available on their Official Website and on Amazon as well as other online retailers.
Where Are Withings Smartwatches Made?
Withings smartwatches are made in France.
Withings Watch Warranty
Withings smartwatches have a two-year warranty.