To the average consumer, Tag Heuer might be the more prominent brand in terms of prestige. However, to watch enthusiasts, we know that Breitling is one luxury brand that you should never underestimate. Also, for hardcore timepiece aficionados, Breitling is one of the few watch brands that comes with an undeniable level of prestige. As you can guess, popularity is just one factor to consider when determining which delivers a better selection of timepieces. So, how does Tag Heuer and Breitling stack up against one another? Let's find out.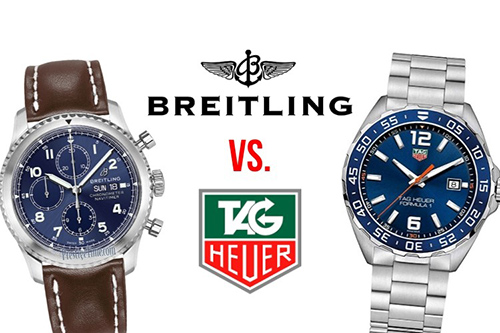 Breitling Brand Overview



Breitling was founded back in 1884 by a young German immigrant and watchmaker's apprentice, Leon Breitling. During his apprenticeship, Leon Breitling managed to make a name for himself with his uncanny skill in watchmaking as well as his attraction to developing what is considered to be the more complicated timepiece mechanism – chronographs.
This affinity towards the chronograph movement became the heart and soul of the Breitling brand as the company never veered away from this type of watch design. To this day, Breitling is synonymous with multi-functional chronograph watches. In terms of reputation, Breitling truly reached their potential around the 1950s when it debuted the first Breitling Navitimer. The Navitimer was ahead of its time with its highly advanced timepiece design, such as incorporating a navigational computer that helps pilots/aviators to plan out flight plans.
Another notable series from Breitling is the Chronomat watch line. What made the Chronomat special is that it was the first chronograph that introduced the self-winding chronometer movement. The Chronomat line was also the first Breitling series to utilize their high-end caliber 01 movements which they unveiled back in 2009. The Calibre 01 movement is by far one of the most accurate commercial-grade watch movements in the market today.
Breitling earns its spot among the top luxury brands in the watch industry. With its rich history and an undeniable level of quality in regard to watch craftsmanship, Breitling is one of the must-haves for watch collectors and enthusiasts.
Tag Heuer Brand Overview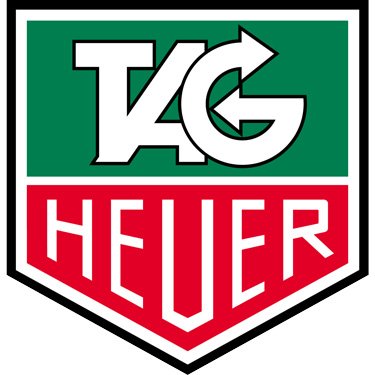 Tag Heuer is another watch brand with a rich history behind it. Founded back in 1860, it was originally known as the Heuer Watch Company, after the founder Edouard Heuer. The company also first made its mark within the sports industry due to its highly reliable and accurate timepieces. This reputation helped the company land a sponsorship during the 1920 Olympics which Tag Heuer became one of the official timekeepers.
Tag Heuer, then still known as Heuer, further expanded their territory within the sports industry – primarily the racing circuit. Their introduction of the first dashboard watch designed specifically for use on race cars, the Heuer Autavia, was not just designed for the race car industry it was also a showcase of the company's ability to develop highly accurate timepieces.
While widely known as Tag Heuer nowadays, did you know that it wasn't until 1985 when they officially added the Tag moniker to the company's name? This was made official when Heuer Watch Company was purchased by the TAG Group Holdings. Combining the two company names gave birth to the Tag Heuer brand that we all know today. At the tail end of the 90s, Tag Heuer was then acquired LVMH.
When it comes to accomplishments, Tag Heuer has a cavalcade of noteworthy achievements in their repertoire. One notable milestone came when Tag Heuer became the first watch brand to reach outer space. This happened during NASA's Mercury Friendship 7 mission when astronaut John Glenn wore a Heuer 2915A watch model as he orbited the planet three times during the said mission.
Breitling and Tag Heuer Watch Comparisons
Sports Watches:
Breitling Chronomat B01

The Breitling Chronomat B01 is one of the company's crowning achievements when it comes to precision and reliability. This is due to its use of the Breitling Caliber 01 movement which is one of the most impressive timepiece mechanisms in the industry. Not only does the Breitling calibre 01 provide extreme precision, but it also packs a whopping 70-hours of power reserve.
Stylistically, the Chronomat B01 fits perfectly with gearheads and racing fans due to its industrial-themed aesthetics. The Chronomat B01 also comes in three variations: silver, grey, and black dial. Features include a chronograph functionality that utilizes the standard three sub-dial design. There is also a tachymeter scale and date display.
Also, of note is that the Breitling Caliber 01 comes with a COSC certification which guarantees high-end quality and precision in regards to the watch mechanism used with the Chronomat B01. As with most Breitling timepieces, the Chronomat B01 leans over towards the rather larger sizes. That said, it still manages to contain this precise and feature-rich wristwatch within a relatively compact 41mm stainless-steel case.
The Chronomat B01 is also designed with durability in mind. The robust timepiece features a sapphire crystal window which is not only tough, it is highly scratch-resistant as well. Also, the timepiece is constructed to provide a solid water resistance rating of up to 300-meters.
Tag Heuer Monaco

The iconic retro classic Tag Heuer Monaco is a legend in the industry. The design is unchanged from the original Jack Heuer model from 1969. The Tag Heuer Monaco went full-bore with its "firsts" from being the first automatic chronograph and the first square case watch with excellent water resistance rating.
If the timepiece seems familiar to you, then by chance are you a Steve McQueen fan? That's because the Tag Heuer Monaco is the same timepiece used in the classic movie, Le Mans, which starred the legendary Steve McQueen.
Monaco, while at a glance looks a tad bulky due to the use of a square case, is amazingly sleek once on your wrist. The square stainless-steel case only measures in at 38mm, plus the bezel. It is easy to see why the legendary "King of Cool" personally hand-picked it for his classic racing film.
As for Monaco's features, it comes with two sub-dials (both utilizing the square design) that displays 30 minutes and 60 seconds. Within this stylish beast is a calibre 11 Swiss-automatic movement. The dial is protected within a scratch-resistant sapphire crystal. Additionally, Monaco also has decent 100-meter water resistance. Like the look of this watch but not the price tag? – Check out these affordable TAG Heuer Monaco alternatives.
GMT Watches:
Breitling Navitimer World GMT


Breitling is well-known for its efficiency in highly accurate timekeeping, this has been ever-present in all of their timepieces throughout the years. You will be glad to hear that Breitling maintains the quality of their watches to this day, even enhancing it further.
Of course, Breitling is not just known for their impeccable performance, their timepieces are also coveted due to their excellent style.
The Navitimer World GMT is no different with its luxurious polished silver dial and stainless-steel case. It also incorporates a rotating bi-directional bezel with the markers and hands utilizing a luminous finish for better legibility even under low-light environments.
It features highly legible chronograph features and a date display as well. The highly detailed dial is well-protected within a robust and scratch-resistant sapphire glass window. Additionally, the overall construction of the Navitimer World GMT allows it to have water resistance for up to 100-feet or 30-meters. This means that the Navitimer Wolrd GMT is not suitable for swimming or diving, but can withstand the occasional splash of water.
Tag Heuer GMT Formula 1 Caliber 7

If you prefer something sportier when it comes to its aesthetics, the Tag Heuer GMT Formula 1 is an excellent choice for you. The black leather cuff strap is perfectly combined with a black coated 43mm titanium case.
The combination of a black brushed carbide case, black leather straps, and black dial is balanced by the use of a black and blue bezel making it one of our top "Batman" alternatives.
The hands and markers also incorporate a blue with a silver-accent design which looks quite nice and balances out the mostly black look.
Also, the hands and markers all incorporate a luminous finish. As for other key features, the GMT Formula 1 comes with a date display which is located over at the 3 o'clock position. When it comes to performance, the GMT Formula 1 relies on the top-notch calibre 7 automatic movement to handle the precision and accuracy, and handle it did.
Other notable features include minute markers that are placed around the outer rim of the dial. As for the GMT functionalities, the GMT Formula 1 can display a second timezone and is water-resistant for up to 200-meters.
---
If you're still trying to decide you may want to check out some of Breitling's top-ranked watches.