Frederique Constant is a highly stylish luxury watch brand that offers some of the most visually stunning timepieces in the market today. As such, most of their watches come with a premium price tag. Of course, top-notch aesthetics is not the only thing that Frederique Constant has going for it. On the opposite side of the ring, we have Oris. Oris has built a solid reputation with its versatile selection of watches as well as their exclusive utilization of mechanical movements.
Tradition gives Oris a certain charm that is often lost in most brands. There is also the fact that while Oris timepieces are considered luxury watches, they are considerably more affordable than other premium-grade swiss brands.
So, without further ado, let us put these two highly stylish watch brands together and see who manages to get on top.
Oris Brand Overview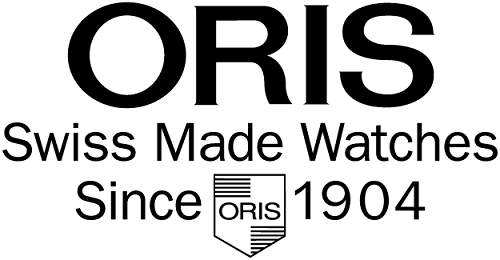 The famous Swiss watch brand is a mainstay in the top luxury watches list. Their impeccable design and construction are without refute. Most importantly, their popularity stems from their use of mechanical movements which adds to their mystique, as they say.
Oris began their operation way back in 1904 and was founded by Paul Cattin and Georges Christian. Within a decade, the watch company grew exponentially and now operates with six factories in total. Oris also became the biggest employer in Hölstein, Switzerland during this time which is another notch on their belt. Oris once again hit a milestone during the 60s when they became one of the largest watch companies in the world, managing to produce 1.2 million units annually.
Another fact about the company is that while they are now known as a global brand, all their timepieces are still designed and manufactured in-house in Switzerland. This insistence in keeping development in-house allows the brand to ensure that all their watches are of the highest standards.
As for Oris watch features, besides the mechanical movement, Oris also utilizes a unique red rotor design which has become the company's signature stamp when it comes to watchmaking. As each timepiece goes through a rigorous Swiss quality control process, Oris watches are known to last for quite a long time.
When it comes to their most popular watches, Oris is a known brand within the diver's circle thanks to their Aquis watch line. Oris is also known for being one of the best alternatives to premium luxury watch brands as they offer excellent and stylish timepieces at a lower cost without sacrificing quality.
Frederique Constant Brand Overview


Frederique Constant is another Swiss watch brand that has reached global popularity. The watch company is still relatively new to the industry, as the company was founded in 1988 by Swiss couple – Peter Constant Stas and Aletta Francoise Frederique Stas-Bax. Nonetheless, Frederique Constant managed to climb the ranks impressively fast.
While still, a young company compared to other Swiss watchmakers (some being over a century old), Frederique Constant proved to be incredibly competent and skillful in crafting top-quality watches. This claim is further strengthened as the brand is now sold in over a hundred countries. Back in 2016, Frederique Constant was acquired by Japanese watch giant, Citizen and is now part of the Citizen Holding Group along with Bulova, Alpina, Arnold & Son, and CAMPANOLA.
Frederique Constant watches are considered as luxury brands and are known for their stunning and creative designs. This quality also reflects in their price tags as Frederique Constant watches are known to be quite expensive. The price is well worth it, all things considered, as the brand offers a unique set of timepieces in terms of design with its fantastic aesthetics and fantastic attention to detail.
Oris and Frederique Constant Watch Comparison: Moonphase Watches
Oris Artelier Grande Lune Moon Phase Review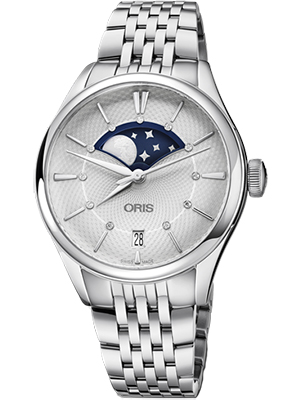 Since aesthetic will be the common thread connecting Oris and Frederique Constant watches, what better way to make a comparison than with their moon phase watch types. The Artelier watch line of Oris is among their most visually appealing offerings, and so it is expected that it is in this series that we find their moon phase timepieces.
The Oris Artelier Grand Lune that radiates with a level of elegance that only Oris can deliver with their masterful implementation of traditional aesthetics and construction. Oris did not hold back with the Arterlier's design, and it earns its "Grande" moniker. Over on the dial are 11 diamonds that serve as the markers. The dial also features a guilloche pattern that further enhances its luxurious charm.
Additional notable features include a date display that is neatly displayed over at the 6 o'clock position. The impeccable precision of this watch centers on its Swiss automatic self-winding movement with analog display. The movement utilizes 28 jewels that are embedded into the construction, and it can also provide the Grande Lune with up to 38-hours of power reserve.
Frederique Constant Heart Beat Moon Phase Review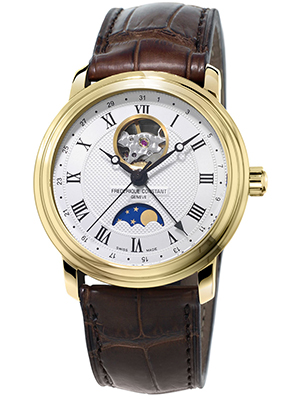 The Heart Beat Moon Phase watch by Frederique Constant is part of their Classics collection and exudes an air of sophistication that is true to its name. The Heart Beat Moon Phase watch measures in at 40mm and comes in two variations: stainless steel and gold-plated. Having two completely different styles available gives the Heart Beat Moon Phase watch more flexibility as not anyone prefers the abundance of a gold watch.
Not only does the Frederique Constant Heart Beat Moon Phase come with the standard moon phase functionality, but it also comes with a date display and a decent water resistance rating of 5 ATM (50-meters or 165-feet). Additionally, it has an open heart or skeletal design on the dial, which is located over at the 12 o'clock position. Over on the outer rim of the dial is a heartbeat tracker, an appropriate inclusion considering its name.
Overall, the Frederique Constant Heart Beat Moon Phase watch is a perfect timepiece that exemplifies what the brand can provide. Premium-grade materials, skillful watch craftsmanship, and brilliant design – these are all the traits you can expect to find in a Frederique Constant timepiece.
Conclusion: Oris VS Frederique Constant – Which is Better?
Overall, we will be basing this decision on the achievements set by the two brands. Oris is a more reliable watch brand with over a century's worth of experience in the industry. While Frederique Constant is relatively new to the proverbial dance, it has already shown great potential within a short period. For now, we will be awarding the crown to Oris. But with Frederique Constant's track record, it might not take long for it to take over the old guards of the industry.