Oris is a mid-range brand well-known for its near-perfect mechanical watches. Sinn is a lesser-known brand in the broader market but found its place in a particular niche, that is, the extremely durable outdoor timepiece category. While it does seem that this is like comparing apples from oranges, there are certain aspects that both brands manage to both touches upon.
In this article, we will be taking a closer look at what Oris and Sinn have to offer in terms of premium-grade durable outdoor timepieces. How does Oris match up to the impeccable design and sturdiness of Sinn watches? Are Sinn timepieces stylish enough to give Oris a run for their money?
Oris Brand Overview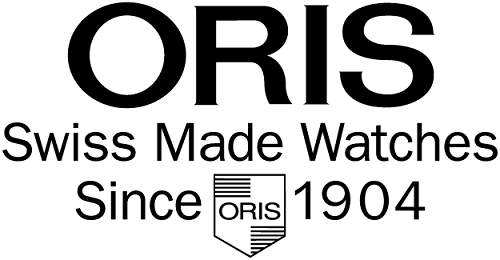 If you are not familiar with Oris, they are a Swiss watch brand that specializes in developing top-notch quality mechanical watches. Their timepieces all feature this type of movement which makes Oris a highly specialized brand for those who prefer a more traditional clock. Oris watches are all designed following the industry requirements set forth by Swiss quality assurance standards, thus, guaranteeing optimum reliability and precision.
While that description about Oris points towards it being a premium-grade luxury watch, it is not quite that. One of Oris' popularity stems from its price range which is considerably more reasonable than some top-tier brands such as Tag Heuer and Longines. Add to the fact that Oris has some of the most exquisite looking timepieces around and you start getting the idea of why this Swiss watch brand is quite popular in both collectors and watch enthusiasts alike.
Oris has been a member of the Swatch Group since 1970 (back when Swatch Group was still known as ASUAG). It was during this decade that Oris unveiled their first entry into the chronograph watch market, the Chronoris. During the mid-90s, Oris partnered up with legendary saxophone player, Andy Sheppard to develop the Oris Jazz watch series and this particular model has since been synonymous with the musical genre.
Nowadays, besides being one of the premier watch brands that manufacture automatic mechanical watches, they are also one of the go-to brands when it comes to diving watches. Oris is one of the most respected brands in the industry, and most of this comes from its focus on delivering exclusively top-notch mechanical watches.
Sinn Brand Overview


Sinn is a rather niche brand that focuses on crafting timepieces designed to withstand the most extreme weather conditions. One prime example of this is with their 140S watch model which was used by Reinhard Furrer during a space lab mission back in 1985. Sinn aims for technological excellence, and there is no doubt that they have achieved this from their fantastic watch catalog.
During the mid-90s, Sinn develops the Sinn 244 watch model which is made from durable yet lightweight titanium material. This new model was packed with some of Sinn's upgraded tech at the time such as magnetic field protection which made it a prime candidate for aviators and pilots. See some of the best anti-magnetic watches here, including more than one from Sinn.
Around the same time, Sinn unveiled another technological advancement in watches – the Ar-Dehumidifying Technology which helped provide a solution to two issues encountered by mechanical watches: humidity that fogs up the crystals and aging of oil. The Ar-Dehumidifying Technology utilized by Sinn in their mechanical watches helped significantly prolong its life. Sinn did not stop there though as soon after they also developed their own HYDRO technology which was designed for deep-sea diving expeditions. This dive watch technology prevented fogging, excellent legibility, and a pressure-resistant construction.
Another impressive technological feature that Sinn developed is its temperature resistant technology which can withstand temperatures of –45 °C up to 80 °C. In regards to extremely robust watches, there are few, if any, that can match up to Sinn's level.
Oris VS Sinn Watch Comparisons
Oris is a more traditional watch manufacturer while Sinn is all about reinventing the wheel on what (and where) timepieces can be with new technologies in place. Can tradition stand up against innovation?
Dive Watches – Oris Aquis Great Barrier Reef Limited Edition VS Sinn 206 Ar Watch
Oris Aquis Great Barrier Reef Limited Edition Review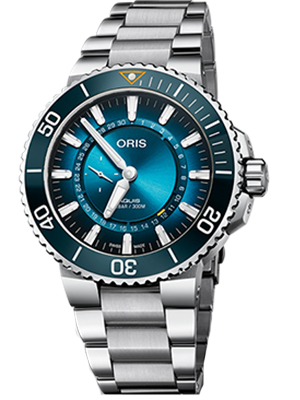 The Oris Aquis watch line is the brand's premier entry into this particular watch type category and earns its spot as one of the top dive watches in the market. In particular, the Aquis Great Barrier Reef is a limited-edition timepiece developed alongside the Reef Restoration Foundation. Thus, this is a highly sought-after model for collectors and will fetch quite a hefty price.
The Aquis Barrier Reef doesn't just have its Limited-Edition mystique going for it though as it comes with all the top-notch dive features of Oris' Aquis series. For starters, the Aquis Great Barrier Reef LE comes with a 300-meters water resistance rating, making it suitable for considerable diving depths. You can also expect Oris' signature quality in regards to its movement as the Great Barrier Reef watch utilizes Oris' proprietary calibre 743 movements and comes with a power reserve of up to 38-hours.
Aesthetic-wise, the Oris Aquis GBR LE features a beautiful polished blue dial and bezel. It features a sturdy stainless-steel case that measures around 43mm and a stainless-steel bracelet to round off its luxurious charm.
Sinn 206 ARKTIS II Watch Review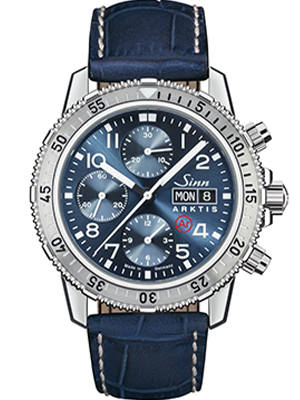 The Sinn 206 ARKTIS II is a watch designed for extreme conditions and comes with all the technological innovations that Sinn has developed over the years. The ARKTIS II is equipped with Sinn's premier watch tech such as their impressive temperature resistant construction and the signature Ar-Dehumidifying Technology.
Besides the impressive array of technical watch wizardry that the 206 ARKTIS II is equipped with, it also holds a solid rating when it comes to its water resistance which is at 300-meters. The 43mm stainless-steel case also holds chronograph functionalities that further enhances its overall performance onto even greater heights.
The Sinn 206 ARKTIS II brings the power and the resilience you would expect from a watchmaker that focuses on extreme condition survivability with their timepieces. While it might be considered as overkill for casual users, for those whose lives revolve around diving underneath the vast ocean, you can't ask for a better companion than the ARKTIS II.
Pilot Watches – Oris Big Crown ProPilot X VS Sinn 103 St Pilot Chronograph Watch
Oris Big Crown ProPilot X Review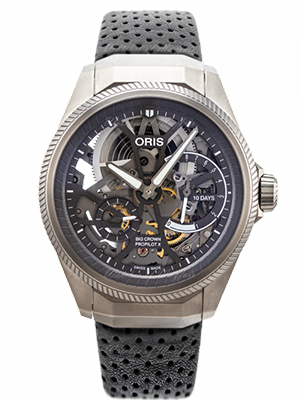 In terms of design, the Oris Big Crown ProPilot X is already one of the most stunning timepieces around. The beautiful skeleton dial design brings a level of contemporary appeal to they typically tradition-based watch brand. While it does have a unique appearance, it still packs a highly impressive movement, as expected from Oris.
Inside the Big Crown ProPilot X is Oris' proprietary calibre 115 movement with analog display. This movement also manages to deliver a mind-boggling 240-hours of extra power reserve. That's a total of 10 days that this watch can operate without assistance. To help you keep track of its battery, the dial also features a power-reserve indicator in full view.
This timepiece is not just designed for the skies though, its construction also gives it an excellent 100-meter water resistance which makes it suitable for swimming, but do refrain from wearing it when diving. While the skeletal dial design is undoubtedly a head-turner, it still takes that signature Oris stance of focusing on practicality. Once you move past the striking skeletal dial, the Big Crown ProPilot X is all business with its impressive precision and accuracy.
Sinn 103 St Pilot Chronograph Watch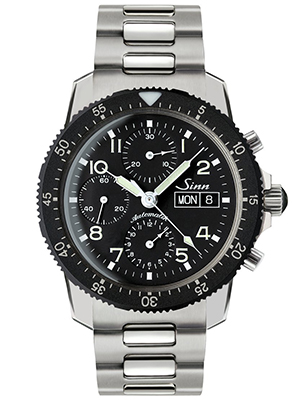 Durable and designed to withstand the roughest conditions, the Sinn 103 St Pilot watch comes loaded for bear. The design of the Sinn 103 St unmistakably takes cues from the design of plane cockpits. The window is made from acrylic glass which is known to be extra resistant to shocks. It is also available in an upgraded version that utilizes a sapphire crystal window which is not only equally durable but also scratch-resistant and has anti-glare finish.
Design-wise, the Sinn 103 St offers a right level of versatility as it features three strap styles to choose from: leather, silicone, and stainless-steel bracelet. The watch measures in at 41mm, not counting the crown. You will also notice a black PVD-coated bidirectional rotating bezel. The black dial features luminous hands and markers, which gives it better legibility at night or low-light environments.
Within its nearly durable case is the ETA 77550 movement to go along with its analog display. At the back is a see-through back case which gives you a beautiful view of the intricate inner workings of the timepiece. The Sinn 103 St is a lovely and nigh-unbreakable timepiece with a high level of precision to boot.
Conclusion: Oris vs Sinn – Which is Better?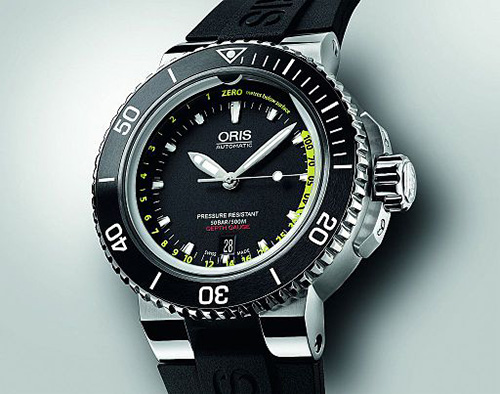 Overall, the decision here will fall upon whether you prefer style over substance. Don't get me wrong, Oris is also brimming with content when it comes to its fine watch craftsmanship, but compared to a total beast like Sinn's timepieces? It falls quite short. We can also point to how you are planning on using your wristwatch. Will you be going to harsh environments with extreme weather conditions? Sinn watches will have your back.