Overall Winner: TicWatch C2+
Both watches are great options at their respective price points. However, the TicWatch C2+ is clearly the better designed, the better built, and the better-performing smartwatch.
Please note, we purchased the TicWatch C2+ and the S2 directly from mobvoi.com on 03/04/2021, click here to check their current prices.
TicWatch C2+ vs. TicWatch S2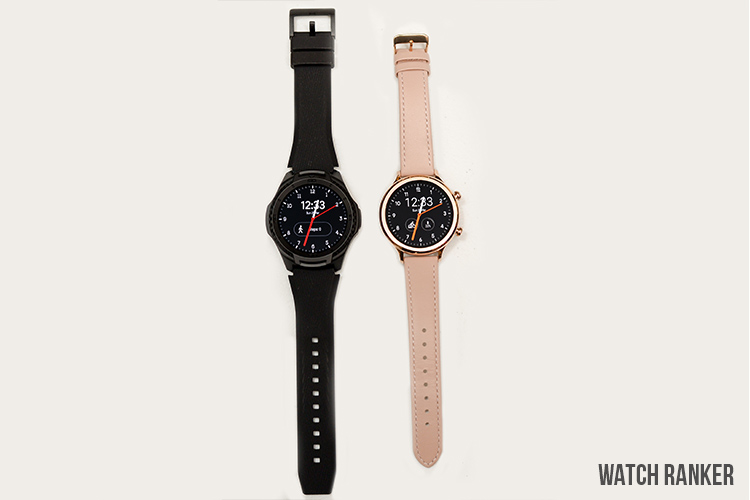 Mobvoi is without a doubt one of the best manufacturers of Wear OS smartwatches. They have pioneered high-end watches such as the TicWatch Pro Series that offer dual screen technology that increases both functionality and battery life.
This time around, Mobvoi is attempting to replicate its success in the high-end smartwatch market. Two of their affordable watches are the fashion-oriented TicWatch C2+ and the sports and fitness-focused TicWatch S2. The S2 also made it on our list of best sub-$200 smartwatches.
While both watches have their fair share of compromises, they are still without a doubt some of the best watches that you can purchase in their price range. In this article, we will be going through the differences between these two smartwatches.
We will be comparing several aspects such as design and build quality, display quality, features, and software performance. And ultimately, we will help you decide which smartwatch best fits your needs. Keep on scrolling to find out more.
TicWatch Brand Overview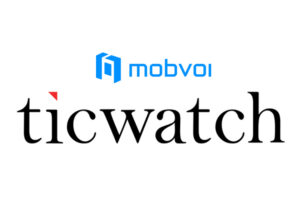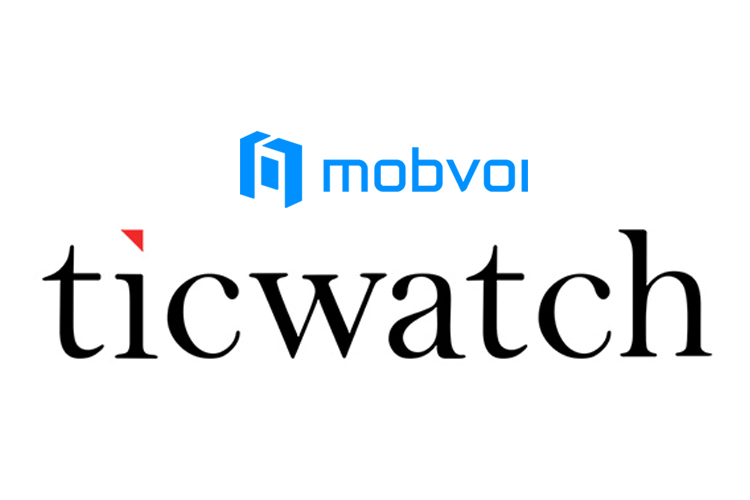 Mobvoi Information Technology Company Limited is a tech company based in Beijing, China. They were founded in 2012 by Google AI experts, Nokia employees, and researchers from top universities such as Harvard and Cambridge. The primary goal of this company is the integration and advancement of voice AI communication.
Some of their revolutionary products include voice search engines featured on WeChat. Mobvoi has also developed its own voice search app engine called Chumenwenwen.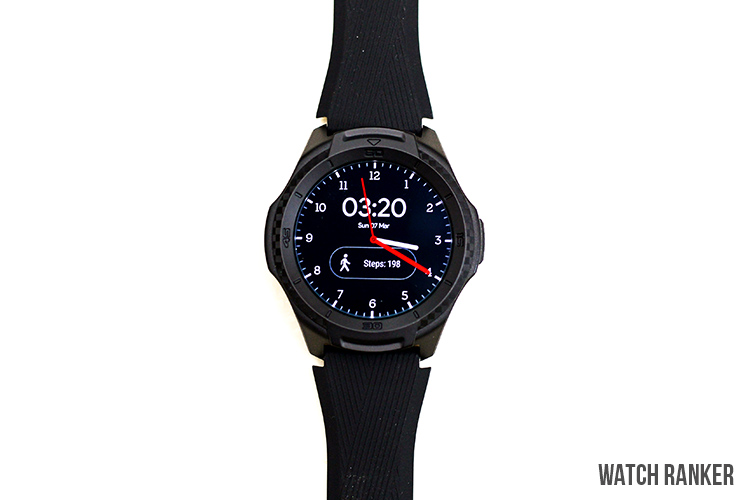 Read our detailed Ticwatch S2 Review | See on Mobvoi | Check Amazon Price
It was in 2014 when Mobvoi started venturing into the consumer electronics market. They developed an Android-based smartwatch operating system called TicWear OS. And soon after, they worked together with Frog Design to release the TicWatch.
The TicWatch brand differentiated itself from other smartwatches by having a strong integration with their AI technology. Its launch was very successful and only trails behind the Apple Watch in the domestic Chinese market.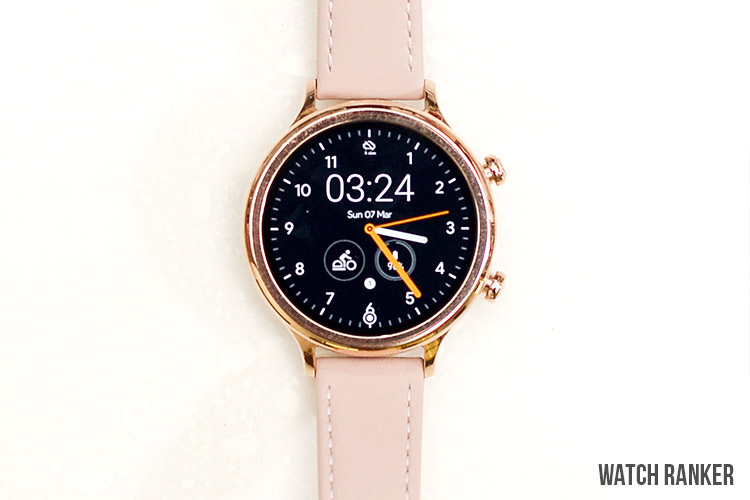 Read our detailed Ticwatch C2+ Review | See on Mobvoi | Check Amazon Price
Today, Mobvoi continues to bring its expertise to the smartwatch market with the newer versions of the TicWatch. And with each new iteration, TicWatch gets one step closer to fulfilling its dream of ushering in the next generation of human and computer interaction.
Learn more about Mobvoi in our full TicWatch Brand Review.
Packaging and Unboxing Experience
Winner: TicWatch C2+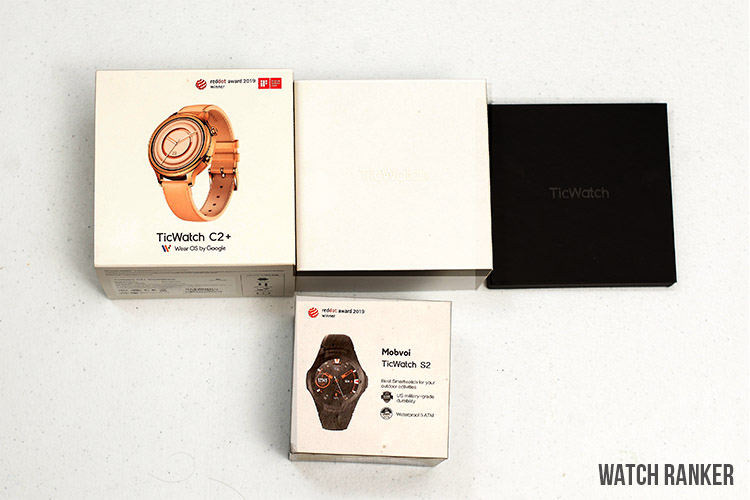 One of the first things that we check in a smartwatch is how well it is packed. This doesn't affect the performance of the watch but it shows how committed the manufacturer is in presenting their products to the customers.
And in this case, it seems that Mobvoi has put a lot of effort into making a great unboxing experience. Both watches feature premium packaging that was truly exciting to open.
The TicWatch S2's box is small and compact. It has all the details such as the specs on the sides and has a very nice image of the watch on the front. The unboxing is rather straightforward but the presentation is very impressive since it mimics that of a premium wristwatch.
The TicWatch C2+ takes things up a notch by giving you a much larger box. This time around, the package is divided into three pieces. The thin outer box contains the cover art and the specs, the larger inner box contains the smartwatch, and the smaller inner box contains the silicone strap.
Both gave a great unboxing experience that made us very excited to try out the watches. The TicWatch C2+ is the clear winner but both give an excellent unboxing experience.
Design and Build Quality
Overall Winner: TicWatch C2+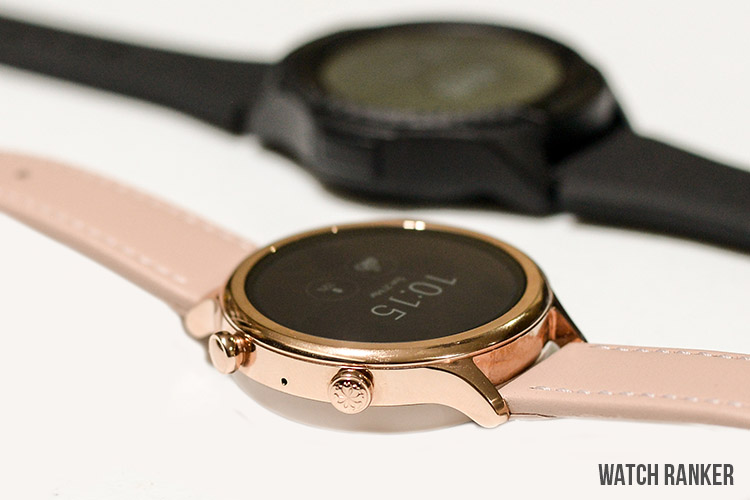 The TicWatch C2+ clearly shows that it is the superior smartwatch when it comes to design and the build quality. Mobvoi has made sure that they make the TicWatch C2+ as gorgeous as possible.
The TicWatch C2+'s looks are inspired by classic analog wristwatches. It has two fully programmable buttons on the side and an AMOLED display on the front. There aren't any bezel markings or curvature on the glass, but the clean front panel makes it adapt easily to any kind of watch face.
Everything about the watch feels premium. The button clicks are solid, the aluminum body feels sturdy, and the stock genuine leather strap is comfortable. There are even small details, such as the very subtle branding on the strap and the small textured logo on the first button.
The TicWatch C2+'s screen and casing are smaller compared to the TicWatch S2. This gives it a small and lightweight design that fits both men and women.
The TicWatch S2, on the other hand, has a bulkier and more rugged design that is more optimized for sports. It doesn't look and feel quite as premium as the TicWatch C2+, especially due to its polycarbonate plastic body. However, the use of this material makes it light and comfortable, especially given its size.
Additionally, the TicWatch S2 features a single flat and low-profile button. It doesn't stick out like the TicWatch C2+ but is relatively easy to press due to its large size. These low profile buttons are common with sports and fitness-focused watches such as the Huawei Watch GT 2e.
Overall, the TicWatch C2+ is the more premium feeling and better-built smartwatch.
Display Quality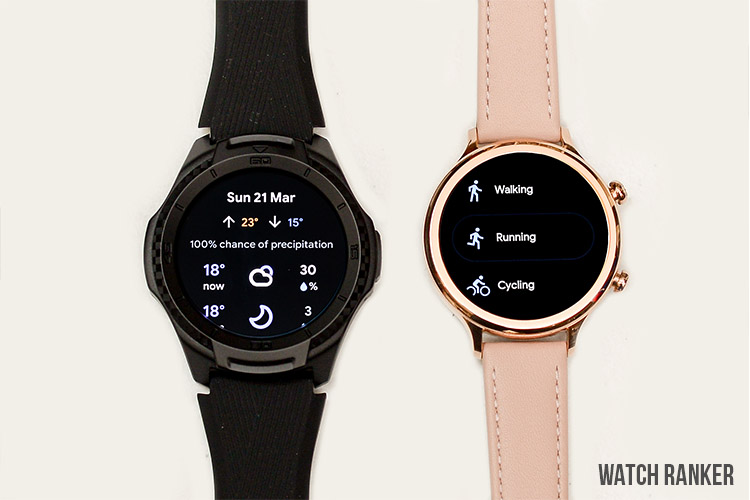 Both watches utilize high-quality AMOLED displays that display sharp and vibrant images. Throughout our testing, both watches can get very bright and can easily be seen both indoors and in bright outdoor environments.
Both watches also utilize Corning Gorilla Glass 3 to protect their displays. This gives you the confidence to use them in any situation with wearing about scratches or the glass shattering.
The main difference between these two watches is the size and resolution of their screens. The TicWatch C2+ has a 1.3" screen with a screen resolution of 360×360 while the TicWatch S2 has a larger 1.39" screen with a screen resolution of 400×400.
The difference in size does not affect the image quality of the TicWatch C2+. Its smaller screen makes the pixels denser and thus retains clarity and sharpness. However, we prefer the larger size of the TicWatch S2's display since it gives us more screen real estate especially for complex watch faces with lots of onscreen elements.
This entirely depends on your personal preference, but overall, both screens are excellent.
Features
Winner: Tie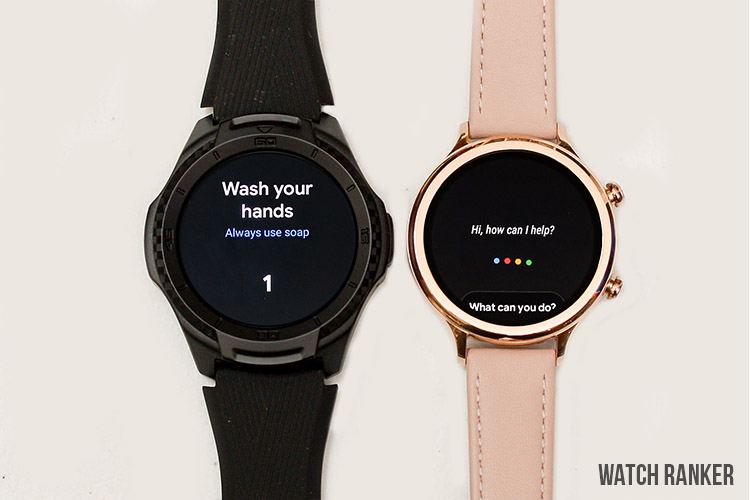 Both watches sport similar features. The TicWatch C2+ and S2 are both running the same version of Wear OS (Wear OS 2.25). In terms of Wear OS features, both watches offer great notification support with the ability to reply to messages using your voice, the onscreen keyboard, or by writing on the screen.
Both watches also have essential features such as weather updates, reminders, and the Google Assistant. However, it should be noted that you have to manually read the Google Assistant's responses since both watches do not feature a loudspeaker. This also means that you cannot make or answer phone calls using these watches.
Another great feature that both watches have is their Wi-Fi support which gives them access to the Google Play Store. This gives you the ability to install third-party apps on both watches that can either change the Wear OS experience through a custom launcher and custom gestures or add unique functionalities such as "Drink Water Reminder".
In terms of their health tracking capabilities, both watches support continuous heart rate monitoring as well as the most essential health tracking functionalities. They can also track various fitness activities and give you accurate readings thanks to the sensors found inside them.
Unfortunately, both watches do not have a native sleep tracking app. Mobvoi's TicSleep app is currently not supported on both of these models. There are alternatives found on the Play Store. However, we haven't found one that worked automatically and flawlessly.
One key difference between these two watches is that only the C2+ has NFC support. This means that cashless transactions via Google Pay are not possible with the S2.
Overall both watches are very much feature-packed and easily beat competing options from brands such as Huawei and Amazfit. However, it is in the software performance where the difference between these two watches starts to show.
Watch Software Performance
Overall Winner: TicWatch C2+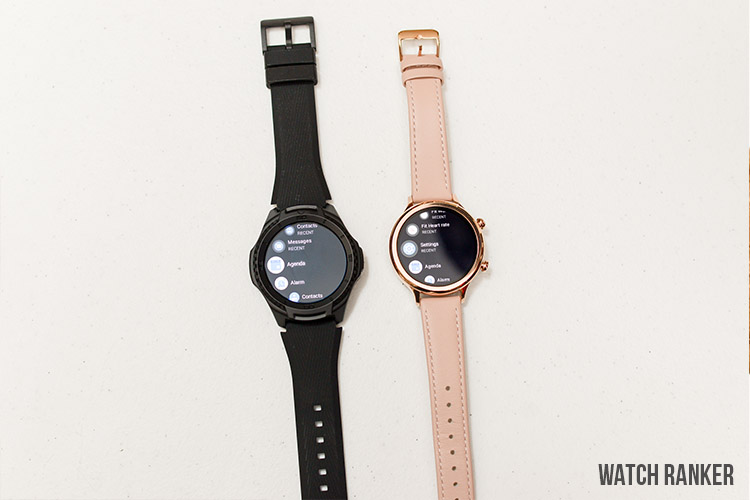 Despite having very similar feature sets and spec sheets, the software performance is wildly different between these two modes. The TicWatch C2+ and S2 both use the now outdated Qualcomm Snapdragon 2100 processor that was first introduced in 2016. The only difference is that the C2+ has 1 GB of RAM while the S2 only has 512 MB.
The difference in RAM may not seem like a big deal. However, the added 512 MB makes the TicWatch C2+ blaze over the TicWatch S2.
The TicWatch S2 performs decently. Navigating the UI worked most of the time. However, this watch encountered a lot of slowdowns and freezes. Opening apps such as the Google Play Store or even navigating through the main menu can be very laggy which makes the watch almost unusable at times.
The TicWatch C2+ also isn't perfect and has its fair share of bugs. However, it is a vast improvement over the TicWatch S2. It feels more responsive and we haven't experienced as much lag as we did on the TicWatch S2. Opening apps and using Google Assistant was also a lot smoother.
Battery Life
Winner: Tie
Unfortunately, the biggest weakness of these two watches is their battery life. With the number of features that they have, you simply cannot expect a long-lasting battery life.

Mobvoi claims that both watches could last up to two days. However, during our testing, both watches already needed a recharge by the end of the day. The only way we got it to reach the two-day mark was to turn off most of the features, which defeats the purpose of having a feature-packed smartwatch.
As for charging, both watches use their own proprietary charger. They both do not feature a removable cable so bringing them around will surely be a hassle. If battery life is your top priority, there are plenty of smartwatches that can do better.
Comparison Winner: TicWatch C2+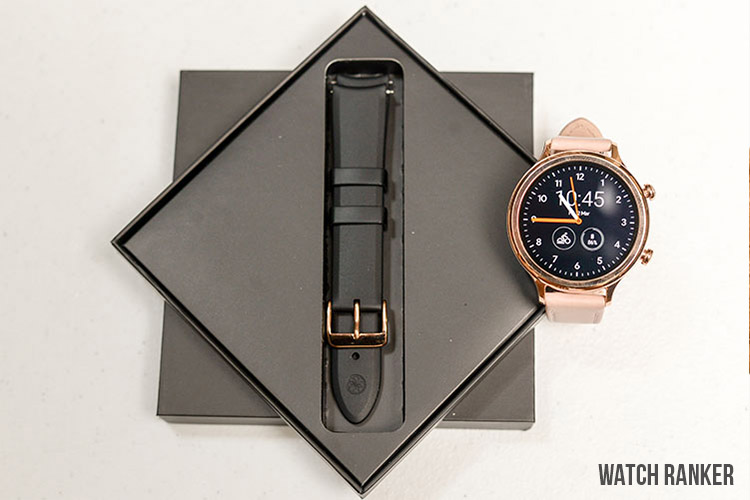 Overall, the TicWatch C2+ is clearly the superior smartwatch. It has better and more detailed aesthetics, two straps out of the box, and most importantly, faster and more stable software performance.
The TicWatch S2 is still a great smartwatch since it offers Wear OS at a budget price point. However, we feel that there are way too many compromises made that affect its usability. And we feel that there are better budget smartwatches out there that offer more consistent and reliable software performance.
The TicWatch C2+, on the other hand, may not be the best Wear OS smartwatch in the market. It is still lacking essential features such as a speaker and a faster processor. However, it is still a very competitive smartwatch and surely one of the best under $300.
Specs
Model
TicWatch C2+
TicWatch S2
Screen Size
1.3" AMOLED Display
1.39" AMOLED Display
Screen Protection
Corning Gorilla Glass 3
Corning Gorilla Glass 3
Screen Resolution
360 x 360 pixel
400 x 400 pixel
Input Type
Touch Screen
Touch Screen
Watch Dimensions
42.8 x 42.8 x 12.7 mm
46.6 x 51.8 x 12.9mm
Weight
42 grams
53.2 grams(with strap)
34.4g (without strap)
Watch Case Material
Polyamide & glass fiber, aluminum back cover
Polyamide & glass fiber
Bezel Material
stainless-steel bezel
Polycarbonate
Watch Design
Circular
Circular, Curved
Strap Size
20 mm
22 mm
Watch Colors
Black and platinum
Rose-gold
Midnight(black), Glacier(white)
Water Resistance
IP68
Waterproof (5ATM)
Swim-proof
Not recommended
Yes, recommended
NFC
Yes
Not Supported
GPS
GPS/GLONASS/Beidou
GPS/GLONASS/Beidou
CONNECTIVITY
Wi-fi
Yes
Yes
Bluetooth
Yes
Yes
SENSORS
Accelerometer
Yes
Yes
Heart Rate
Yes
Yes
Compass
No
No
Gyroscope
Yes
Yes
Altimeter
No
No
SPO2
No
No
Elevation
No
Yes
Ambient Light
Yes
No
Barometer
No
No
FITNESS TRACKING
Sleep tracking
Yes
Yes
Steps
Yes
Yes
Floors Climbed
–
No
Heart Rate Monitoring
Yes
Yes
Calories
Yes
Yes
Distance
Yes
Yes
Stress
No
Yes
VO2 Max
No
Yes
Blood Oxygen
No
No
Blood Pressure
No
No
Menstrual cycle tracking
No
No
Swim tracking
No
No
Underwater heart rate
tracking
No
No
On-screen workout modes
No
No
Triathlon mode
No
No
ECG tracking
No
No
Preloaded sport modes
Yes
Yes
Safety tracking
No
No
Battery Life
Standby: 2 days+; Mixed usage: 1 day+
Standby: 2 days+; Mixed usage: 1 day+
Battery Technology
Li-Ion
Li-Ion
Charging Time
About 1-2 Hours
About 1-2 Hours
Charging Type
USB based charging dock
USB based charging dock
Compatible OS
Android
iOS
Android
iOS
NOTIFICATIONS
Email Alert
Yes
Yes
SMS Alert
Yes
Yes
Calls Alert
Yes
Yes
Event Reminder
Yes
Yes
Weather
Yes
Yes
Third-party Apps
Yes
Yes
Radio
No
No
Loud Speaker
No
Yes
Microphone
Yes
Yes
CLOCK FEATURES
Time/Date
Yes
Yes
Stopwatch
Yes
Yes
Alarm
Yes
Yes
OTHER FUNCTIONS
Control camera
Yes
Yes
Music Control
Yes
Yes
Find Phone
Yes
Yes
Text Response
Yes(Android Only)
Yes(Android Only)
Answer Call
Yes
Yes
MISC
Payment System
Google Pay
No
Companion App
Mobvoi App
Mobvoi App
Customizable watch face
Yes
Yes
Interchangeable band
Yes
Yes
Voice command
Yes
Yes
Internal Storage
4 GB
4 GB
Operating system
Wear OS by Google™
Wear OS by Google™