Tissot and Seiko are two watch brands that often end up being discussed in conversations among entry-level watch buyers. They may appear to have very little in common since they are from different parts of the world and have very different watch collections, but with both being established brands in a similar price range there's plenty to compare. 
Tissot is best known for making quality Swiss watches and in-house movements, such as the Powermatic 80. Tissot makes a variety of watch styles from its classic "Le Loche" dress watch line to sporty Chrono collections. Seiko on the other hand is a market leader in solar watch technology.  Seiko's proprietary Japanese watch movements are well-known for being reliable and accurate. 
Both of these watchmakers offer quality watches in an affordable price range. Over their long history, they have each created a slew of stunning watches that are known for both beauty and dependability, these two brands are quite popular the world over.
Interestingly enough, both brands are from entirely different parts of the world, which shows their aesthetics. Besides the fact that each originates from different countries, what other differences can we expect with Tissot and Seiko?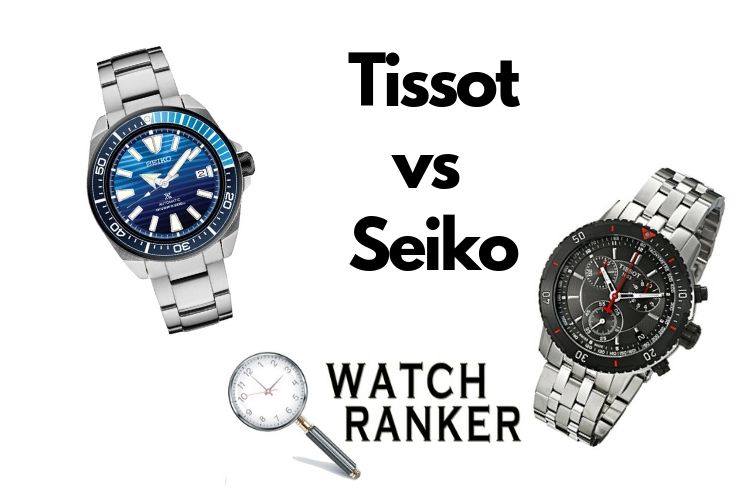 At a glance, we can summarize what separates the two. Tissot provides more luxurious watches that are designed to be the "belle of the ball", while Seiko is quite known for its construction, durability, and advancements in solar watch technology. To get a better picture, we will be putting both these brands side by side, as well as their best timepieces in the market. By the end of this article, you will be able to decide which brand suits your sense of style the most.
History of Tissot


Tissot was founded in Switzerland back in 1853. It made its mark with its reasonably priced watches that provide exceptional accuracy, making it quite a famous brand for the masses. The fact that they are still well-known to this day is a testament to the quality of their timepieces.
Tissot watches utilize the precision quartz movement; this made the watchmaker quite famous in sporting events. Tissot is also the official partner of several F1 racing teams which further cements their reputation of having one of the most accurate time-keeping devices in the world today.
Click here to see some very cool watches made for car lovers, including one from Tissot.
Tissot was also the first company to introduce dual-time zone watches in the market, which boosted its sales exponentially worldwide. One of Tissot watches' signature features is the two-year warranty that comes attached to every single watch that they have in their catalog.
Tissot is also known for its experimental watch design and construction. Within the expansive library of Tissot watches, you can find models that are constructed from wood and even stone! Tissot is part of the Swiss Watch Group and is considered one of the best brands for watch enthusiasts who are looking for quality mid-range timepieces.  If you're interested in learning more about the Tissot brand see our full overview here.
History of Seiko

Seiko is a world-renowned watchmaker that was founded in 1881, just a couple of decades after Tissot. Seiko started as a jewelry shop located in Tokyo, Japan, and it took a decade later for the company to dive into the watchmaking industry.  It wasn't until 1924 when Seiko first introduced their very own timekeepers.
Seiko's defining moment came around 1969 when the company introduced the Astron wristwatch, which is the first quartz movement timepiece in the world. This new watch movement technology went on to revolutionize the industry and is still being used to this day.
Another Seiko milestone was reached in 1977 when they introduced the solar-powered watch to the public. The solar-powered technology effectively gave birth to the eco-friendly watch of today. Seiko once again made strides in the industry with the Spring Drive movement technology that they unveiled in 1999. 
The Seiko Astron was also re-introduced in 2012, now packed with modern features that Seiko developed throughout the years. Looking at Seiko's remarkable history, it is a safe bet to expect more mind-blowing innovations in the future.
Tissot and Seiko Watch Comparisons
Now, let's pick a couple of watches from each of these brands to compare. We will be choosing one watch from two categories (chronograph, dress watch, dive watch, etc.) where Tissot and Seiko are known for, and see who has the edge in terms of functionality and overall quality.
Chronograph Watches
Seiko Prospex Solar Dive Watch SSCO17

If you are looking for a watch that packs all the signature, Seiko features, the Prospex Solar Dive Watch is a decent and reasonably priced watch to look for. With an eye-catching design and robust construction, the Proplex is an excellent timepiece designed not only for casual wear but for rugged environments.
This chronograph dive watch features a black and blue-accented bezel alongside a stainless-steel bracelet. It comes with three sub-dials with the date display right between the 4 and 5 o'clock positions. As with all dive watches, the hands and markers are all coated with a luminous finish for better visibility in low-light environments.
The Prospex comes with a 44mm stainless steel case and a bandwidth of 20mm. It also uses a Hardlex crystal that is incredibly durable and scratch-resistant. As for its water-resistant rating, it is designed to be used for up to 660 feet underwater.
The Seiko Prospex prides itself on its high accuracy in time-keeping. All thanks to the Seiko V175 Solar Powered Movement technology. The Proplex also delivers the standards that you expect from a Seiko watch; it is well-made, reliable, and available at a reasonable price tag. 
This watch made it on our list of best dive watches under $500, along with a model from Tissot.
Tissot T Sport Textured Dial Watch

The Tissot T Sport Textured Dial Watch is not only an excellent chronograph for racing sporting events, but it is also an impressive timepiece to bring with you in the high seas. With its stylish silver and black design, the T Sport is an excellent choice for most occasions.
The watch is made from silver stainless steel and features a unidirectional black bezel which perfectly accentuates the shiny silver stainless steel case and band. The T Sport Textured Dial Watch features a 42mm diameter case with 8mm thickness. A good number that combines durability and comfort.
The dial is protected by the standard sapphire crystal which is scratch-resistant and is coated with an anti-glare finish. As for the inner workings of this timepiece, it uses reliable analog quartz movement technology. Aside from the three sub-dials, it also comes with a Tachymeter that is located on the outer rim of the watch. There is also a date display located in the 4 o'clock position.
As for its water resistance, it can withstand up to 656 feet underwater, this makes it suitable for a wide variety of water activities, but not recommended for deep-sea scuba diving expeditions.
Dress Watches
Seiko Shinobu Ishigaki

As classic and traditional as you can get, the Seiko Shinobu Ishigaki watch is an excellent companion for any formal occasion. The dial of the Shinobu Ishigaki features a sundial design that makes it stand out even more outdoors. The case diameter measures 40mm and the bandwidth at 20mm. The stainless-steel bezel is partnered up with a sleek black leather band.
This watch incorporates the 6R15 caliber self-winding movement and can operate for up to 50 hours straight when not worn. The dial is protected by Seiko Hardlex crystal, which is a highly scratch-resistant material. This watch is also water-resistant for up to 165 feet. Not an impressive number, but let's face it, you will not be wearing this for a dip in the pool.
The Seiko Shinobu Ishigaki watch's no-frills design emphasizes its traditional aesthetics. This one is exuding with confidence and class.
Tissot Unisex Everytime Swissmatic Watch

Tissot enters the stage with their own traditionally designed dress watch with the Unisex Everytime Swissmatic. As the name suggests, this is designed for both men and women. The simple and elegant design of the Tissot Everytime Swissmatic is what makes it shine.
With a stainless-steel case combined with a pure black dial with silver accented hands and digits, it features a timeless design updated for the modern watch enthusiast. It also features a high-quality alligator embossed leather band that looks good with a variety of styles. Fashionistas will welcome the fact that the band of the Swissmatic is interchangeable, meaning you can experiment with it in terms of appearance to suit your style of the day.
This timepiece features three hands that dictate the hour, minute, and second. It also features a scratch-resistant sapphire crystal and water resistance of up to 100 feet.
The Unisex Everytime Swissmatic watch will fit with every formal occasion and is also an excellent choice for daily casual wear.
Tissot vs. Seiko – Which is Better?
Overall, both Tissot and Seiko offer watch enthusiasts a fantastic selection of mid to high-range timepieces. Both brands deliver impeccable style and top-of-the-line functionality. The choice of which one to get will boil down to a couple of essential factors.
Do you prefer Japanese-made or Swiss-made watches? In terms of the price range, Tissot leans toward luxury watches and is usually more expensive. However, Seiko is also known to release high-end watches with $1,000+ price tags.
Tissot watches are also known to take a more traditional and classical approach to their watch designs, while Seiko is known for their outdoor and robust watches that exude a sportier appearance.
The difference in aesthetic will usually be the primary deciding factor for most watch enthusiasts. Both brands are high-quality watchmakers that deliver impressive value for a reasonable price.