Supernatural is an American television series that ran for 15 years, from September 13, 2005, to November 19, 2020. The show lasted for 327 episodes and garnered cult status with a substantial global fan base.
Eric Kripke created the series with The W.B. Network, initially airing it before being picked up by The C.W. The show stars Jared Padalecki and Jensen Ackles as Sam and Dean Winchester, brothers who hunt monsters, ghosts, demons, and other evil supernatural beings.



By the end of the series, Supernatural became the longest-running American fantasy television series with 15 seasons under its belt. The series also garnered multiple nominations and awards such as People's Choice, Saturn Awards, Primetime Emmy, SFX Awards, Hugo Awards, and G.L.A.A.D. Media Awards – to name a few.
The main characters, Sam and Dean Winchester are also known for having a pretty distinct sense of style. From their rugged attire to the super-cool black 1967 Chevrolet Impala, the brothers know how to present themselves. Speaking of fashion, ever wonder what a duo of demon hunters wear as a timepiece? Well, you are in luck as we will be looking at what the Winchester brothers wear on their wrists.
Before that, let us first offer you some more in-depth facts and trivia about the show. You can bet there are numerous factoids to go through with a long-running and fan-favorite series such as this.
Interesting Facts About Supernatural
A Huge and Loyal Fan Base
With such a dedicated fan base, Supernatural managed to transcend its medium to the point that the beloved series had its special conventions. These conventions are attended by fans worldwide, with some flying in from Europe, Australia, and China.
The television series even managed to get its special day in Austin, Texas, when the city's mayor, Steve Adler, declared June 23, 2018, as "Supernatural Day" to commemorate the 14th season renewal.
Jensen and Jared Are as Close as Brothers in Real Life
The two main leads of the series, Jensen Ackles and Jared Padalecki, are pretty close in real life. The two were roommates for a time when they started shooting for the series. This bond translated fantastically well on-screen as the two had a good back and forth energy and chemistry.
Supernatural Shared Many Shooting Locations with Other Shows
If you digest an excellent chunk of television shows, you might notice some familiar locations in Supernatural. This revelation is not surprising since Supernatural shares several shooting locations with other popular television shows such as Smallville, The 4400, Stargate SG-1, Pysch, iZombie, and The X-Files.
Supernatural Was Initially a Five-Season Show
The creator of the series, Eric Kripke, envisioned the series ending by the 5th season in 2010. However, Kripke already had the story of the Winchester brothers all tidied up within the span of 5 seasons. Therefore, he was pretty surprised at the longevity of the series. The very loyal and vocal fan base is a huge proponent of the show's longevity that allowed Supernatural to its record-breaking 15 season run.

Watches Worn in Supernatural
Sam Winchester (played by Jared Padalecki)
Suunto Vector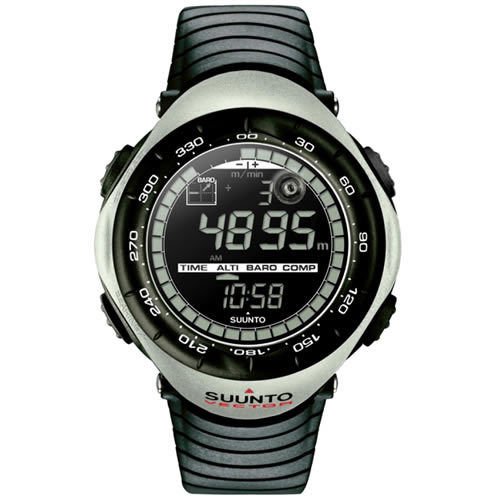 The Suunto Vector is a robust multi-functional digital watch, which I imagine will come in handy when hunting all sorts of Ghoulies, thanks to its many helpful features. Sam wore the Suunto Core during the first five seasons of the show.
This digital outdoor timepiece is all about practicality. The Suunto Vector comes with an altimeter, barometer, and compass. The watch also comes with the standard stopwatch, countdown timer, and up to three alarms.
Despite the focus on functionality and reliability, the Suunto Vector is also quite stylish with its modern, sporty aesthetics. The rugged case measures at a substantial 50mm, making it a watch mainly for men. The Suunto Vector also provides solid 100-meter water resistance, making it a suitable timepiece for swimming and snorkeling. Find out more about Suunto Smartwatches here.
Nixon Big Player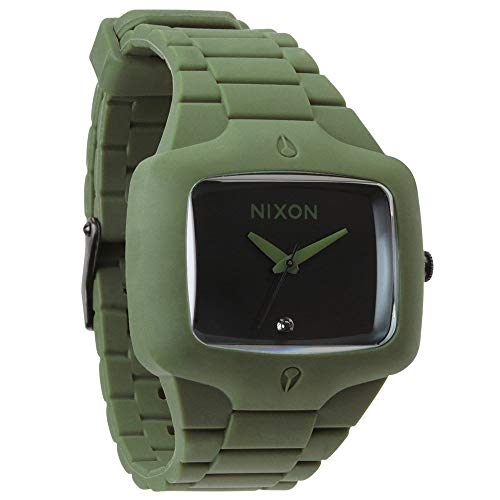 Sam Winchester switched to the more refined Nixon Big Player in later episodes that coincide with the character's maturity. The Nixon Big Player that Sam wears is the silver-tone case with a black dial version, which exudes that professional charm.
The Nixon Big Player features a vintage-style rectangular case measuring 44mm. The stainless-steel case comes equipped with a mineral dial window which provides adequate scratch resistance.
The black dial is as minimalist as it gets with its silver-tone analog hands, a "Nixon" logo, and a 6 o'clock diamond hour marker. This timepiece is pretty classy and straightforward in its presentation, which adds to its appeal.
Within the elegant aesthetic lies a reliable Japanese quartz movement to provide wearers with excellent precision. In addition, the watch itself offers up to 100-meters of water resistance, making it a suitable timepiece for some recreational water activities such as swimming and snorkeling, but refrain from using it when scuba diving. This watch has since been discontinued but you can read more about Nixon brand watches here.
Dean Winchester (played by Jensen Ackles)
Smith & Wesson S.W.A.T. Watch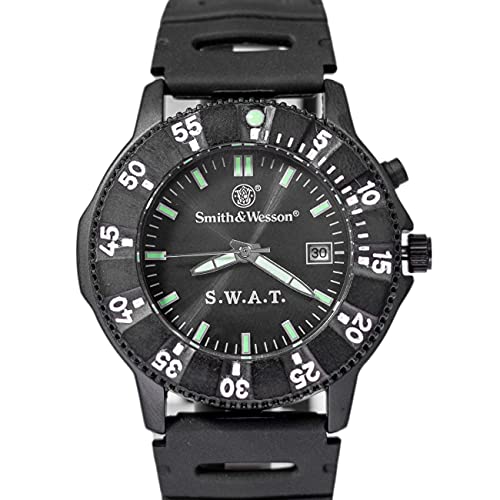 In the first season of Supernatural, Dean Winchester sports a tough-looking Smith & Wesson S.W.A.T. Watch. This watch is a rugged and affordable tactical timepiece and is the most affordable watch that Dean wears throughout the series.
The S&W S.W.A.T. watch provides durability and functionality above all else. It also comes with a reasonably practical price tag along with a decent amount of features. This tactical timepiece comes with a rotating bezel, black dial with backlight, and a three-hand analog dial. Additional feature includes a date display located at the 3 o'clock position.
Within the tank-like build of this timepiece is an accurate Japanese quartz movement. The black stainless-steel case comes in at 40mm and provides a decent 30-meter water resistance rating. This watch from Smith & Wesson is pretty rudimentary in its aesthetics; it is all about dependability in performance.
Suunto Core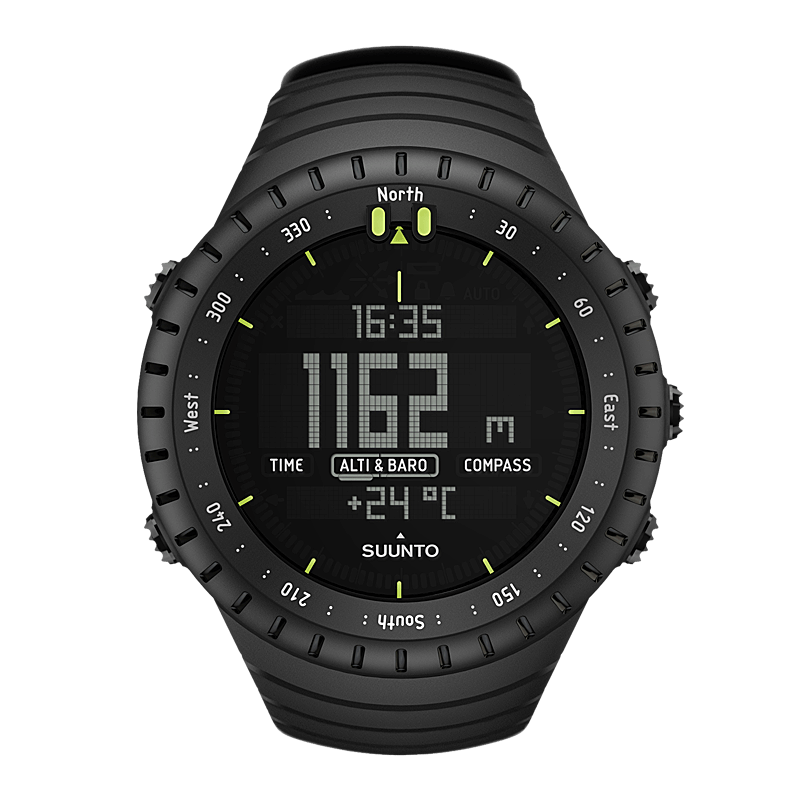 The Suunto Core that Dean Winchester wears throughout the earlier seasons of the series is a conscious decision by the costume department. Why would I come to this conclusion, you ask? The Suunto Core is considered the 'Big Brother' of the Suunto Vector, the watch that Sam wears.
The Suunto Core is also one of the most popular models due to its efficient design and functionality. Dean wore the all-black variant of the Suunto Core in the show, which delivers the look and feel of a more high-end tactical smartwatch.
With Suunto Core being one of the most well-known and best-selling models from the brand, you can expect it to deliver top-notch performance. Regarding its capabilities, the Suunto Core comes with an altimeter, barometer, compass, and even nifty features like the Storm Alarm. This digital watch tackles the great outdoors with absolute proficiency.
The build of this watch is also quite impressive with its durable, comfortable, and versatile design. In addition, it features a 49mm diameter sturdy resin case and a decent enough 30-meter water resistance rating. Overall, the Suunto Core is a highly reliable outdoor watch that complements Dean Winchester's cool and confident demeanor.
M.T.M. Black Patriot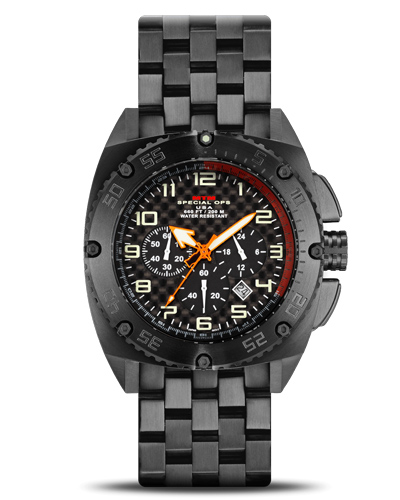 Dean Winchester also wears the more expensive M.T.M. Black Patriot during several episodes throughout the series. Similar to his Suunto Core watch, the M.T.M. Black Patriot features an all-black and tactical design.
The M.T.M. Black Patriot utilizes a 316L stainless-steel 44.5mm case and a scratch-resistant sapphire crystal dial window. The case also features a unidirectional ratcheting bezel which complements the 200-meter water resistance rating.
Over on the dial, we have a NASA-type carbon fiber design and chronograph sub-dials that measure hours, minutes, and seconds. The M.T.M. Black Patriot also uses a Japanese quartz movement based on the Miyota OS-20 caliber. Search eBay for the M.T.M. Black Patriot.
Hamilton Khaki Field Titanium Watch (HML-H70575733)

During later seasons (12 and 13), Dean Winchester switched up his timepiece to the more refined Hamilton Khaki Field (Titanium Automatic). This timepiece features the signature bold yet straightforward charm of Hamilton's Khaki Field Series and complements the character's growth throughout the series.
Despite the pretty simple aesthetic of the watch, it does utilize a high-quality Swiss automatic movement which adds a layer of sophistication to the watch's appeal. In addition, the black dial features luminous white Arabic numeral hour markers in both 12 and 24-hour formats. There is also a date display located at the 3 o'clock hour marker.
The white luminous analog dial uses a syringe-style design that enhances the readability of the watch considerably. In addition, the dial is well-protected within a sapphire crystal window, which is known for its superb scratch-resistance.
The Hamilton Khaki Field Titanium comes in at 42mm and offers up to 100-meter water resistance, making it a well-rounded and versatile quality outdoor watch.