Unfortunately for the brand, the first thing that goes through our mind whenever we see a Nixon watch is Richard Nixon. See, the 37th raked up such a bad rep that the name 'Nixon' carries with it a scandalous vibe, but are Nixon watches as reprehensible? Read on and find out!
In this article, we examine the Nixon watch brand, its history, reputation, and overall standing within the watch community. We'll tell you one thing for sure: Nixon watches are American just like the disgraced President, but the two are unrelated.
Nixon Brand History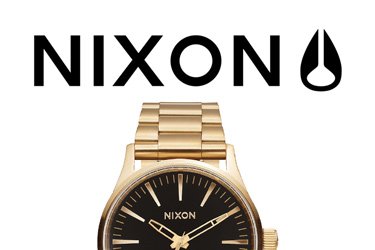 So how did the Nixons come to be?
In 1997, Andy Laats and Chad DiNenna embarked on a mission to create stylish and affordable wristwatches. Initially designed to cater to the outdoorsy wearer, their product offerings have since grown to include a wide range of products. Presently, Nixon manufactures a host of other accessory items, lifestyle products, and apparel.
A Fashion Sensation
The Nixon brand was founded to appeal to both the fashionista and sports lover. This makes their watches more of statement pieces than collector items. Right about the time when Nixon watches hit the market; the US fashion industry was witnessing a revolution driven by a quest for a flashy, status-signaling style. Thus, the founders sought to capitalize on this trend by carving a niche for Nixon as the go-to brand for a refreshing yet affordable look.
Nixon's ownership has been anything but steady—going from an independent to a licensed brand and back in just under a decade. In December 2006, Nixon became a Billabong-owned brand, only to go back to being an independent brand after 6 years. Presently, two other companies own Nixon, leaving the founders with only 3% stake in the brand. Surprisingly, Nixon watches still carry the dreams and visions of its founders.
Nixon Watch Collections
The push to challenge the perception that watches are meant to fade into the background of an outfit best defines Nixon's design principle. Looking at their pieces, from the oversized Chronos to the small yet not-so-humble models, they all exude a go big or go home attitude.
The one thing that sets Nixon watches apart is their versatility.
Are you a 9-5er, surfer, party animal, or fashionista? No biggie, you would find the perfect fit for every occasion, time, and place in Nixon's vast collection—sometimes all in a single watch!
Nixon for Men
You don't just call your watches Nixon and not have a wide assortment to satisfy the diverse style needs of the male fraternity. With this understanding, Nixon offers a wide array of men's watches, from the multifunctional, simple quartz, digital, classy, to the pricey automatics.
Straight out of the Nixon Sentry Watch Collection is this Men's Santry Leather. Aside from the rather dull leather strap, it's the perfect watch if you are looking to pull the gentleman's style. There's something unique about Nixon dress watches. They certainly have a flair for turning the otherwise mundane into something striking, and effortlessly at that. Oh and it has a 100M-water resistance rating, meaning it can hold its own in the real world.
If you also found the leather strap on the Sentry watches boring, you will love the texture and quality of the leather on this Nixon Sentry Men's Chronograph Leather Watch. You can go with black or brown gator leather. Some models come with gold-hued cases. The all-black version is perfect for the dark suit guy who appreciates an accessory that stands out just enough to not call unnecessary attention to the wrist. For those who prefer metal bands, there is a variety of metal-banded Nixon Chronos to choose from.
The 51-30 Chrono Waterproof is a ticking embodiment of resilience. The tungsten bezel is just a cherry on top of the ion-plated steel case. With an impressive 300M-water resistance rating, you can take this badboy on a scuba diving mission and not worry about the display getting foggy afterwards. Now, if you have a small wrist or don't fancy bulky watches, this is not the watch for you. It's one of the few watches designed for the left-handed wearer.
Nixon for Women
The women's collection boasts watches of various designs and shades; but their functionality is not as striking as that of the men's watches. In there you will find gold-plated stainless steel cases and bracelets and leather straps. There are a few minimalist models for those who prefer to go about their daily business in stealth mode.
The Nixon Women's Arrow Leather is designed to blend into just about any occasion and environment, and what's more, it can be worn by just about anyone—young or old. If you are looking for a timepiece that houses simplicity and elegance within a small case, you won't find it anywhere else, not for the price of a Nixon. The gold-hued steel, coupled with stiletto hands, goes with the black dial to give you a contrasting yet inviting display.
If you are looking for a watch that won't weigh you down, you will love this Kensington Milanese. It represents simplicity and femininity, without the baggage that comes with cheap 'stones'. A two-hand movement would have been ideal for a case this small; but overall, it's a nice watch for everyday use. It is available in gold and bronze shades.
Nixon Automatic
Nixon automatic watches are not the most impressive of timepieces. Everything; from the design to the finish is… well, unmemorable, at best. Some buyers found it much dressier than the other Nixons, but if you are going to spend more than a thousand bucks on a watch, it may as well be one with a huge bang for your bang, and this Nixon Automatic Watch doesn't even come close.
For a dress watch, a worthy alternative would be this Seiko Presage Stainless Steel or its leather version. They are competitively priced and come with superior specs and horological authority compared to our Nixon. If you must get a watch at the price range of a Nixon Automatic, consider the Tag Heuer Aquaracer or the Longines Flagship Heritage. It'd be as good a thing to bet on any.
Brand Reputation
Like most fashion watches, Nixons are mostly affordable quartz wristwatches designed with the everyday wearer's needs in mind. The majority of Nixons run on MIYOTA quartz movement, while some use Ronda Swiss movement. Some, like the bulky, custom-built 51-30 Chronos are popular among divers for their impressive water resistance rating.
Resilience, Reliability, Durability
Nixon watches were initially designed with a sporty element to them. Therefore, we were curious to see if the modern cyclist, hiker, or diver would find a Nixon watch helpful.
As you'd agree, at a 100M water-resistance rating, Nixon watches could outlast your average fashion watch by miles. It would appear they are still popular for their sporty, harsh terrain watches and gear, and with such a background in the action sports niche, you can bet on a Nixon watch to stand up to mother nature.
Nixons are hugely reliable and durable if the upbeat buyer reviews on Amazon is anything to go by. We'd attribute this to their exceptional water resistance rating. Such resilience is indicative of a watch's superior build and structural quality. That said, Nixon watches are not to be written off as typical fashion statement pieces.
Is Nixon A Good Watch Brand?
All things considered, we'd say Nixon watches are fairly priced. Nothing to write home about their complications, but they are practical and reliable, which, in all fairness would be all you'll need for the price. Nixons are versatile, meaning you are not limited in terms of what or how to wear them.
Material wise, you will find everything, from titanium, ceramic, acetate, plastic, to polycarbonate. Not particularly top-of-the-line materials, but they make sense for watches in this price range and use.
If you are acquainted with online watch forums M.O, you'd know that no one takes fashion watches seriously, and rightfully so. Unlike the traditional watchmaker, who puts their all in the conceptualization, design, and production of every single timepiece, fashion houses, the likes of Nixon, have no skin in the game. The mere fact that they are all over the place—making clothing, accessories, and whatnot—is telling.
Watch geeks over at Quora think Nixon watches are overpriced and the value is definitely subpar. One reviewer called them hipster watches. It's normal to encounter such views, especially when the brand in question is a young brand that doesn't have a long history of watchmaking. We don't think it necessarily reflects a problem with the brand, more the preference that watch aficionados give to brands with history and their disdain for fashion brands.
In the same price range as Nixon, if you're looking for comparisons, they'd most likely tell you to consider brands such as Orient, Seiko, Citizen to start with.  For automatics, you could consider something from Hamilton or Tissot.
Nevertheless, if you like the look of Nixon and it fits your budget we say go for it.  We still try to give every brand a fair look—helping you make an informed decision on your next purchase.
We've recommended Nixon on many occasions. Just a couple of examples are their Nixon Base – as a good surf watch or their Ragnar made our list of Men's Square Watches.
Where To Buy Nixon Watches?
You can buy Nixon watches directly from their online shop.
A wide variety of Nixon watches can be found on Amazon. 
You can also find some of the brands watches on Jomashop and Watchshop (UK)
You will find a number of discontinued models over at eBay.
Where Are Nixon Made?
Nixon is a US-based company. Movements and other components are Japanese and Swiss. They are assembled in the company factory in Encinitas, South Carolina.
Is Nixon a Luxury Watch Brand?
Not by a very long shot. Don't let the price tag on their automatic models fool you, Nixons are made and marketed as affordable quartz watches. Most watch aficionados would put them in the entry-level, consumer, or fashion watch category.
Nixon Warranty
Each Nixon watch purchased from authorized dealers is backed by a 2-year international warranty. The warranty covers defects in materials and workmanship.