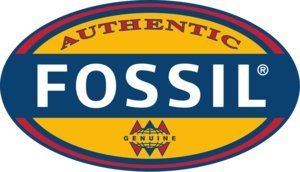 American watch brand Fossil is oftentimes labeled as a "fashion" watch brand, but it's really more than that. Over the years, the brand has shown that it can compete with big watch brands by producing models that are not only attractive but also have some of the leading watch technologies today.
Here are some of the best Fossil watches for men. Below, we're going to zero in on different styles and technologies such as analog watches, chronographs, and smartwatches. Some have been around for a while now, while others are reissues of some of the brand's most popular models. We'll also take a closer look at some of the latest releases and bestsellers.
If you'd like to learn more about Fossil's history and some of its best collections, you can also check out this article that we previously wrote about the brand. In no particular order, here are some of the models that we recommend.
Best Fossil Watches for Men
Fossil Three-Hand Date Black Silicone (FS5660P)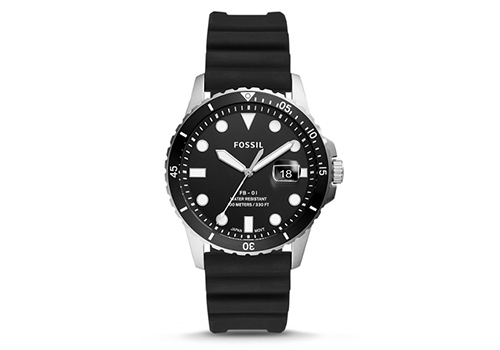 Let's begin with a diver-style 42mm watch that's excellent as an everyday watch and something that you can take with you to adventures.
The Fossil FB-01 three-hand black silicon watch has a total of 16 colors and styles to choose from, but we picked this one because of its simplicity and clean look. This quartz watch has a black sunray dial, a stainless steel case, and a sleek black dial.
Take note that while this is a dive-inspired watch, it doesn't have the water-resistant you'd expect from a top dive watch. With resistance up to 100m, you can take it to the shower or other minor water activities, but you can't take it diving with you. If you're looking for a sporty-looking timepiece with a casual rubber strap, this Fossil might be the one for you.
Fossil Neutra Chronograph Black Leather (FS5503P)
Read Amazon Reviews | See on Fossil.com
If you're looking for a minimalistic and neutral aesthetic, the Neutra Chono is a good match that shows off Fossil's excellence in design.
The Neutra Chronograph Leather with a case size measuring 44mm makes it a comfortable fit for most men's wrists. The black strap, matte dial, and stainless steel case make it elegant enough for a suit while still having a casual enough look to it for everyday wear.
Bearing a handsome design, this model has a combination of Roman numerals and stick indices, a chronograph movement, and a water resistance to 50m. There are a number of models to choose from, such as a blue, white, or gray dial; or a brown strap.
Fossil Bowman Chronograph Black Stainless Steel (FS5603P)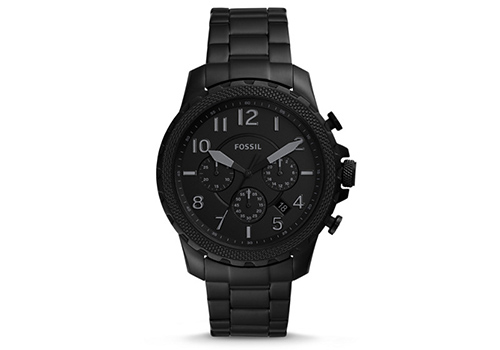 If you're looking for a large watch with chronograph functions, this Fossil best seller is the model to take a closer look at.
The Bowman Chronograph is a 46mm watch with a black stainless steel bracelet, black dial, and silver/gray Arabic and obelisque style watch hands.
Some of the main functions include a date window at 4 o'clock giving it a unique look compared to the usual 3 o'clock position found on many watches. Other features include a timer, Chrono seconds and minutes hands.
At 46mm case size, this is a big watch without being obnoxious, thanks to the simplicity of the all-black color scheme and muted hands and indices.
Fossil Minimalist Three-Hand Brown Leather (FS5439P)
Read Amazon Reviews | See on Fossil.com
This watch is for those looking for a minimalist design.
This three-hand brown leather model is a simple yet strong timepiece that can be worn on both casual and dressy occasions.
This quartz movement watch is 44mm with a brown leather strap, a stainless steel case, and a water resistance to 50m. The watch has a clean cream dial, but if you want something darker, there are many other models to choose from, such as the Three-Hand Brown Leather model, or the Three-Hand Striped Blue and Gray.
Fossil Townsman Automatic Stainless Steel Watch (ME3062P)
Read Amazon Reviews | See on Fossil.com
Timex calls refers to this watch as having a style that "never takes itself too seriously," and it's true: the 45mm Townsman Automatic Stainless Steel watch has a style that's stylish, sleek, and playful–something that you can wear in casual settings, as well as in dressy occasions.
This is a unique model because of its mechanical automatic movement that you can see on the dial. The case is stainless steel, the dial is black, and the water resistance is up to 50m.
At this price point, being an automatic watch and the elegant "open heart" design makes this a good value for money and a great entry-level automatic watch. 
Fossil Sport Smartwatch 43mm Green Silicone (FTW4035P)
Read Amazon Reviews | See on Fossil.com
Those who want something more high-tech can check out Fossil's line of smartwatches. The Fossil Sport Smartwatches, for instance, are packed with features that allow users to use the watch as a phone. This is perfect for those who always need to keep track of their activities and sports.
Some of the main features of the lightweight 43mm Fossil Sport Smartwatch include notifications (like text, email, and social media), functions like heart rate tracking and GPS, Bluetooth connectivity. One of the features that stands out is the workout-tracking option, which you can use in the pool; and Google Pay, which allows you to make payments almost anywhere contactless credit cards are accepted.
Powered by Wear OS by Google, this watch is compatible with the Android OS 6.0+ (excluding the GO edition) and iOS 10.0+.
Fossil Gen 5 Carlyle HR Smoke Stainless Steel (FTW4024P)
Read Amazon Reviews | See on Fossil.com
This is one of Fossil's newest smartwatch models. This is a bigger model at 44mm and has new features in addition to the ones we mentioned above.
The Gen 5 Carlyle HR Smoke stainless steel watch has new features like increased storage capacity, as well as smart battery modes that help extend battery life for days. Another notable feature is the Google Assistant + Speaker, which you can use (using the speaker of the watch) if you have questions that one can find in Google. Like the previous model, this one is also swim-proof.
Aside from the smoke stainless steel strap, there are also black silicone and dark brown leather options.
Fossil Hybrid HR Smartwatch (FTW7008P)
Read Amazon Reviews | See on Fossil.com
If you're not yet ready for a smartwatch, this is something that you might appreciate. Fossil has a line of hybrid smartwatches that combines both analog and digital functions.
The Hybrid HR Collider smartwatch is a 42mm watch that can go for up to more than two weeks on a single charge. This model has features such as fitness and heart rate trackers, notifications (text, email, apps, alarm, calendar, and so on), customizable buttons, personalized dial, and a "ring your phone" feature that may come in handy when you can't find the connected smartphone.
This Bluetooth-enabled watch is also available with Android 5.0+ and iOS 10.0+.
Fossil Hybrid Smartwatch Garrett Luggage Leather (FTW1191P)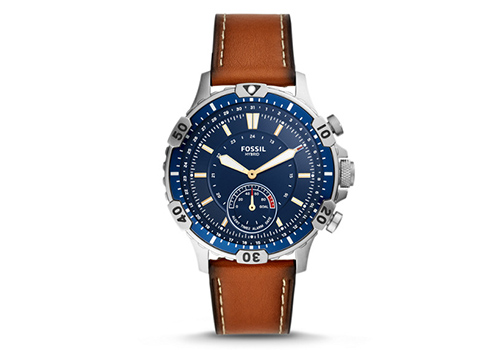 The Fossil Hybrid Smartwatch Garrett Luggage Leather watch is a 44mm timepiece that's excellent for those who are looking for something more robust—a large model watch looks more like an analog watch than a smartwatch.
Powered by Android 5.0+ and iOS 10.0+, this watch has similar features as above (such as Bluetooth connectivity, activity tracking, music control, and notifications). Unlike most smartwatches, this one does not require daily charging—the watch is always connected, with a battery life that can last up to six months.
Fossil Hybrid Smartwatch Machine (FTW1166P)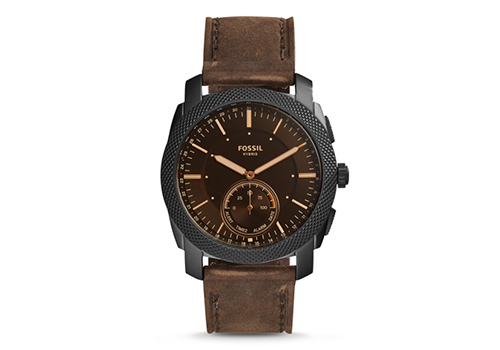 This one is another hybrid smartwatch that we love because of its unique look. The Hybrid Machine Smoke model is one of the larger models at 45mm,  so this is another model for those who are into large watches.
Some of the main features of this watch include an activity tracker (such as sleep and fitness) and notifications (text, social media, email, and other apps). You will also be able to take pictures and control music, as well as view different time zones.
If you're not into the machine smoke stainless steel design, there are five other models and colors to choose from, such as a gold-tone stainless steel strap and dial, or a black dial with a dark brown leather strap.
Fossil Townsman Automatic Navy Leather (ME3171P)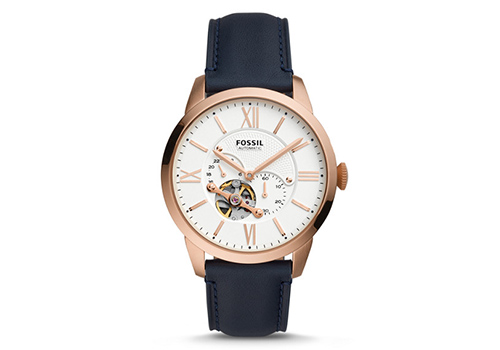 Moving on to some of Fossil's best mechanical watches. The Townsman Automatic Navy watch is a 44mm watch with an automatic movement, which has a built-in rotor that is powered by the wearer's wrist.
This model has a white dial, a stainless steel case, a classic-looking Navy strap that can easily match with any outfit, and a water resistance of 50m.
We picked this model (which has a total of 11 color variations) because of the simple beauty of its design. The dial is a simple white color, but it's made more interesting by a see-through skeleton detail where you can get a glimpse of the automatic movement.
Fossil Grant Twist (ME1162P)
Read Amazon Reviews | See on Fossil.com
Another model with a skeleton design, the Grant Twist Three-Hand Blue Leather watch has stylized Roman numeral markers from 11 to 7 o'clock, and a skeleton feature that partially shows the movement from 8 to 10 o'clock.
This watch has great reviews on websites like Amazon, with many praises for its look and the reasonable price tag for the design and features.  There are seven different styles and colors, including a blue dial and a brown leather strap and a black dial leather watch with a three-hand date, sun and moon, day, and month feature.
Fossil Grant Chronograph Brown Leather
Read Amazon Reviews | See on Fossil.com
The Grant Chronograph Brown Leather watch is another watch from the Grant collection that doesn't only look good but is packed with a lot of excellent features as well. This handsome quartz chronograph watch is 44mm with a genuine brown leather strap and a stainless steel case.
On the cream dial are Roman numeral markers and functions that include a 24-hour timer, a stopwatch second hand, and a stopwatch minute hands. The water resistance is up to 50m.
Fossil FB-01 Three-Hand Date Neon Blue Silicone (FS5682P)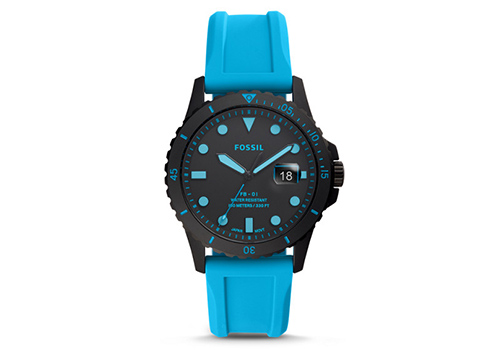 This is one of Fossil's latest releases—a colorful design that's perfect for those looking for a pop of color.
The FB-01 Three-Hand Date Neon Blue watch has a durable silicone strap, a matte black dial, and a three-hand date movement. One of the things that customers love about this watch is the lightweight and comfortable material of the watch, making it an excellent model that you can wear daily.
The water resistance is 100m and the case is durable stainless steel. This also comes with many color options and strap materials, such as green and orange silicone and silver or gold-tone stainless steel.
Fossil Forrester Gray Striped Nylon (LE1086P)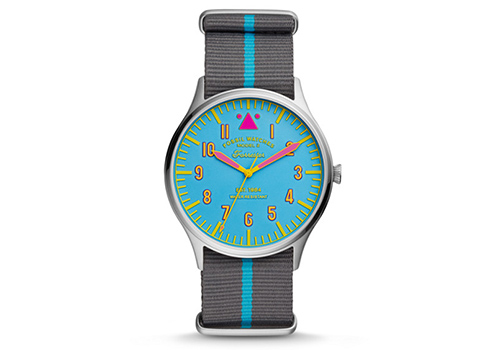 First off, this is a limited-edition watch, so you can be sure that you're wearing a unique model.
The Forrester Three-Hand Gray Striped Nylon watch is perhaps one of Fossil's most colorful watches. This bubbly timepiece, which comes in a total of four colors, is a 42m that has a blue satin dial, three-hand movement, and Arabic numeral indices.
There are three other different dials available: green, pink and yellow, all of which have a striped nylon strap.
If you'd like something that is not as colorful, we also highly recommend the Forrester Three-Hand brown leather model, which has a similar unique design and typeface, but with a predominantly brown color scheme. See all the Forrester models here.
Fossil The Archival Series Mood Watch (LE1065P)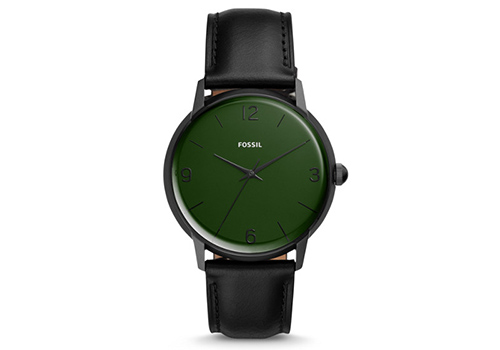 This is one of the brand's most exciting new releases. Called the Mood Watch Three-Hand, this 42mm black leather watch features a fun, color-changing dial and a mood decoder on the back.
The thing that makes this model special is it has the right balance of playfulness and sophistication—the simple design of Arabic numerals and indices and slim hands makes it a great everyday watch that's easy to match with different outfits.
If you'd like something smaller, this is also available in 32mm, with a slightly different design of a gold-tone case and accents.
Fossil Archival Series Starmaster (LE1059P)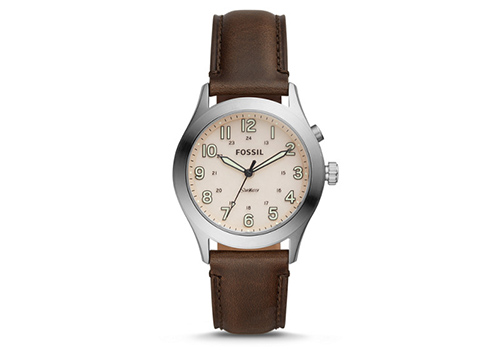 This is another watch from Fossil's Archival Series. If you like vintage-looking timepieces, you'll love the limited-edition Starmaster Three-Hand a 38mm brown leather watch with an illuminated cream satin dial.
This quartz movement watch has a stainless steel case and a water resistance of 50m. This is excellent for those who need an illuminated timepiece, as the bold Arabic numerals light up in the dark.
This model is available in two colors: there's also an option of a brown dial with a black stainless steel case.
Fossil Forrester Chronograph Stainless Steel (FS5605P)
This is another one of the Forrester collection—a handsome stainless steel watch with a quartz chronograph movement, and functions like a timer, date, and seconds/minutes hands. The silver-tone strap and case are made of stainless steel, and the water resistance is up to 50m.
The Forrester Chronograph Stainless Steel has a combination of vintage-inspired and modern designs and doesn't look cluttered despite all the elements, thanks to its large 46mm size. The white markers, a combination of Arabic and stick, stand out nicely against the striking blue dial. This one is perfect for those looking for something a sporty-looking timepiece.
Fossil Minimalist Black Stainless Steel (FS5308P)
Read Amazon Reviews | See on Fossil.com
The 44mm Minimalist Slim Three-Hand watch has a slimmed-down case and minimalist stick indices. This stainless steel quartz watch is mostly black, but there are highlights of blue on the seconds hand.
The main features also include water resistance to 50m, as well as two colors to choose from. If the blue hand highlights are not for you, there's also a monochrome option, with black dial indices, as well as a black leather strap.
Fossil Hybrid Smartwatch (Model: FTW1179)
Read Amazon Reviews | See on Fossil.com
We'll wrap off the list of best fossil watches with a simple yet bold watch that is versatile enough to be worn daily and on occasions where you need to dress up.
Fossil's collection of hybrid smartwatches is a game-changer. This Neutra Brown Leather model, for instance, has the look of a simple analog watch but has a wide array of functions that you'll find in a smartwatch—some of these include activity tracking, notifications (text, email, social media, alarm clock, etc.), music control, fitness tracker, and many more.
The syringe-style watch hands give it the look of a classic watch is rare to see. Many hybrids fail to achieve that balance of modern and classic – usually looking more like a smartwatch. This Fossil is a nice balance of the two styles.
The best part is that it requires no charging, and uses smart technology to function.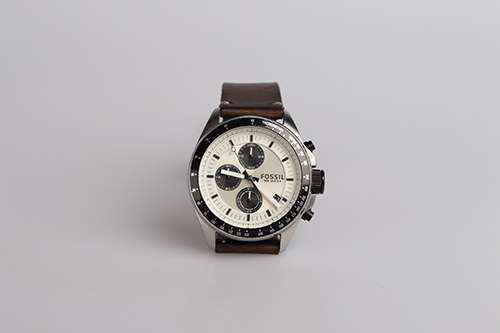 We hope this article was helpful! If this is your first time buying a Fossil watch, you can also explore their comprehensive website here, where you can find the specs of all models, as well as the option to customize an order. The site is packed with suggestions, add-ons, and important information about each watch.
If you're still debating whether to buy Fossil or some other brands, see our head-head comparisons (such as one with Seiko and another one with Skagen).