Smartwatches have been rising in popularity over the past few years. We are now seeing smartwatches that offer advanced smartphone-like functionality as well as more basic watches that still deliver all the essentials. And most importantly, smartwatch brands are being more creative in their approach and are producing some great-looking watches.
Additionally, most companies cater to most hand sizes which ensure maximum compatibility and comfort. In this article, we will be taking a look at some of the best smartwatches for large wrists. Our top picks include the Samsung Galaxy Watch 3, the Huawei Watch GT 2 Pro, and the TicWatch Pro 3. 
Quick Picks

There are plenty of other choices here in this list, so make sure to keep on scrolling to learn more. Also, if you have a smaller wrist, make sure to also check out our dedicated list.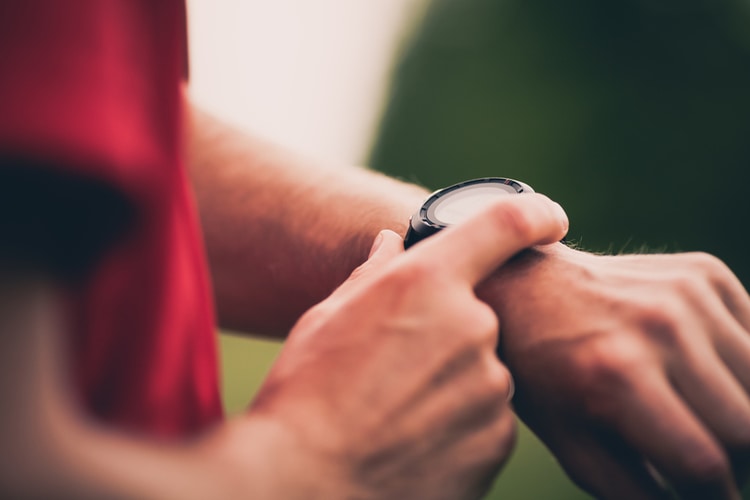 Best Smartwatches for Large Wrists
Samsung Galaxy Watch 3
Case Dimensions: 45 x 46.2 x 11.1 mm (45mm)
One of the best alternatives to the Wear OS platform is Google's Tizen OS-based platform. And the best smartwatch that showcases its full potential is Google's flagship Samsung Galaxy Watch 3. 
This smartwatch is the follow-up to the highly successful Galaxy Watch that was first released in 2018. It has the same design language as the original but hosts a lot of improvements to better fit the current generation of Android devices. 
Some of the highlights of these smartwatches include a class-leading display, smooth software experience, good hardware, and style. 
Most smartwatches in this category try too hard to implement groundbreaking features that they forget that a smartwatch should still look good on their wrist. The Galaxy Watch 3 fuses the classic smartwatch design with Samsung's iconic design language. 
Additionally, the Galaxy Watch 3 features a rotating bezel that makes navigating the UI a lot easier. This is a unique feature that is currently only found on Samsung's offerings. 
And, of course, the Galaxy Watch 3 has a dedicated app store that enables you to further increase the functionality of your smartwatch. You will be able to specifically choose your watch face.
Additional perks that you get with the Galaxy Watch 3 include support for eSim, Samsung Pay via NFC, MIL-STD-810G compliant, water-resistant up to 50m (IP68), ECG certified, and a lot more. Overall, the Samsung Galaxy Watch 3 delivers the full package and is certainly worth a look. 
Huawei GT 2 Pro
Case Dimensions:  46.7 x 46.7 x 11.4
The Huawei Watch GT 2 series is one of our top picks for basic smartwatches simply because of their solid feature implementation and smooth software experience. This time around, Huawei has released a more premium and expensive option in the form of the Huawei Watch GT 2 Pro. It takes everything that was great about the GT 2 series but adds new features that make it worthy of its "Pro" moniker. 
The build quality of the GT 2 Pro has been revamped. It is utilizing more premium materials such as titanium for its body. The 1.3 inch AMOLED display is also now protected with sapphire, which is tougher than glass. 
Internal components such as the heart rate sensor have also been improved. The GT 2 Pro now utilizes TruSeen 4.0, which is more accurate than previous models. 
Familiar elements such as the fast and reliable UI make their return but with some tweaks that are exclusive to this model. The most notable one being the ability to install apps which expands the GT 2 Pro's functionality. 
The GT 2 Pro also features the great workout selection found on the fitness-focused GT 2e. There are added activities such as snowboarding, skiing, cross-country skiing, and a driving range for golfers. Additionally, the GT 2 Pro has a built-in GPS with a route back feature to help you return to your point of origin. 
Just like its predecessors, the GT 2 Pro has a fully customizable notification system. It also has a built-in mic and speaker for calls and potentially for the upcoming Celia voice assistant. 
The Huawei Watch GT 2 Pro manages to pack all of these features while still maintaining its 2-week battery life. It can then be quickly recharged via magnetic or wireless charging. If you are looking for Huawei's best offering, the GT 2 Pro is your best bet.
TicWatch Pro 3
Case Dimensions:  47x48x12.2 mm
If you are looking for a premium smartwatch with good specs, the TicWatch Pro 3 easily fits the bill. It utilizes the latest Qualcomm Snapdragon 4100 processor, which ensures a smooth software experience. This is a big deal considering how a lot of smartwatches fail to run Wear OS properly. 
Additionally, the TIcWatch Pro 3 has a sleek design. Utilizing stainless steel for its case material also allows it to be durable and ready for outdoor use. 
The Pro 3 also has the TicWatch Pro's signature dual-layer display. This not only allows it to have longer battery life but also allows it to have a unique look that cannot be easily matched by its competitors. 
In terms of its battery life, the TicWatch Pro 3 can last up to three days. This is a lot longer than your typical Wear OS smartwatch. 
Overall, the TicWatch Pro 3 delivers everything from smooth software performance to gorgeous aesthetics. 
Garmin fenix 6X Pro Solar Edition

Case Dimensions: 47 x 47 x 15.1 mm
When it comes to premium multisport GPS smartwatches, Garmin is a market leader and their Fenix line is a long-time favorite among elite athletes, outdoor enthusiasts and ultra sports fanatic. The latest and greatest edition is the Fenix 6X Pro Solar.
In 2020, Garmin added solar-powered technology to several of their watches, including the Fenix 6 line, making it a perfect companion outdoors where battery life is a priority especially when running GPS for long hours.
The robust case size of 47mm and rugged build quality makes it a perfect choice for guys looking for a chunky watch that won't look wimpy on their thick wrists.
Apart from the multi-sport functions with profiles for a wide range of sports-specific metrics, you get advanced health and fitness tracking such as Pulse OX monitor altitude acclimation and recovery and Garmin's PacePro training program to optimize your training and race pace taking into consideration altitude.
The GPS utilizes GLONASS, Galileo, and GPS satellites. The Fenix 6X comes with topographical maps, thousands of ski maps, and golf courses built into its memory and a navigational system that has ABC technology (barometer, altimeter, and 3-axis compass). Apart from that, it has everyday features like Garmin Pay support and compatibility with music streaming services making this a great everyday carry.
TicWatch GTX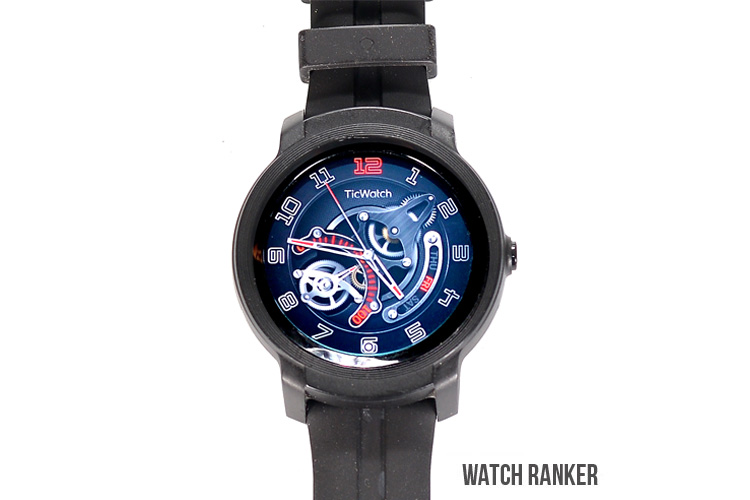 See on Amazon | Read our TicWatch GTX Review
Case Dimensions: 48.7 x 48.7 x 11mm
The TicWatch GTX is Mobvoi's budget-priced offering aimed at consumers with basic needs. What separates this smartwatch from the rest of Mobvoi's TicWatch offerings is its operating system. The GTX is running a more basic operating system instead of Wear OS. 
This means that it lacks the ability to install third-party apps and third-party watch faces. This also means that the overall functionality will be very limited. However, the GTX makes up for its lack of features with its raw performance. 
The TicWatch GTX has all the basic features that are found in similar smartwatches. Additionally, its responsive operating system allows you to navigate through the software with ease. 
And despite its price point, Mobvoi has not sacrificed the aesthetics of the watch. Its classic wristwatch design can easily make it compete with more expensive watches such as the TicWatch S2 and E2. If all you are looking for is a basic and reliable smartwatch, the GTX is a great choice. 
Check out our full review to learn more. 
Zeblaze Thor 6

Case Dimensions:  51 x 51 x 16mm
If you are looking for a true smartphone replacement, the  Zeblaze Thor 6 (AliExpress) is worth a look. Unlike competing smartwatches, the Thor 6 is not utilizing Wear OS. Instead, it is running a full-blown version of Android 10. 
This is quite crazy since this makes the Zeblaze Thor 6 a miniature smartphone. It is even complete with smartphone-like features and one of the few smartwatches with a good quality camera, actually 2 – a front-facing camera as well as a camera on its side that is used for taking photos or used for video calling. 
And since it is running Android 10, you have access to the Google Play Store. And we're not talking about the Play Store found on Wear OS. This is the full-fledged Play Store found on your mobile device. 
You can install any app you desire, such as YouTube and Facebook. However, keep in mind that most apps aren't optimized to work for a round screen. But it is still worth a try since the option is already there. 
Of course, all of this wouldn't mean much if the tech inside the Thor 6 couldn't handle all of its features. Fortunately, this isn't the case, as the Thor 6 is using a very capable Helio P22 octa-core processor. And while it's no flagship smartphone processor, you can expect it to seamlessly and reliably run through most applications. 
It is worth noting that Thor 6 isn't perfect. It has a full plastic construction except for the bezel. It is still built well, but you should not expect it to look as premium as other alternatives on the market. But overall, the Zeblaze Thor 6 certainly delivers a unique smartwatch experience. 
TicWatch S2 and E2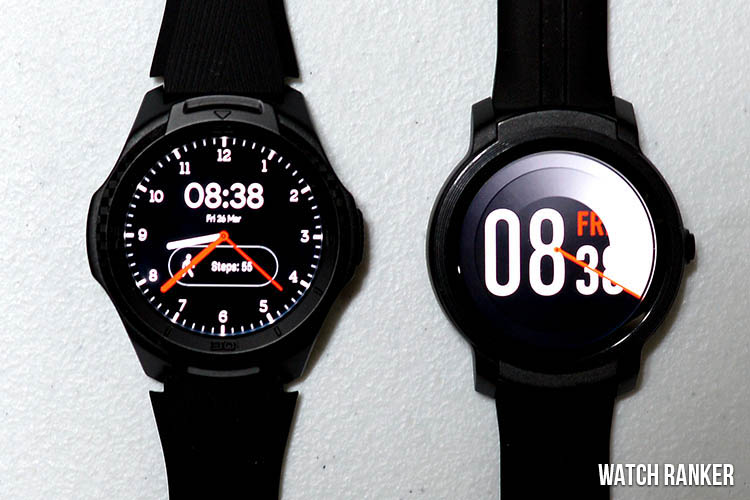 Case Dimensions:  46.6 x 51.8 x 12.9mm(S2)/46.9 x 52.2 x 12.9mm(E2)
If you are looking for an affordable Wear OS smartwatch, the TicWatch S2 and TicWatch E2  are solid options. They may not be the most stylish looking or the smoothest performing smartwatch, but they get the job done. 
Since these watches are powered by Wear OS, they easily become some of the most feature-packed budget watches. You get all the basic features along with the ability to add new apps via the Google Play Store.  These give these watches so much functionality and value to the consumer. 
The main difference between these two watches is their aesthetics. The S2 has a more rugged and bulky design optimized for outdoor use, while the E2 has a simpler design that's meant for casual use. The differences aren't that big and do not impact the overall performance. 
One thing you have to take note of is that both watches are utilizing the older Snapdragon 2100 and only have 512 MB of RAM. The compromises in their technical specifications certainly impact their performance. They won't run as smoothly as higher-end models such as the TicWatch C2+ or the TicWatch Pro 3 and will require some tweaks to run smoothly. 
But overall, these watches should help you get into the Wear OS platform and will give you a taste of the TicWatch experience.
Learn more by checking out  our full  reviews of the TicWatch S2 and TicWatch E2
Suunto 7
Case Dimensions:   50 x 50 x 15.3 mm
For athletes and enthusiasts looking for an advanced fitness tracker, the Suunto 7 is a good fit. This watch successfully combines Suunto's signature fitness tracking features with the power and customizability of Wear OS. 
This watch boasts some of the most advanced sensors and GPS to help bring the most accurate results. It also embodies the signature Suunto build quality and reliability that the brand has become known for. This means that you can use this watch for swimming and exploration without worrying about it. 
And with Wear OS, you can expand the Suunto 7's capabilities through app installs. It also means that the Suunto 7 is compatible with services such as Google Pay. This means that you can go for outdoor activities and still make purchases without bringing your wallet. 
Unfortunately, the Suunto 7 has some shortcomings that prevent it from being an all-in-one smartwatch. It lacks a speaker and microphone for calls, and the battery only lasts anywhere from 20-28 hours. But overall, the Suunto 7 easily delivers in terms of reliability and flexibility. 
Garmin Instinct
Case Dimensions:   45 x 45 x 15.3 mm
The Garmin Instinct is one of Garmin's unique watches. Unlike most of their offerings, the Instinct has a more basic vintage Casio-inspired look and functionality. It also places heavy emphasis on durability, navigation, and fitness. 
The Instinct has a boxy design with five buttons on the sides. The buttons are very important since the Instinct does not feature a touch screen. 
And speaking of the screen, the Instinct features a monochrome screen instead of the usual vibrant AMOLED screens found on most smartwatches. This helps give the Instinct a retro look, which will appeal to those looking for a more simple smartwatch. 
The Garmin Instinct does feature some essential smartwatch features, such as smart notifications support. However, the smartwatch features are quite limited due to the Instinct's OS and lack of a touchscreen. 
However, the main focus of the Instinct isn't the consumer-level smartwatch features. The main appeal of this watch is its fitness tracking and GPS features. And thanks to its conservative spec sheet, the watch can last up to fourteen days. 
This can come in handy during emergency situations. Overall, if you are looking for a more basic watch that has more fitness and exploration functions, then the Garmin Instinct is a great choice. 
COROS Apex and Apex Pro
Case Dimensions:  Coros Apex:  46 x 46 x 11.9 mm  Apex Pro:  47 x 47 x 13.4 mm
The Coros Apex and Apex Pro serve as the midrange models in Coros' GPS smartwatch lineup. These watches carry most of the features found on the entry-level Pace series but add new features and improvements to aspects such as the build quality. 
Both watches are feature-packed and can track almost any indoor and outdoor activity. They both sport similar sensors and are capable of giving accurate results. 
Coros has also nailed the design of these watches. Both watches use high-quality materials that easily reflect their retail prices. The glass is protected with Sapphire crystal, and the body is made of either steel or titanium. 

Both watches have an aluminum back cover. Both watches also feature a rotating crown which is crucial to have when wearing gloves that cannot access the touchscreen display. Both have a water-proof design and can withstand a depth rating of 100meters, making them great for swimming-related activities.   
There are, of course, some noteworthy differences between the standard Apex and Pro Model. The Apex has a more elegant design that can fit any occasion, while the Apex Pro has a bulkier design that is made for outdoor activities. This does inevitably make the Apex Pro thicker and heavier. 
The Apex Pro also has more features such as blood oxygen monitoring, a larger sensor, and an oximeter which is found on the higher-end Vertix. 
Like other smartwatches, the Apex and Apex Pro are fully capable of displaying notifications and other alerts. These features are, however, pretty basic since these watches do not have built-in Wi-Fi. 
Like the Pace Series, the Apex Series has outstanding battery life. The Apex can last up to 100 hours in UltraMax mode. It will last up to 35 hours on GPS mode and 30 days on standby usage. 
The Coros Apex Pro, on the other hand, can last up to 40 hours on normal GPS mode. It can also last up to 100 hours in UltraMax mode.