TicWatch GTX Review
Overall Verdict
The TicWatch GTX is a basic smartwatch that executes its features very well.
PROS
CONS
✅ Covers all the Essentials
❌ Lacks a lot of features found on other budget smartwatches
✅ Decent Build
❌ Screen does not get very bright
✅ Overall great value smartwatch
✅ Good battery life
❌ Basic health tracking features
Mobvoi TicWatch Brand Overview
The TicWatch brand is mostly known for its innovative Wear OS watches.
The TicWatch Pro, for instance, introduced the dual-layer display that greatly saves battery life and adds additional functionality to the watch. However, the price tag of these watches may be out of reach for some consumers.
Mobvoi has addressed the budget consumers by releasing the more affordable TicWatch S2 or E2.
You can check out our full reviews to learn more about them. TicWatch S2 Review | TicWatch E2 Review
But now, Mobvoi has released the TicWatch GTX, which is even more affordable than the S2 and E2. Of course, it is no longer using the Wear OS platform.
Instead, this watch is using a more basic operating system similar to Huawei and Amazfit's offerings.
In this review, we will find out how well Mobvoi has designed the GTX given their budget constraints. Does it have enough features for it to be a usable smartwatch? Keep on scrolling to find out.
Please note, we purchased the TicWatch GTX was bought directly from mobvoi.com on 03/04/2021, click here to check their current prices.




Mobvoi Information Technology Company Limited is a tech company based in Beijing, China. They were founded in 2012 by Google AI experts, Nokia employees, and researchers from top universities such as Harvard and Cambridge. The primary goal of this company is the integration and advancement of voice AI communication.
Some of their revolutionary products include voice search engines featured on WeChat. Mobvoi has also developed its own voice search app engine called Chumenwenwen.
It was in 2014 when Mobvoi started venturing into the consumer electronics market. They developed an Android-based smartwatch operating system called TicWear OS. And soon after, they worked together with Frog Design to release the TicWatch.
The TicWatch brand differentiated itself from other smartwatches by having a strong integration with their AI technology. Its launch was very successful and only trails behind the Apple Watch in the domestic Chinese market.
Today, Mobvoi continues to bring its expertise to the smartwatch market with the newer versions of the TicWatch. And with each new iteration, TicWatch gets one step closer to fulfilling its dream of ushering in the next generation of human and computer interaction.
Learn more about Mobvoi in our full TicWatch Brand Review.
Packaging & Accessories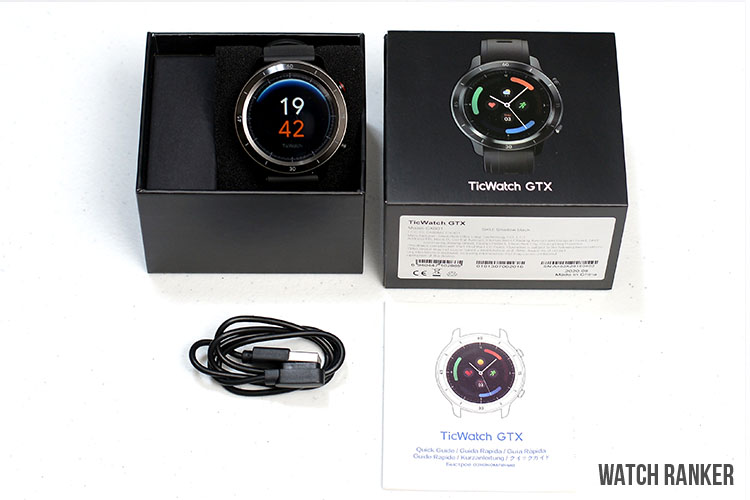 The packaging of the TicWatch GTX is very surprising. Normally, brands would try to save costs and would rather spend the extra money on making the actual product better. However, TicWatch did not sacrifice the quality of the box.
The TicWatch GTX's box resembles the higher-priced TicWatch E2 and S2 smartwatches.
Of course, you don't get quite as many accessories and paperwork. The internal packaging is also a lot simpler.
However, the presentation is well thought out and is unmistakably from Mobvoi. And despite not adding any value to the GTX, we appreciate Mobvoi's packaging design.
Design and Build Quality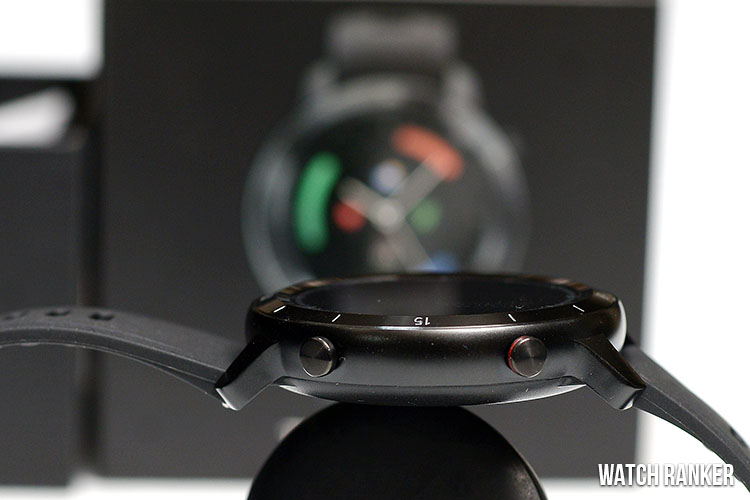 The TicWatch GTX has a very impressive design despite its budget price.
The TicWatch GTX is surprisingly well designed for a very affordable smartwatch. And in our opinion, it even edges out the TicWatch E2 and S2 in several areas.
In terms of its design, the GTX aims to be a stylish and fashion-focused smartwatch. It bears a striking resemblance to Huawei's premium Watch GT 2. We even mistook the GTX for GT 2 when we first placed them side by side.
The watch face even has some engravings on it, which adds more flair and visual appeal to the watch. And while the interior engravings found on the screen look a bit fake, we still appreciate the effort put into designing the GTX.
In terms of the GTX's body material, Mobvoi claims that the watch is made of metal. However, we think that the casing is made with a combination of metal and plastic. Also, the materials do not feel as sturdy as higher-priced budget watches such as the Huawei Watch GT 2e.
Surprisingly, the TicWatch GTX has two side buttons. Most budget watches, including the Amazfit GTS, only contain one button. And while the GTX doesn't fully utilize the two-button setup, we still appreciate its inclusion. The buttons are tactical, but the feel and click that they produce isn't on par with the likes of the TicWatch E2 or S2.
As for the GTX's strap, it does the job but is certainly not the best strap that I have tried. It has a plasticky feel and sort of throws off the premium vibe that the watch is going for.
But in terms of feel, it did not cause any irritations with my skin, and I had no issue using it for the whole day. The TicWatch GTX's strep is easily replaceable in case you want to pair it with a better feeling strap.
Display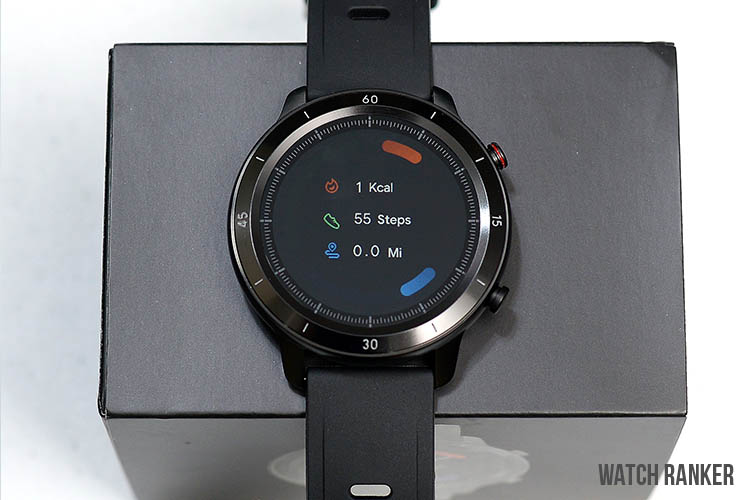 The GTX's display is good enough but is surely not the best smartwatch screen.
Given its price point, the TicWatch GTX's display isn't as good as the higher-end TicWatch models. However, it still does a respectable job.
The TicWatch GTX is equipped with a TFT LCD Display that has a resolution of 240 x 240. It isn't the brightest and most vibrant display, but it does the job.
However, you may encounter issues when using the TicWatch GTX outdoors. The brightness only has four brightness settings. And I personally do not find the brightest settings to be bright enough indoors.
The TicWatch GTX's display is also not the biggest, even with the budget category. This isn't immediately noticeable, but you will notice it once you turn on the display.
But overall, there are no deal breakers here. The display is pretty solid for a budget smartwatch.
Features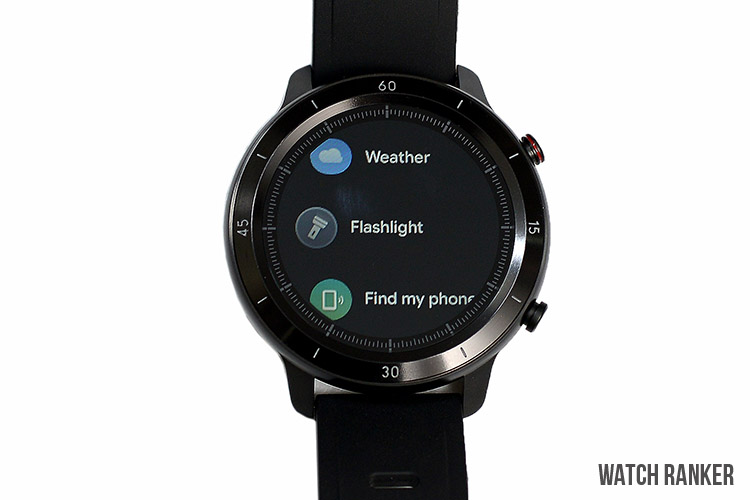 The TicWatch GTX nails all the right features in a budget smartwatch.
Unlike its higher-end siblings, the TicWatch GTX isn't the most feature-packed smartwatch. It only covers the basics and acts pretty similar to a fitness tracker. But fortunately, the TicWatch GTX executes its small feature set pretty well.
The TicWatch GTX has pretty basic notification support. It only gives you notifications but does not give you any options to respond to them. This is pretty normal with these kinds of watches, so that doesn't come as a surprise.
One minor complaint that I have with notifications is they arrive a bit late. My phone often rang first before my watch. This is slightly annoying but surely not a deal-breaker.
The GTX's vibration motors are decent and are easily noticeable. However, do not expect them to be as strong as Mobvoi's higher-end models.
The GTX also has basic features such as a stopwatch, timer, weather, flashlight, and find my phone. It also has music control which is nice to have but a feature that I often do not find useful. It has no internal storage and cannot connect to Bluetooth headphones.
We do have to note that the find my phone feature is quite buggy. Sometimes, the feature will only work once you have unlocked your smartphone. This completely defeats the purpose and can be a big problem if you lost your smartphone in public.
Overall, the feature set is decent, but not all features are implemented very well.
Health and Fitness Tracking

The Fitness and health tracking options in the TicWatch GTX are pretty basic. In terms of its sensors, it has a heart rate tracker as well as an accelerometer. But again, do not expect these to give the most accurate results.
In terms of its fitness activities, the GTX only has 14 workout modes. It covers most of the essential activities such as running and cycling activities. However, more serious users or athletes will surely find the activity selection to be lacking.
Additionally, since the TicWatch GTX does not feature a built-in GPS, tracking running activities won't be very accurate. This is a bit of a letdown, given that other budget fitness trackers offer way more activities than the TicWatch GTX. However, we still think that these should be enough for more casual users.
One surprising inclusion is sleep tracking. It isn't the most accurate sleep tracker but is still a very good addition to a budget smartwatch. Even Mobvoi's higher-end watches do not have this feature.
TicWatch GTX Software Performance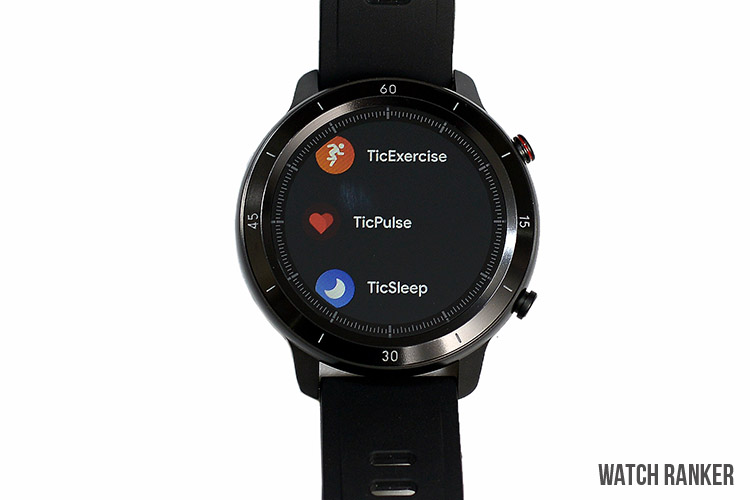 The software performance is, surprisingly, the best feature of the TicWatch GTX.
Given that the TicWatch GTX is not running Wear OS, I was initially not very interested. But to my surprise, the software performance happened to be the best aspect of the TicWatch GTX.
Mobvoi has chosen a minimalistic software experience. However, they drew some inspiration with the elements of their Wear OS smartwatches which helps give the GTX's software a bit more flair.
Navigating the GTX felt very similar to Huawei's Light OS. Swiping down reveals quick settings such as the settings. It also reveals information such as the watch's battery level.
Swiping left and right gives you quick access to your health stats, weather, timer, heart rate tracker, sleep tracker, and more. Swiping up reveals the notifications.
And surprisingly, the software was very stable. I did not even encounter slowdowns or frame drops. And if we are simply talking about performance, it is even more impressive than the more expensive TicWatch S2 and E2.
The only downside with the TicWatch GTX is that the menus are not customizable. And while the menu is pretty efficient and easy to navigate, Wear OS has spoiled us too much in terms of customizing the menu to our liking.
But overall, we do not have complaints about how well the TicWatch GTX's software performs.
TicWatch Smartphone App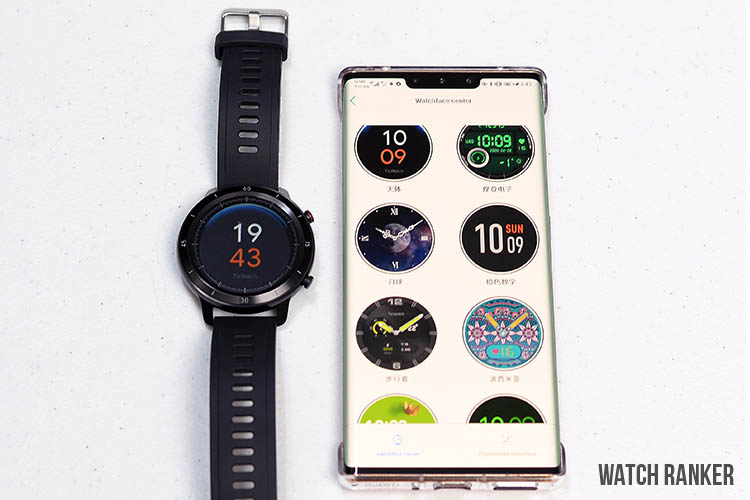 Since the TicWatch GTX isn't utilizing Wear OS, Mobvoi has developed a separate companion app. The app is well designed and does the basics but has some pretty odd inclusions.
Like most companion apps, you can set various settings such as the watch face. You can also configure various settings such as the temperature unit, system language, 24-hour clock, etc.
Additionally, you can directly access the Mobvoi community forums and the TicWatch store directly on the app. I did not find this to be useful, but this may come in handy for those who are unfamiliar with Mobovoi's product lineup or for users who need to troubleshoot something.
Watch Face Selection
The TicWatch GTX's watch face selection is decent but very limited. I found some watch faces that I liked, but the overall quality and the number of watch faces are far behind competing brands. Additionally, accessing the watch face menu in the TicWatch app was very slow.
This was odd because the smartphone was doing the processing and not the smartwatch. Additionally, loading up the watch faces in the watch was also very slow. I immediately settled with a watch face because I did not want to deal with the very slow syncing process.
Overall, watch face selection is decent, but I consider this to be one of the weakest aspects of the GTX due to the limited options and slow syncing.
Battery Life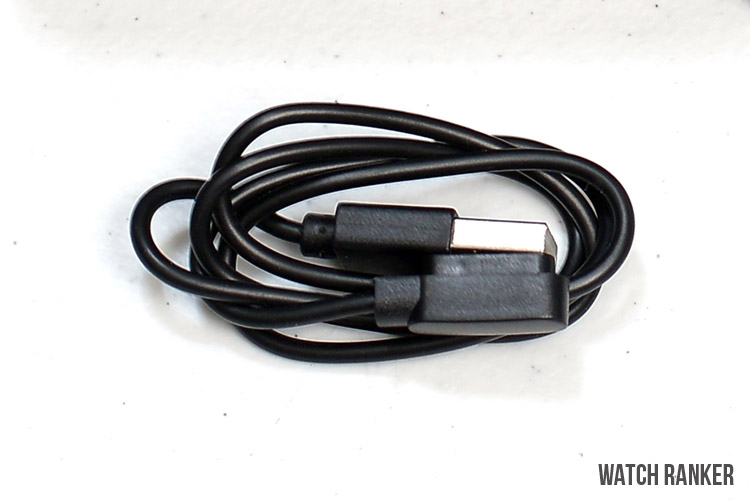 Unlike Mobvoi's Wear OS watches, the TicWatch GTX actually manages to last for more than two days. And in fact, it manages to last up to a week. This is very impressive for a budget smartwatch, and I am glad that Mobvoi did not compromise in this area.
Verdict
Mobvoi deserves credit for creating a great value smartwatch. Sure, it lacks a lot of features that are essential to smartwatches. But at this price point, it has everything that we need to navigate our daily lives.
If you have a very tight budget, then the TicWatch GTX is definitely worth considering. Read Amazon Reviews here of the GTX – See our list of best cheap smartwatches.
Specifications
Mobvoi TicWatch GTX
Brand
Mobvoi
Model
TicWatch GTX
Screen Size
1.28" TFT LCD
Screen Protection
No Official Protection
Screen Resolution
240 x 240 pixel
Input Type
2 Physical Buttons
Watch Dimensions
48.7 x 48.7 x 11mm
Weight
57.6 grams
Watch Case Material
Metal
Bezel Material
Metal
Watch Design
Circular, Curved
Strap Size
20 mm
Watch Colors
Black
Water Resistance
IP68
Swim-proof
Not recommended
NFC
Not Supported
GPS
No(Connected GPS)
CONNECTIVITY
Wi-fi
No
Bluetooth
Yes
SENSORS
Accelerometer
Yes
Heart Rate
Yes
Compass
No
Gyroscope
No
Altimeter
No
SPO2
No
Elevation
No
Ambient Light
No
Barometer
No
FITNESS TRACKING
Sleep tracking
Yes
Steps
Yes
Floors Climbed
No
Heart Rate Monitoring
Yes
Calories
Yes
Distance
Yes
Stress
No
VO2 Max
–
Blood Oxygen
No
Blood Pressure
No
Menstrual cycle tracking
No
Swim tracking
No
Underwater heart rate
tracking
No
On-screen workout modes
No
Triathlon mode
No
ECG tracking
No
Preloaded sport modes
Yes
Safety tracking
No
Battery Life
Regular: up to 7 days
Battery Saver Mode: 10 days
Battery Technology
Li-Ion
Charging Time
About 1-2 Hours
Charging Type
USB based charging dock
Compatible OS
Android
iOS
NOTIFICATIONS
Email Alert
Yes
SMS Alert
Yes
Calls Alert
Yes
Event Reminder
Yes
Weather
Yes
Third-party Apps
Yes
MEDIA
Audio
No
Music Streaming
No
Bluetooth Music
No
Radio
No
Loud Speaker
No
Microphone
No
CLOCK FEATURES
Time/Date
Yes
Stopwatch
Yes
Alarm
Yes
OTHER FUNCTIONS Control camera
No
Music Control
Yes
Find Phone
Yes
Text Response
No
Answer Call
No
MISC
Payment System
No
Companion App
Mobvoi App
Customizable watch face
Yes
Interchangeable band
Yes
Voice command
No
Internal Storage
16 MB
Operating system
Proprietary OS