Hugo Boss, or BOSS, is a German fashion house that makes clothes, footwear, fragrances, accessories, and watches. In this article, we'll take a closer look at the brand—its history, collections, and reputation. Along the way, we'll also include links where you can purchase specific models.
The brand is not really known for watches but does market them along with many other accessories. Hugo Boss sells mostly clothing and fragrances, so its watches are considered by many as a fashion watch. Boss watches are basically ignored by serious watch aficionados and there is little discussion about them, compared to many other watch brands in the same price range. This leaves some readers asking us for a general perspective on the brand. Obviously Hugo Boss is well-respected in the designer fashion world but should a reader looking to buy a new watch drop a few hundred dollars or more on a Boss watch?
We'll first give a general overview of the brand, along with some things to consider and point of comparison among many of the other brands we've covered.
You can read more about fashion watches here.
Boss – Hugo Boss Brand History


The company was founded in Metzingen, Germany by fashion designer and businessman Hugo Ferdinand Boss and two partners in 1924, supplying general-purpose work clothing, sportswear, jackets, shirts, and so on. The brand filed for bankruptcy in 1931 due to the country's economic climate. In the same year, Boss became a member of the Nazi Party and sold its uniforms in the 1930s, boosting sales.
After World War II and the denazification process in the country, Boss' was labeled a follower of the group and faced punishments like a fine and stripping of voting rights. Boss died of an illness in 1948, and his son-in-law Eugen Holy then took over the company.
In 2011, the company released a statement saying that they have "profound regret to those who suffered harm or hardship at the factory run by Hugo Boss under National Socialist rule." The apology coincided with the publication of a new company history during Hitler years which the brand commissioned itself. You can read more about it here. The book, titled "Hugo Boss, 1924-1945," is a report that tells the story of the brand's role in Nazi Germany. This Time article quotes author Roman Köster as saying that his impression was the company is "genuinely interested in working the issue through."
Post-war the brand went through a period of mostly making work uniforms and later men's dress suits which became a great success during the 60s and 70s and later branding "Boss" ready-made suits.
In the 80s, Boss started selling fragrances, then sunglasses and eventually other accessories including watches. Boss watches are manufactured by Movado through a licensing agreement – if you want a better understanding of Movado – see our brand overview here.
Boss – Hugo Boss Watch Collections
There are two main categories of watches: Boss and Hugo. Below, we'll discuss some of each brand's most popular and latest models.
Boss Watches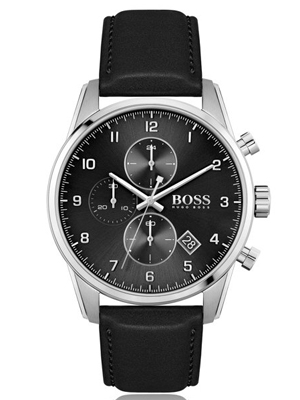 There are over 80 watches available on the Hugo Boss website of the Boss line. Currently, the new Boss collection features timepieces for men and women.
Boss watches are for business and leisure, watches made to be worn with something as formal as a business suit, but can also be worn casually with jeans. The line has a wide range of chronograph models, such as the Ocean Edition Chrono, a dive-style stainless steel watch with water resistance to 100m. This one has a blue dial and a rotating bezel, as well as luminescent paint details.
There's also the more casual 44mm Skymaster model, an aviator-inspired chronograph with a leather strap, a brushed stainless steel case, and Arabic numeral markers.
Then there's the women's line. One simple yet striking model is this watch with a Swarovski crystal-set bezel and sunray dial, a 34mm watch with a yellow gold dial, and a stainless steel strap. Another elegant model is the Twilight, a 36mm carnation-gold plated watch with a minimalist dial (no markers), thin hands, and a mesh bracelet.
There are slightly bigger chronograph models like the Premiere model, which also has a carnation-gold plating with three textured subdials. This has a curved bezel, a sunray-brushed dial, and a hand-stitched strap.
Aside from the Boss watches for women which feature what the brand calls "curved lines and crystal elements are set alongside distinctive twisted-bar details," there's also Boss Jewelry line, usually with sleek, minimalist design, for both day and evening look. You can check it out here.
Hugo Watches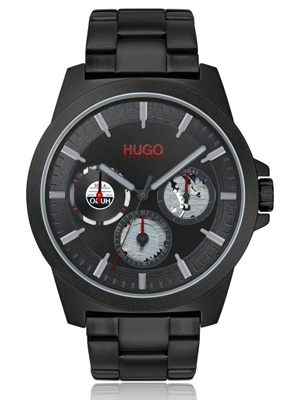 The watches under the Hugo line have a sporty design—big watch models that are more "masculine," as the brand suggests.
One of these models is a black-plated stainless steel watch, a 44mm watch with a multi-eye mechanism. This has three unique subdials, which include a cut-out design that allows you to see the inside of the watch, as well as a vinyl record design.
This collection also includes a number of statement watches with no markers, just a reverse "HUGO" logo on the dial, such as this unisex model with a white silicone strap. Other versions of this include a camouflage design, as well as a more minimalist matte black.
There's also models with a leather strap, such as this contrast-dial 43mm watch with a stainless steel case and a yellow gold finish. The seconds hand has a letter H at the tip, and the strap is a tanned leather with a distressed finish.
Visit this page to see more watches under the Hugo line.
Boss – Hugo Boss Brand Reputation
As a designer brand, they are mostly known for fashion watches.
These watches usually have lower-end quartz movements and primarily focus on the overall look and style.
They would rather focus on the mechanics, functions, and craftsmanship involved in a particular watch. Serious watch shoppers prefer brands with a long watchmaking history and tend to dismiss designer-named watches like Gucci, Armani, Dior or other similar brands and feel that fashion watches are quite overpriced.
After all, this argument could be said about most designer clothing and accessories, the elevated price tag is much in part due to the perceived value of the logo, especially when you can find other brands in the same price range that use better movements and have a long history of making reputable watches.
A few that come to mind as alternatives are Seiko, Orient or Citizen.
However, if you are a fan of designer accessories, admire luxury designers, and the bragging rights to having their logo on your wrist- then we wouldn't want to steer you away from Boss.
For many of us, watches don't always have to be about the "horology" – if it can be as simple as finding a style we like or even look at watches as a piece of jewelry.
Is Boss – Hugo Boss A Good Watch Brand?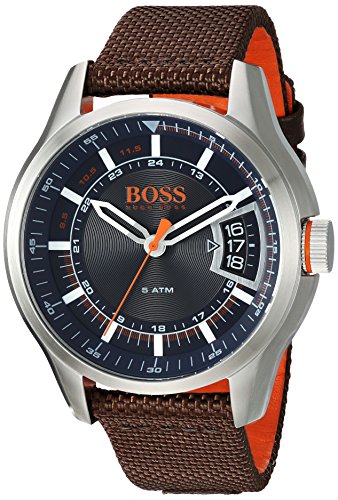 Hugo Boss has licensing agreements with different companies to produce different products under the brand.
One of these is an agreement with Movado Group—which also has licensed with brands like Coach, Lacoste, and Tommy Hilfiger—to produce watches (other companies include Nike Inc. to produce sports equipment; and Samsung, HTC, and Huawei to produce mobile phones).
You can learn more about Movado here.
This Watchuseek forum has feedback by different users saying that if you like the style and not too concerned about movements (ie. just a watch that can tell time properly), a Hugo Boss watch delivers.
Others think that fashion watches such as Hugo Boss' is more concentrated on the brand name rather than the quality of the watches. Read the discussion here.
In another Watchuseek discussion, an owner of two Hugo Boss watches recommends the brand, saying that the watches that he owns are not only stylish but also reliable. You can read other feedback about the brand here.
Where To Buy Boss – Hugo Boss Watches?
Hugo Boss watches can be purchased on the brand's official website. These watches are distributed all over the world, but if you would like to find specific stores in your area, the website also has a Store Locator page that will give you a list of nearby Hugo Boss stores.
Because Hugo Boss is popular for its clothing (specifically men's suits), the brand also makes promotes clothing on its watch pages. On the brand's website, the watch page will allow customers to filter their choices by choosing the brand, strap, price, and face. There is also a feature on the website where you can "shop the look," where customers can match Hugo Boss items (like clothing and accessories) with the watches.
There is also an "Inspiration" tab where you'll find many materials by the brand, such as for photoshoots, style inspirations for men and women, and recommendations.
Where Are Boss – Hugo Boss Made?
According to a comment in this Quora article, Hugo Boss watches are produced in China by OEMs. It explains that Movado, a respectable company, makes decently-made products, with better pieces and finishing. The comment mentions that for the same amount, one can get a better quality timepiece with Japanese brands like Seiko or Citizen—however, a Hugo Boss watch would still be sufficient if you like the watch and style.
The Hugo Boss website does not indicate where the watches are made, but this Watch Forum discussion mentions that the brand may have both Chinese and Swiss watch movements.
Boss – Hugo Boss Watch Warranty
According to this document on the Movado website, Boss watches have a two-year warranty from the date of purchase. During this period, the company will repair or replace the watch if it proved to be defective under normal use. This is a limited warranty, which means it does not cover scratches or damage from normal wear, misuse, or repair conducted by an unauthorized Boss Service Center.
In order to have this warranty, the customer must have (1) purchased the watch in an approved retailer, (2) have a warranty card that is filled out with the date of purchase, reference number, a stamp of the retailer, and a signature of the salesperson.
Read more about the Hugo Boss warranty policy here.