Bradley Cooper is probably one of the most recognizable actors working in Hollywood today. However, the American A-lister does not just dabble in acting nowadays as he also has producer and director credits under his belt. Born Bradley Charles Cooper on January 5, 1975, his first on-screen role was in the award-winning television series Sex and the City. He played the guest role of "Jake the downtown smoker" in an episode of the television series where he learned to drive stick for his scene. His film debut came with the cult-classic raunchy comedy Wet Hot American Summer in 2001.  
His other notable credits include roles from the TV series Alias, the Owen Wilson and Vince Vaughn comedy Wedding Crashers, and another cult classic – The Midnight Meat Train. However, Bradley Cooper's big break was with the 2009 comedy film, The Hangover, alongside Zach Galifianakis and Ed Helms. 
Bradley Cooper proved his mettle in acting, proven by his numerous nominations and awards. These include best actor nominations in the Oscars, Academy, BAFTA, Golden Globes, Screen Actors Guild (which he won), and even a Grammy for his directorial debut in A Star is Born. 
Interesting Facts About Bradley Cooper
Bradley Cooper's career certainly experienced a rocket ship-like ascension into the Hollywood A-list caliber within such a short period. From The Hangover, Cooper went on to star in critically acclaimed and box-office breaking films such as The Silver Linings Playbook, A Star is Born, American Sniper, and of course, his fan-favorite role as the hot-headed and quick-witted Rocket Racoon. 
He has portrayed Rocket Racoon in the Marvel Cinematic Universe's (MCU) Guardians of the Galaxy 1, 2, Avengers: Infinity War, and Avengers: Endgame. He will be reprising the role of Rocket in the third installment of the Guardians of the Galaxy. 
First Career Choice
Bradley Cooper certainly has some fascinating things going on behind the scenes as well. For example, did you know that a future career in acting was never in young Bradley's mind growing up? In fact, his first career choice as a kid was to be a ninja or a soldier. Bradley even begged his father to send him to Japan to let him train to become an actual ninja. 
Fluent in Two Languages
Bradley Cooper is bilingual and is fluent in French. Cooper learned to speak the language at Georgetown University. He then further honed speaking the language when he went to France to continue his studies. 
He Once Had Drug and Alcohol Problems
During his early 20s, Bradley Cooper became addicted to drugs and alcohol. His life was on a sure-path road to self-destruction, which he, fortunately, realized in time. After his role in the award-winning television series, Alias became less and less prominent; Cooper admitted that he needed to turn his life around or fail to achieve his full potential. Bradley Cooper is now 17 years sober. 
Watches Worn by Bradley Cooper
The actor has some good taste in watches, as seen in his luxury timepieces collection. So, what watch does Bradley Cooper wear to tell the time? Well, he seems to have an affinity for Rolex and IWC watches. His love for IWC timepieces came full circle when he became the brand's official ambassador in 2018. 
Here are some of the most eye-catching watches in Bradley Cooper's collection.
IWC Big Pilot Watch (IW500901)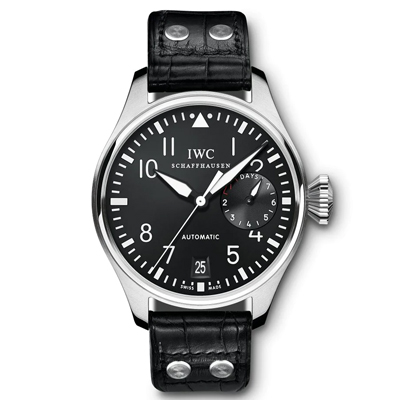 Bradley is a lover of IWC timepieces even before becoming an official ambassador of the Swiss luxury brand. As proof, he wears an IWC Big Pilot a couple of years before signing the deal with IWC. Moreover, he wears the IWC Big Pilot during many off-screen appearances, from movie premiers to attending public and sporting events. The actor even wore his IWC Big Pilot in the film Aloha (2015). 
As the name implies, the IWC Big Pilot is one large timepiece with an imposing round 46mm case. As an aviation timepiece, the IWC Big Pilot focuses on optimum readability of the dial. The enhanced legibility is present via the black dial and bold luminous Arabic numeral hour markers. In addition, the large and prominent sword hands allow you to keep track of the time at a glance.
Other notable features include a soft-iron inner case with enhanced magnetic resistance, an outstanding 7-day power reserve, power reserve indicator, date display, and an IWC caliber 51111 automatic 42 jewel self-winding movement.
Bradley Cooper often partners this attention-grabbing pilot watch with formal attire to add a layer of masculinity to his style. 
IWC Portugieser Chronograph (IW371447)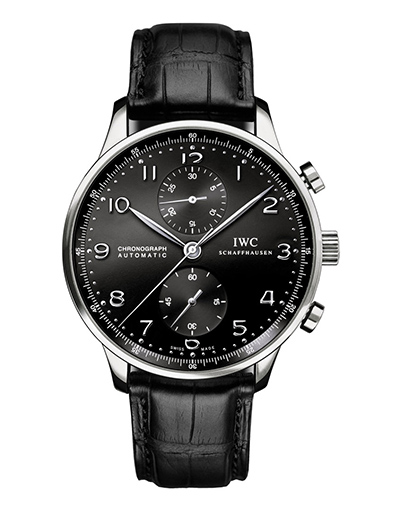 When it comes to class, the Portugieser Chronograph is one of IWC's most notable models. With a design that focuses on a more traditional and classical approach, this timepiece exudes an air of refinement and professionalism that makes it both an ideal dress watch and a reliable chronograph timepiece. 
The Portugieser Chronograph features a clean and simple aesthetic with its 40mm round case and highly organized black dial. The dial incorporates sleek silver-tone Arabic numeral hour markers with a vertically positioned sub-dial. The slim propeller analog hands further give the timepiece that classic vibe. 
Features in this IWC chronograph timepiece include the two sub-dial display minutes (30) and seconds (60) and small hacking seconds. We also loved the convex sapphire crystal window, which adds a layer of finesse to the overall design of this watch. 
At the heart of the Portugieser Chronograph is the Swiss caliber 79350 automatic self-winding movements with 31 jewels and up to 44 hours of power reserve. All in all, the IWC Portugieser Chronograph delivers both impeccable performance and high-brow fashion. 
IWC Big Pilot Annual Calendar Edition "Le Petit Prince" (IW502701)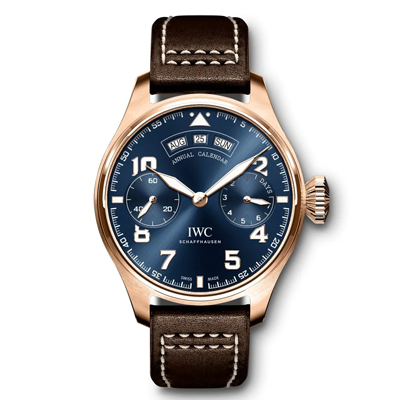 Next up is a limited edition IWC Big Pilot with a few extra nifty features and a beautiful design, the IWC Big Pilot Le Petit Prince. Bradley Cooper wore this exceptional IWC timepiece during the 2019 Oscar Awards. The Big Pilot Le Petit Prince is a homage to the beloved and classic book by Saint-Exupery of the same name, Le Petit Prince or The Little Prince in English. 
Fun fact: Bradley Cooper auctioned the IWC Le Petit Prince with the proceeds going directly to the Antoine de Saint-Exupery Youth Foundation charity. There are only 250 pieces made, which make the Le Petit Prince a highly sought-after watch for collectors. 
The IWC Le Petit Prince features premium-grade design and material, starting with its 46mm 18K gold case. Also of note is the transparent sapphire crystal case back, which gives wearers an excellent and detailed view of the sophisticated Swiss IWC caliber 52850 automatic self-winding movements with 36 jewels and a 7-day power reserve. 
Other noteworthy features of the IWC Le Petit Prince include the beautiful midnight blue dial, annual calendar that displays the day, date, month, small hacking seconds, and power reserve gauge. The stunning dial utilizes luminous Arabic numeral hour markers and sword-style analog hands to deliver optimum readability. 
Rolex GMT Master Root Beer Bezel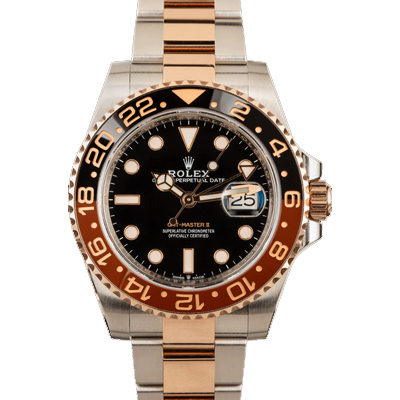 Bradley Cooper also owns a couple of Rolex watches because, of course, he does. Specifically, he has a Rolex GMT Master Root Beer watch. This classic Rolex watch line features a brown and gold bezel, hence, the root beer moniker.
The Rolex GMT Master "Root Beer" is given to him by fellow actor and filmmaker the legendary Clint Eastwood after filming the movie American Sniper, directed by Eastwood, and starred Bradley Cooper in the lead. Click here to see the watches that Clint Eastwood wears (spoiler alert – his collection also includes this same watch).
Besides the unique color tone used in this Rolex GMT, the watch is pretty much what you expect from the luxury brand's GMT Master series. To further emphasize the high-end charm of a Rolex watch, the GMT Master incorporates a 40mm 18K yellow gold case and the bidirectional rotating bezel. The bezel's champagne and brown insert look similar to the typical colors of a root beer, hence, the name. 
The case comes equipped with an acrylic crystal with a cyclops lens right above the date display for enhanced readability. Underneath the deluxe aesthetic is a COSC-certified Swiss perpetual caliber 3285 chronometer automatic movement. Additionally, the automatic chronometer movement provides approximately 70 hours of power reserve. 
Rolex Yachtmaster 18K (16628)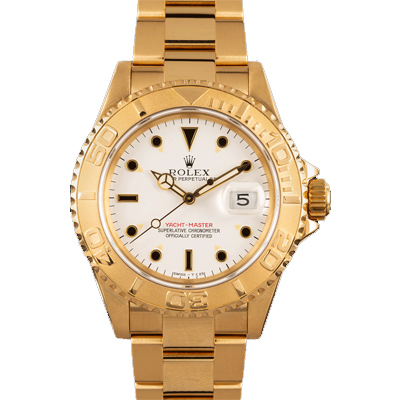 The actor also has a gold Rolex Yachtmaster watch somewhere in his wardrobe. Bradley Cooper sported this handsome timepiece from Rolex a couple of times before he switched to being a full IWC timepiece man. That said, we wouldn't mind catching a glimpse of the 18K yellow gold Rolex Yachtmaster again in the future. 
The stunningly refined aesthetic of this timepiece makes it a classy formal dress option as well. To further emphasize the luxurious reputation of a Rolex watch, this Yachtmaster model utilizes a Mother of Pearl dial. Additionally, the hour markers use sapphire and diamonds, while the Mercedes-style analog hands complete the sophisticated visuals.  The newer reiteration of this watch, Yachtmaster II is considered by many to be one of the best sailing watches out there, with a regatta chronograph that features a unique programmable countdown with a mechanical memory. 
At the heart of the Yachtmaster 16628 is an in-house movement, the Swiss caliber 3135 automatic chronometer. The Rolex 3135 chronometer also holds a COSC certification which guarantees absolute precision and reliability. This watch complication is also incredibly durable, with shock absorber components included in its build. 
Watches Worn by Bradley Cooper On-Screen
Bradley Cooper also sports some recognizable watches in his movies. We already noted that the actor wore his own IWC Big Pilot watch in the 2015 movie Aloha, but he also wore two notable watches in some of his films.
In particular, a vintage Casio G-Shock DW-6600 is the watch he wore in American Sniper.
In The A-Team he wore a  Casio G-Shock GIEZ GS-1001.
Those watch choices go in line with the characters that Cooper portrayed as both are U.S. army officers. To expand, G-Shock watches are very popular with military and police personnel due to their reliability, functionality, and extremely durable build.