Scandinavian design combines beauty and functionality—from furniture to architecture, it does not only focus on the look of a product but on the quality as well.
In this article, we'll take a closer look at watches that are designed and made in Finland. We're featuring both big and independent companies, and provide links on where you can explore the brands further. We'll also recommend some articles and reviews that you can check out.
In no particular order, here are some of today's best Finnish watch companies.
Finnish Watch Brands
Aarni Watches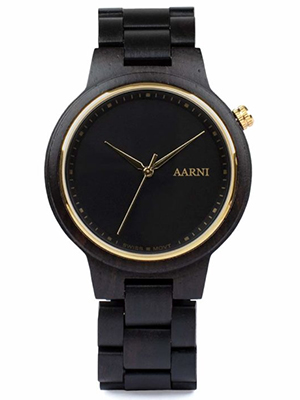 Aarni is a Finnish watch company that specializes in wooden watches. A Finnish word that translates to "wild, untamed forest untouched by the hands of man," the company was founded by three friends who make sure that the brand operations put nature first. On the brand's website, Aari explains how millions of metric tons of plastic make it to the oceans—and the brand making efforts to not be a part of the problem.
Aarni believes that wood is durable and gets better with age, and best when it's at an unprocessed state. This is why they just treat the watch wooden materials with specialized oil and nothing more. The wood that they use is also certified and does not cause deforestation.
Some of the woods that the brand uses include alder, oak, elm, ebony, rosewood, walnut, zebrawood. Explore the different materials and watch models here. The brand also makes non-watch items such as sunglasses and wallets.
DeMotu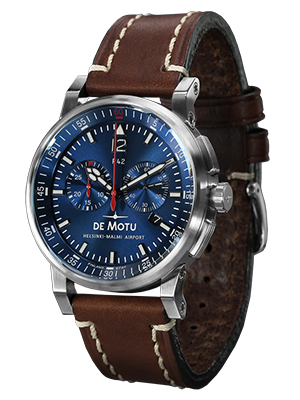 This Finnish watch company specializes in pilot watches. Independent brand De Motu, which is based at the Helsinki-Malmi Airport, designs and created aviation-inspired watches and instruments, all of which are made in Finland.
The watches are made at the airport, where the devices are tested by test pilots. This brand is run by experts–one of whom is designer Valdemar Hirvelä, who used to service aircraft in the Finnish Air Force and then worked in projects with brands like Tag Heuer, and Sarpaneva, which we talked about above. Read more about De Motus' history and philosophy here.
The first De Motu watch, called DMG-11, was introduced at Baselworld in 2007. This watch was reportedly the first-ever wristwatch that can measure G-force during flight. Read more about this watch, as well as the brand, in this New York Times feature.
There are two collections available on the brand's website: the R42MK II and the R42, which have a modified Swiss movement and were inspired by the main building of the Helsinki-Malmi Airport.
Leijona Watches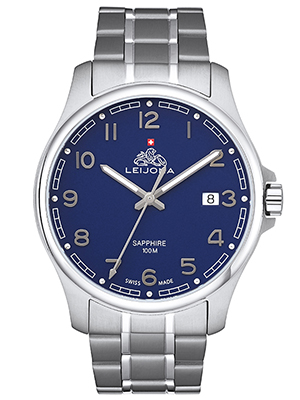 Leijona watches have been around since 1910. This Finnish watch is considered as one of Finland's most popular wristwatches.
Aside from wristwatches, the brand also makes pocket and necklace watches. New models are introduced by the brand every year. The watches made by Leijona have a lion printed on the dial (Leijona, in English, means "lion").
These are some of the most affordable watches on this list, with some models priced at around $40. See all of the available models here (the website may need translation).
Sarpaneva Watches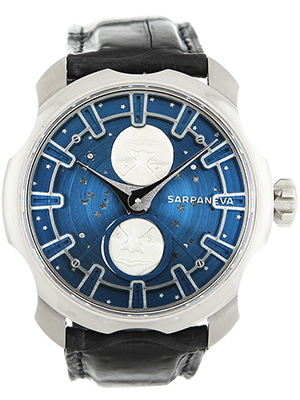 Sarpaneva is an independent Finnish watch brand founded by Stepan Sarpaneva, a watchmaker and designer who worked for Swiss brands like Parmigiani and Piaget. When Stepan returned to Finland, he founded the company where he applied his learnings and created high-quality, hand-crafted watches.
Sarpaneva makes the watches—he first started out in his home, and eventually moved his workshop to Helsinki.
According to the brand's website, Sarpaneva watches are "not created for everyone," as the timepieces "are intended for exceptional people." Indeed, the designs are unique, showing not only Stepan's mechanical watchmaking but also skills design.
The brand has a series of moon phase watches that only made its reputation grow. One of these uniquely-designed and complex watches is the Korona watch collection. Some of the most popular models include the K3 Northern Stars, which has phases of the moon complication. Check out the rest of the collection here.
S.U.F. Helsinki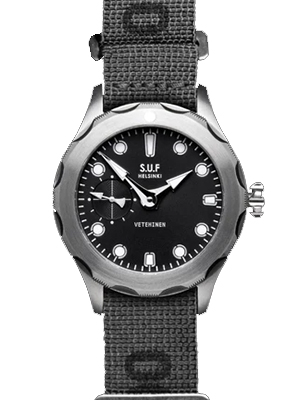 "A Finnish watch brand that is Finland, through and through" is how SarpanevaUhrenFabrikm or S.U.F, describes itself. This watch company designs and assembles mechanical watches in Helsinki.
This company was founded by Stepan Sarpaneva, who we talked about above. The brand currently has a total of four collections, namely 180 (field watches), Myrsky (a tribute to a warplane), Paroni (inspired by motorcycling legend Jarno "Paroni" Saarinen), and Vetehinen (the brand's first dive watch). Check out all the models here.
The collections all have limited-edition watches—some only around 52 pieces such as the Vetehinen, which is currently sold out on the S.U.F. website. These are relatively more affordable than watches under the Sarpaneva brand, which costs tens of thousands of Euros.
Rohje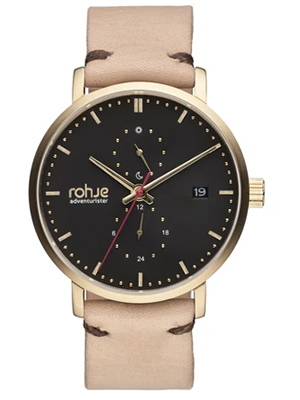 This is one of the newer Finnish watch brands. Rohje was founded in 2017 by a group of friends who wanted to design adventure-focused watches.
The watch straps that Rohje uses are made with Reindeer leather, an exotic luxury material produces in Tampere, Finland. According to the Rohje website, the making of these leather watch straps was almost forgotten but was revived by the brand. The first watch was released in 2019–its first model, the Rohje Adventurister.
Adventuristers watches were used by the Finnish research expedition FINNARP in Antarctica. Read more about the trip here.
There are currently four categories for the Adventurister: Gold, Dark, White, and Special Edition. Check out the models and their price tags here.
Grönefeld
Family-run Grönefeld has been around since 1912. The company was founded by the watchmaker and businessman Johan Grönefeld and is currently managed by third-generation watchmakers of the family, Bart and Tim Grönefeld.
The brand has received numerous awards in watchmaking—in 2016, the 1941 Remontoire won the best Watch of 2016 price, with many experts and enthusiasts praising its exceptional movement and impressive complex design. Another well-reviewed model is the 1941 Principia, which was the brand's first automatic watch (see it reviewed by Hodinkee here).
Today, Grönefeld has six collections, which you can check out here.
Suunto

Suunto Oy (or Suunto) is known for its high-quality sports watches. It also designs and makes compasses, precision instruments, and dive computers.
The Suunto brand was founded in 1936 by Tuomas Vohlonen, who patented the Suunto M-311, a method of filling a lightweight liquid-filled compass housing made of celluloid and protected from shock.
This revolutionary lightweight product was later adopted by the Finnish Army. In the years that followed, the company created other precision and navigational instruments for both civilians and the military.
The company is popular for its sports and outdoor watches. The Traverse Alpha (pictured above) has an automatic shot detection technology, one of the many features that helped land it as our top pick for hunting watches.
The company created its first outdoor watch in 1998—called the Suunto Vector, this was a first of its kind, with ABC functions (altimeter, barometer, and compass). In 2004, the brand released the Suunto T6, which was the most advanced heart rate monitor at the time.
The company then continued to create new technologies, this time focusing on fitness and sports training, such as the Suunto M-series and Suunto T3, which had features like a heart rate monitor and electronic coaching to improve performance.
Today, Suunto has a wide range of products for the outdoors and fitness (running, cycling, swimming, and so on). See all the sports watches here, and dive watches here.
Read more about Suunto here.
Polar Watches
Polar Electro Oy (or Polar) is a manufacturer of sports training computers and watches. The brand was founded by Seppo Säynäjäkangas in 1977 and is currently based in Kempele, Finland, and supplies to over 35,000 retail stores in over 80 countries.
Polar is known as the company that developed the world's first wireless heart rate monitor.
Today, the wide range of Polar products includes watches, fitness trackers, heart rate sensors, and accessories like wristbands and Bluetooth devices. The brand develops timepieces that provide accurate training data that helps athletes who need to keep track of their goals and performances.
Aittokoski Watches
View this post on Instagram

Aittokoski was founded by Dr. Timo Aittokoski, who worked in fields like engineering, producing, and manufacturing designs of things like motorcycles and snowmobiles (you can read more about his projects here).
Aittokoski made two main collections: the Fractalis, which has a combination of traditional and futuristic elements ("sits at crossroads with engineering and art") and the Argyron, which has similar features as the Fractalis but is created to be a diver's watch, having a pressure resistance of up to 30 bar and a rotating, lockable bezel. Learn more about the collections here.
We hope this article was helpful! Keep checking our site for more watch reviews and features. You can also check out our articles on Norwegian Watch Brands, Swedish Watch Brands, and Danish watch brands.