Fossil and Michael Kors are both fashion watch brands that emphasize affordable quartz watches designed to make a fashion statement or accessorize an outfit. Because both of these brands offer similar kinds of familiarity in terms of aesthetics and price range, a comparison between the two is inevitable. If you've landed here, we'll assume you are most likely aware of Fossil, and Michael Kors watches and are looking for a detailed comparison of the two – if so, you have come to the right place.
We will be looking at both these designer brands and determine which is the superior watchmaker. You may also want to check out our review of Fossil watches, and a more in-depth look at the Michael Kors watch brand if you are interested in further reading about these two trendy brands.
Fossil Brand Overview



Fossil is an American watchmaker founded in 1984, making it a relatively new watch brand compared to other long-standing names in the industry. Primarily known for its affordable quartz dress watches that originally were packaged in a fancy tin box, Fossil is now one of the bestselling fashion watch brands.  Fossil strategically positioned its brand in this niche market in the early 80s when quartz watches were just on the rise.  
Although the brand is known for inexpensive dress watches, it doesn't mean that its watches lack in the timekeeping performance department. Far from it, Fossil has proven itself to be quite capable of delivering aesthetically pleasing and affordable watches that also tell accurate time and are relatively well built, especially considering the price range. 
Many of their watches use Japanese Miyota quartz movements known for their reliability and accuracy – they are also affordable which enables brands like Fossil to market watches at very affordable prices. . If you wonder how Fossil can maintain a fresh lineup of eye-catching watches annually, the answer is their openness to collaborate with other designers. Fossil watches have become a staple in the fashion industry with their bold and fantastic range of designs. You can always expect Fossil to deliver a wide variety of timepieces designed to cater to different individuals of different fashion tastes.
Michael Kors Brand Overview



Michael Kors watches are well-known within the fashion industry due to their name recognition among fashion designers. Michael Kors is first and foremost a designer of other fashion items such as handbags, shoes, and clothes so this brand is not exclusively in watchmaking. MK is certainly one brand designed to add flair to one's attire with its luxurious style and attention-grabbing aesthetics. Michael Kors' popularity can be attributed to their marketing strategy, which tapped into a more social media-focused approach. This leads to some thinking how MK would have faired a couple of decades ago without access to the internet, but that question is neither here nor there, and the MK watch brand has proven itself to be one of the more successful designer timepieces today.
While the company was founded in 1981, it wasn't until the 2000s that Michael Kors finally tapped into the watch market. This leaves the MK brand lacking in horological heritage on par with other long-standing watchmakers. This lack of focus on watches is a common complaint by watch enthusiasts about the Michael Kors brand.
In terms of watch performance, it's essential to mention that in 2004, the Michael Kors brand partnered up with the Fossil Group and licenses its watch production to Fossil. So whether you buy Fossil or MK, you're getting a very similar build quality – typically Japanese Miyota quartz movements. MK watches differ in design and – logo – since many MK shoppers are buying fashion accessories based on the designer's name recognition. 
Fossil vs Michael Kors Watch Comparisons
Fossil Neutra Chronograph Watch (FS538)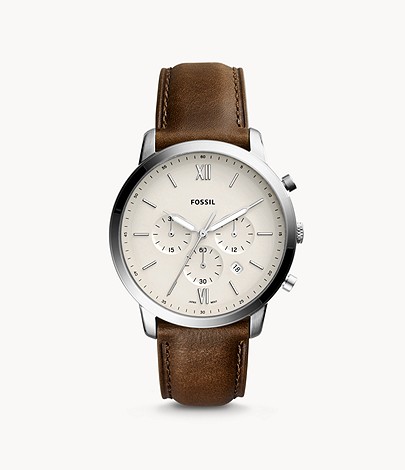 The Neutra Chrono watch is a dressy Chrono watch that represents the uniquely American qualities of the Fossil brand. It offers an ingenious design with a rugged charm that encapsulates that bold American way of thinking.
We also liked the mid-century style watch dial and crown as it gives it that traditional charm that will surely appease a certain group of watch enthusiasts.
As a dress watch, the Neutra Chrono meets all the essential pre-requisites, such as a balanced case size of 44mm, a thin stainless-steel case, allowing it to be worn underneath the cuffs of your sleeves and relatively light at 11mm thick and just under three ounces. The dial window is made from hardened mineral crystal, which gives it a decent level of durability. The brown leather strap completes the rugged aesthetics of the Neutra Chrono.
Underneath the classy design of the case is a quartz movement that operates its analog dials and sub-dials. The Neutra Chrono Watch provides a rather sharp and dapper way to complement your overall formal attire, and it delivers a rugged yet refined charm that is quite common with most Fossil watches. Also, this dress watch comes at an affordable price tag.
Michael Kors GAGE Chronograph Watch (MK8362)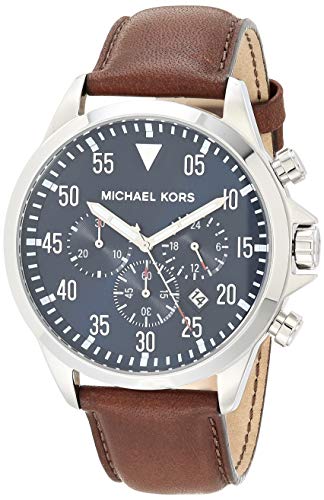 The GAGE Chrono Watch features a silver-tone case with a blue sunray dial tied quite nicely by the brown leather straps. The dial features white-toned hands as well as bold Arabic numeral markers. There is also a date display and three sub-dials to further improve the overall functionality of this timepiece. As for the size of the GAGE Chrono, this timepiece features a 44mm x 12.5mm stainless-steel case – perfect for formal long-sleeved business attires. There is also a stationary bezel that adds to this traditional timepiece's overall 'professional' look. The watch also comes with 100-meter water resistance, making it a viable wristwear when taking a stroll down the beach.
As you can see these two watches have similar build quality, case size and dimensions. However, although MK is known as a fashion designer, we actually like the aesthetic of the Fossil much more. The MK dial seems busy and crowded with too many details competing for attention. The Fossil on the other hand has a sleeker and cleaner dial layout and we like the minimalistic hour markers and indices. The subdials are easier to read and the finishing on the crown and pushers looks more polished and elegant than the MK. Both brands make their logo a focal point of the dial but at least Fossil's is somewhat more discrete.
In the end, this is just one comparison but it is a clear example where a brand known for design (MK) doesn't necessarily execute as well.
Are Fossil and Michael Kors Watches the Same?
While Michael Kors started as an independent watchmaker, the company partnered up with Fossil in 2004. This partnership meant that all Michael Kors watches would be designed, manufactured, and distributed by the Fossil Watch Group. Technically, Michael Kors is under the Fossil umbrella and is manufactured in the same factory. However, there are notable differences between the two in terms of aesthetics to give each a unique distinction. Additionally, Michael Kors already signed another 10-year partnership contract with Fossil back in 2014.
Conclusion: Fossil vs Michael Kors – Which is Better?
Based on the overall quality of their timepieces, it's a tie since Fossil manufactures both. For the overall design, we will give the nod towards Fossil.  This may seem counter-intuitive with MK being a designer but we think the watches look busy and overstated with too much importance on the logo and MK branding. Also, when comparing similar watches side-by-side from both brands, the MK are usually priced slightly higher – it seems you may be paying a premium for the name recognition. 
We didn't delve into smartwatches in this article, but that's one area where both brands compete and Fossil is the overall winner with its Gen 5 (and newer Gen 6). Both brands have a line of smartwatches and are considered some of the best hybrid smartwatches on the market.