The leading voice of the UFC and one of the most recognizable voices in mixed martial arts (MMA) sports, Joe Rogan's career has grown in leaps and bounds. He effectively broke through the ceiling of combat sports and into the mainstream media with his widely popular podcast show, The Joe Rogan Experience. In addition, he managed to get big names on the show.
Before Joe Rogan achieved tremendous success as the color commentator for the UFC and his widely popular podcast, he first scrapped it out in the cutthroat world of stand-up comedy. You might also be familiar with Joe Rogan during his stint as host for the American adaptation of the reality television show "Fear Factor," which he hosted for six seasons (2001 to 2006). 
A little less known fact about Joe Rogan is that he is not just a fan and commentator of MMA; he also practiced some martial arts himself. Joe started training in karate when he was 14 years old and switched to Taekwondo a couple of years later. Rogan also won the U.S. Open Championship Taekwondo Tournament when he was 19 in the lightweight division and had a stint as a Taekwondo instructor. 
Joe Rogan entered the amateur kickboxing competition with three fights under his belt and a record of 2 wins and one loss. Rogan retired in the combat sports scene after experiencing frequent migraines, which he feared might worsen if he continued competing – this is when he first dipped his toes in the stand-up comedy business. 

The Voice of the UFC
Joe Rogan started working with the UFC in 1997. During that era, which MMA fans know as the "Dark Ages," the UFC, and MMA in general, was still a pretty niche market. Rogan lasted only two years, though, and he resigned due to the low pay. 
It wasn't until 2002 when we once again heard Joe Rogan's voice in the UFC after the company was bought by Zuffa and headed by current president Dana White. Rogan agreed to work as a color commentator for free with only prime tickets for him and his friends as he wanted to "watch fights and drink." Rogan eventually signed a contract to work for the UFC, though officially, and the rest is history.
Watches Worn by Joe Rogan
Joe Rogan is certainly a colorful character. While some of his statements may raise some eyebrows (he admits to being a fan of conspiracy theories), the man successfully cemented himself as a pop culture icon today. 
It is pretty interesting to find out what type of timepieces Joe Rogan wears with his somewhat eccentric personality. Well, let us take a peek at his watch collection and find out. 
G-Shock GG-1000 Mudmaster

Seeing as Joe Rogan loves to hunt, it is not surprising to see he has a G-Shock Mudmaster in his collection. The G-Shock Mudmaster is as tough as they come and has excellent multi-functionality that will prove helpful in outdoor situations. 
The G-Shock Mudmaster GG-1000 features fantastic outdoor functionalities, such as G-Shock's signature Twin Sensor design, which has built-in compass and thermometer capabilities. In addition, as the name implies, the Mudmaster is mud-resistant and comes with G-Shock's signature extreme shock resistance build and an impressive 200-meter (20ATM) water resistance rating. 
As with all G-Shock watches, the Mudmaster GG-1000 has a tank-like design with its 56.2mm case. However, this lightweight build offsets its rather large construction. If you are looking for one of the best tool watches in the market today, you can never go wrong with a G-Shock timepiece. 
Casio Pro-Trek Solar (PRG-650Y-1CR)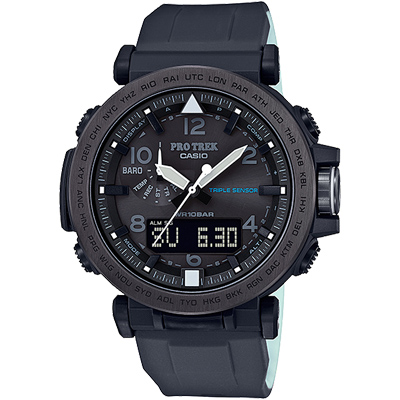 Another top-notch tool and outdoor watch that Joe Rogan wears are the Casio Pro-Trek, specifically, the PRG-650Y-1CR model. Like Casio's G-Shock watch line, the Pro-Trek is a proven name in the durable watch market. It also excels in overall functionality with its Triple Sensor design, including a compass, altimeter/barometer, and thermometer. 
The jam-packed features found in the Pro-Trek are counter-balanced by its generally user-friendly control layout. One particular element of this Pro-Trek timepiece is its design that focuses on nighttime use, making it a suitable watch for night hunting in the great outdoors. 
The Pro-Trek PRG-650Y-1CR features a Neon Illuminator that optimizes readability in low-light to pitch-black environments. Additionally, Casio equipped this Pro-Trek watch with solar-power technology, further emphasizing its outdoor functionalities. 
Breitling SuperOcean Heritage 46

With Joe Rogan's affinity towards multi-functional timepieces, we are not surprised to find that he is also quite fond of Breitling watches. Breitling is synonymous with premium tool watches, and their SuperOcean is among their flagship series with good reason. 
The Breitling SuperOcean Heritage 46 features a sleek and robust 46mm stainless steel case with a highly refined aesthetic, as expected from a Breitling timepiece. As you can guess from its SuperOcean moniker, the Heritage 46 is a dive watch with an exceptional premium quality build. 
Underneath the stunning, rugged, and professional aesthetics of the Heritage 46 lies a top-tier complication in the form of the in-house Breitling caliber 13 automatic movement. High-class exterior and interior construction, the SuperOcean Heritage 46's automatic movement delivers top-tier performance. The Breitling 13 automatic movement provides up to 48-hours of power reserve and comes in with a high-accuracy 28,800VPH. 
Breitling is a well-established brand with both prestige and heritage firmly in tow. However, Rogan certainly has an eye for high-quality functional timepieces, which seems to be the first and foremost aspect he looks for in a watch. 
Panerai Luminor Submersible (PAM00024)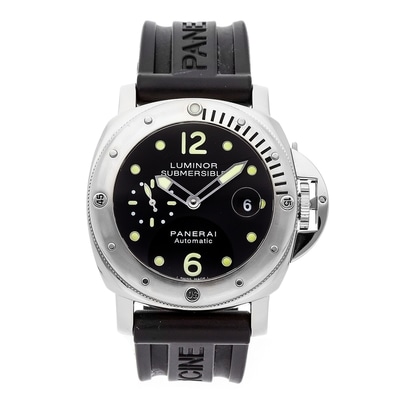 During some of his post-fight interviews with UFC fighters, Joe Rogan wears a nifty Panerai Luminor Submersible PAM00024 watch. The Panerai watch brand has similar attributes to the Casio G-Shock in that both are masculine timepieces with excellent functionality and build. 
Specifically, Panerai watches are highly sought-after in the diving community due to their impeccable build and design that complements the needs of divers. Panerai watches also incorporate a unique and innovative case design that has become the brand's signature. 
The Panerai Luminor Submersible PAM00024 features a robust 44mm stainless steel case with a genuine crocodile leather strap. The sturdy case also utilizes durable and scratch-resistant sapphire crystal dial windows. Within the PAM00024 is a premium Swiss automatic movement that operates its analog dial display. 
Panerai's signature crown guard design is present, and the timepiece provides an outstanding 300-meter (30ATM) water resistance rating. This level of water resistance makes the Panerai Luminor Submersible one of the top options for professional divers looking for high-precision and premium-grade dive watches.
Panerai Radiomir (PAM00753)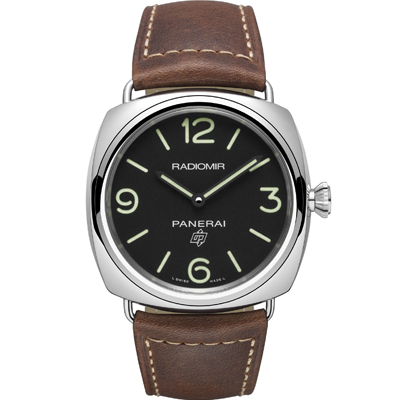 Yes, Joe Rogan has both of Panerai's flagship watch models. The Panerai Radiomir features a sleeker design and a more compact 45mm case and lacks the crown guard. With the lack of the crown guard feature, the Radiomir can easily be worn under the cuffs, making it a suitable dress watch. 
The dial is relatively straightforward with a rather minimalist design. A highly organized and uncluttered dial features four Arabic numeral markers, with the remaining being slim baton-style indices. Both hour markers and analog hands utilize X1 SuperLuminova for enhanced visibility in low-light environments. 
As for other notable features, the Panerai Radiomir offers a solid 100-meter water resistance rating suitable for recreational aquatic activities. 
Omega Seamaster Diver 300M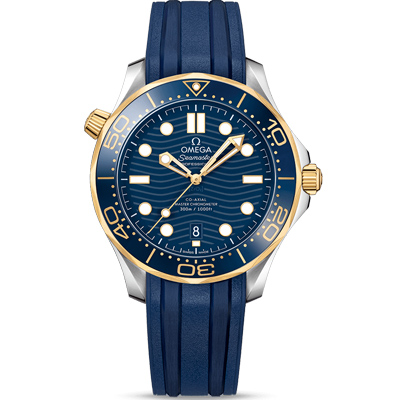 Along with the primetime Rolex dive watches, Joe also has an Omega Seamaster Diver 300M in his collection. Seeing as he seems to favor dive watches, him having an Omega Seamaster watch is a no-brainer. 
The Omega Seamaster Diver 300M has a relatively sleeker build with its 43.6mm brushed stainless steel case. The two-tone case also adds a nice touch to the aesthetics department, especially with the combination of blue and polished 18K yellow gold. Please leave it to Omega to deliver a classy and stylish timepiece that combines style and substance with outstanding results. 
The Omega Seamaster Diver 300M manages to deliver outstanding precision thanks to its in-house Omega Master Chronometer caliber 8806 automatic movement when it comes to performance. This intricate complication is viewable via the fantastic sapphire crystal case back. 
The dial also delivers a beautiful addition to the overall aesthetics of the Omega Seamaster Diver 300M, thanks to the detailed laser engraved wave design. Indeed, a dive watch proves you can blend style and function with remarkable results.
Omega Speedmaster Professional Moonwatch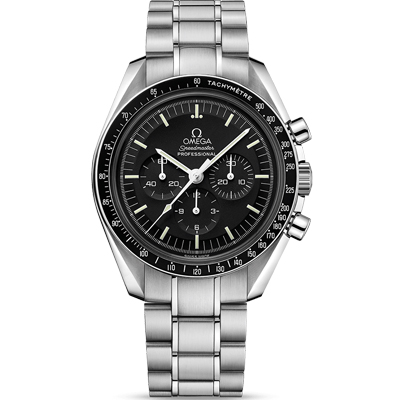 Joe Rogan also has another iconic Omega watch in his collection, the Omega Speedmaster Professional Moonwatch. The Omega Speedmaster Moonwatch features a sleek 42mm stainless steel case with black PVD and a tachymeter bezel. 
The watch comes with chronograph features (three sub-dials) that add a layer of functionality to its timekeeping. The three sub-dials display hours (12), minutes (30), and seconds (60). The analog dial and sub-dials operate via the Omega caliber 1861 automatic hand-winding movement. 
A fascinating little fact about the Omega Moonwatch is that this is the official timepiece that NASA's astronauts wore during their lunar missions. That is a pretty good indication of the level of toughness and reliability of these timepieces. 
Rolex Deep-Sea D-Blue Sea-Dweller (116660-2019)
Now, we go into Joe's more impressive and expensive collection of watches, starting with one from the world-famous Rolex brand. During several UFC events, Joe also wears a Rolex Deep-Sea D-Blue Sea-Dweller. Rogan certainly has a taste for his timepieces, and all have that pragmatic element present, whether it is a rugged tool watch or a high-end luxury brand timepiece. 
The Rolex Deep-Sea D-Blue features a sleek and refined 44mm stainless steel case. Rolex designed this timepiece to tribute James Cameron's historical dive into the Mariana Trench, the deepest known point on Earth.
The D-Blue provides top-tier water resistance at a mind-blowing 3,900-meters. It certainly earns its Deep-Sea moniker with that level of water resistance rating, an aspect of the watch that most of us will rarely test. Still, it is nice to know that your watch can withstand the intense pressures of the deepest part of the ocean – especially for professional divers.
Rolex Submariner Non-Date (114060)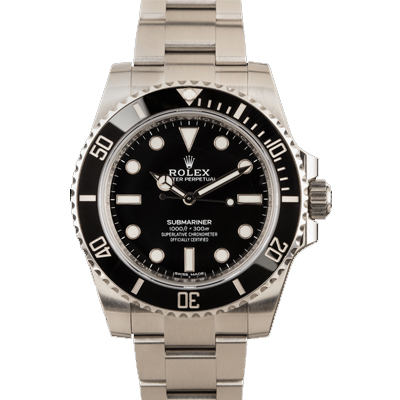 As you will notice in the next couple of entries, Joe has a pretty decent collection of Rolex watches. Along with the exceptional Deep-Sea D-Blue model is the more conventional and best-selling Rolex Submariner. Rogan has the Non-Date version of this timepiece which exudes a more vintage appeal. 
As the name suggests, this Submariner's dial is dateless and emphasizes perfect symmetry in terms of design. Another notable feature of this timepiece is the Cerachrom ceramic unidirectional bezel with its 40mm stainless steel case. 
The Rolex Submariner offers a decent 100-meter water resistance rating and is pretty much the basis of other dive watches in terms of design. 
Rolex Yachtmaster 40 Platinum (16622)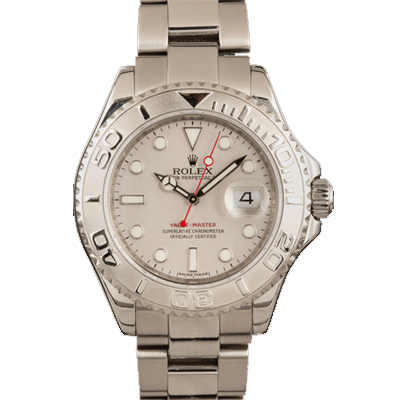 Joe Rogan is a fan of dive watches, which aligns with his love for fishing. Since it appears that sailing is another hobby of Joe, it makes sense that he also has a Rolex Yachtmaster watch. In particular, Joe Rogan has the platinum version of the Rolex Yachtmaster 40. 
Notable features of the Rolex Yachtmaster include its durable 40mm Oystersteel and platinum case and a 904L steel bracelet. In addition, the dial uses a deluxe platinum finish which further enhances the luxurious charm of this sports watch. 
The Rolex Yachtmaster also has a unidirectional rotating bezel, sapphire crystal dial window, and a high-quality Swiss automatic movement.
---
Joe Rogan has had an impressive list of celebrities as guests on his show, including fellow watch collectors Matthew McConaughey and Robert Downey Jr., to name a couple.