On this site, we've mostly covered watch materials such as stainless steel, titanium, leather, and plastic. This article will be a bit different—we're going talk about a watch company that makes use of wood on its timepieces.
Original Grain, an American company, introduced its wood watches in 2013. This article will focus solely on the brand, from their design philosophy to the materials that they use on their watches. Below, we take a closer look at this watch brand, its beginnings and current watch collections.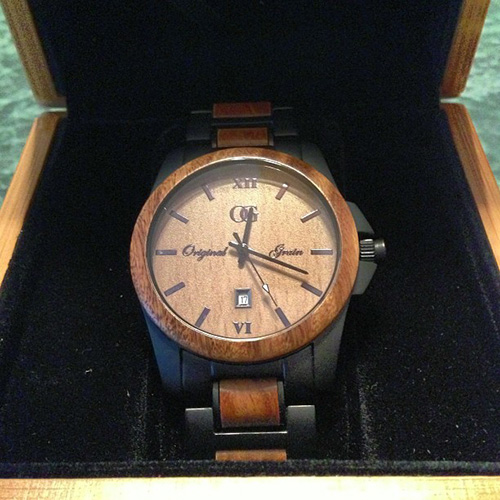 Original Grain's History

Original Grain was started by brothers Ryan and Andrew Beltran in 2013. Their goal was to produce unique timepieces made of wood and steel. Making use of sustainable and reclaimed hardwood, the company one of the first of its kind, using materials like Yankee Stadium seats or Kentucky Bourbon barrels, which we'll discuss further below.
What Are Wood Watches?


Original Grain is one of the many companies making wood watches more and more popular. Before we discuss its collections, let's first take a closer look at wood watches in general—what are they, why should you buy them, and what makes them special?
A wood watch is a timepiece that makes use of wood materials—makers incorporate it on the straps or the case. The mechanism of the watch is still that of a conventional watch.
Most companies that sell watches made of wood promote sustainability. By using materials such as reclaimed wood, the wearer is using a renewable source that does not contribute to the destruction of forests.
Aside from being sustainable, a wood watch is also stylish. Unlike metal watches, each wood watch model is unique because of the natural wood grain. Like other quality wood products, these may also change appearances, looking more beautiful as they age.
These types of watches are also good for people who are allergic to material and plastic. Because wood is a natural material, it's more friendly to these skin types. More often than not, wood watches are also more lightweight.
Original Grain's Advocacy
One of the things that make Original Grain stand out is their effort to help the environment, and feed families. They partnered up with Trees for the Future, an organization in Senegal.
For every watch purchased, Original Grain customers are contributing to the African organization, which has three main goals: plant trees, alleviate hunger, and reduce poverty in Senegal. According to the brand's website, this partnership is able to impact the lives of more than 12,000 people.
The brand supports the organization's Forest Garden Program, which is a "simple, replicable and scalable approach" that allows them to plant specific types of crops and trees every year in a systematic manner. This is done in a span of four years and would change the families' lives for the better, as the program is able to provide sustainable food sources and products that can be sold, as well as a 400% increase in the families' annual income. To know more about the project, the statistics, and accomplishments, you can visit this page.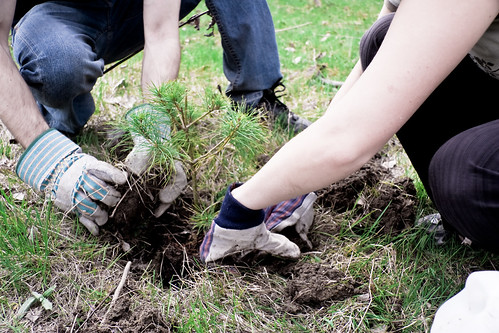 Original Grain Watch Collections
Below, we'll introduce Original Grain's collections. We'll zero in on the types of wood used, the styles, and the movements. We'll also provide some links that will allow you to do some further reading.
The brand makes sure that they stick to top-notch craftsmanship, choosing traditional methods over shortcuts, and focusing on classic woodworking techniques.
Customers who want to know where the watch materials come from will also be able to read more about the types of wood used on the watches. You'll find a comprehensive list here, where you can read further about the sources of materials used.
Whiskey Barrel – Alterra Chrono collection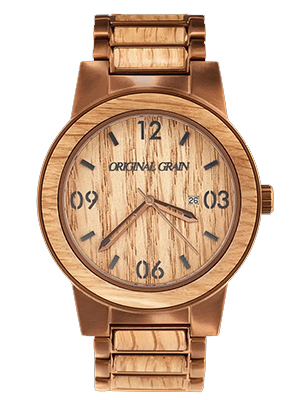 See on Original Grain | See on eBay
The Alterra Chrono is a collection of Japanese quartz chronographs with more than a dozen styles to choose from—42mm and 44mm watches, each with a distinct look and natural materials.
The Whisky Barrel model makes use of reclaimed American Oak Bourbon barrel with a brushed espresso stainless steel. One great thing about the brand is they tell their customers where the wood is from—in this case, it's Kentucky USA, home of American's spirit bourbon. This watch used to be an oak barrel that was once used to store the spirit. Some of the main features include a Japanese Miyota Citizen Quartz movement, a mineral crystal glass, and a double-locking fold-over clasp.
This is also the collection of the limited edition 1923 Yankees Championship Chrono, which only has 27 units. The wood material that Original Grain used on this is off the authentic Yankee Stadium wooden seats.
Sapele Black – Barrel collection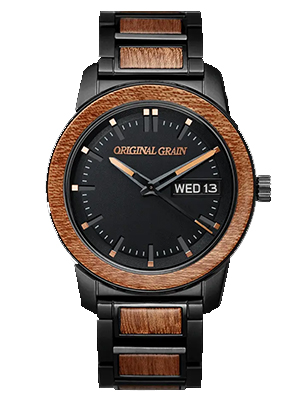 See on Original Grain | See on eBay
This collection, as the name suggests, have watches that are made from oak barrels. The Barrel collection has a wide array of styles and special editions, such as the baseball-themed wood watches.
One of the most popular models in this collection is the Sapele Black, which is made from natural and sustainably sourced Sapele wood from Central Africa. This one has a matte black stainless steel, a Japanese Miyota Citizen Quartz movement, and a water-resistant casing (we'll discuss water resistance further below).
Aside from classic designs like the Whiskey Barrel and Brewmaster (which is made from reclaimed German oak beer barrels), this collection also features US baseball watches like Yankees, Red Sox, Giants, and Mets with different case colors (blue, red, and black), which are perfect presents for baseball fans.
Blackwood Classic – Classic collection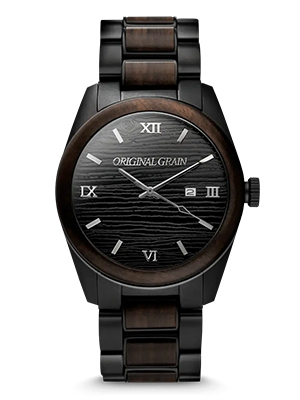 See on Original Grain | See on eBay
The Classic collection has watches made from materials that come from different sources: reclaimed ammo wood crates, natural rosewood, Hawaiian Koa wood, Kentucky bourbon barrels, and ebony wood.
All of the watches off this collection are 43mm, which makes it look excellent on big wrists. The Blackwood Classic, one of the new models, have wood materials from South Africa. These woods are known for their durability, sleek black colors, and moisture-repellent qualities. Other notable features include natural African Blackwood and a matte black stainless steel, as well as a steel band with an African Blackwood inlay. The movement is a Miyota 2115 Quartz.
Blackwood Minimalist – Minimalist collection
See on Original Grain | See on eBay
If you're looking for a simple, clean wood watch design, this collection is for you. The minimalist collection has seven types of watches to choose from and is relatively more affordable than the models we've featured so far.
Described as "simple yet extravagant," this collection has a classic silhouette, thin but legible indexes, and features different types of wood material, from blackwood to koa, from ebony to zebrawood.
One of the latest releases is the Blackwood Minimalist, which makes use of natural African blackwood and matte stainless steel. This is a bit smaller at 40mm and has a sleek black metal dial with wood inlay, a steel band with an African Blackwood inlay, and a Miyota GL20 Quartz.
Koa Stonewashed – Koa collection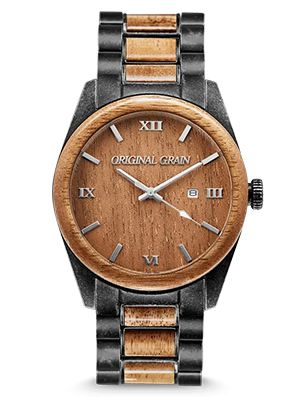 See on Original Grain | See on eBay
The Koa Stonewashed model, which has a Japanese Miyota Citizen Quartz movement, is one of the brand's best sellers. The wood used on this watch is from the largest native tree in Hawaii, and famous for its sheen and variety of colors and grains patterns with shades of red and brown.
According to the brand's website, every watch in the collection is protected by a stonewashed metal finish.
The watches have different sizes, so it will look great on all types of wrists—the 34mm Koa Lani, and the Koa Stonewashed, which is available in 40, 42, 44, and 47mm sizes. See all of them here.
Avalon collection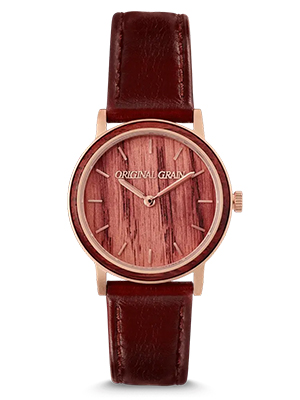 See on Original Grain | See on eBay
Last but not least is the Avalon, Original Grain's collection of women's watches. Available in different straps (leather, mesh), case colors (black, white, rose gold, ash, etc.), and materials (ash wood, zebrawood, wine barrel wood, etc.), these timepieces are all sized 34mm.
One of the best selling watches from the Avalon collection is the Vino, which is made from reclaimed wine barrel wood and brushed rose gold stainless steel. The strap is a striking burgundy red leather, and the movement is a Japanese Miyota Quartz.
See all the models here. You can also pair these watches with some of the brand's accessories, which we will talk about below.
Original Grain's water resistance
In terms of water resistance, the company says that most of their watches are splash proof, which means that having "slight water exposure such as rain or washing your hands will have no effect" on the timepiece.
Three of Original Grain's models have a higher water resistance (up to 100m). These three are the Koa Stonewashed Chrono, the Redline Chrono, and the Marc Chrono. For instructions on how to make these watches waterproof, visit this page that has detailed instructions.
If you're purchasing any of their watches, keep in mind that they make use of untreated and all-natural wood and that they do not recommend long periods of exposure or submersion in water. The brand makes it clear on its website that its warranty coverage does not cover water damage.
Original Grain accessories
Original Grain also sells accessories like watch straps and bracelets. Like the wood watches, their straps are also made with reclaimed materials. See the choices here.
Under the Women's accessories category are simple bracelets made from materials such as natural palm, ebony, and rosewood. These charms can be worn with Original Grain watches (see the options here, and you can also choose from an array of Men's versions here.
Those who would like to have cases for their watches can also purchase watch cases. Right now, there are two choices, a black leather watch case, and a waxed canvas roll, both of which can house multiple watches.
Where to buy Original Grain watches
All Original Grain watches and accessories can be purchased through the brand's website. You can also see the models and order via their Instagram account.
Navigating the website is simple and easy, as the watches are divided into two main categories (Men and Women). Customers can also choose to shop by style and material—you can pick the type of wood that you would like on your timepiece.
Original Grain is also available on Amazon or find new and used Original Grain watches on eBay. Take note that the warranty policy on these websites may be different from that of the watches purchased on the official website.
Is Original Grain a good brand?
Aficionados and collectors can be particularly harsh on brands like Original Grain that make wooden watches.
While serious watch snobs may write the brand off as a fashion watch or claim that wood watches are just a fad, the brand's use of sustainable materials (such as it's watches made from reclaimed oak whiskey barrels) and it's advocacy (planting trees in collaboration with Trees for the Future in Senegal), there's no doubt that Original Grain is a respectable company. They also have some very unique collaborations and product lines, such as their MLB Series that offers very unique watches for baseball fans – something that sets them apart from other watch brands.
Like any brand, with a wide range of choices, there are mixed reviews on Amazon and other online reviews and much comes down to personal preference and taste as well as budget.
Popular Original Grain watches like the Alterra Chrono receives both positive and negative reviews. Some customers praise the craftsmanship and quality of materials used, while others have given some negative feedback like the case fogging up and a broken clasp on a brand new model.
If you're intrigued by wooden watches and want a modern watch with a very unique story (where else can a beer lover find a watch made from German beer barrels?) then Original Grain is definitely worth a closer look. Watch snobs that put horological heritage and mechanical movements, of course, would not give the brand a second look – although that's obviously not the audience this brand is marketing to.
Original Grain's warranty policy
The Original Grain manufacturer's warranty policy is divided into two categories: the two-year manufacturer's warranty and the one-year manufacturer warranty.
The two-year warranty covers the following: The Founder's 6 Year collection, 1923 New York Yankees collector's watches, and the Red Sox World Series / Red Sox .406 collector's editions. The ones under the one-year warranty, on the other hand, includes all the MLB Reclaimed Barrel series, and the rest of the watches on the site that are not on sale or fall under the collector's series watches.
The manufacturer's warranty covers free repair or replacement if the watch "proves to be defective in material or workmanship under normal use." Both warranties also cover hands, dial, date box, movement, and battery. To learn more about these warranties (as well as the things that are not covered), visit this page, where you can also easily file a warranty claim for your watch.
Original Grain also offers customers a return for a refund of a brand new item within 14 days of delivery. Those who would like to return for an exchange or store credit may do so for free within 30 days. Check this page for more information on the return/exchange policy.
Thanks for reading!
We hope this article was helpful! Original Grain is a fast-growing company that's surely not going to stop soon. Its materials and advocacy are refreshing—these things are not often found in most watch companies.
We hope you enjoyed getting to know the brand and wood watches in general! If you'd like to learn about other wood watch companies, you can also check out our article about some of today's best wood watches.