Are you looking for an attractive watch to complete your formal attire but can't afford or justify the cost of the premium brand watches? Luckily there are still plenty of options if you want the look of a luxury timepiece without the expensive price tag. The main challenge when creating the following list is that some online retailers offer a sea of tacky-looking no-name watches. When you unbox those, you can end up with a watch that looks cheaply made compared to what the online images led you to believe.
When I hear "looks expensive but really isn't", the one brand that immediately comes to mind is JBW (Just Bling Watches), as the name suggests they are very flashy. The difference is that the watches do have real diamonds (and lots of them). If you like that look, it's worth checking out the clearance section as some of them are quite cheap considering the expensive materials. However, that distinctive look is definitely not for everyone which is why we've curated this list below of expensive-looking yet affordable men's watches.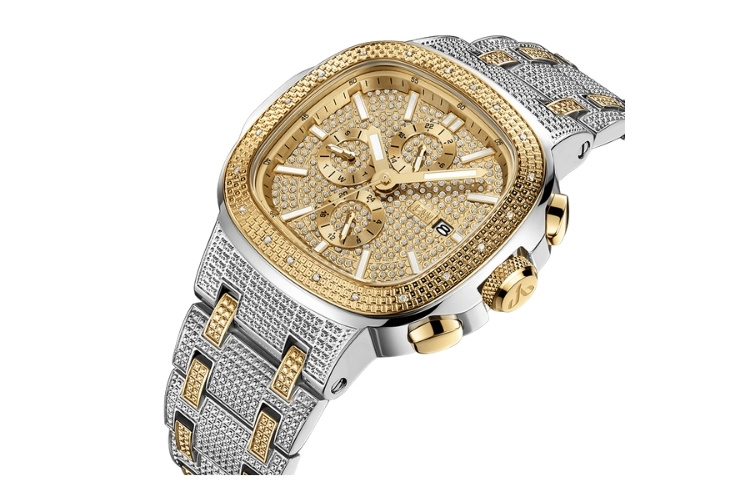 Not your cup of tea? There are plenty of fancy-looking watches that are not overly flashy from well-establish and reputable watch brands. While many of these watches below are considered fashion watch brands, nothing is inherently wrong with that. These brands are known for their design and style and manage to keep their retail prices relatively inexpensive by using affordable quartz watch movements and finishes that are attractive without being expensive (gold-toned metal rather than actual gold). We've also included classic brands Citizen and Timex which are known for their value and quality watchmaking.
Below are some of the most affordable yet high-grade and premium-looking men's watches that you can buy today.
Cheap Watches For Men That Look Spendy
Nixon Time Teller Stainless Steel Watch
Read Amazon Reviews | See on Nixon.com
The Nixon Time Teller watch comes in various designs; this particular all-gold watch aims to deliver a premium-grade feel at a highly affordable price tag. It certainly has on that front.
The Nixon Time Teller All-Gold Watch features a traditional design for those who prefer a classy timepiece for formal occasions. The stainless-steel gold-toned case measures 37 mm, and the dial features a classic three-hand design with linear markers. Its main strength is its timeless design which it revels in amazingly well.
Fossil Men's Dean Stainless Steel Chronograph Dress Watch
Read Amazon Reviews | See on Fossil.com
Fossil is a designer's brand so expect all their timepiece to deliver excellence in the aesthetics side of things. The Fossil Dean is one such wristwatch that offers a level of pizzazz that you won't typically expect with its price tag.
This watch has a gold-tone plated stainless steel case and bracelet. The champagne dial has a luminous three-hand analog display and a mineral crystal window for improved durability.
The stylish gold tone certainly accentuates its already impressive design. The chronograph offers added functionality with its three sub-dials and even a stopwatch. The superb construction also provides this watch with a water resistance of up to 50 meters.
Timex Men's Dress Analog Genuine Diamond Watch
Read Amazon Reviews | See on Timex.com
The Timex Dress Genuine Diamond watch features a timeless rectangular watch design. Most men won't usually give this type of watch a second look as it is often synonymous with women's watches, but that would be a mistake. This robust timepiece is large enough to accommodate men's larger wrist size.
This timepiece comes in three stunning variations: all-gold, all-silver, and two-toned (gold and silver) models. The black dial takes a minimalist approach with its design and features three markers, two hands, and a diamond embedded at the 12 o'clock position.
The rectangular case is quite slim at 33 mm in diameter. The dial is encased within mineral glass crystal and comes with a 30 meters water resistance rating. This is a classy and affordable watch for those fans of rectangular timepieces and comes from Timex, a brand known for reliable looks.
Fanmis Two-Tone Stainless-Steel Watch
Read Amazon Reviews | See on eBay
The Fanmis is a highly affordable watch, especially with the beautiful blend of silver and gold with a polished dial that comes in three variations (black, blue, and emerald green).
Many shoppers are attracted to this watch because it's a very cheap 'homage' to the Rolex Submariner (which starts at $7,500!), so if you want the look of a classic watch without wearing a tacky fake Rolex, this might be the one for you.
Although this is a Chinese watch brand, it utilizes a Japanese quartz movement known for its accuracy. The case is quite big with a 40 mm diameter, and it also features a unidirectional diving bezel and a date window at the three o'clock position.
Citizen Men's Quartz Stainless Steel Casual Watch
Read Amazon Reviews | See on Citizen.com
Citizen is one of the most well-known watchmakers that provide budget-friendly to premium timepieces. Fortunately, they don't skimp on their more affordable watches regarding quality. This Gold Quartz (Model: BI5002-57Q) is a perfect example.
This gold-tone Citizen watch uses Japanese quartz movement with an analog display with a date window at 3 o'clock.
If you're deciding between this and the next one on the list, check out our Citizen vs. Invicta guide.
AX Armani Exchange Chronograph Silicone Watch
Read Amazon Reviews | See on eBay
This stylish timepiece with a contemporary design is surprisingly affordable. The AX Armani Exchange Chronograph is a perfect affordable watch for casual everyday use and even for certain formal events. Its all-black design gives it a sophisticated flair, and the silver hands and markers on the dial accentuate its overall appeal.
The AX Armani Exchange utilizes quartz movement with its analog display. The three sub-dials track hours, minutes, and seconds. Also, it has a date display located between the 4 and 5 o'clock positions.
The case is made from resin and measures 44 mm in diameter, which gives it that lightweight yet durable quality. The band is made from silicone and uses buckle closure, a pretty standard feature with wristwatches in this price range.
Also, it comes with a decent 50-meter water resistance allowing the wearer to use it for a quick dip in the pool. This stylish Armani timepiece certainly looks like a mid-range watch with its sleek and elegant charm.
Invicta Men's 1270 18K Gold Ion-Plated Specialty Chronograph Watch
Read Amazon Reviews | See on Invictastores.com
You can never go wrong with gold to enhance your attire's overall style. However, since gold watches can be quite expensive, not all can benefit from their benefits. Thankfully, watches such as the Invicta Men's 1270 are here to deliver a similar aesthetic at an exceptionally budget-friendly cost.
At first glance, the polished gold-tone case, dial, and bracelet give this timepiece a premium appeal. The chronograph features add to its classy aesthetics with the three sub-dials and an engraved bezel.
This large timepiece has a 50 mm stainless steel gold ion-plated case. Within is the ever-reliable Japanese quartz movement with an analog display that does not question its precision and timekeeping. This luxurious-looking timepiece also provides water resistance of up to 50 meters, making it suitable for a quick dip in the pool.
Guess Men's Stainless-Steel Diamond Watch
Read Amazon Reviews | See on Guess.com
The Guess Diamond watch incorporates a rectangular-shaped case, giving it a more retro look. A perfect timepiece for those who prefer the alternative to the traditional circular timepiece design. It is quite surprising to note that this timepiece features a genuine diamond within its dial design with its budget-friendly price tag.
As with most rectangular watches, the Guess Diamond watch is relatively smaller than your average round watch. It has a 35 mm diameter case and incorporates a Japanese quartz movement with its analog display structure.
This sleek timepiece delivers a level of sophistication with a highly polished look that you would only usually find in mid to high-range watches. Also, it provides up to 50 meters of water resistance.
Michael Kors Slim Runway Quartz Watch
Read Amazon Reviews | See on Macys.com
Michael Kors timepieces are always known for their intricate and striking designs. Even more, MK watches come in a wide range of prices, with some having a price tag of under $100. The Slim Runway Quartz watch is one such model, and it still manages to deliver a stunningly beautiful timepiece.
The MK Slim Runway features a black and gold aesthetic, which you can never go wrong with if you try to deliver a stylish accessory. It features a gold-toned stainless-steel case that measures a hefty 49 mm.
The Slim Runway is a pretty straightforward watch with its quartz movement with a three-hand analog display. The dial features a neat presentation with only the hands, markers, and logo visible. It also has 50-meter water resistance, so you can take it for a quick recreational swim if you want. All in all, this is a classy gold watch that also has that unique premium vibe but at a considerably lower price tag.
Akribos XXIV Multi-Function Swarovski Crystal-Accented Watch
Read Amazon Reviews | See on eBay
Quite possibly the most lavishly designed timepiece in this list. This gold-tone and crystal-studded watch aims to impress while not burning a hole in your pocket, and it features a highly detailed multi-functional dial and chronograph functionalities.
The bezel features embedded Swarovski crystals which significantly enhances the timepiece's elegant aesthetics. The dial also sports a tachymeter, three sub-dials, and a date display. The markers and hands also utilize a luminous coating for added visibility in low-light environments.
For its price, the Akribos XXIV watch is undoubtedly a steal and delivers an appearance and quality that far surpasses its price tag.
Michael Kors Lexington's Chronograph Watch
Read Amazon Reviews | See on eBay
Michael Kors enters this list again with their strikingly handsome Lexington Chronograph watch. This all-gold timepiece features chronograph functionalities which means it comes with three sub-dials. The sub-dials come in black, which perfectly balances out the polished gold of the main dial, case, and bracelet. It also incorporates Japanese quartz movement with its analog display, providing wearers with exact timekeeping.
The Lexington watch is large, with a case that measures 44 mm in diameter. Another noteworthy inclusion to its construction is the 100 meters water resistance rating making it suitable for a quick swim and snorkeling. The watch also has a 2-year warranty, a fantastic addition to this budget-friendly yet stunning watch.
Invicta Men's Specialty Mechanical Hand-Wind Watch
Read Amazon Reviews | See on Invictastores.com
Are you a fan of open-heart or skeleton design watches but can't afford its steep price tag? You might want to take a look at the Invicta Specialty Mechanical Hand-Wind Watch. This timepiece uses mechanical manual-wind movement and an analog display.
While the open-heart design doesn't look as intricate as its more expensive brethren, this Invicta watch is still a charmer. It also uses a crocodile-embossed leather band, giving it a more casual appeal. The case measures 42 mm, which is large enough to provide a clear view of the watch's inner workings via the open-heart design.
Akribos XXIV Accented Sunray Dial Watch
Read Amazon Reviews | See on eBay
Akribos XXIV makes another entry in this list with its Accented Sunray Dial watch. This more casual-looking timepiece compared to the previous Akribos XXIV watch above. This brand has pretty much mastered the art of crafting an affordable timepiece that comes with the flair of a premium-grade luxury one.
Akribos XXIV is known for delivering very affordable (and usually discounted) watches with elegant aesthetics. This watch uses a polished alloy case, which is lightweight but still quite sturdy. The stainless-steel mesh band provides comfort, and it even has a water resistance for up to 30 meters.
The minimalist design of the Accented Sunray Dial watch will be a sure hit with more traditional watch enthusiasts. If you are looking for highly affordable timepieces that also deliver the sizzle, you should take a look at Akribos XXIV's catalog.
Diesel Men's Mega Chief Quartz Chronograph Watch
Read Amazon Reviews | See on eBay
The all-gold design and almost tank-like appearance of the Diesel Mega Chief Chronograph certainly help separate it from the rest of the pack. The stainless-steel case comes in at an intimidating 59mm in diameter, the largest one we have in this list.
This more massive structure and frame are fully taken advantage of by its three sub-dial displays and date window. It also has a cut-out detail on the case, adding its overall style with a more mechanical look. Also, Wearers will much appreciate the luminous hands and markers if you ever wear this underwater as it does have 100-meter water resistance.
Casio Men's General Watch
Read Amazon Reviews | See on eBay
Finally, we have the Casio General watch. This wristwatch features a stainless-steel case with a gold-tone finish, and it uses flexible and robust leather straps that provide comfort and durability. The dial features a pretty standard display using quartz movement for excellent precision.
This is a sleek casual watch with a 36 mm in diameter case. The dial incorporates three hands (hours, minutes, seconds) and military-style time markers. Also, it sports a date display over on the three o'clock position.
This is a super watch that delivers Casio's signature performance and quality at such a low cost.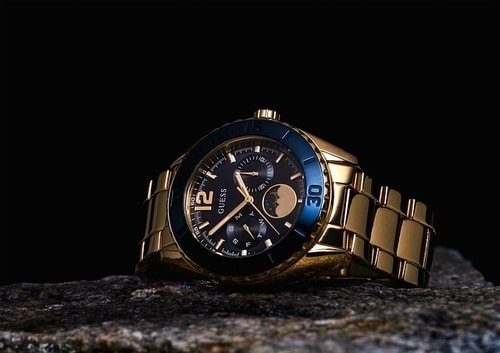 Conclusion
As you can see from this list, you don't need to spend hundreds to thousands of dollars to get a visually appealing and reliable timepiece. All of the watches we included in this list were below the $100 price bracket at publishing.
When shopping in this price range, it's hard for shoppers to know which brands deliver the best in the low-end timepiece market; we've carefully selected watches from brands known for style and flair and offer quality. In the end, we feel that any of these watches would be worthy of being worn on our wrists and their price tags defy the myth that everything inexpensive has to be "cheaply made."