Simon Cowell is a well-known TV personality, music executive, and entrepreneur. He is best known for his stint as the judge that we love to hate in American Idol, among other TV talent competitions. Simon Cowell became a household name due to his biting wit and brutal criticism of contestants. He is also known for his extravagant collections that include luxury cars and, of course, watches.
Let us do a watch spotting for the snippy television personality and see if his standards are as high for his timepiece collection. 
Some Interesting Facts About Simon Cowell
Before showcasing Mr. Cowell's impressive wristwear collection, let us first give you some interesting facts about the hot-headed talent judge. Here are some fascinating facts about Simon Cowell.
Starting at the Ground Floor
We all have to start somewhere, right? So before Simon Cowell hit it big in the music industry, he began as a mailroom clerk at EMI Music Publishing. Then, discovering his passion for music, Simon garnered as much experience as possible in the industry. The rest, as they say, is history. 
Also, did you know that further back when he started his career in the music industry, Simon Cowell worked in Stanley Kubrick's "The Shining" set as a runner? 
An Eye for Talent
Simon Cowell certainly has the right on those judge's seats as the man built a reputation for scouting up and comers. Some of the big-name talents that he produced and promoted include the likes of Sinitta, One Direction, Leona Lewis, Westlife, and Susan Boyle. 
Early in his career, BMG Records saw this talent in Simon Cowell, which landed him the gig as one of the company's talent scouts. 
Marriage is Out of the Deal, Apparently
While primarily known as the brutally honest judge in several popular talent shows, Simon Cowell is infamous for being a playboy. We won't go through the murky details about his personal life, but let's just say it is the epitome of a tumultuous love life. 
Throughout the years, Simon Cowell has been linked to several women. One of whom he was engaged to but never wed until they broke up. Nowadays, he is with Lauren Silverman, with whom he has a child. They have been together since 2013, and Simon claimed he has no intention of ever getting married.
His Signature Look
Suppose anyone knows the importance of branding; it's Simon Cowell. Simon can always be seen wearing plain white or black T-shirts, and he has taken this look to heart. He has dozens of black and white Armani shirts in his wardrobe.
He Was Arrested Once… When he Was 12
Yes, young Simon Cowell got arrested when he was 12. The reason for his incarceration? He hijacked a bus using a toy gun. Well, as you would have guessed, it didn't end well for the young Simon Cowell. However, he did admit that he could get to his destination, so there's that. 
What Watches Does Simon Cowell Wear?
Unsurprisingly, Simon Cowell has quite a flashy collection of luxury timepieces. The man certainly knows how to dress to impress with his super-classy watches. Here are all the watches that are confirmed to be in Mr. Cowell's collection. 
Jaeger-LeCoultre Grande Tradition Minute Repeater Limited Edition (Q5011410)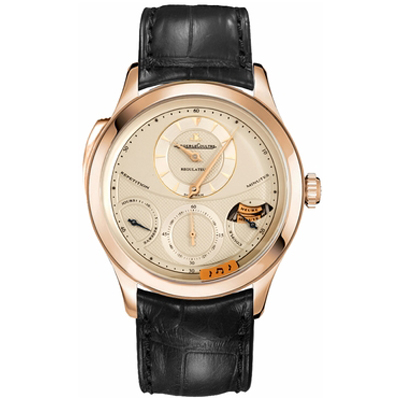 This extremely expensive luxury timepiece from Jaeger-LeCoultre can be seen on Simon Cowell's wrist in a couple of episodes from X-Factor. There are only 100 pieces of this timepiece made, which explains the jaw-dropping price tag in the market. 
As you can expect from this luxury Swiss watchmaker behind the iconic Reverso, this watch exudes tradition and elegance. This timepiece features manual winding underneath the sophisticated 44mm yellow gold case. The silver dial emphasizes its lavish theme with four well-positioned sub-dials that display hours, minutes, seconds, power reserve, and a minute repeater. 
The meticulous horological structure within the erudite JLC Grande Tradition Minute Repeater is definitely in a class of its own. This watch captures the essence of what a luxury dress watch is all about. 
Jaeger-LeCoultre Master Grand Tradition Tourbillion à Quantième Perpétuel (Q500649A)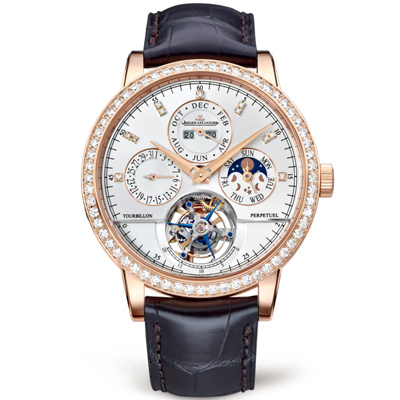 Simon Cowell certainly has a flair for indulgence, as seen with his other high-end luxury JLC timepiece, the JLC Master Grande Tradition Tourbillion à Quantième Perpétuel.
This fantastic timepiece features a self-winding mechanical Tourbillion movement with a 48-hours power reserve.
As is the tradition with all JLC timepieces, the à Quantième Perpétuel model integrates a highly sophisticated horological structure within its refined shell. It features the JLC caliber 987, which beats at 28,800 VPH for optimum accuracy. The automatic movement also has a power reserve of 48-hours and is COSC certified. These watches are designed specifically to impress and impress it does.
Chopard Mille Miglia Chronograph Automatic Date (8407)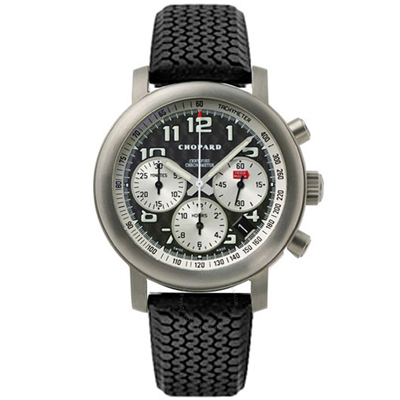 Simon Cowell also owns a Chopard timepiece, specifically the Mille Miglia model. This timepiece exudes a more casual charm while still exuding an air of luxury. Additionally, the Mille Miglia comes with a distinct tire-style strap with a more rugged aesthetic of a classic racing watch.
The Chopard Mille Miglia utilizes a 40mm titanium case with a 12-hour format dial-in Arabic numeral. As a result, the Mille Miglia has a pretty solid score as far as readability goes. Other functionalities include a chronograph functionality with an hour, minute, and seconds display. Additionally, there is a date display uniquely located between the 4 and 5 o'clock positions.
The black dial incorporates a relatively casual design with luminous hour markers and analog hands. As a result, this is an excellent timepiece for everyday use while still bringing to the table that premium-grade charm. 
Cartier Ballon Bleu De Cartier (W69017Z4)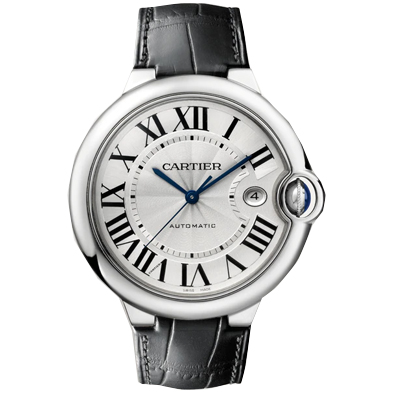 In several American Idol and America's Got Talent episodes, we can see Simon Cowell wearing a highly distinct Cartier Ballon Bleu De Cartier. You can't mistake this timepiece with its fluted crown set with a blue spinel cabochon.
It is a watch that is designed to be subtly eye-catching which is one of the reasons there are lots of celebrities that wear the Cartier Ballon Bleu.
Cartier watches utilize automatic self-winding movement. For the Ballon Bleu De Cartier, it is the Cartier Caliber 076. The stainless-steel case measures 36.6mm with the signature fluted crown and synthetic blue spinel cabochon to complete the classic Cartier look. Polished blue analog hands accompany the silver guilloche dial for that added visual flourish. 
All in all, the Cartier Ballon Bleu De Cartier delivers everything you want in a Cartier timepiece. Simple, elegant, and sleek.