You're standing in line at a grocery store and see the person in front of you checking their watch. Nothing unusual there. But then, they tap it, laugh, tap it again, and talk into it like they're talking to their best friend. No, you're not crazy. And no, they're not crazy either. You're witnessing the miracle of a smartwatch.
Smartwatches are more popular than ever but, like many people, you might not have used one yet and have some very valid questions – What exactly is a smartwatch? What makes a smartwatch different than a mechanical or digital watch? And what makes them "smart"?
The short answer is simple: A smartwatch is a watch with some type of internet connection capability and user-friendly applications.
Oh, but the longer answer is so much more interesting. And to start, it's best to take a brief trip back in time to see how the smartwatch came to be.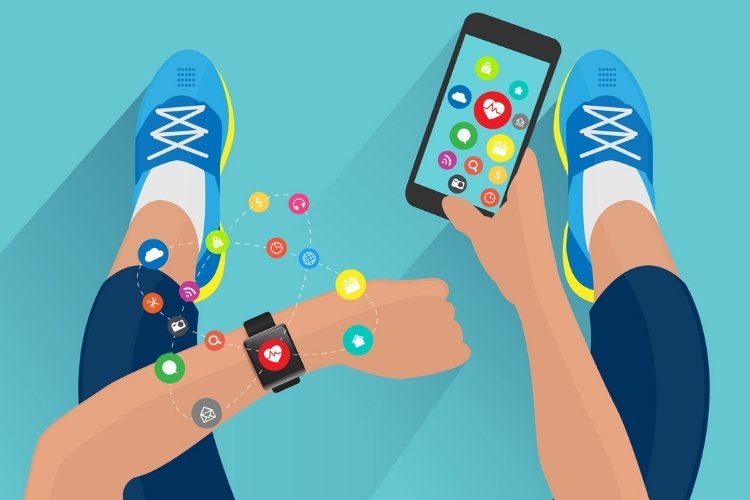 The Backstory
Humans have always had an innate need to measure things: distance, weight, mass, and yes, time. From the Ancient Egyptian's shadow clocks to Mesopotamia's candle clocks to the first modern mechanical clock invented in Germany, time has been on people's minds. And then, in 1505, German inventor Peter Henlein created a timepiece that could be worn on people's bodies—a gold pendant-styled ball that became the world's first watch.
Three hundred years later, wrist watches burst onto the scene. By the 1930s, wristwatches outnumbered pocket watches 50 to 1. By 1969 the watch had made its way to the moon on Neil Armstrong's wrist.
The Digital Age
In 1972, the first electronic digital wristwatch was presented for the modest price tag of $2,100. That would be over $12,000 on Amazon today. The power of LED light, alarms, calculators, and timers took the market by storm. The rising supply and demand married with better and cheaper technology created a flood of watches across the globe. By the end of the 70s, digital wristwatches were selling at $10 apiece and could even be found as prizes at the bottom of your favorite cereal boxes.
The 1980s were a magical time. In a bold move, Seiko revealed the TV Watch, the first watch with a built-in TV screen, and Timex developed the first watch that could talk to a computer. For the next thirty years, digital watches continued to improve in power, look, technology, and functionality.
Cue the Smart Watch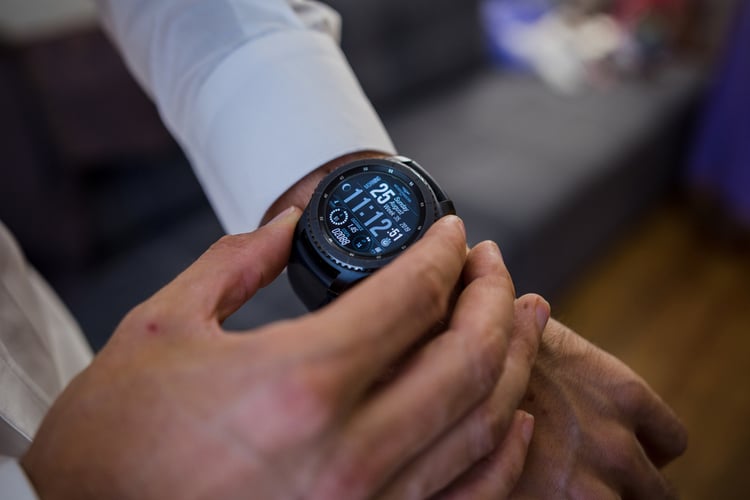 In the 2010s, the skyrocketing growth of mobile phones changed everything. Where digital watchmakers saw a drop in sales and purpose, tech companies saw a rise in opportunity and need.
Enter Apple. Though the likes of Samsung, Sony, Razor, Android, Google, Motorola, Microsoft, and Qualcomm all debuted their own versions of smartwatches, it wasn't until 2014, when Apple unveiled their Apple Watch, that the world truly began to catch the vision. Since then, the Apple watch has evolved through multiple reiterations.
Today's Smart Watch

By 2020, one in five U.S. adults were wearing some type of smartwatch. Luckily, there's no shortage of watch styles and types available for us today. If you have a cell phone, the smartwatch is a smart way to go. Especially because today's smartwatches aren't your mother's smartwatches.
They do more than tell time, play games, or even sync to your computer. Today's smartwatches like the Apple Watch, Samsung Galaxy, or Garmin watches let you make and receive calls from your wrist, play games, track your heart and health stats, and so much more.
How Does a Smartwatch work?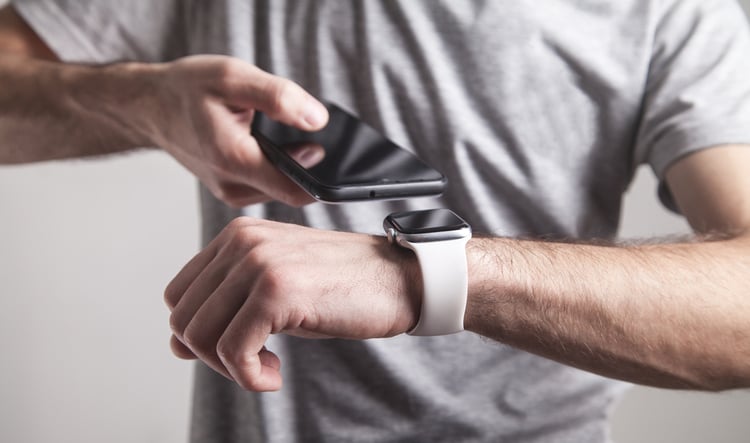 We've shared a glimpse of some of the things a smartwatch can do, but how do they work? Two words: apps and internet.
Smartwatches are essentially computers that sit on our wrists, powered by mobile operating systems (OS for short) that run user-interfacing software and internal hardware. It's the engine under the hood.
The apps are what give us control of the watch functions. Most apps are dependent, meaning, the apps on the watch are merely extensions of the apps on the cell phone, computer, or other services your watch is connected to. Things you can do on your phone, like calling, texting, calendaring, emailing or social media can be done on your watch.
Smartwatches communicate with your cell phone or other mobile devices via Bluetooth, Wifi, or cables. Smartwatches that are equipped with their own internal GPS system or cellular data can be used independent of a cell phone.
Most watch faces are customizable, allowing you to have your most important information available with the flick of a wrist. Simply tap or, in some cases, talk to your phone, to open and use applications.
What can Smartwatches do?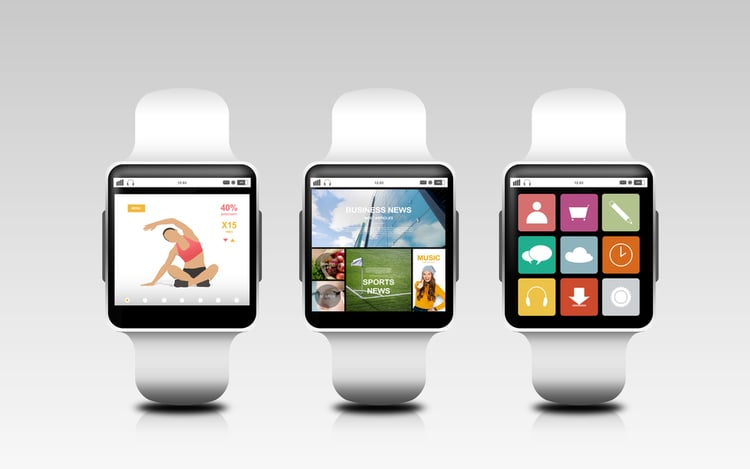 This is the glowing, golden question. Luckily the answer is just as shiny: A lot, and the list of features continues to grow with new technologies.
Here's a short list of some of the more popular current smartwatch features:
Make and receive phone calls
Receive and send texts
Add appointments to your calendar
Remotely take a picture with your phone
Track your heart rate
Track your sleep
Access photos
Find your lost phone
Track your location
Use social media
Schedule an Uber or cab
Set and hear (and snooze) alarms
Check sports scores
Get directions
Count your steps
Pay for your groceries
Manage your to-do lists
Get reminders
And more
Not All Smartwatches are Alike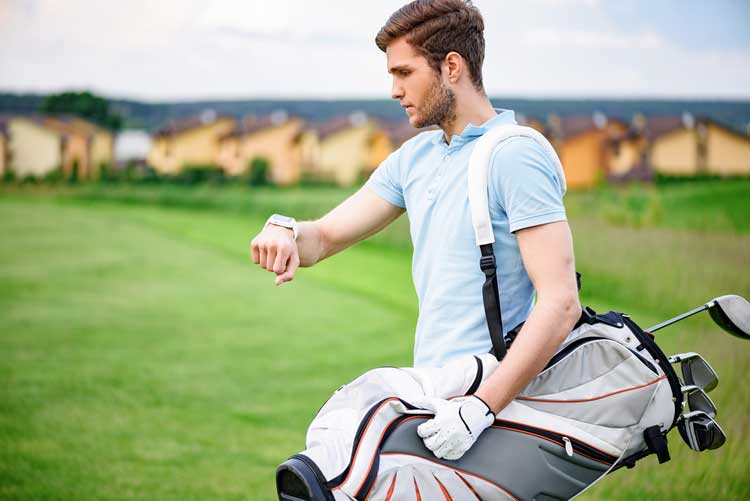 Though many watches can be paired with various phone brands, some watches, like Apple watches, only work with Apple phones. It's important when you're shopping for a watch to make sure the watch's OS is compatible with your phone.
To simplify things, we can basically group smartwatches into two categories: general and specific use.
For most of us, general-use watches, like Apple, Android, and Google watches, are great for the typical person who wants the power of their phone on their wrist. They come with many of the features mentioned above for communication, productivity and fitness tracking.
Specific-use watches come with all the standard featured you'd expect on a general use smartwatch but are also equipped with customized options specifically designed for athletes, specific sports or types of outdoor adventure. Higher-end smartwatches offer powerful apps that integrate seamlessly with the watch and analyze things like your running gate, cycling pace, and other workouts, mapping, and more.
Here are a few examples of specific-use watches:
The Garmin Swim 2 – as the name clearly implies this is a watch specifically designed for swimmers. It can track your pace, stroke count and swim distance in either pool or open swim. You can later analyze your data post-swim on the Garmin Connect™ app.
The Garmin Approach line of golf smartwatches come preloaded with thousands of golf courses from around the world. These watches can track your shots, calculate distances and show current wind speed. You can also pair it with a club tracking sensor to analyze your swing.
The Suunto Traverse Alpha is a military-grade smartwatch designed for hunters and actually uses an accelerometer to detect gunshots to track the time and location of your shots and plot them on a topographical map.
Lower-end specific-use watches offer fitness tracking services like GPS tracking, heart rate tracking, and oxygen level readings. These also work with apps that have sport-specific apps for tracking and metrics but lack the very specialized sports like the premium models mentioned above.
Conclusion
There was a time when the future of smartwatches was unsure. But, according to the Smartwatch Market Trend and Forecast of 2020, "the smartwatch market is expected to grow at a CAGR (compound annual growth rate) of 14.5% during the forecast period (2020 – 2025)."
This means smartwatches are going to continue to grow. And you can bet the technology will be improving as well. Rumors of blood sugar monitoring and other quality-of-life options are already swirling. Bottom line, smartwatches aren't going anywhere except, hopefully, on our wrists.
Smartwatches aren't for everyone. You can live an abundant life sans smartwatch. But you can't call your mom or pay for your groceries on your wrist without one.
If you're not sure you want to take the leap to a smartwatch, you could also look at hybrid smartwatches that offer a balance of a classic analog watch dial with some smart-enabled features.