TAG Heuer is a well-known and established Swiss brand for luxury timepieces that are mostly inspired by motorsports. As such, among its popular collections are the Formula 1, Autavia, Carrera, and Aquaracer. These collections are not just exceptional because of their build quality and style; rather, the brand primarily prioritizes on ensuring the precision of its timepieces. (To know more about the brand – its history, price range, etc., you may continue reading here.)
As smartwatches become more popular in the watch industry, TAG Heuer did not just fold in its own area of expertise. Rather, the brand joined the competition and even raised the bar of the aesthetics and build quality of smartwatches. The featured collection: the TAG Heuer Connected.
The first Connected collection was introduced back in 2015. Its smartwatches are not just wearable smartphones; they are luxurious fashion accessories with high-tech features. With each new generation of TAG Heuer Connected, the aesthetics, build quality, fitness features, and other functions are being improved.
The Connected 2020 thus has become more fashionable than its predecessors. You may even customize its physical build – the case maybe stainless steel or titanium while the bracelet is interchangeable between rubber and stainless steel. How about the watch face? Of course, you can customize the watch face. In fact, TAG Heuer Connected made it easier as you may also do the customization through the Wear OS app on your phone.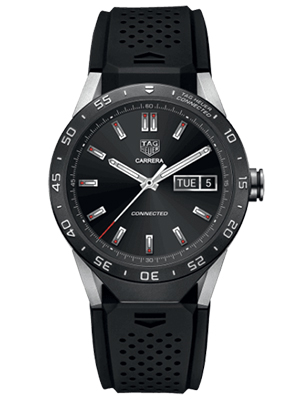 Perhaps the only point of concern for some is the fact that the TAG Heuer Connected is quite big and heavy. The Connected 2020, for example, is 13.5mm thick but it is actually slimmer than its predecessor, Modular 45. One of the main factors for this is the 430mAh battery which is intentionally big to make the smartwatch last for a whole day even with the use of GPS for an hour. In terms of sports or fitness functions, the Connected 2020 comes with a heart rate sensor, compass, accelerometer, gyroscope, even GPS, GLONASS, BeiDou, and QZSS. Its sports functions primarily focus on running, cycling, and golf.
Essentially, the TAG Heuer Connected is both functional and fashionable. However, it's also one of the more expensive smartwatches on the market – you would need around $2,000 just to have one. Don't have that much budget for a smartwatch? Here are the cheaper alternatives we found.
Best Affordable Tag Heuer Connected Alternatives
Garmin Vívoactive 3
Read Amazon Reviews | See on Garmin
The most affordable alternative we found is the Garmin vívoactive 3. Coming from a well-known brand for fitness wearables, you are assured that its build quality is up to the standards. The case is made of fiber-reinforced polymer with stainless steel rear cover. It has a touchscreen display and Corning Gorilla Glass 3 lens. The strap is made of silicone and is quick to release so you may swap it with other bands, although you have to buy an additional 20mm band if you want to.
It also comes with preloaded sports apps for better tracking of your activity. For your fitness, the Garmin Vivoactive 3 monitors your VO2 max, stress level, and even fitness age estimates. You may also connect this smartwatch to your phone through the Connect IQ app. This app allows you to choose your watch face, add widgets, and even apps to the smartwatch. The Vivoactive 3 also allows contactless payment as it is compatible with Garmin Pay.
When in smartwatch mode only, its battery life can last up to 7 days but if in GPS mode, it's only good for 13 hours. It is also rated 5ATM for water resistance. Visit its Garmin page to know more about the Vivoactive
Withings Steel HR Sport Hybrid Smartwatch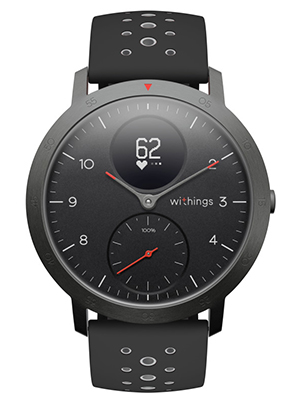 Read Amazon Reviews | See on Withings
The Withings Steel HR Sport Hybrid Smartwatch once again features a classic two-hand analog display along with the smart features. Since Withings specializes in fitness wearables, you can expect that this smartwatch is pretty loaded with sports and fitness features.
Among others, it has a continuous heart rate monitoring, sleep tracking and analysis, and fitness level assessment based on your VO2 max. It also has a workout mode that when connected to GPS, it can record your session more accurately with the distance, elevation, and pace. It can also show the notifications you received on your phone. Its battery life can last up to more than 25 days when in power reserve mode and up to 5 days when in workout mode. Then, it only needs about two hours to fully recharge.
Huawei Watch 2 Sport Smartwatch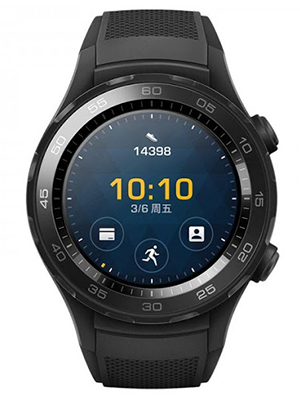 Read Amazon Reviews | See on Huawei
Taking a break from fashionable steel smartwatches, we now move on to Huawei Watch 2 Sport Smartwatch. It comes with a classic sports watch look, built with ceramic bezel, carbon black durable silicone band, and Corning Gorilla glass screen.
For its smart features, it monitors your heart rate continuously and uses Huawei TruSeleep for tracking your sleep. It also has a built-in GPS that monitors your workout routes even without your phone. It also has a workout coach so you can receive real-time guidance and workout data. More so, it allows NFC payments, is compatible with Google Play Music and Google Assistant. Click here to read our review of Huawei smartwatches.
Huawei GT2 Watch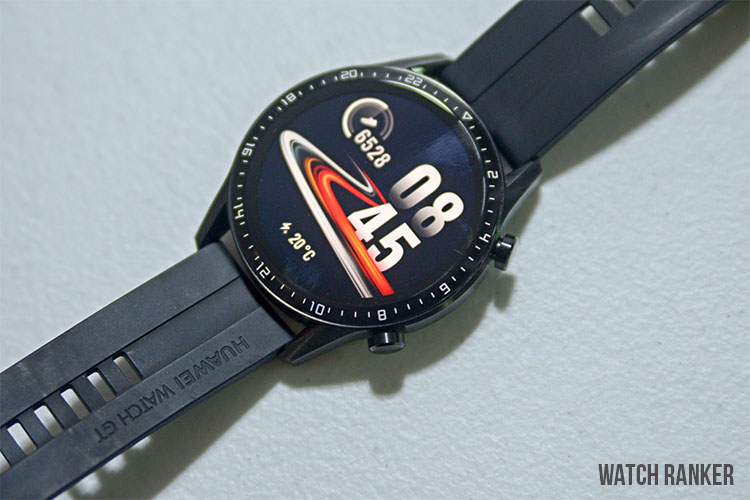 Read Our Detailed Review | Check Amazon Price
If you want a minimalistic but effective software experience and excellent build quality, then there are very few smartwatches that can match the Huawei Watch GT 2. While it may not be as feature-rich as some of the other watches on this list, for the price range it's got an elegant look, quality finish and a very impressive two-week battery life. If you live an active lifestyle, the GT has plenty of fitness tracking capabilities via the Huawei Health App including sleep and stress monitoring as well as standard fitness tracking metrics like steps and heart rate. See our review of the Huawei GT2 here.
If you are looking for a more sports-focused watch at a more affordable price also see our Huawei GT2e review and our GT2 vs GT2e comparison here.
Mobvoi Ticwatch Pro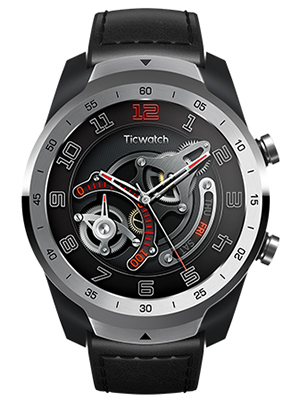 Next on the list is the Mobvoi Ticwatch Pro. Its brand may be less known compared to other smartwatches on the list but as you read on, you'll see that it is a great alternative as well.
Among others, its battery can last at most 30 days in a single charge if you're using it only on Essential Mode. If in Smart Mode, then it's good for up to 2 days. The Essential Mode means power saving is on and it shifts to LCD Display. But, it still monitors your heart rate and steps. It also shows the time and date. On the other hand, the Smart Mode allows you to access the Wear OS by Google, Google Assistant, various apps, as well as the health and fitness trackers. More so, it uses AMOLED display.
Its health and fitness trackers include GPS, heart rate, calories burned, speed, and cadence. It can also monitor your sleep. In addition, the Mobvoi Ticwatch Pro is compatible with Google Pay so you can make your purchases directly from your wrist.
Fossil Hybrid Smartwatch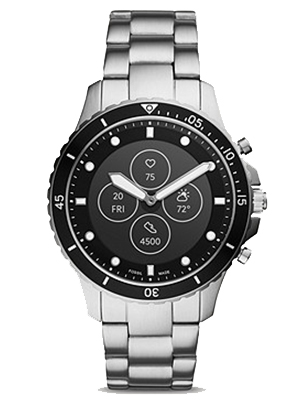 Read Amazon Reviews | See on Fossil
Looking for a more stylish alternative? The Fossil Hybrid Smartwatch may just suit your style. It is a classic timepiece with stainless steel case and bracelet, but to add versatility to the watch, its bracelet is interchangeable with other 22mm bands.
As a hybrid smartwatch, you would see an analog display on its dial – with the mechanical hands, hour markers, and minute indices. In addition to this, its always-on display would also show you essential information about your days such as calendar, day/date, and step counter. You may also receive and view your phone notifications and alerts, and even control the music. It even has a heart rate sensor to give you an idea of your wellness. It also has push buttons on the side (similar to those you would see to chronograph watches). These buttons are customizable so you can assign top functions that you would need for your everyday routine. On average, its battery life is good for two weeks in a single charge; although, it can vary depending on your usage.
Check out our other top hybrid smartwatch picks here.
Fossil Gen 5 Carlyle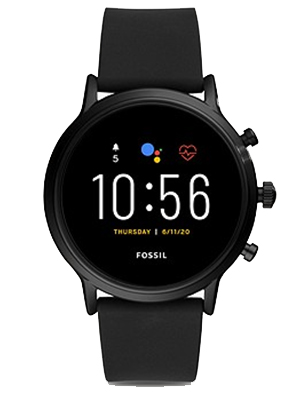 Read Amazon Reviews | See on Fossil
The Fossil Gen 5 Carlyle is another stylish choice but this one's a touchscreen smartwatch already unlike the previous one which is a hybrid smartwatch. It comes with a 44mm case and its 22mm band is also interchangeable with other Fossil straps that are of the same size. The touchscreen display measures 1.28″ and with 416 x 416 resolution.
Fossil Gen 5 Carlyle is powered by the Wear OS of Google. It has both heart rate and activity tracking by Google Fit. It also has a built-in GPS for distance tracking. It also has Google Assistant and is compatible with Google Pay. It is rated 3ATM for water resistance, and of course, it can also receive smartphone alerts and notifications.
Michael Kors Access Gen 4 Runway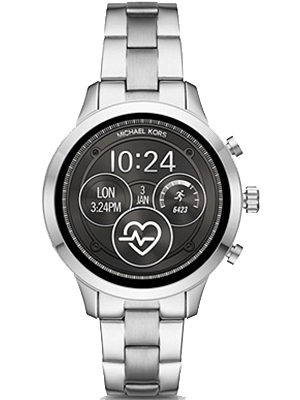 Read Amazon Reviews | See on Michael Kors
Coming from a fashion brand, the Michael Kors Access Gen 4 Runway is undoubtedly an outstanding fashion item that's also hi-tech. It is also powered by Wear OS and is compatible with Android OS 4.4+ and iOS 9.3+. Its smart features include heart rate tracking, GPS, Google Fit, Google Assistant, music storage and navigation, NFC payments, and smartphone notifications. On its touchscreen, you may customize the watch face. Its 300mAh battery can last a day and recharges pretty fast. It is also water-resistant to 50 meters.
Michael Kors Access Grayson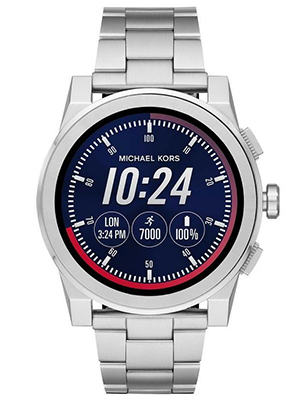 Read Amazon Reviews | See on Michael Kors
The Michael Kors Access Grayson is another steel smartwatch. It also has touchscreen functionality and is powered by Wear OS. Its watch face is also customizable, even your goal tracking, music controls, as well as the 24mm strap. On the estimate, a full charge can last a full 24 hours, but it can vary depending on your usage.
Samsung Galaxy Watch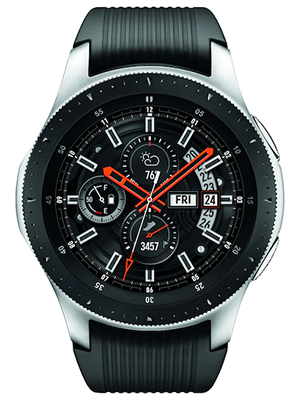 See on Samsung | Read Amazon Reviews
Sporty yet smart and stylish; that is the Samsung Galaxy Watch. It comes with different watch faces that are so realistic that some don't seem digital at all. Its straps are also interchangeable so you can choose which would best go along with your chosen watch face. More so, it is built with military standards durability to withstand everyday abuses and even tough conditions. It is also rated 5ATM for water resistance. Its smart features primarily focus on guiding and monitoring your status and wellness throughout the day with the heart rate sensor, auto activity tracking, sleep tracking, stress monitor, and smart notifications.
Samsung Gear S3 Frontier Smartwatch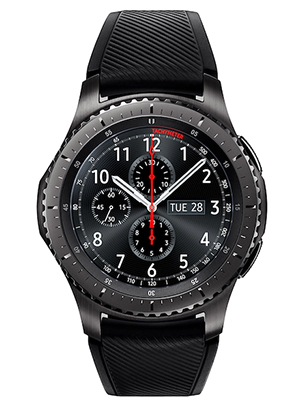 See on Samsung | Read Amazon Reviews
Last but certainly not least is the Samsung Gear S3 Frontier Smartwatch. It's not just sporty and smart; it is also built with military-grade durability. It is resistant to water, dust, extreme temperatures, and even occasional drops.
As a smartwatch, you may customize the watch face, receive notifications and alerts, and even answer your calls. You may also rotate its bezel to access the apps and notifications easily. It is also compatible with Samsung Pay for contactless and faster transactions.