Overall Winner: TicWatch C2+
The TicWatch C2+ beats the Huawei Watch GT 2e in terms of its design and features. However, the Huawei Watch GT 2e holds its ground and is very remarkable for a budget smartwatch. It could even potentially beat the TicWatch C2+ if you value battery life and reliability over customizability and advanced features.
Please note, we purchased the TicWatch C2+ directly from mobvoi.com on 03/04/2021, click here to check the current price on the C2+.

TicWatch C2+ vs. Huawei Watch GT2e
When it comes to smartwatches, you have plenty of options. If you need a basic smartwatch that offers essential features such as health and fitness tracking and notification support, then Huawei has plenty of great options. And if you are a more advanced user who is looking for a more customizable OS. then Wear OS smartwatch such as TicWatch's offerings will better fit you.
And in today's comparison, we will be checking out a watch from these two companies.
We will be comparing Huawei's budget Huawei Watch GT 2e (full review) and TicWatch's entry-level TicWatch C2+ (full review).
This comparison is very interesting because the Huawei Watch GT 2e is one of our favorite watches simply because of the value that it brings to the consumer. So we will find out whether or not you will get more value for your money by paying more. Find out more by scrolling below.
TicWatch Brand Overview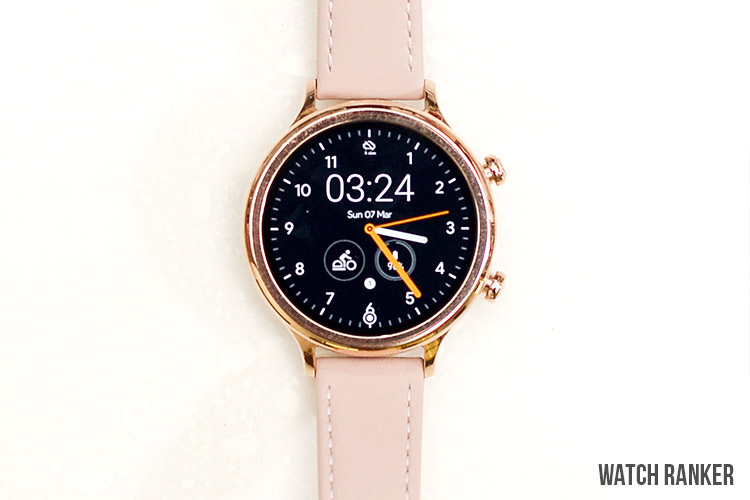 Check on Mobvoi | Check on Amazon
Mobvoi Information Technology Company Limited is a tech company based in Beijing, China. Founded in 2012 by Google AI experts, Nokia employees, and researchers from top universities such as Harvard and Cambridge with a focus on voice AI communication including revolutionary products include voice search engines featured on WeChat.
It was in 2014 when Mobvoi started venturing into the consumer electronics market. They developed an Android-based smartwatch operating system called TicWear OS.
And soon after, they worked together with Frog Design to release the TicWatch.
The TicWatch brand differentiated itself from other smartwatches by having a strong integration with their AI technology. Its launch was very successful and only trails behind the Apple Watch in the domestic Chinese market.
Today, Mobvoi continues to bring its expertise to the smartwatch market with the newer versions of the TicWatch. And with each new iteration, TicWatch gets one step closer to fulfilling its dream of ushering in the next generation of human and computer interaction.
Learn more about Mobvoi in our full TicWatch Brand Review.
Huawei Brand Overview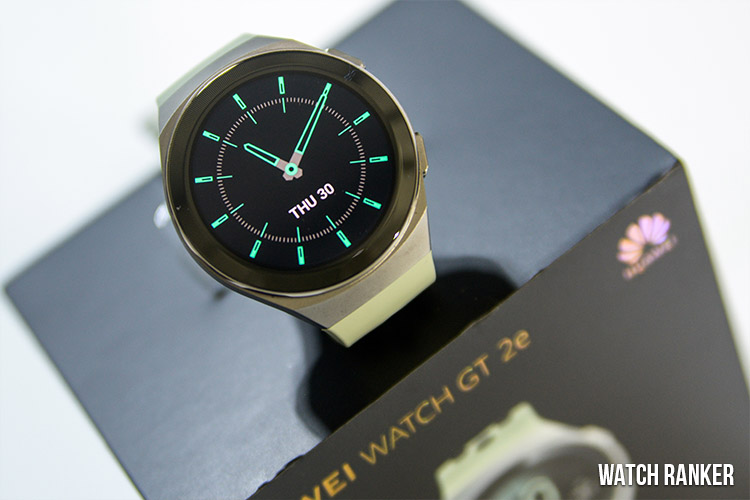 Huawei is no stranger to the smartwatch market. They have made successful smartwatches in the past, such as the original Huawei Watch and Huawei Watch GT. However, the success of their watches has largely been overshadowed by the success of their smartphones.
Their wearables have been mostly a side project in the past. However, in recent years, they have been consistently revamping their lineup and are proving to be a fierce competitor in the smartwatch market. This is evident with the successful release of the Watch GT Series.
Huawei has most notably moved away from Google's Wear OS platform and has developed its proprietary operating system called the Huawei Light OS. Their current lineup is simple and is easy to follow. It consists of the flagship Watch GT 2, the midrange Watch GT 2, and the original Watch GT (which may be discontinued in the future).
You can learn more about Huawei's history and product lineup in our Huawei Brand Overview.
Packaging and Unboxing Experience
Winner: TicWatch C2+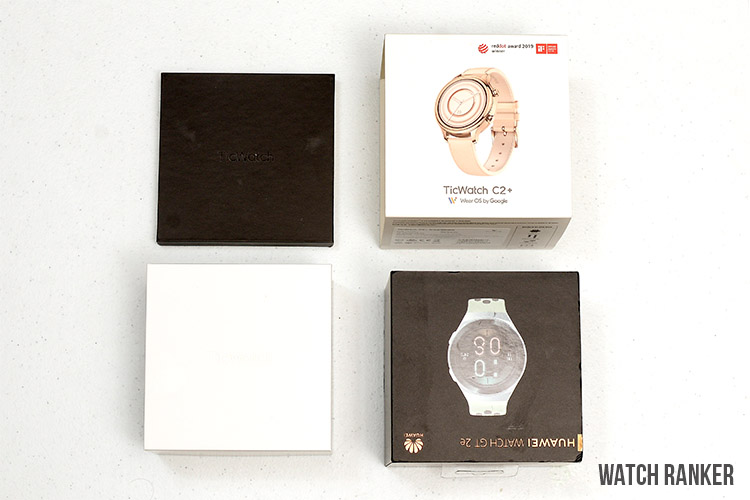 The unboxing experience serves as our first true glimpse of these smartwatches. They may not matter when it comes to the overall value. However, we believe first impressions matter a lot.
Fortunately, these two watches do not disappoint. Both give a luxurious presentation that truly makes you feel you are unboxing a premium wristwatch.
The Huawei Watch GT 2e's packaging is slick and minimalistic. It's rocking an all-black color scheme with an artwork that matches the watch's color scheme.
The presentation inside the box is very straightforward, with the centerpiece being the watch. All the other accessories are neatly packed in their own compartments.
Mobvoi takes things up a notch by presenting the TicWatch C2+ in a bigger packaging divided into three pieces. The outer box contains all the specs and the artwork, while the two inner boxes are kept clean with just the TicWatch logo on the front.
The larger inner box contains the watch, while the smaller one contains the additional silicone strap with fine details that matches the watch's color scheme.
The C2+ is the immediate winner when it comes to its initial presentation and truly reflects its higher price point. However, the GT 2e is no slouch and still manages to impress even with its budget price. But overall, both watches are guaranteed to give a lasting first impression.
Design and Build Quality
Overall Winner: TicWatch C2+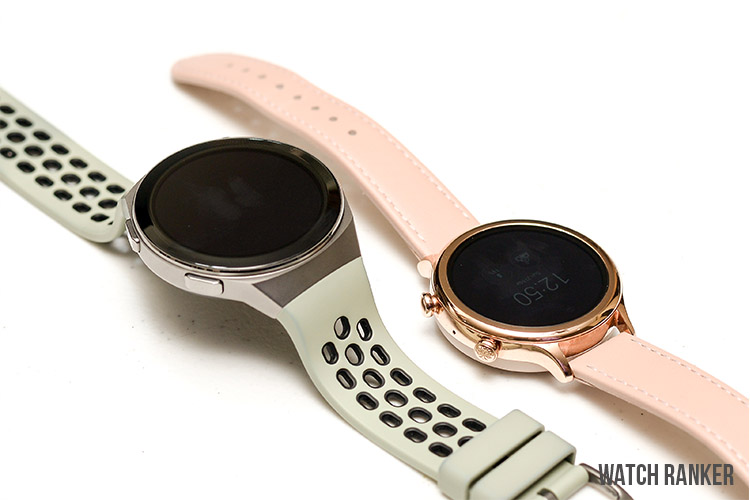 Following the theme of the unboxing experience, the TicWatch C2+ shows its premium status. Mobvoi has made sure that they make the TicWatch C2+ as gorgeous as possible.
The TicWatch C2+'s design is pretty much inspired by classic analog wristwatches. It has two fully programmable buttons on the side and an AMOLED display on the front. There aren't any bezel markings or curvature on the glass, but the clean front panel makes it adapt easily to any kind of watch face.
Everything about the watch feels premium. The button clicks are solid, the aluminum body feels sturdy, and the stock genuine leather strap is comfortable. There are even small details, such as the very subtle branding on the strap and the small textured logo on the first button.
The Huawei GT 2e, on the other hand, has a more sports-oriented design. This naturally means that it won't look as good as the TicWatch C2+. However, this tradeoff is made to ensure that it is as effective as possible for sports-oriented tasks.
Compared to the TicWatch C2+, the Huawei Watch GT 2e has flatter buttons. The whole watch is also larger than the TicWatch C2+. However, the GT 2e manages to weigh similar to the TicWatch C2+. The Huawei Watch GT 2e's body is made of stainless steel, which makes it feel more premium compared to Mobvoi's more budget offerings.
One thing I don't like about the GT 2e is that the strap does not allow the watch to be laid flat. Most sports watches also feature this, but I'm just not a fan of this design. You could actually drop the watch if you aren't careful due to the elastic nature of the strap.
Overall, the TicWatch C2+ is the better-looking smartwatch, but the Huawei Watch GT 2e isn't far off behind.
Display Quality
Winner: Tie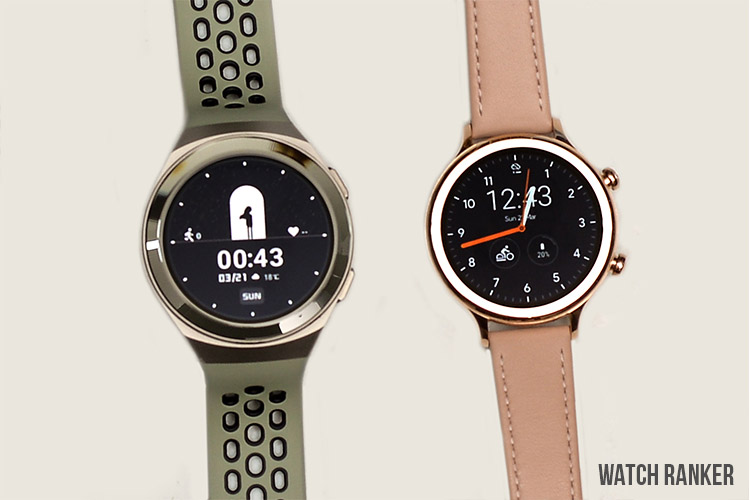 Both watches have high-quality AMOLED displays that display sharp and vibrant images. Throughout our testing, both watches can get very bright and can easily be seen both indoors and in bright outdoor environments.
But with that said, the Huawei Watch GT 2e's display is larger than the TicWatch C2+. It also has a higher resolution compared to the TicWatch C2+.
However, the difference in resolution is negligible since the TicWatch C2+ has a higher pixel density to scale with its smaller frame. I still personally prefer the larger display of the Huawei Watch GT 2e since it gives me more screen real estate, but this will come down to personal preference.
One key difference is that the TicWatch C2+ uses Corning Gorilla Glass 3 to protect its screen, while the Huawei Watch GT 2e does not officially have industry-standard screen protection. But with that said, we have personally tested out the Huawei Watch GT 2e for several months now and have not run into any issues.
If you want an official guarantee, then the TicWatch C2+ has a more durable display. But in practice, both watches displays are equally durable.
Features
Winner: TicWatch C2+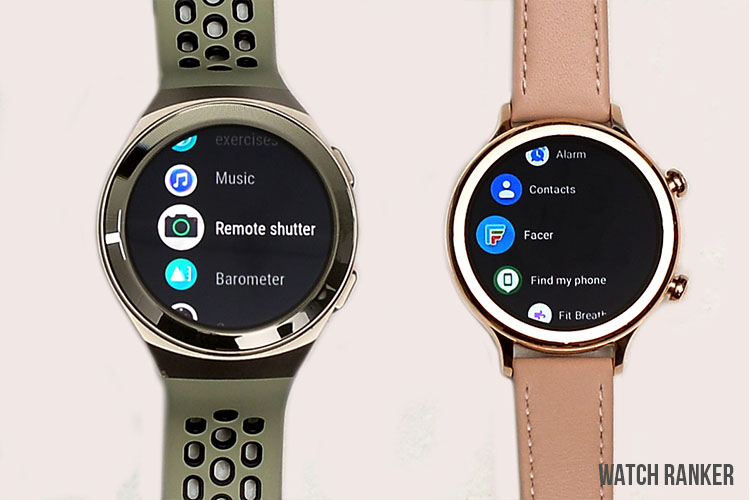 The Huawei Watch GT 2e is one of the best budget watches when it comes to the number of its features. It is one of the most complete smartwatches at its price point and will satisfy all your basic needs. However, the Google Wear OS platform is simply superior when it comes to customizability and features.
Both watches take care of the basics. They both have health and fitness tracking features along with a wide array of sensors and built-in GPS to give the best possible results. Both also have full notification support, which can be customized in their respective companion smartphone apps. Other essential smartwatch features such as alarm, timer, weather, find my phone are also present.
However, what sets the two apart is their software. Huawei's Light OS is more limited when it comes to the number of its features. You do get updates from time to time, but it is heavily reliant on how Huawei wants to handle the watch.
The TicWatch C2+, on the other hand, comes with both TicWatch and Google-enabled features. This means that it comes with TicWatch apps that are made specifically on the watch. It also means that it brings well-loved features from Google's other software platforms, such as Android.
One such feature is the ability to install first-party and third-party apps giving the user more customization options. You can add custom launchers, custom gestures, and a lot more. Additionally, the apps found on the Play Store can add additional functionality to the watch.
The Huawei Watch GT 2e does have its own unique features. It has a compass, a built-in music player, and sleep tracking. You can sideload these apps to the TicWatch C2+. However, we did not find an alternative that is as reliable as Huawei's offerings.
Additionally, the Huawei Watch GT 2e lacks hardware features such as a speaker and microphone, meaning it cannot be used for phone calls. It also lacks NFC for any type of cashless payment.
The TicWatch C2+, on the other hand, has NFC and can do cashless transactions via Google Pay. It also has a microphone for Google Assistant. However, it does not have a speaker meaning it cannot do phone calls. It also means that you'd have to read Google Assistant's responses which makes the experience less intuitive.
Overall, in terms of the raw feature set, the TicWatch C2+ easily beats out the Huawei Watch GT 2e. However, we'll know how well the two stack up against each other in a real-world scenario.
Health and Fitness Tracking
Winner: Tie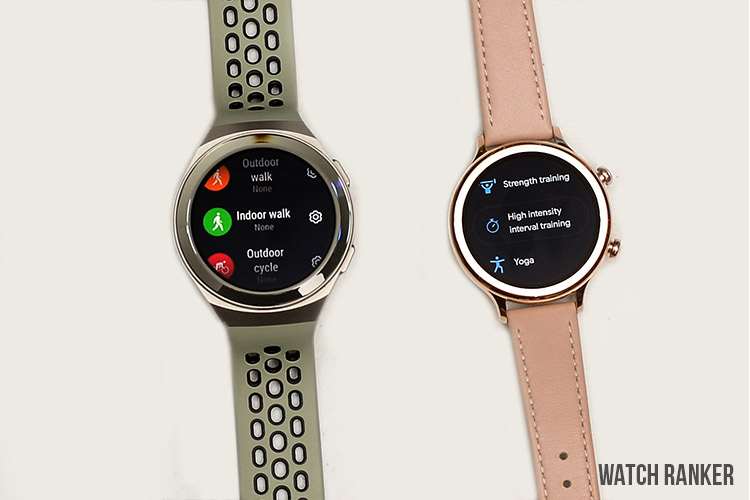 Both watches are very good options when it comes to health and fitness tracking. They both offer unique features.
The Huawei Watch GT 2e has all the essentials. It has reliable heart rate tracking as well as additional features such as stress tracking. Its sports mode is also very comprehensive, and its built-in GPS is fast and reliable.
The same can be said for the TicWatch C2+. However, it gives the user more options by offering both Google and TicWatch apps out of the box.
You can learn our full thoughts on the health tracking features in our full review. But the gist of it is that it is enough to satisfy both fitness enthusiasts and casual users. Additionally, you can install more apps that further enhance the fitness tracking experience.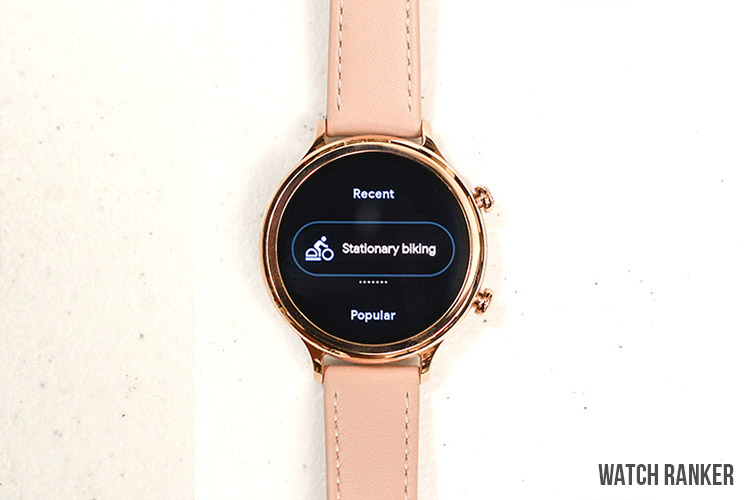 Our one complaint with Mobvoi's approach is that each app stores its own data and does not share it with the other apps. Huawei, on the other hand, has a more cohesive experience since everything is handled by the Huawei Health App.
Overall, both watches have their pros and cons when it comes to health and fitness tracking. But at the end of the day, both perform well and will surely satisfy most users' needs.
Watch Software Performance
Overall Winner: Huawei Watch GT 2e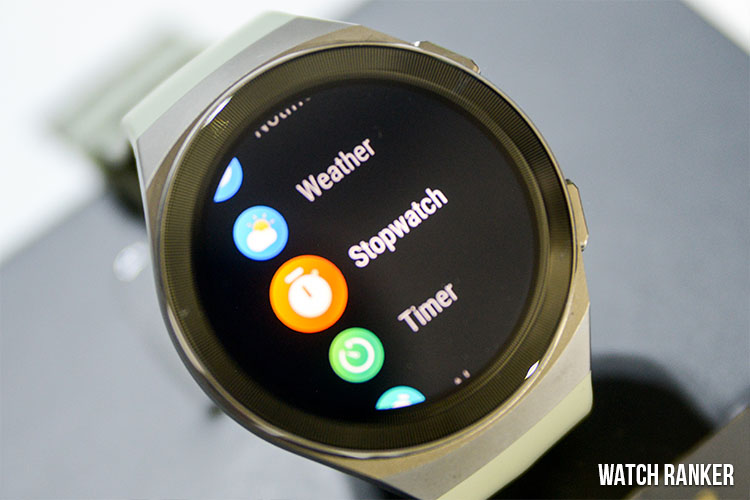 Despite the power of Wear OS, it is in the real world performance where the TicWatch C2+ fumbles. Wear OS is known to be a demanding and spec-heavy operating system. It isn't well-optimized, meaning manufacturers are forced to use higher-end components just to run the system smoothly.
And unfortunately, Mobvoi has decided to utilize the outdated Snapdragon 2100 processor for the TicWatch C2+. It is using 1 GB of RAM and is faster than Mobvoi's more entry-level offerings. However, we still encountered some slowdowns and issues that break the overall experience.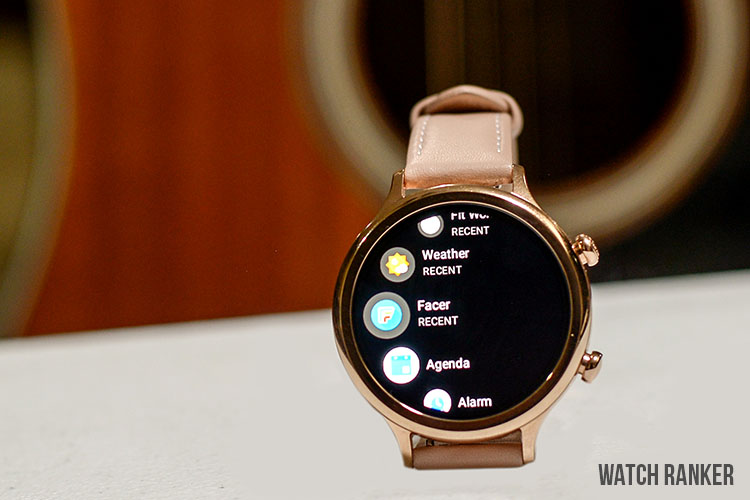 Don't get us wrong. Once you set everything up, the TicWatch C2+ is perfectly usable. Navigating the UI is mostly smooth, and apps usually open normally.
However, we still encountered bugs, slowdowns, and freezes from time to time. You can learn more about these in our full review. But the quick summary is, these issues shouldn't be present in a smartwatch, no matter the price point.
The Huawei Watch GT 2e, on the other hand, is utilizing Light OS and is powered by the company's in-house Kirin A1 processor. During our testing, the GT 2e never ran into any bugs, slowdowns, or crashes. It worked reliably each day which gives us confidence that it won't fail us during emergency situations. And we would choose a more smooth software experience over a flash and feature-packed but buggy one.
Watch Faces
Winner: TicWatch C2+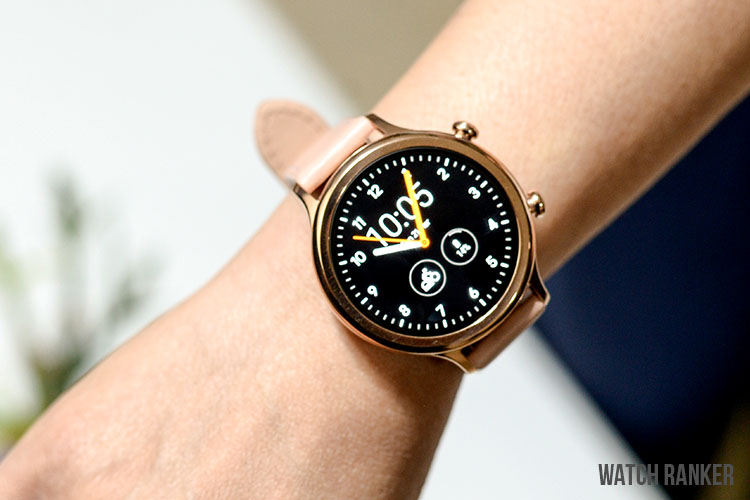 Despite the TicWatch C2+'s software performance, one of our favorite aspects about it is the selection of watch faces. The default watch faces that Mobvoi provides are great. However, the real potential of the watch is unleashed once you start downloading third-party watch faces.
Whether you like classy analog watch faces or futuristic fully animated watch faces, the TicWatch C2+ has you covered. A lot of these watch faces may need tweaking, but they will surely satisfy advanced users who aren't satisfied with the stock watch faces provided by the company.
Huawei's selection isn't bad. In just a few years, they were able to expand their offerings which include a lot of great-looking watch faces. They also have collaborations and a lot of premium watch faces that are easily worth their asking price.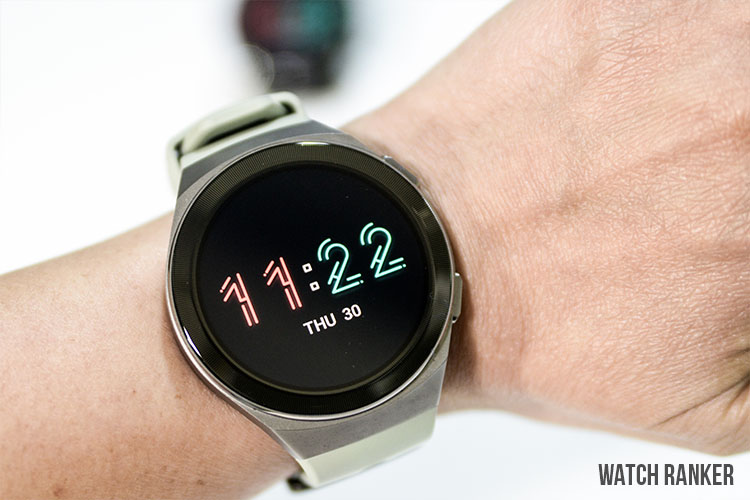 The AOD implementation is also better with the TicWatch C2+. AOD watch faces are based on your current watch face. And in some apps, such as A/D Watch Face, you can set what the AOD watch face looks like. And as a bonus, an animation will trigger and serve as a quick transition when the screen is waking up.
AOD Watch faces are more limited on the Huawei Watch GT 2e. Aside from the preset designs, there aren't too many options.
Overall, both watches won't disappoint you in terms of watch face options. But if you want better flexibility and customization options, the TicWatch C2+ is the clear winner.
Battery Life
Winner: Huawei Watch GT 2e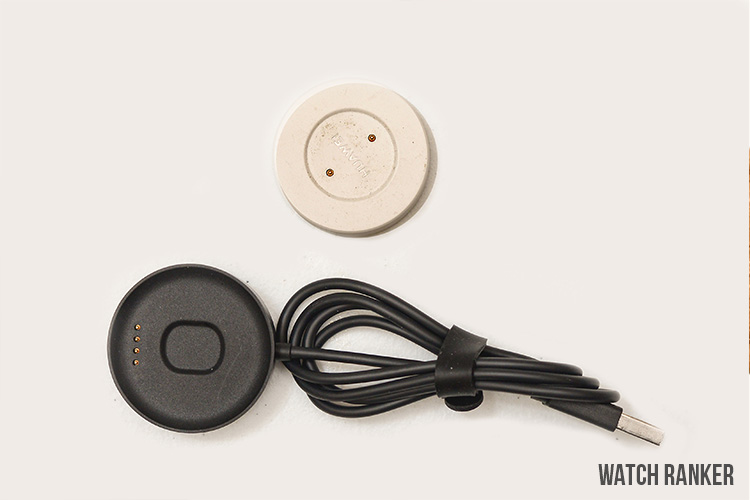 The battery life is one of the worst features of any Wear OS Watch. The TicWatch C2+ can only last up to two days. And in our testing, it already needed a recharge by the end of the first day.
In comparison, the Huawei Watch GT 2e could easily last up to two weeks. Even when using features such as GPS and always-on display, you will still get at least a week of use.
Of course, the huge difference in their battery life is because of the difference in the number of their features. But even then, when considering how similar the core functionalities of these watches, the Huawei Watch GT 2e easily beats the TicWatch C2+ in terms of battery life.
Both watches have their own proprietary magnetic chargers. We are fine with Huawei's implementation since we only use the charger twice a month. Plus, it features a detachable USB Type-C cable which makes it easy to transport.
But for the C2+, we wished it had other charging methods such as wireless charging since we do not want to bring the magnetic charger with us on a road trip. And its non-detachable cable means we have to carry the whole thing around.
Comparison Winner: TicWatch C2+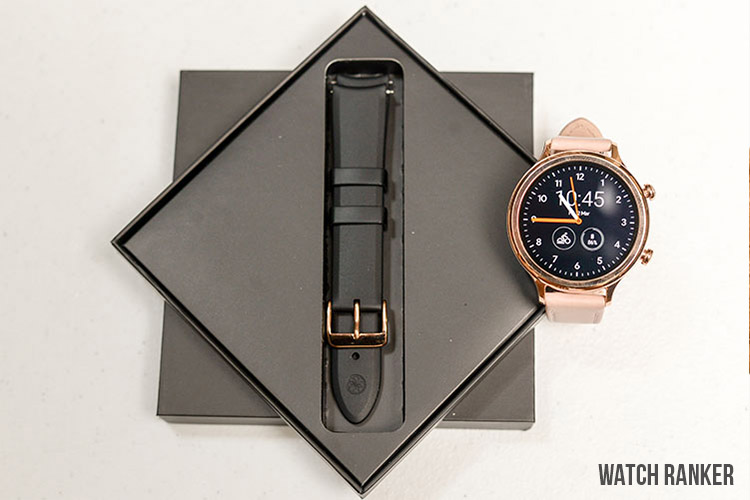 Overall, despite some of its issues, we still enjoyed using the TicWatch C2+. Its ability to be customized and fit any users' needs outweighs its flows. But with that said, the Huawei Watch GT 2e is still a remarkable smartwatch.
It has great battery life and a reliable software experience. If any of the TicWatch C2+'s features are deal breakers for you, then we are very comfortable in recommending the Huawei Watch GT 2e or even the higher-priced Huawei Watch GT 2 instead.
Specs
Screen Size
1.3" AMOLED Display
1.39" AMOLED Display
Screen Protection
Corning Gorilla Glass 3
No Official Certification
Screen Resolution
360 x 360 pixel
454 x 454 pixel
Input Type
Touch Screen
Touch Screen
Watch Dimensions
42.8 x 42.8 x 12.7 mm
53 x 46.8 x 10.8 mm
Weight
42 grams
43 grams (without strap)
Watch Case Material
Polyamide & glass fiber, stainless-steel bezel, aluminum back cover
Stainless Steel + Plastic
Watch Design
Circular
Circular
Strap Material
Genuine Leather/Silicone
Silicone
Strap Color
Color Match/Black
Color Match
Watch Colors
Black and platinum
Rose-gold
Graphite Black, Lava Red, Mint Green, and Icy White
Water Resistance
IP68
Water Resistant up to 50 Meters
Swim-proof
Not recommended
Yes, recommended
NFC
Supported for Google Pay
Not Supported
GPS
GPS/GLONASS/Beidou
Supported
CONNECTIVITY
Wi-fi
Yes
No
Bluetooth
Yes
Yes
SENSORS Accelerometer
Yes
Yes
Heart Rate
Yes
Yes
Compass
No
Yes
Gyroscope
Yes
Yes
Altimeter
No
Yes
SPO2
No
No
Elevation
No
Yes
Ambient Light
Yes
No
Barometer
No
Yes
FITNESS TRACKING
Sleep tracking
No (Possible with Third-Party App)
Yes
Steps
Yes
Yes
Floors Climbed
No
No
Heart Rate Monitoring
Yes
Yes
Calories
Yes
Yes
Distance
Yes
Yes
Stress
No
Yes
VO2 Max
No
Yes
Blood Oxygen
No
Yes
Blood Pressure
No
No
Menstrual cycle tracking
No
No
Swim tracking
No
Yes
Underwater heart rate
tracking
No
No
On-screen workout modes
No
No
Triathlon mode
No
No
ECG tracking
No
No
Preloaded sport modes
Yes
Yes
Safety tracking
No
No
Battery Life
1-2 Days
7-14 Days
Battery Technology
Li-Ion
Li-Ion
Charging Time
About 1-2 Hours
About 1-2 Hours
Charging Type
USB based charging dock
USB based charging dock
Compatible OS
Android
iOS
Android
iOS
NOTIFICATIONS
Email Alert
Yes
Yes
SMS Alert
Yes
Yes
Calls Alert
Yes
Yes
Event Reminder
Yes
No
Weather
Yes
Yes
Third-party Apps
Yes
No
MEDIA
Audio
mp3/mp4
mp3/mp4
Music Streaming
Yes
No
Bluetooth Music
Yes
Yes
Loud Speaker
No
No
Microphone
Yes
No
CLOCK FEATURES
Time/Date
Yes
Yes
Stopwatch
Yes
Yes
Alarm
Yes
Yes
OTHER FUNCTIONS Control camera
Yes
Yes
Music Control
Yes
Yes
Find Phone
Yes
Yes
Text Response
Yes(Android Only)
No
Answer Call
Yes
No
MISC
Payment System
Google Pay
No
Companion App
Wear OS App
Huawei Health
Customizable watch face
Yes
Yes
Interchangeable band
Yes
Yes
Voice command
Yes
No
Internal Storage
4 GB
4 GB
Operating system
Wear OS by Google™
Huawei Light OS