There is perhaps no gift more complicated to buy than the anniversary gift. When searching for the perfect present for a significant other, you want a gift that reflects their personality, as well as your personal relationship, and the amount of time you've been together. That can be a tricky needle to thread.
An anniversary present will ideally be more personal than a birthday gift, yet it's the only event that comes with a guideline that dictates the gift type. The idea of a year-specific anniversary gift is old-fashioned, but people still like the structure of it. Even as many other traditions have fallen by the wayside, the traditional anniversary gift remains popular.
One way to keep the tradition alive while maintaining the personal touch in your gift-giving is to reframe the gift types as a reflection of your significant other's interests. This can actually be easy to watch lovers because timepieces come in many different styles and materials.
If your "significant other" is a watch aficionado, we have created a helpful guide to help you select the right gift to commemorate the big milestones in your relationship.
If you want to personalize your gift even more, here are 50+ watch engraving ideas to get your creative juices flowing.
Traditional Anniversary gifts
The tradition of giving year-specific anniversary gifts goes back to the Middle Ages, at least, though it wasn't until the 1930s that the tradition expanded to include essentially every year. In fact, for a long time, the only significant anniversaries were the 25th and 50th. That probably explains why those two tend to be the only ones that everyone remembers the gift for silver and gold, respectively.
The specific anniversary gifts are largely a western tradition, but even among western countries, they vary. The US and the UK, for instance, don't match, sometimes transposing years, or sometimes being completely different. Furthermore, in recent years, traditional gifts have changed considerably.
This makes the whole concept a bit more complicated, especially if you're already having a hard time figuring out what to buy. On the other hand, it also opens up the options a little bit.
For instance, the traditional 1st-anniversary gift is paper, whereas the modern gift is a clock (fittingly enough for our purposes). The traditional 5th anniversary is wood, while the modern is silverware; the traditional 10th is tin or aluminum, and the modern is diamonds or jewelry.
As you can probably see, the modern list has moved away from simple materials to more specific items. Perhaps this was intended to make gift buying a little easier, especially as the modern world has so much more stuff available to buy. Unfortunately, it also takes away some of the creativity of gift-giving.
For our purposes, we're going to use the traditional list. It's more fun and allows us to play around with unexpected gift ideas.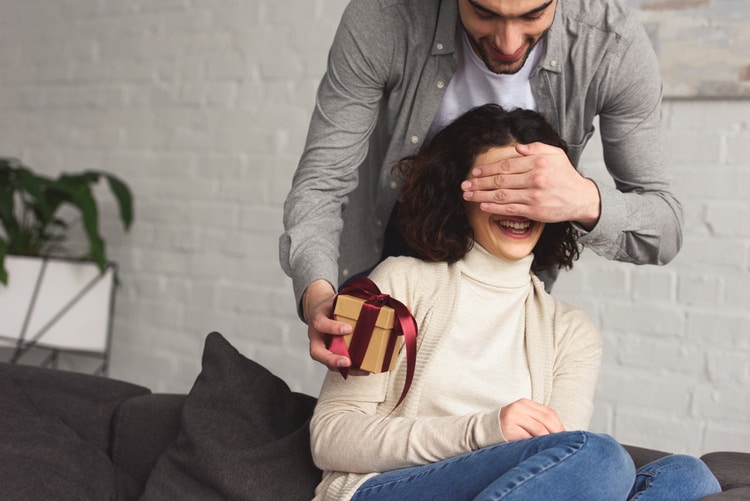 Anniversary Watch Gifts
1st Anniversary – Paper

You might be surprised to learn that there actually are paper watches. Take for instance the Pavaruni Paper Watch, a 1 mm thick, lightweight digital watch. It's available in a range of colors and designs and is surprisingly durable (for a paper product). It's even waterproof, though, you wouldn't want to take it diving.
This is a fun novelty gift for a man or a woman. It won't replace anyone's preferred luxury watch, but it's not meant to. A first-year anniversary gift is always meant to reflect that the relationship is relatively new and that there are many more years ahead to make the bond even stronger. Even if you're partner never actually wears the watch, it's a unique way to say you've enjoyed the time together so far and you're excited for the time yet to come.
2nd Anniversary – Cotton

If your partner already has a beloved watch, the best gift you can buy for her or him isn't a completely new one, but rather a new set of straps. Cotton straps make for a nice, personal 2nd-anniversary gift. Consider a nice set from Barton, like their Canvas Watch Straps that are specifically designed to fit both small and large Apple Watches.
3rd Anniversary – Leather

Leather watch bands are always in fashion and look great on almost everyone. You can always go with classic, handmade leather straps (for all wrist sizes).
If you want something a little more unique, though, check out the cuff-style watch band by Nemesis. This genuine leather strap will stand out from all the other bands in your SO's collection. Click here to see how to measure watch bands.

4th Anniversary – Linen/Silk

Linen and silk aren't two materials that are generally associated with watches. Both of them are a bit too delicate to make a strong watch strap, but that doesn't mean they can't still work. Take for instance this Linen Melange Perlon strap from Crown & Buckle. Perlon straps use interweaving threads to produce a woven look and the material is welded to prevent fraying.


Timex also sells a Women's Originals Linen Minimal. This elegant watch has a minimalistic dial without any numbers.
The watch face lights up using INDIGLO® Night-Light and the key to this 4th-year-anniversary gift is its natural pink linen watch strap.
Silk is obviously too flimsy to serve as a strap on its own, but when combined with leather, as it is in this black luxury spun silk watch strap, it's actually surprisingly durable. It's a classy look that could fit with even the most luxury watch brands, though do be warned that it is definitely not water-resistant.
5th Anniversary – Wood

Wood straps are nothing new. Like stainless steel bands, wood straps use interlocking links to create flexibility.
The zebrawood Ottm Watch Band is designed to fit the 42 mm Apple Watch, which makes for a nice juxtaposition of the old and the new.
If you want more than just a watch strap for your 5th anniversary, take a look at these Wooden Watches. Designed for both men and women, completely wooden watches offer a unique style and statement. They combine a pleasantly rustic look with practical, analog functionality. This is a truly unique gift for your watch-loving significant other.
6th Anniversary – Iron

Stainless steel is, in fact, iron. That makes finding a watch for your 6th anniversary a little boring. instead of being so literal for this year, consider the Junkers Iron Annie pilot watch. Constructed to resemble the dials of old planes, the Iron Annie watch has a stainless steel case and leather straps and utilizes quartz movement. Who doesn't like a little pun with their present?
7th Anniversary – Wool/Copper

Like cotton and linen, wool is far more commonly thought of as clothing material than watch material. All the more reason to go with a cool, wool strap for your anniversary gift. The Shore Projects Cowes Watch definitely goes for style over flash, but with its burgundy wool strap, it will still stand out from the crowd.
You don't see a lot of things made out of copper anymore. Even the penny has largely left it behind. That's too bad, though, because the cooper tone can be very striking. Take for instance this G-Shock GA-110 Watch for men with copper dials.


Even beyond the look, a G-Shock watch is tougher than almost any other watch on the market. Give the special man in your life a watch that will still be around for the 66th anniversary.
8th Anniversary – Bronze

Like cooper, bronze is a material that seems to have fallen out of favor. There's just something old-fashioned about the look of bronze, but that doesn't have to be a bad thing.
This style might not be for everyone, but it will definitely impress the watch collector in your life. Check out our top bronze watch recommendation here.
9th Anniversary – Pottery/China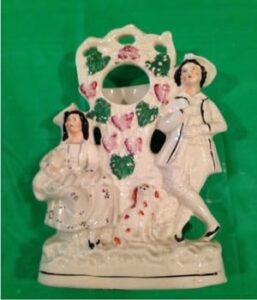 Let's be honest, no one wants a watch made out of China. Besides being extremely fragile, it's just too heavy to be practical. That doesn't mean you can't keep with the watch theme. If you've been giving your SO watches and watch bands every anniversary for the last eight years, they are going to need a watch holder.
Consider an antique Staffordshire Ceramic Watch Holder. At the very least, you can be pretty sure your husband or wife hasn't already gotten one for themselves.
10th Anniversary – Tin/Aluminum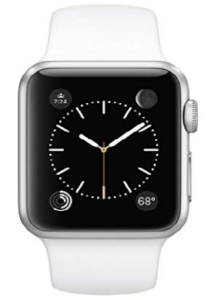 Now we've reached the big anniversaries. Sure, every year with your significant other is special and you wouldn't trade one of them for anything else in the world. But, let's face it, round numbers just make for more special anniversaries. The 10th, in particular, is the first of what will surely be many major milestones in your relationship.
All the more reason to go out and pick up something a little fancier, like the aluminum Apple Watch 7000 Series. The Apple Watch series make great gifts for men and women. This smartwatch, in particular, is a sports watch, which means it has fitness trackers as well as an accelerometer and a gyroscope. It connects to the iPhone via Bluetooth so that you can also receive phone and message notifications to your wrist.
(Tin watches really aren't a thing, but you can always find a nice tin box to give your gift in.)
15th Anniversary – Crystal

From here on out, the options really open up. It's fairly common to find a watch with a sapphire crystal face these days. For instance, this pair of men's and women's Eco-Drive watches from Citizen would make excellent anniversary presents.
A Japanese watchmaker, Citizen has made a name for itself by producing high-quality, energy-efficient watches at a very affordable price. On top of that, Citizen watches are great fashion pieces, so your significant other will surely enjoy wearing it out, always carrying a reminder of your love with them.
25th Anniversary – Silver

Silver has been one of the most popular materials for jewelry for centuries (fun fact, the debate over the Gold Standard versus the Silver Standard inspired L. Frank Baum to write The Wizard of Oz). For watches, though, it isn't the most practical material and when you look for silver watches, what you'll generally see is "silver-tone."
That doesn't mean they aren't still great watches. Renowned Swiss watchmaker, TAG Heuer, knows how to make a silver-tone shine.
This pair of men's and women's watches really showcases what makes the brand so special. Both have Swiss quartz movement and are highly water-resistant, but the most important factor is their elegant style and sophistication. The special man or woman in your life would be lucky to get one of these to commemorate a quarter-century of love.
50th Anniversary – Gold
No one needs to be sold on gold. Gold watches will always be shorthand for refinement and wealth. The same goes for perhaps the best-known watch brand in the world, Rolex. To celebrate 50 years together, consider going with Rolex's classic Datejust line of watches, made for men and women. This is an unforgettable line of watches that have been around since the 1940s. What a perfect way to commemorate a timeless love.
60th Anniversary – Diamond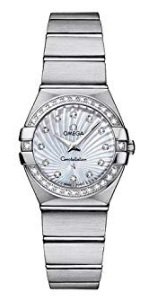 When you hear "diamond watch" you probably immediately think something gaudy or something ridiculously expensive. While both types do exist, there are plenty of diamond-infused watches for men and women that look classy and don't cost a million dollars.
For your 60th anniversary, you can go for this unique diamond Rolex Datejust or look to another Swiss watchmaker: Omega. Omega's Constellation Collection for Ladies includes an array of finely crafted, elegant timepieces that sparkle with beautiful diamonds. Like this Omega Constellation Steel Diamonds Luxury Watch.
Anyone of these fine watches would be a cherished gift and an heirloom to pass on for generations.
75th Anniversary – Diamonds/Gold
Many watches have gold, and many watches have diamonds, but finding the right combination of the two is rare. Like a couple that has been together for 75 years, when gold and diamonds are done right, it's like they were meant to be.
Omega has created an absolutely stunning 18K white gold and diamond watch for their Constellation series. Both in its design and inner workings, this is a timepiece as refined and rarefied as a 75th anniversary. For the watch aficionado who has been in your life for three-quarters of a century, there may be no greater present to tell them that it's been a great ride.
Whether your relationship is brand new or it has been aging like a fine wine, there is always a timepiece or related accessory to show your significant other that you love them, you know them, and you can't wait to spend even more time with them.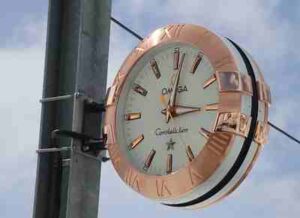 ---
Related Video: Other Anniversary Gift Ideas Year by Year