The Apple Watch is the bestselling smartwatch on the market. With over 100 million users and close to 30% share of the smartwatch market, there are lots of good reasons to buy an Apple Watch. However, there are a few reasons why this might not be the choice for you. We'll go over both the pros and cons of the Apple Watch.
The cutting-edge smartwatch incorporates a wide range of fitness tracking and health-oriented capabilities with iOS and other Apple products and services.
Although we will be discussing the Apple Watch's pros and cons in general, some of the things mentioned here apply specifically to the latest generation of the watch, the Apple Watch Series 7.
The most significant advantage of the Apple Watch is its improved health and fitness tracking, having saved several lives with its heart rate monitoring and fall detection. Apple has always excelled at design, and the Apple Watch is no exception. The biggest downsides are price and limited compatibility with non-IOS users, as you need an iPhone to use the watch to its full capabilities.
Apple Watch Pros
Workout Tracking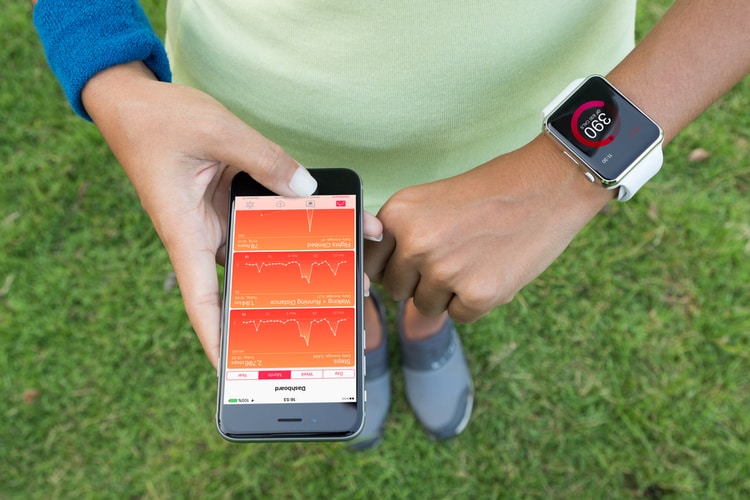 Whether you walk, run, hike, or do yoga, an Apple Watch can track your workout sessions and show stats in real-time. That means displaying the distance traveled, the time elapsed, heart rate, pace, and calories burned.
You can start a workout from the Workout app manually by opening it and choosing from 12 different options (running, walking, cycling, swimming, etc.). Follow the prompts on the screen to start a workout, and swipe right to pause/end it.
There's also automatic workout detection. When the watch senses you are beginning a workout, you will alert you if you want to start tracking. You can respond to that notification and choose the type of exercise.
Proactive Health Monitor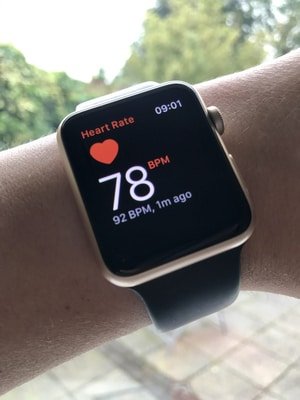 An Apple Watch can track your health data, and it can monitor your heart rate, blood pressure and keep track of your exercise activities. Not only that, and it will also alert you if it detects irregularities in your health condition, such as arrhythmia.
Besides the usual health data, the Apple Watch Series 4-7 have Fall Detection feature. The watch uses the accelerometer and gyroscope to detect if you have fallen. When such an incident occurs, a hard fall alert is delivered. You can either initiate a call to emergency services or dismiss the alert.
If you are unresponsive after 60 seconds, the watch will automatically make an emergency call. Your emergency contacts will be notified and sent to your location.
Series 6 introduced advanced health sensors, including the Blood Oxygen app and ECG app; these apps and the heart rate monitor have already helped save people's lives by detecting heart irregularities.
Sleek Design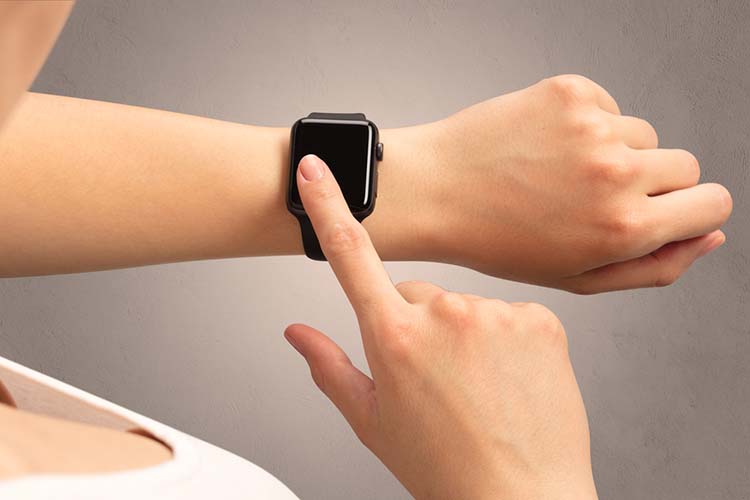 Design has always been an essential aspect of any Apple product, and the Apple Watch is no exception. The watch has a sporty, sophisticated, and classy look with its rounded corners and interchangeable straps. The display is sharper than other smartwatches, and the digital crown allows users to scroll or zoom without blocking the screen.
Large Display
The Apple Watch Series 7 has the largest display to date. The larger 45mm version has a display of 396 by 484 pixels, equal to 1,143 sq mm display area. The smaller 41mm model has 352 by 430 pixels.
(904 sq mm) display area. That's more than 50% larger than Series 3.
Apple had increased the screen size of the Apple Watch Series 4 to be 30% than the Series 3 and passed that size increase on to its later watches up to the Apple Watch Series 7.
The 4 and 5 models are available in two sizes: 40 mm and 44 mm. The case is larger than that of the previous Apple Watch Series 3 (and Series 1 and 2 models), which were available in either 38 or 42 mm sizes. The bezels have also been reduced, making the display feel more immersive.
With the larger screen, users can see more complications (apps that run on the watch face). These include heart rate, workout status, weather, and battery life. The larger display also makes it easier to read text messages, view photos, look at websites, etc. While the watch has a large screen, it doesn't feel bulky on the arm, and this is because the Apple Watch Series 4 is thinner than its predecessors.
Send and Receive Calls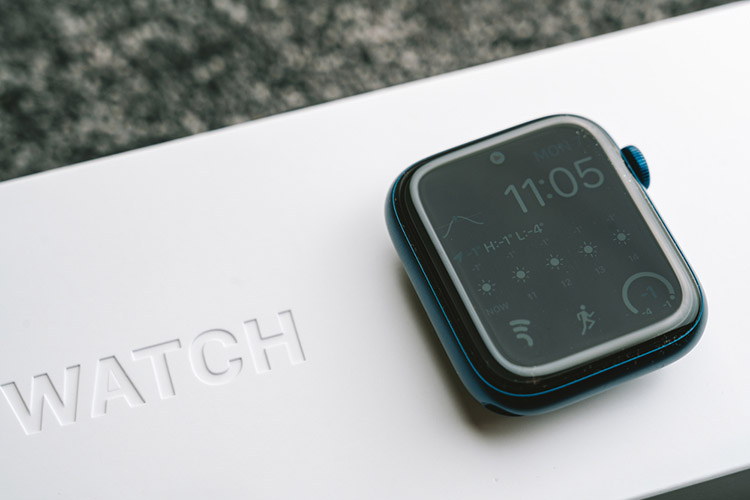 When paired with an iPhone, the Apple Watch allows you to make and receive calls (you can use the speakerphone). Although this feature is not as useful if you always have your smartphone close by, it will still appeal to many users.
Water Resistance
You may wear an Apple Watch during exercise (exposure to sweat is fine), in the rain, and while washing your hands. But can you take a shower or go swimming while wearing an Apple Watch? Well, it depends. Apple Watch Series 1 is splash and water-resistant, but submerging isn't recommended.
Apple Watch Series 2, through series 7  are rated as water-resistant (Swimproof) to 50 meters, meaning you can use them for shallow-water activities like swimming in a pool. However, you shouldn't use them for scuba diving, water skiing, or other activities involving high-velocity water like water-skiing or submersion in deep water (not for scuba diving)
Showering with Apple Watch is okay (Series 7 and earlier models back to the Series 2), as long as you don't expose it to soaps, shampoos, lotions, and perfumes. These products can negatively affect acoustic membranes and water seals.
Keep in mind that not all bands are appropriate for water use. If you want to upgrade to a steel or leather band, you shouldn't expose it to liquids. Additionally, an Apple Watch should be cleaned with clean water and dried with a lint free-cloth if it comes into contact with anything other than fresh water.
Cellular Connectivity
Stream music, send text messages and call people through a data connection without the need to be connected to an iPhone. The Apple Watch has had GPS + cellular capabilities starting with the Series 3 (and every model since then).
Storage Capacity:
Apple Watch Series 7: 32GB of storage
Apple Watch Series 6: 32GB of storage
Apple Watch Series 5:  32GB of storage, doubling the 16GB included in the Series 4
Apple Watch Series 4: 16GB of storage, 2X the capacity of the Series 3 and earlier.
Series 3 (and earlier):  8GB of storage
Charging Speed
One of the main advantages of the newest Apple Watch Series 7 is the improvement in charging speed. The
Apple Watch Cons
Price
Like the iPhone, the Apple Watch targets the upper-middle to high-end market segments. As you may have guessed, the Apple Watch is pricey – the Series 7 launched with a price starting at $399, and the model with GPS and Cellular
starts at $499. There is a GPS-only model for $199, but most users looking to take advantage of smartwatch functionality, such as calls and notifications,  will want a cellular connection.
This price is higher than most brands available on the market, and many of the best smartwatches are under $300. Unless you're looking for a high-end multisports watch (from brands like Garmin or Suunto), you won't break into the $400-500 price range of the Apple Watch.
In part, you are paying for the name, not only the product. Some brands you may not have even heard of (such as Mobvoi) make feature-packed smartwatches for half the price of an Apple watch.
That being said, you get what you pay for, so you can expect high quality and a ton of features if you choose to buy an Apple Watch.
If you really want an Apple Watch and the price is holding you back, you can save quite a bit if you buy an older version (like the Series 3) since you'll always pay a premium for the most recent model.
Another option is to look at pre-owned and refurbished products (rather than brand new ones).
Battery Life
Battery life is an essential aspect of all electronic gadgets, and it allows users to use a device continuously without recharging it. A fully charged Apple Watch can last up to 18 hours, even if you use the watch throughout the day. Still, it lags behind other smartwatches like Garmin, Fitbit, and Samsung. When it comes to battery life – these smartwatches outperform Apple by a long shot.
Limited Compatibility
This is a deal-breaker for many android users. You need to have an iPhone to set up an Apple Watch. You need to use the Watch app on your iPhone to activate the Apple Watch, set up things like Apple Pay and iCloud, and activate cellular connectivity if your watch has LTE. An Apple Watch will only pair with an iPhone, not Android. While it's a Bluetooth device, the watch is specifically designed to work exclusively with an iPhone.
There are plenty of other options. You may be surprised to learn there are several smartwatch operating systems on the market, and users that do not own Apple products are likely to look elsewhere.
Conclusion
The Apple Watch is both stylish and functional. What started as a fashion statement is now focused on health and wellness. Depending on the model, this smartwatch offers workout tracking, health monitoring, and cellular connectivity.
With its sleek design and innovative features, the Apple Watch certainly deserves its place as one of the best smartwatches available today. After weighing the Apple Watch pros and cons, are you now ready to jump on the smartwatch bandwagon?
To learn more about the history and evolution of the Apple Watch, read our article dedicated to that topic.