In our previous articles on American watch brand Fossil, we covered the brand's history and reputation, its different collections, and some of its best Fossil models for men.
In this article, we're going to focus on some of Fossil's best models for women. Those who are looking for a smaller size, or those that have a more feminine style, read on. Below, we'll take a look at models off Fossil's wide range of styles from different collections—from simple analog designs to smartwatches, colorful to monochromatic color schemes.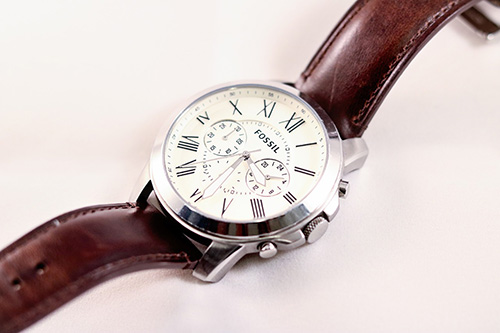 In no particular order, here are some of our top 15 picks of the best fossil watches for the ladies.
Best Fossil Watches for Women
Fossil Lyric Three-Hand Navy Leather (ES4708P)
We'll start off the list with the best sellers. The Fossil Lyric Three-Hand model is a chic watch that you can wear daily–a watch that's easy to match with any outfit because of its simplicity.
This is a 32mm watch that has a silver-tone dial and a striking navy leather strap. The indices are Roman numerals and the case material is stainless steel. If you'd like other similar models, this has a number of color and style versions as well (check this link for the complete choices).

Fossil Lady Forrester Three-Hand Date Stainless Steel (ES4868P)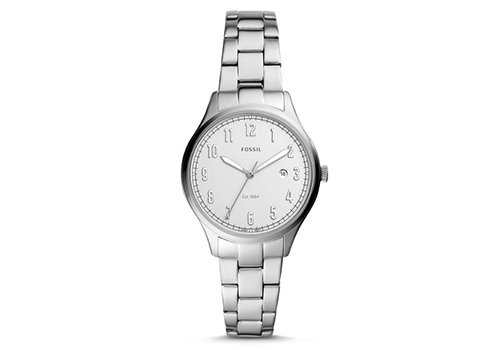 This watch has the right combination of a classic look and hip design. The 34mm Lady Forrester Three-Hand Date watch is a stainless steel model with a white dial and legible white Arabic numeral markers. What we particularly love about this model is the clean design—from the legible typeface to the simple white highlights.
There is a date window at 3 o'clock, and water resistance to 50m. This watch has a number of versions like gold-tone stainless steel, a rose gold-tone stainless steel and a two-tone (gold and silver) stainless steel.
Fossil Archival Series Mood Watch (LE1066P)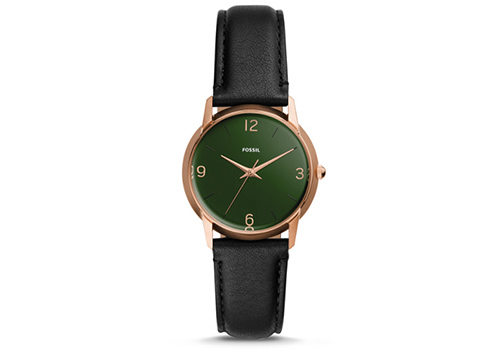 If you're looking for a fun watch that looks stylish and sophisticated, check out this model off the brand's Archival series.
We featured this watch in our Best Fossil Watches for Men article. This is the smaller version at 32mm (the men's version is 42mm). This mood watch, which has a color-changing dial, has a mood decoder on the back, as well as a simple black leather strap.

Fossil Lyric Three-Hand Stainless Steel (ES4721P)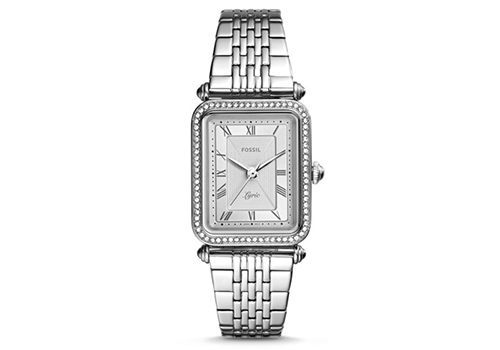 The Lyric Three-Hand Stainless steel watch has a stylish rectangular shape and a stainless steel material. Glamorous and versatile at the same time, this is an excellent accessory for those who want to turn simple, plain clothing into a chic outfit.
Some of the main features include a glitz bezel, a silver dial, and a stainless steel case and strap. The water resistance is 30m. If you're looking for something unique, this watch is an excellent model to consider.

Fossil Jacqueline Three-Hand Date Luggage Leather (ES4274P)
Read Amazon Reviews | See on Fossil.com
The Fossil Jacqueline Three-Hand Date Luggage watch has a slightly bigger case size at 36mm. This watch is a thinner 14mm strap as, which makes the case and the blue dial, stand out.
Fossil's homage to the outdoors, this is a versatile watch that can look rugged and classy at the same time. The markers are a combination of Roman numerals and indices, and the dial is a sleek blue.

Fossil Gen 5 Smartwatch – Julianna HR Blush (FTW6054P)
Read Amazon Reviews | See on Fossil.com
Fossil has a lot of excellent analog watches, but in recent years, it has also joined the smartwatch trend. The brand has received a lot of good praise for its wide range of smartwatches, including the latest Gen 5 models.
This Julianna HR Blush leather smartwatch is an elegant timepiece that looks chic with its rose gold color. Some of the main features of this 44mm watch include notifications (social media, text, apps, calendar, etc.), and the functions such as a heart rate tracker. Being Bluetooth-enabled also makes this watch swim-proof, so you can take it with you to the shower or the pool.
This model has two other color versions: gold-tone stainless steel or black stainless steel.

Fossil Sport Smartwatch 41mm Silicone (FTW6022P)
Read Amazon Reviews | See on Fossil.com
This is for those looking for a smartwatch that's more colorful. The Fossil Sports Smartwatch Silicone models, such as this one with the blue strap, is another good choice.
This has similar features with the Gen 5 we featured above, such as notifications, functions like GPS and heart rate tracking; but this one's smaller at 41mm, and has a nine color varieties (including yellow, red, blush, black, gray, light blue, orange, and neon. You can also play with different strap colors and materials, which are all available on the Fossil website.

Fossil Gen 4 Venture HR Rose Gold-Tone Mesh Smartwatch (FTW6031P)
Read Amazon Reviews | See on Fossil.com
The last smartwatch that we're including on this list is the sophisticated Gen 4 Smartwatch (Venture HR Rose Gold-Tone Stainless Steel) with a mesh band.
It has the features we mentioned in the two items above, but what we like most about this model is it has stylishness of an analog watch and the high-tech functions of a smartwatch. It's versatile—you can wear this in your workout, at the office, and on occasions where you need to dress up.

Fossil HR Charter Black Leather Hybrid Smartwatch (FTW7011P)
Read Amazon Reviews | See on Fossil.com
If you're not ready yet to go all digital but want smartwatch functionalities, check out Fossil's hybrid smartwatches, which look more like an analog watch than a digital watch, but have the features of smartwatches.
The Fossil HR Charter Black Hybrid Smartwatch has features such as notifications (text, email, social media, etc.), as well as fitness and heart rate tracking. Compatible with Android™ 5.0+, iOS 10.0+, this sleek and powerful 42mm watch has a black leather strap, and a rose gold stainless steel case. The battery life can also last up to more than two weeks on a single charge, so you don't need to always plug it in.
If you don't like the black strap, there's also a blush option, which has a silicone strap.

Fossil Cameron Gold-Tone Stainless Steel Hybrid Smartwatch (FTW5056P)
We also love the Cameron Gold-Tone Stainless Steel hybrid smartwatch. This has the same features as HR Charter above but has a smaller size (36mm).
This model has 10 color variations, so you'll have a lot of options to choose from: silver, two-tone gold and silver, rose gold; as well as striped and plain leather straps. One of the best things about this watch (and all the hybrid smartwatches in general) is it does not have to be charged. This model uses a CR2025 battery, which can last up to six months.

Fossil Finley Multifunction Two-Tone Stainless Steel (ES4789P)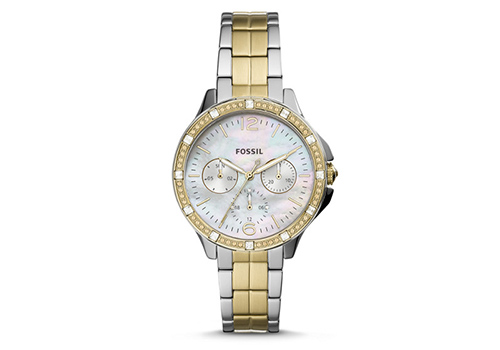 The Finley Multifunction Stainless Steel watch is for those who are looking for something that can be worn in both casual and more formal occasions.
This 38mm battery-powered watch has a subtle multicolored dial and a two-tone (gold and silver) bracelet. It also boasts of a multifunction movement, which is more accurate than a mechanical movement. According to Fossil, this multifunction "is typically built into three separate dials for the day of the week, date of the month and 24-hour time."
This watch currently has different color options to choose from, like gold-tone, rose gold-tone, and silver.

Fossil FB-01 Three-Hand Stainless Steel (ES4744P)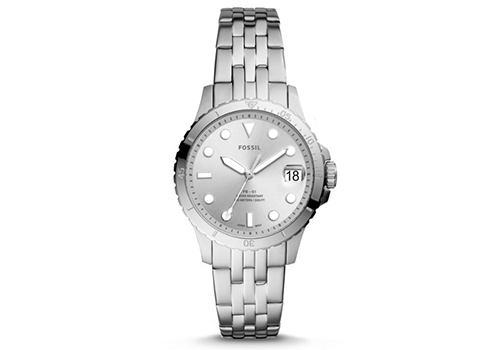 The thing that we love most about this watch is the simplicity of the design. A diver-style watch, the Fossil Three-Hand watch has a silver-tone sunray dial and a three-hand date movement.
The markers are white, and the strap is silver-tone stainless steel. There are seven colors to choose from, such as one with a mother of pearl dial multicolored dial, a two-tone stainless steel band with a black dial, rose gold-tone, and all-black. You can find different colors here.

Fossil Prismatic Mystic Three-Hand (LE1094P)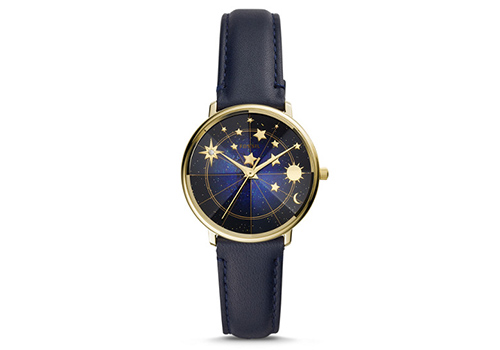 This limited-edition line of watches is for those who like astrology. The 33mm Prismatic Mystic Three-Hand watch has a navy leather strap, a glossy dial with faceted crystal, and a stainless steel case.
A simple analog watch, this is a good model for everyday use. There are no numeral or index markers, but the watch is designed with thin lines that will still allow the wearer to easily see the time.

Fossil Prismatic Galaxy Three-Hand Purple Leather (ES4727P)
Read Amazon Reviews | See on Fossil.com
Another one from the Prismatic line, the Prismatic Galaxy Three-Hand leather watch is a collection with a different strap and dial colors to choose from.
We love this Galaxy Three-Hand Purple leather model with a lizard strap, a stainless steel case, and a glossy purple dial. Other colors include yellow, blue, black, and red; and there's also a mesh gold-tone stainless steel option.

Fossil Carlie Mini Three-Hand Stainless Steel (ES4501P)
Read Amazon Reviews | See on Fossil.com
We'll wrap up the list with a bracelet watch that's affordable and elegant. The Carli Mini Three-Hand stainless steel watch is a 28mm with a mother of pearl dial with a combination of Roman numeral and stick indices. The stylish bangle makes it an excellent dress watch, and the best part is it's relatively affordable.
There are other bracelet style watches off this collection, such as gold-tone, silver, and two-tone stainless steel; as well as this simple yet elegant three-hand black leather model.
If you'd like to learn more about bangle watches, you can also check out this article on our website that features other different brands and bangle models.

Thank you for reading!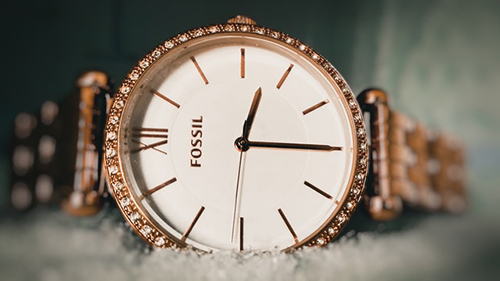 We hope this article was helpful! Fossil has a wide range of collections to choose from, so don't stop here. You can also explore the brand's website, where you'll find all the things you need to know about the watches, as well as suggestions on similar models, limited editions, and purchase add-ons like watch engraving. Thanks for reading!

Featured Image by Lotsoflocks