With long hours of duty being of service to the sick and injured, a nurse's job isn't exactly the easiest. It's a laborious job that doesn't only require diligence but also a lot of guts and a huge heart.
Nurses play a key role in helping doctors and providing primary care to patients. From carrying out medical procedures; doing paperwork; giving medical advisory and emotional support to families; down to every single need of the patients, a nurse does her or his job with full commitment to the betterment of patients' health.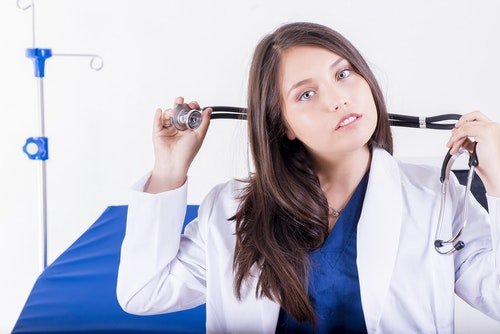 Nurses are proof that not all heroes wear capes. Donning their scrub suits and equipped with their knowledge and tools in healthcare, nurses help treat illnesses and injuries and even save lives. Moreover, timing is also an important aspect of their job, so a reliable timepiece sure does come in handy in their profession.

Best Watches For Nurses
The watches below are designed for female nurses, most have smaller case thickness and diameter and the bands are thinner.
While some of these are unisex watches, we've come up with a separate list of recommended watches for male nurses, most of which are more masculine and sized for men's wrists.

Wristwatches by Brand:
If you are looking for a smartwatch or lapel watch please scroll down.
Speidel Brand:
From Speidel, comes a series of watches that cater to medical professionals, called Scrub Watch. The watches in the series come in a variety of colors to match your scrub.
We present in this article, three watches from the said series. They all serve the same purpose, but each also has its own distinct features.
Speidel Scrub Watch
First is the original Speidel Scrub Watch. It's the quintessential watch for medical professionals.
The legible markings along with the high contrast of the colors in its dial's design, especially the red second hand against the white background, make an efficient design for readability and taking vital signs.
Apart from its timekeeping reliability, other convenient features of this watch include the 30-meter water resistance that'll protect it from accidental splashes bound to happen on duty as well as the durable and easy to clean silicone strap. Moreover, this watch can fit wrist sizes from 6.7 inches to 8.3 inches.
Speidel Women's Scrub Petite Watch
For a more feminine and smaller-sized option for women, especially for those who have a smaller wrist size, there are petite scrub watches available in Speidel's Scrub Watch subseries, Scrub Petite Watch.
Basically, the Speidel Women's Scrub Petite Watch watch provides the same features as the aforementioned standard Scrub Watch, but it's smaller in size and also has a few other features not present in its larger counterpart. Unlike the standard version, this watch has luminous hands and comes with water resistance to 50 meters, which makes it more impervious. In addition, as compared to the standard Scrub Watch that can fit a wide range of larger wrist sizes, this watch can be worn on wrists with sizes from 5.9 inches to 7.9 inches.
---
Speidel Scrub Glow Watch
As an upgrade to the original, Speidel brought forth another subseries of the Speidel Scrub Watch that features an added electroluminescent dial and more, called the Scrub Glow Watch.
The Speidel Scrub Glow Watch has all the features present in the Speidel Scrub Watch plus some improvisations.
The main highlight of this watch is its electroluminescent dial that can be lit up with a push of the button by the 2 o'clock position, which makes the dial easy to read even in the dark. Another added feature that enhances readability is the luminous hands. And from the 30-meter water resistance in the original, the water-resistance of this watch has been upped to 50 meters.
It's a bit more expensive than the former, but with the new and improved features, it's well worth the price.
Timex
Four watches from Timex have made it on our list. Although these watches weren't really designed to specifically cater to nurses, these watches that can take a licking and keep on ticking can surely manage and be serviceable in a medical center.
Timex Midsize Ironman Sleek 50 Classic Watch
The Timex Midsize Ironman Sleek 50 Classic Watch is a digital watch with a durable and lightweight design made of resin. So this watch can keep up with a nurse's demanding job, while maintaining comfortability. It's also easy to clean.
This is actually a sport watch equipped with sporty features like a stopwatch with 50-lap memory & interval training timer and countdown timer. Nevertheless, it also has the necessary watch features for a nurse.
It has a backlight for readability even in the dark, Timex's trademark Indiglo feature. And it's water-resistant to 100 meters.
This watch also comes with an alarm.
You'd be hitting two birds with one stone with this watch if you're a nurse who's also athletic.
---
Timex Women's Easy Reader Watch
The Timex Women's Easy Reader Date Expansion Band Watch boasts a clean and legible dial that is presented along with a sleek-looking brass case and stainless steel expansion bracelet.
In addition to the dial's minimalist design that makes it easily readable, this watch's mineral crystal dial window can prevent scratches that can impede your view of the dial. And to help you see the time in the dark, this watch has the Indiglo backlight feature.
Apart from the time, this watch also provides the date at the 3 o'clock position. This watch is water-resistant to 30 meters.
---
Timex Women's Expedition Metal Field Watch
Field watches have military roots, but it has some characteristics that can be useful to nurses as well, specifically in the dial—the plainness; high-contrast of colors; and legibility for easy readability. That is why the Timex Women's Expedition Metal Field Mini Watch got included in this list.
Apart from the earlier mentioned features present in a field watch, there are other features in this watch that make it perfect for a nurse. It has a red second hand that's highly visible against the white background, good for taking vital signs. And it has an Indiglo Light-Up Watch Dial for seeing the time in the dark.
And as a field watch, it has a pretty tough exterior. This watch is made with a metal case, scratch-resistant mineral crystal dial window, and nylon and leather strap. And it's reinforced with 50-meter water resistance.
---
Timex Women's Weekender Watch
The Timex Women's Weekender Watch is a stylish casual watch that is also suitable for the use of a nurse at work.
The most relevant features in this watch for nurses lies in the dial. It's easily readable. The yellow second hand contrasts to the white background. And it can be illuminated by its Indiglo feature.
It's also worth noting its durability. Its dial window is made of scratch-resistant mineral crystal. It's water resistant to 30 meters. And it has a sturdy nylon strap that won't easily tear when it gets accidentally snagged, which is also easy to clean.
---
Casio
Next, we have two sporty watches from Casio. These watches aren't really designed with nurses in mind, but it's their sporty nature that also makes them suitable for nurses.
Casio Women's Dive Series Sport Watch
Minimalist; durable; and has a bidirectional rotating bezel, the Casio Women's LRW200H-7BVCF Dive Series Sport Watch makes a convenient timepiece for nurses, despite not really designed for them.
For its dial, it has a plain white background with hour markers in different colors that blend nicely together but isn't too much, which makes it easy on the eyes. It also has a date display at the 3 o'clock position.
Although the second hand doesn't really contrast with the background, it'll still work fine if you have good eyesight. Nevertheless, it has a bidirectional rotating bezel that may also help in taking vital signs.
As it's made with resin, this watch is durable and easy to clean. Making up its dial window is mineral crystal, so it's scratch resistant. And it's water resistant to 100 meters.
---
Casio Women's Baby-G Analog-Digital Watch
As it belongs to the mighty G-Shock's equally tough subseries made for women, Baby G, you can bet that the Casio Women's BA-111-1ACR Baby-G Analog-Digital Watch is a durable and highly functional timepiece that could also come handy for nurses.
This stylish watch with a touch of femininity has a rugged construction and is easy to clean, as it's made of resin and scratch-resistant mineral crystal and is reinforced with G-Shock's propriety shock resistance as well as with 100-meter water resistance.
It has a high-contrast analog dial, although it doesn't have a second hand. But no worries because it also has a digital display that can help track seconds. Reading the time amidst poor lighting won't be a problem either, as it comes with an LED backlight.
Furthermore, same as every G-Shock, this watch is packed with features, such as 1/100-second stopwatch; countdown timer; five daily alarms with one snooze alarm; hourly time signal; full auto-calendar; and more. This would be good for a nurse who wants other convenient features aside from the healthcare-related features.
---
Swatch Women's White Bishop Quartz Watch
The Swatch Women's White Bishop White and Gold Plastic and Silicone Quartz Watch is a simply chic timepiece leaning towards casual style but also makes a perfect watch for nurses.
Its minimalist dial with contrasting white and gold colors adds to its appeal and at the same time is easy to read.
Along with the aesthetics in its design is durability. It has a strong silicone strap, and it's water resistant to 30 meters.
This cute durable watch is also easy to clean.
VAVC Scrub Watch
Another watch designed with medical professionals in mind is the VAVC Scrub Watch. The design is similar to the Speidel watches we reviewed above and is a direct competitor.
It has a clean, legible, and high-contrast dial that comes with a red second hand that stands out from the dial, perfect for taking vital signs.
This watch is pretty durable too. It's made with 316L surgical grade stainless steel, sapphire coated mineral crystal glass, and genuine calfskin leather. And it's water resistant to 50 meters.
---
Smartwatches
Apple Watch Series 6
In a nurse's job to take care of others' health, a good watch can come in handy for them. But their own health is something they should also take care of.
A smartwatch like the Apple Watch Series 6 can cover a nurse with features for their own personal health as well as features for their job.
The Apple Watch Series 6 is the hottest in the market right now and the latest in the evolution of the Apple watch. It has features a nurse could appreciate the advantages they can provide for work.
Since readability is a top priority, one feature in this smartwatch advantageous for nurses would be larger than ever Apple Watch display. This particular model has the largest display among all Apple Watches. Another one of its readability-related features is its interchangeable watch face, so you can choose a watch face most convenient for your job and according to your liking.
Apart from keeping track of time, this is also useful for nurses in other ways. Here, you can download healthcare-related apps for reference such as the popular Nursing Central app on iTunes.
Also, you can use the communication-related features here like phone notifications and even the Walkie-Talkie app for work-related matters.
Apple Watches are typically sporty by nature, so they're pretty durable for sure. They're also swim-proof, so it'll be safe from accidental splashes.
In a personal aspect, this gadget has features for keeping healthy like the heart rate monitor and activity tracker for workouts.
---
SAMSUNG Galaxy Watch Active 2
Basically, smartwatches are inclined to health and fitness apart from being another means of communication and providing access to all sorts of apps.
An excellent smartwatch that won't disappoint with such features and brings to the table some of its own distinct and advantageous features is the SAMSUNG Galaxy Watch Active 2.
Samsung uses a touch-sensitive bezel. This makes it user-friendly for healthcare workers as the features are easily accessed using the bezel rather than having to push buttons, although doing so with gloved hands may take some getting used to.
The watch is fast thanks to the Cortex-A53 processor and has a bright always-on display and has 4GB of internal storage which can be used for Podcasts or Spotify.
By connecting your Bluetooth headphones directly to the watch, you can use it tether-free.
Nurses will appreciate the heart rate monitor, an accelerometer, and blood pressure monitoring. It also has an IP68 rating which means it's dustproof and waterproof up to 1.5m making it easy to clean off.
---
Lapel Watches
Dakota Watch Company Mini Clip Microlight Watch
The Dakota Watch Company Mini Clip Microlight Watch is a reliable and durable timepiece that can be clipped onto a nurse's belt loop.
This 30-meter water resistant watch made of alloy has a clean dial with luminous hands and hour markers as well as a red second hand. An added feature to this watch is an LED flashlight with red light for preserving night vision.
---
Nurse Lapel Pin Watch
Another timepiece perfect for nurses who don't use wristwatches is the Nurse Lapel Pin Watch Hanging Medical Doctor Pocket Watch.
This waterproof alloy watch can be pinned on a nurse's scrub. Its easy-to-read dial comes with luminous hands and a red second hand contrasting against the white background.
---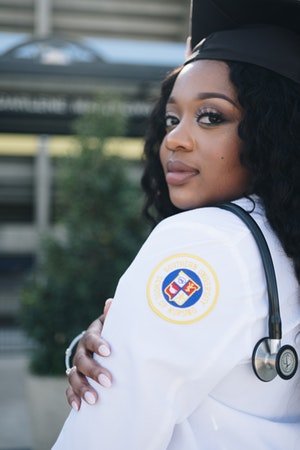 Buyers Guide: Nurse Watches
Characteristics Of An Excellent Medical Watch
So, what is the ideal watch for nurses? It has to be able to keep up with their profession. It has to have the practical features as listed below:
Clean, legible, and high-contrast dial – The dial must be free of any embellishments with markings big enough to see. And it has to have contrasting colors in its design to make the details clearer. This helps to read and keep track of time easily.
Visible second hand – Since a part of the nurses' job is to measure heart rates and other vital signs, which also involves tracking the time, the second hand must be in contrast to the background of the dial to be visible enough for medical procedures to be done precisely.
Luminescence – This feature can enhance the readability of the watch, especially in circumstances when there is poor lighting. Luminescent hands and markers can help or even better is a dial that can light up. This feature may also serve as illumination in the dark.
Water resistance – Nurses may also deal with liquids. So in order to not keep taking your wristwatch off during duty and so that you won't have to regret the destruction of a watch due to accidental splashes, your watch must be water resistant to at least 30 meters.
Easy to clean and durable band – As said earlier, nurses tend to deal with liquids at work, not just water or solutions but also bodily fluids. They also deal with all sorts of junk, so their job tends to get messy, and so can their watch.
An easy to clean watch would be one made with materials like resin, rubber, silicone, and nylon. Such materials also make durable bands. So in the circumstance that the watch gets snagged, the strap won't easily break.
Some jobs closely related to the nurse profession are the paramedic and emergency medical technician (EMT). That being said, the ideal watch for paramedics and EMTs also have the essential features a nurse needs in a watch.
That just about wraps it up for the features a nurse must look for in a watch to wear on duty. Keeping those aforementioned features in mind, a nurse may also choose what type of watch to use as she(/he) wishes, whether it be a wristwatch; smartwatch; or lapel watch.
If you opt for something that'll provide you the necessary features you need for your work and isn't too costly, then the wristwatch will do. If you want to have the convenience of high tech features that can also be useful at work, such as phone notifications for updates at work and access to healthcare-related apps as well as other features for personal use, you can get yourself a smartwatch. But if you work in a medical center where there is a "bare below the elbow" policy or if you'd simply rather do without a wristwatch/smartwatch, then the lapel watch could do the trick for you.
In our list of medical watches in the later part of this article, we've grouped the watches accordingly by their particular types under their respective subheadings for you to find the right watch for you.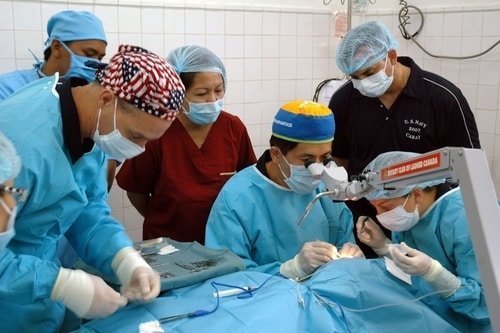 We always provide a variety of choices, for everyone has their own preferences. That's why here, we presented options for wristwatches; smartwatches; and lapel watches.
But when it comes down to practicality, hands down, the best watch is the Speidel Scrub Glow Watch. It has everything a nurse needs for work.