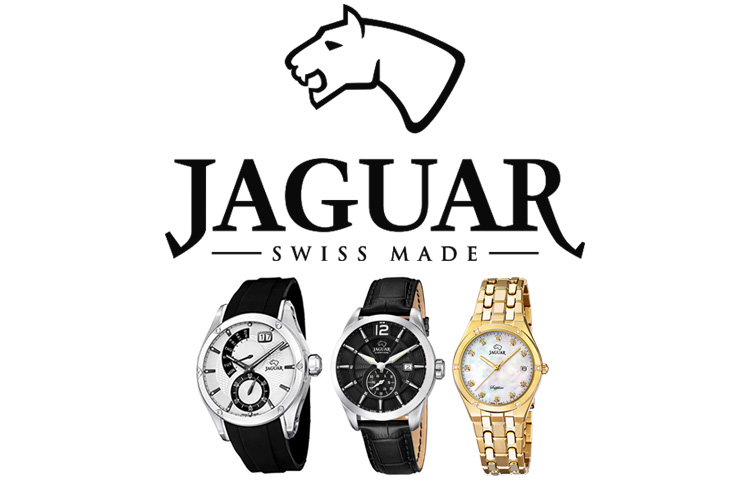 It's okay to be skeptical about owning a watch that has the same name as a famous car company. Jaguar is one such watch company. However, considering they have been around since 1938, maybe they are driven by different ideals and not simply riding on the famous Jaguar name and logo.
In this article, we deep dive into Jaguar, a watch brand with a name that causes some confusion. We examine their history, brand reputation, and the build quality of their watches. Most importantly, we answer the one question that's been troubling new watch buyers: is Jaguar a luxury watch company?
Hopefully, by the end of this article, you will have decided whether Jaguar watches are anything close to what they are hyped up to be, or merely over-priced, entry-level status pieces. Read on.
Jaguar Brand History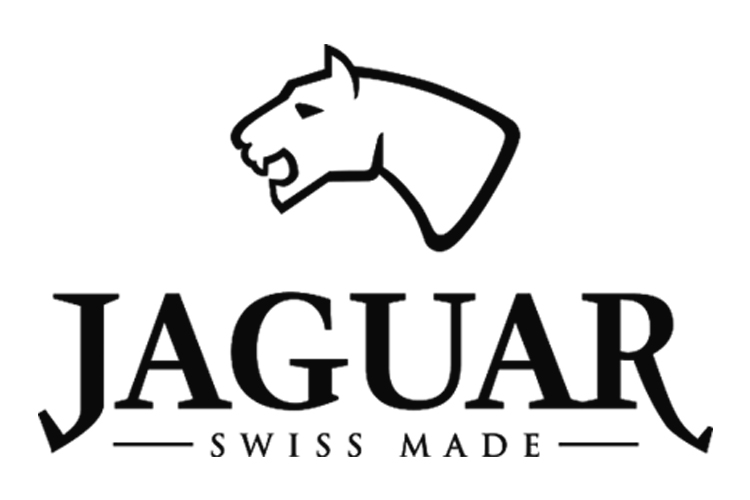 Swiss watchmaker Peter Haas founded Jaguar watches in 1938. He is famous for being the first watchmaker not to name his watch after his own name, which has become the norm today. Inspired by the jaguar, a feral animal known for its raw power and agility, Haas embarked on creating a brand, one that has become synonymous with elegance and power.
Jaguar's Nine Lives
In 1989, Festina Group acquired Jaguar. What followed was rigorous marketing and brand repositioning. Before being acquired by Festina, Jaguar had had a relatively quiet existence, barely living up to the same old Swiss traditions and lacking energy. The takeover was much needed. It gave the old cat a new lease of life. It reestablished its foothold on the international stage, thanks to Festina's dynamism and expertise. Festina also owns
Read more about Festina watches here and check out other brands that the group owns including Lotus, Calypso, and Candino watches.
Jaguar Watch Collections
Jaguar boasts of a vast collection of timepieces for both men and women. If you care about what you wear for specific occasions, Jaguar has timepieces for just about any. The stringent standards of Swiss-Made watches, coupled with unique designs, are the bare minimum of Jaguar watch collections. Let's take a closer look at some collections and individual models.
The Acamar Collection
Call it 'Men's leather watches.' Other than the dial color variation, there's not much difference between the collection's 10 models. The Jaguar Acamar Men's Quartz embodies Jaguar's tradition. With a 43mm steel case and a sapphire glass strapped to soft, genuine leather, its durability is one to bet on.
The silver hands and embedded hour markers against a black, textured dial make for a good dress watch. It has a separate seconds subdial. The luminous hands and indices will come in handy in the movie theatre if you are the peacocking type.
The Special Edition
This collection has different models for varying tastes and preferences; from silicon, leather, to stainless steel bands. The Jaguar Special Edition Men's watch is the master of vitality. It's a sporty timepiece with a touch of class. Enclosed by a 45mm stainless steel case and protected by sapphire glass is a function-rich white dial, featuring day of the week and seconds subdials.
Not into silicon-banded watches? No problem. Try this other model, which comes with a replacement leather strap (and tools).
Automatic Collection
Let's take a closer look at Jaguar Automatic Men's Watch to see if the hype is deserved.
Enclosed within a 44mm stainless steel case and sapphire glass is an automatic ETA 2824-2 movement made by Soprod, a Festina Group subsidiary. Though the 200M/20ATM water resistance rating is quite impressive, it's not a diver's watch. This bad boy can handle himself quite well in the swimming pool.
This wristwatch is, without doubt, a head-turner. From the look of things, we'd say it has all the makings of a status symbol. On the one hand, it is a timeless classic, and on the other, an energy-packed timepiece. Beauty is in the detail. The coloring, texturing, gold plating, and everything in between invites you to indulge in the glory of the imposing cat as it roams the Amazonian tropics.
The Executive Collection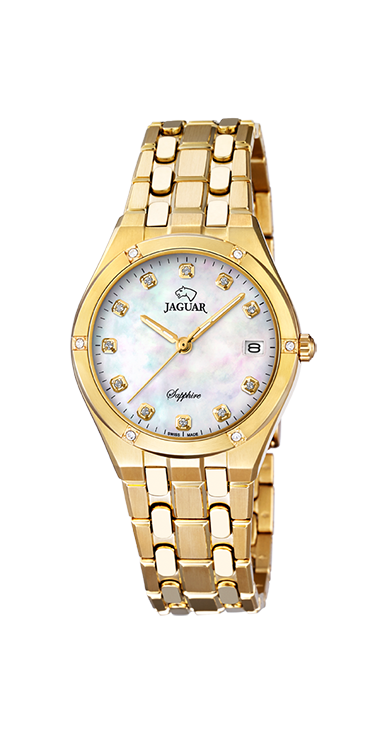 The collection boasts of watches with irresistible simplicity and grace. These accessories embody a distinguished testimony for the Jaguar classics yet are sufficiently modern. Not much variation design-wise, but they are exquisite.
The Executive Women's Quartz comes with a 32mm gold-plated stainless steel case and sapphire glass. The stone-encrusted, color-splashed white dial captures the timepiece's eccentric aesthetic, giving the watch a touch of character and style. If you are daring, you can count on this watch to accentuate your bold personality.
Jaguar Brand Reputation
Firstly, Jaguar watches have no connection whatsoever with Jaguar cars. In fact, the latter have their own watch product line under Bremont, a British watchmaker of luxury, aviation-themed timepieces. Aside from Festina-owned and Belmont-inspired Jaguar watches, there is a bunch of other replica watches masquerading as legit Jaguar timepieces.
Bermont Watch Company has been around since 2002. Festina-owned Jaguar, on the other hand, has over 70 years' worth of reputation. While the two brands are incomparable; horologically speaking, Jaguar watches enjoy the perks of being around the block. Has Jaguar benefited from the confusion occasioned by similar names and brand logos? Maybe.
It should be noted, however, that Jaguar has a distinct brand signature, design ideals, and brand appeal.
Accuracy
Jaguar is known for creating reliable timepieces. Whether you are looking to buy an automatic or quartz watch, you can be sure of owning a legit Swiss-Made wristwatch with Swiss-sourced components that have been assembled with exemplary Swiss precision.
Agility
You do not get to name your watch after one of the world's most agile animals and produce dull pieces. With this respect, we'd say the company has done right by the jaguar. In their partnership with Festina, they have found a rare balance between their founders' ideals and Festina's brand appeal.
Pedigree
Owing to the unceasing strive for technological and aesthetic innovation, Jaguar is known for its broad appeal and consumer segmentation. This is reflected in its design depth/breadth and pricing strategy.
Is Jaguar A Good Watch Brand?
The question of a "good" watch is in part, a matter of personal perception and available budget, so it depends on who you ask.
Nevertheless, every Jaguar-branded timepiece reflects a commitment to precision and a meticulous eye for detail, evidenced by creative design and craftsmanship. Some reviewers have heaped Jaguar watches with wannabe replicas, arguing that they are equally pretenders, pure junk, and cheaply made. However, Jaguar watches, if genuine, are great timepieces.
Their automatic watches are solid. They are designed to cater to a wide market segment, with some relatively pricier models, such as this Jaguar Men's Automatic Special Edition, likely to set you back a few thousand dollars. Other than the semi-exposed gear, there's not much difference, aesthetic-wise, compared to this Tissot Automatic Men's Watch. The latter has a reputation for build quality and a richer horological heritage to go with, and what's more, you get a comparable "open-heart" design at a fraction of the price.
For other comparisons, you could look at any of these other affordable Swiss brands.
Is Jaguar A Luxury Brand?
We've explored the brand's reputation and looked at individual models. And now the moment of truth is upon Jaguar—is it a luxury brand?
Design and build quality are just two of a myriad factors for determining a watchmaker's position in the pecking order.
Quartz watches, irrespective of the maker, tend to be associated with the lower end of the market spectrum. While movement alone does not cement a watch's position, rocking a pricier Swiss-made watch just hits different. Even so, watch buffs view automatic watch collections as a good starting point for determining a watchmaker's position in the watch brand hierarchy.
That said, a capable old-timer would go for a Belmont-inspired Jaguar watch over our not-so-memorable Jaguar. The Jaguars were discussing here may not hold their value long enough to even be considered serious timepieces by seasoned watch enthusiasts, but for someone who wants to make an elegant-looking and affordable swiss made watch without breaking the bank, the brand may be a good fit.
In all fairness, we'd say some Jaguar models reliable quartz watches that compete with other consumer brands in the price range but even Festina itself only claims Perrelet and L.Leroy, as their only luxury brands.
Where To Buy Jaguar Watches?
Jaguar does not sell directly from their website, but they have points of sale spread across the globe.
Shop on Amazon (US) or See eBay for new and pre-owned and vintage Jaguar watches.
Where Are Jaguar Made?
Jaguar watches are quite popular in Spain and France, but they are made in Switzerland. Though the Barcelona-based Festina SA owns Jaguar, they manufacture and market their watches under a Swiss-based Festina subsidiary. All its components are sourced and assembled in Switzerland.
Jaguar Warranty Policy
There's no explicit mention of the product warranty on the company website. However, some Amazon listings come with a 2-year manufacturer warranty.