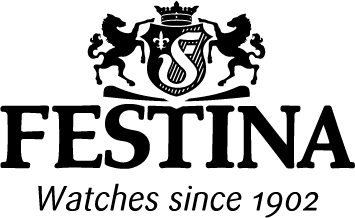 Since its establishment in 1902 by the Stüdi family, the Festina brand continues to live up to the watch standards of its ancestral home, La Chaux-de Fonds, Switzerland. Festina has such a long history that covering all of it would take a full day of reading—time we doubt you have.
So, in the interest of time, in this article, we undertake a comprehensive review of Festina the brand—offering you an objective appraisal of Festina-branded watches.
Festina Brand History
For many years, Festina flew under the radar of watch enthusiasts until 1984, when Spanish entrepreneur Miguel Rodriguez, owner of Lotus watch brand, acquired it. The acquisition would lead to the formation of Festina Lotus SA. Following the takeover, Festina administrative offices were relocated to Barcelona, Spain.
In 1989 Rodriguez acquired Jaguar, another Swiss watchmaker, and then in 2002, he brought Candino into the fold. This was followed by the acquisition of Dubois Technique Horlogère, a high-end Swiss assortment maker, and then hairspring maker, Astral technologies.
What Festina has witnessed since the acquisition barely scratches the surface of a complex history spanning over 100 years. Beginning 1935, when the founding-family sold the brand to Willy Burkhard von Wilhelm, Festina has changed hands several times to become what we now know as Festina Group. Currently, Festina Group houses four other watch brands (Lotus, Calypso, Jaguar, and Candino) in addition to its flagship brand Festina.
Although Festina heavily markets the brand's Swiss roots (for very understandable reasons), we primarily think of it as a Spanish watch brand.
Japanese Precision—the Quartz Movement
Though Festina ownership has changed hands severally, leading to the adoption of novel technologies, the watchmaker has managed to preserve its longstanding tradition. Festina's innovative features and components have contributed immensely to the brand's authority in the global watchmaking arena. But nothing is more Festina-like than its Japanese quartz mechanisms.
Festina Watch Collections
Festina is known for its connection with the cycling world, but it's more than just a sports brand. Festina has 18 watch collections with models that cater to almost everyone and every occasion.
Let's meet some darlings among Festina-branded timepieces.
The Classics Collection
Nothing in Festina watch collections screams class quite like the classics collection. This collection's most popular piece is the Festina Men's watch. It's popular because it works, in addition to being a statement watch. At the heart of the 41mm stainless steel case housing is a chronograph Japanese quartz movement for accuracy and reliability.
Its arrow-shaped hour and minute hands give this piece a mix of sports, dress, and military aesthetics. This same aesthetic is present on the hour indexes, with white numerals denoting minutes. The blue detailing stands out against the black dial.

Check price on Amazon.
Watches in this collection are perhaps the most recognizable owing to the practicability and functionality of their designs. Masculine watches rule the classics collection, but it's the women who get to enjoy a more vintage look. The classic black soft leather strap is meant to accentuate the wearer's femininity. The date aperture is located towards the six o'clock position, exuding a minimalist vibe that is hard to miss. With a 100M-water resistance rating and a mineral crystal glass, this timepiece can handle damn near any shock within reason.


Check price on Amazon.
Multifunction Collection
The multifunction collection reflects Festina's commitment to cater to the fashion-oriented wearer. The timepieces are subtle and tasteful— an interplay seen in the colors on straps, bezels, indexes, and dials. If you value style and quality on just about any occasion, check out Festina's multifunction collection for men and women.
Festina Mademoiselle
If you are a woman who likes super sleek wristwatches, the Festina Mademoiselle collection has you covered. Much like the Milano collection, the Mademoiselle collection for women has challenged top dogs for a piece of glamor in the fiercely competitive wristwatch space, thanks to innovation and boldness.
The Mademoiselle collection comes with a wide range of options. Though there's not much variation in terms of strapping, the boldness with which the watches have been designed is noteworthy.
The Festina Mademoiselle Blue Crystallized Dial Steel Mesh Watch F20331-2 stands out. This battery-powered beauty is the official Miss France collection for a very good reason. Stare too deep into this beautiful piece, and you'd feel like you are looking up into a star-studded sky.
With a 32mm stainless steel case and a sleek mesh band, the piece is quite a head-turner. The blue dial with Swarovski looks delicate, but thanks to scratch-resistant mineral crystal and a 50M-water resistance rating, you need not worry about losing that gorgeous look over time,

Check price on Amazon.
Festina Automatic Watch Skeleton Style Dial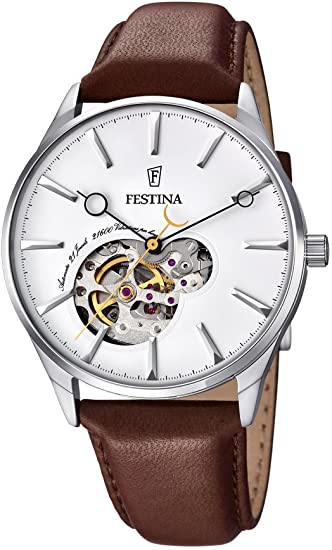 Festina Automatic Skeleton Dial
Now, this is not the watch for the divers. Its 30M-water resistance rating doesn't inspire much confidence. This skeleton piece is worth considering if you are in the market for a stylish, affordable automatic wristwatch. A semi-exposed dial gives you a glimpse into its Japanese-made automatic self-winding movement. It comes with a 41mm Accacio Inox stainless steel casing attached to brown soft genuine leather for the perfect dress look.
Festina—Official Timekeeper of Tour de France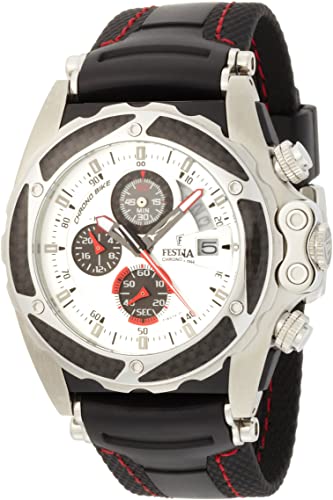 Festina Road Warrior Chronograph
It's hard to talk about Festina and not mention its connection with the Tour de France. In addition to being the event's official timekeeper, Festina had its own bike racing team that they fielded from 1989 until 2001.
Festina has produced some sporty watches over time, but the Tour de France Alarm Chronograph takes the top spot in this collection. Its closest challenger yet, the Festina Road Warrior Chronograph, made of carbon fiber and steel, was a game-changer.
Festina Brand Reputation
There's no such thing as bad publicity, or so they say. In 1989, Festina found itself at the center of a fierce doping scandal. The company established the 'Foundation d'enterprise Festina to salvage its reputation— and salvage it did! They got back on the Tour de France's good side, and what's more, they went on to sponsor Giro d Italia, the Tour of Poland, Berlin Marathon, and Spanish La Vuelta—all world-class sporting events.
Will my watch be recognizable when I wear it? If you are a Gerard Buttler fan, chances are you've seen him rock one of Festina watches. So, yes, moviegoers and those who know what 'the Festina affair' is might dig your Festina wristwatch.
Festina's brand recognition is much higher in the EU than it is in the US, especially in Spain, where their watches can be found in the store windows of almost any retail watch shop.

Is Festina a Good Watch Brand?
Festina has carved out a niche in the quartz watch market by producing and marketing its timepieces as high-end quartz watches. They even have a name for it—Festina Mecaquartz—a fancy name for the kinetic quartz technology.
Some watch buyers lump Festina in with fashion watch brands, although we don't think it's quite fair to compare them to brands like Micheal Kors or Daniel Wellington.
Compared to those, Festina actually stacks up quite well against other quartz watch brands in its weight class and price range, such as Casio (Edifice line), Invicta, or Fossil, for example.
Another criticism you might hear in watch circles is that Festina leans heavily on its long history and Swiss heritage but has sold primarily mostly affordable quartz watches since its 80s acquisition. A similar tune can be heard by many talking about Invicta's pricing model.
For the money, if you're looking at affordable watches in that price range, we'd recommend you also take a look at long-time favorites such as Citizen, Seiko or Orient for comparison.
Festina is one of those brands you come across, fall in love with quickly, and then forget about them until the next time. But Festina makes up for this with top-level marketing. A feat evidenced by the watchmaker's connection with the Tour de France and other action-packed sporting events.
Where to Buy Festina Watches?

Thanks to its radical marketing strategies and multi-brand expertise, Festina has established a foothold in more than 90 countries, becoming the leading quartz seller in Europe. Festina has a user-friendly online shop where you can apply filters to narrow down your choices.
If you'd like to know whether Festina ships to your country, feel free to use the country selector on the manufacturer's website.
If Festina does not ship to your country, worry not. You can shop for Festina watches on Amazon,
You can find some new and pre-owned watches on eBay.
UK shopper can also find their watches on Watchhut and Watchshop
Where Are Festina Watches Made?
Festina-branded Mecaquartz watches are exclusively assembled following Citizen quartz movements. Festina is a distinctly European watchmaker, and while many of its components are made and/or assembled on the continent, rumor has it that some models have a Far East touch—perhaps Hong Kong. See manufacturer website for production centers and subsidiaries.
Is Festina a Luxury Brand?
This is one of the most common questions we get about watch brands. Although you may see the word "Luxury" used when marketing watches, Festina watches are not considered 'luxury' by any serious watch aficionado or collectors.
Without going into too much detail here about the type of movements and watchmaking skill that goes into luxury timepieces, the price point alone of the average Festina (a few hundred dollars) is a pretty good indication that they are not among the ranks of luxury watch brands.
Festina Warranty Policy
A 2-year warranty applies to all Festina products. The warranty, which is valid from receipt date, dwells on what it does not cover, which is odd, given "the special attention they devote to after-sales service."