Looney Tunes, the iconic American short film series by Warner Bros., was introduced in 1930. The series introduced many cartoon characters that have become household names, which include Bugs Bunny, Tweety, Daffy Duck, Sylvester, Pepe Le Pew, Marvin the Martian, Porky Pig, Elmer Fudd, and Road Runner. From the 1940s to the 1960s, the series were some of the most popular animated shows in theaters.
With accompanying series Merrie Melodies shorts, they were part of the golden age of American animation—the same period where Disney's characters like Mickey and Minnie, and MGM's Tom and Jerry rose to fame. Aside from being a hit on television, it also became a huge media franchise and was featured in films, TV series, games, music, and merchandise.
Below, we'll feature watches inspired by the series by both old and new watchmakers, as well as vintage, pre-owned models.
Looney Tunes Watches
Space Jam: A New Legacy Slamdunk Watch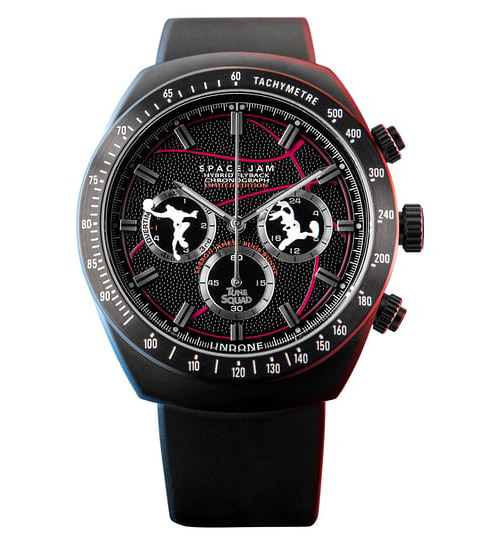 Undone is a watch company known for its customized models and collaborations with different pop culture favorites (we have previously published articles that mention their designs featuring DC/Batman and Snoopy/Peanuts).
Space Jam was the first film produced by Warner Bros. Feature Animation and became one of the highest-grossing films of 1996. Starring Michael Jordan, the film is a live-action and animated film that tells a fictionalized account of Jordan's retirement and comeback in the NBA. A sequel to this was released in 2021, starring LeBron James and the rest of the Looney Tunes gang.
Both Michael Jordan and Lebron James have impressive watch collections
Undone's watch release pays tribute to the film with the Space Jam: A New Legacy Slamdunk Watch, a limited-edition (only 300 pieces) watch—the world's first dedicated basketball watchtimer.
Inspired by chronograph watches from the 70s, the Undone Space Jam Slamdunk Watch has a 41.8mm stainless steel case and a sapphire crystal. Its movement is a Japanese mechanical quartz chronograph, and the water resistance is up to 100m. Another thing that makes this special is the case: this is Undone's first tonneau case.
On the basketball-textured dial are Space Jam-inspired designs. There are silhouettes of James and Bugs Bunny at 3:00 and 9:00. In addition, the 60-minute timer at 9 o'clock has five sections (the four quarters in a game, 12 minutes each), and the fifth section for overtime).
Undone Looney Tunes: Bugs Bunny Nexus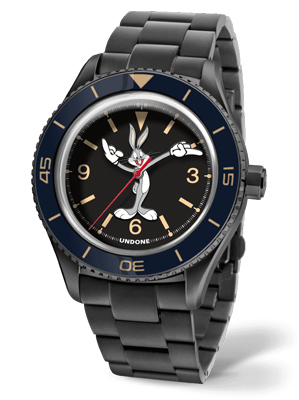 Another Undone creation inspired by Looney Tunes is the Undone Looney Tunes: Bugs Bunny Nexus watch. This one's another special release, as the final watch was created after Undone asked people to vote on what watch components should go to the final watch. The result is a robust and playful model, with a PVD black case and a PVD black bracelet.
This 40mm model has been pressure testes to 100m. The case is a 316L stainless steel with a polycarbonate lens and a Japanese TMI NH35A Japanese movement. This one is also limited edition, with only 50 pieces available. The watch has a combination of index and Arabic numeral markers on the bezel and case. At the center is a cheerful Bugs Bunny, whose hands are used to point to the hour and minute.
Undone's other Looney Tunes designs also include Marvin the Martian and Daffy Duck. Check them out here.
Tommy Hilfiger Space Jam: A New Legacy

Tommy Hilfiger's tribute to Looney Tunes and Space Jam came in the form of a 90s streetwear-inspired collection (shirts, hoodies, hats, shoes, bags—find all of them here) and a Bugs Bunny watch.
The Space Jam: A New Legacy X Tommy Jeans collection watch is a 44mm limited-edition (1,100 pieces) quartz model. It has a gold-plated case, silicon sports strap, and a Bugs Bunny design on the dial. The watches are numbered with case back etching of the collaboration between Tommy and Warner Bros.
Another model is a 42mm bracelet watch, which has a blue sunray dial and crystal accent featuring Bugs Bunny's hand spinning a basketball. Only 1,000 pieces of this exist, and like the silicone model, this also has a numbered etching on the case back.
Invicta Character Collection: Looney Tunes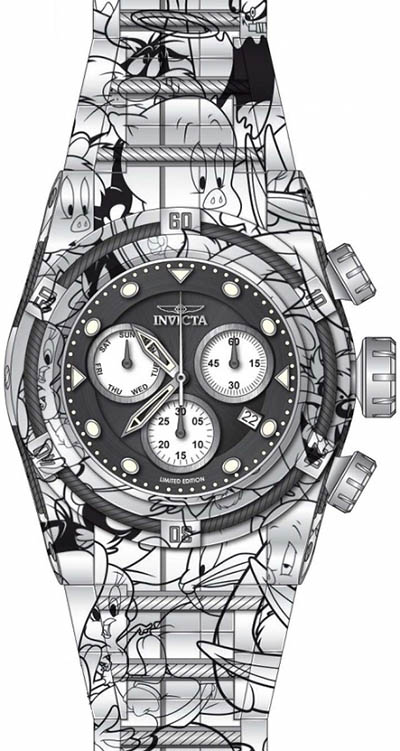 This Invicta watch from its character collection features the beloved Looney Tunes characters (Bugs Bunny, Porky Pig, Sylvester, Tweety, and Elmer Fudd on the stainless steel strap.
The Invicta Looney Tunes watch is a 53mm stainless steel with a Swiss quartz movement. It has three subdials, a date window at 4 o'clock, and a steel aqua-plated bezel. The water resistance is up to 200m.
Another one from Invicta is this stainless steel model. The gray/steel watch, which has the Tasmanian Devil on the skeleton dial, is a 52mm model with a case made of stainless steel, plastic, and aluminum. The strap is made of a combination of stainless steel and silicone. The water resistance is up to 100m. This watch has other character features, like Daffy, Bugs, Sylvester, and Tweety.
Fossil Looney Tunes Space Jam Watch

Fossil released two limited edition watches for Space Jam: A New Legacy, one with Bugs Bunny and another with Lola.
The watch has a gradient, 80s-inspired iridescent colors. The Bugs Bunny model is a 42mm quartz watch with the brand's signature leather. It has a black matte dial and a two-tone silicone strap, and a stainless steel case. At the center of the dial is a graphic of Bugs in a jersey, with a basketball.
The Lola Bunny model is a smaller one at 36mm. It has a quartz movement and a silicone iridescent strap, with a black dial and a stainless steel case. The graphic is of Lola wearing a jersey, with a Space Jam text at 9 o'clock.
Each watch comes with a limited-edition bag tag and a commemorative coin, It also has an etched case back.
Fossil Space Jam Daffy Duck Watch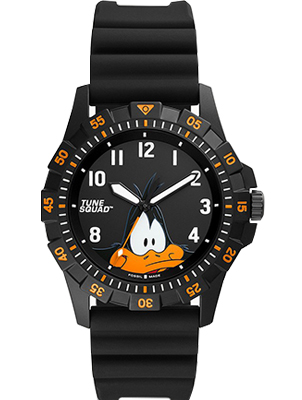 Fossil released a simpler, more casual Space Jam line, also like this limited-edition model with a nylon case and a silicone strap.
This watch, under the All-Stars Collection, has a black case and strap, with white and orange markers, has a Daffy Duck graphic at 3 o'clock. The caseback has an etches Space Jam logo.
Other characters under this line include other Tune Squad members: Tweety, Lola, Marvin, and Bugs. All watches have bezel colors to match each character's look.
Armitron Looney Tunes Watch


Armitron is a US-based watch brand that's known for its wide range of watch models, as well as affordable price points.
The company has a wide range of watches on its site–from chronographs to analog, from sports-inspired models to vintage designs.
One example is this Armitron Looney Tunes watch that comes in a collectible display tin in the shape of a movie reel.
You can find a wide array of the brand's Looney Tunes releases on eBay, like this Tweety wristwatch with a brown band and a silver case.
On the dial is the famous Tweety line "I tawt I taw a puddy tat!". Another Tweety watch by the brand is this analog model with a clear buckle band, which is a design popular during the 90s.
There is also this vintage model from 1989, an Armitron Looney Tunes collectible watch with a Bugs Bunny design on the dial.
Undone Customizable Space Jam Watch
One of the things that Undone is known for is its watch customization options. They have watch models that allow customers to pick the design that they want–such as this best-selling Retro Dress Watch that has different feature options to choose from (dial, case, hands, movement, strap, and caseback.
The Space Jam release, which we talked about above, has a customizable watch option. Customers can pick their favorite character/teammate from 16 Looney Tunes characters. The character choice will be placed at 6 o'clock, which will jin the two default characters—LeBron James and Bugs Bunny.
This watch has a Japanese mechanical quartz hybrid chronograph movement. It has a stainless steel case, sapphire crystal, and water resistance to 100m. The three subdials are for a 24-hour display, small seconds, and a 60-minute counter.
Warner Bros. Bob Clampett Tweety Bird Looney Tunes Watch
Animator, director, and producer Bob Clampett is known for his work on Looney Tunes and Merry Melodies in the 1930s. This watch is a vintage Warner Bros. limited-edition model from its Director Series.
This is a rare watch that was manufactured in the 1990s. It has a square stainless steel 23mm case and a lizard print leather strap. The hour markers are on 12, 4, 6, and 9 o'clock, and there is a graphic of a vintage Tweety on the right side of the dial. You can still find these on eBay.