When it comes to stylish timepieces, two brand names that will surely make an appearance on that list are Movado and Citizen. Both brands are well-known in watch aficionado circles, and it is easy to see why with one glance over at their respective catalog. As a gift, these two will never disappoint – as part of your growing watch collection; both brands will bring something unique to the table.

Let's take a look at what Movado and Citizen have in store for watch enthusiasts and casual watch lovers alike. Does one brand reign supreme over the other? It's time to find out in this matchup between two brands that are synonymous with stylish watches.
History of Movado



Movado was founded in 1881 but was initially known then as LAI Ditescheim & Freres SA. It was not until 1905 when they officially rebranded themselves as Movado. The name was an attractive and smart choice as it meant "always in motion" in Esperanto.
Movado exclusively stayed within the European side of the market. The company made commendable strides, building a respectable reputation along the way.
The company reached a milestone in 1983 when the North American Corp purchased them. Under this banner, Movado finally had the means to break into the American market. With their flagship Museum watches, Movado quickly separated themselves from the pack with the minimalist Museum line.
If you are not familiar with the Movado Museum line of watches, then you know it always features a signature design. Museum watches from Movado all take the minimalist approach with their appearance. The dials are usually free of any details aside from the Museum Dot located at the 12 o'clock position.
Movado has also since acquired MVMT, a new fashion watch company, last year (2018). This partnership is quite promising as MVMT is known for its modern minimalist watches popular among millennials that may not be familiar with the Movado brand. While some watch snobs may discredit the acquisition due to MVMTs lack of horological significance, others feel this blend of old and new should meld well with Movado's more traditional yet equally minimalist approach to their timepiece design.
History of Citizen


Despite the name, Citizen is, in fact, a Japanese-based watchmaker that was founded in 1918. Formerly known as the Shokosha Watch Research Institute, they primarily produced pocket watches. The company changed its name to Citizen in 1924.
Citizen was among the businesses that suffered from the near economic collapse of the Japanese market due to World War 2. Fortunately, Citizen understood their dire situation and quickly adopted a new business model.
Citizen poured their resources into the expansion over the broader international market. The company also experienced a renaissance during this period as they also focused on developing innovative watch technologies.
It took until the quartz revolution of the 70s for Citizen to finally secure their place in the watch market. Along with Seiko, Citizen was among the top brands that led to the quartz movement revolution. See our full comparison of Seiko and Citizen here.
Citizen also made their first significant mark in the industry during this era with their Citizen X-8 watch. The Citizen X-8 was the first official titanium watch in the market.
The solar-powered watch was also part of Citizen's area of expertise as evident with their famous Cryston Solar Cell. This was the first solar-powered analog quartz watch in the entire market. One of Citizen's crowning achievements though is their upgraded solar-powered watch technology – the Eco-Drive.
Unlike most of the solar-powered watches in the market, then, Citizen's Eco-Drive technology was not tied down to charging via sunlight. The watch was able to recharge even via artificial light which was a groundbreaking achievement back then. Nowadays, Citizen has amassed a cornucopia of amazing timepieces and is known for some of the best solar watches on the market.
When it comes to Citizen watches, you can bet that they all offer a balance of style and substance. Quite simply, you can never go wrong with a Citizen timepiece.
Movado and Citizen Watch Comparisons
Both Citizen and Movado are well-respected names in the watch industry. While watch enthusiasts will be able to decide which one to pick quickly, what about those new to this market? Well, my friend, read through this comparison section to guide you towards the right watch brand that suits your preference.
Chronograph Watch
A signature feature of a chronograph watch is its three sub-dials. These extra dials are designed to measure the hours, minutes, and seconds. Both Citizen and Movado produce some top-notch chronograph watches. Let's pick two from their current cream of the crop to see how each compare to one another.
Movado Museum Sport 0606792 Stainless Steel with Black Dial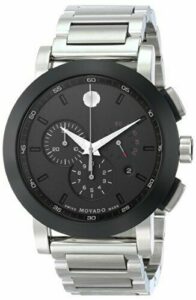 One of the most common gripes about chronograph watches is with its somewhat cluttered design. For casual watch customers, the inclusion of three sub-dials plus other details can be quite confusing to decipher at first glance. This is where the Movado Museum Sport 0606792 comes in.
While this is indeed a chronograph watch, it still captures the clean and straightforward aesthetic of Movado's Museum line of timepieces. The Museum Sport does add substantially more detail on its dial, but it does so with clinical precision. This look gives the Museum Sport with a tidy looking dial that still manages to display all the elements of a chronograph watch.
The Museum Sport features three sub-dials that display the hour (1/10th), minutes (30), and seconds (60). All three are evenly spaced around the lower half of the dial. The dial includes a fixed black PVD bezel with an analog display and luminous hands and markers. Additionally, it also has a date display that is located over at the 4 o'clock position.
The case diameter sits at a comfortable 44mm, making it ideal for most wrist sizes. Inside the Movado Museum is the high-precision quartz movement, ensuring constant up to date timekeeping. Of course, what is a Movado Museum watch without its signature design, the Museum Dot located on the 12 o'clock position? Overall, this is a fantastic looking casual chronograph watch from one of the industry's top watch designers.
Citizen Eco-Drive Silvertone and Black World Time A-T Watch
Read Reviews on Amazon or See on Citizen.com
The Eco-Drive A-T Watch is a feature-packed premium offering from Citizen that looks the part as well. Both body and the bracelet are made from durable stainless steel giving it an exceptional luster that further enhances its premium appearance.
As stated previously, this Citizen chronograph comes with numerous high-level features that include atomic timekeeping technology. It also uses Citizen's Eco-Drive technology which provides efficient solar energy charging capabilities. Thus, maximizing every light gathered to prolong its battery life further.
The watch also incorporates radio-controlled world time updates, ensuring precision no matter the time zone. While the rather large round 44m case can be awkward for some, the Eco-Drive A-T is still right up there with the best in terms of comfort.
Other features included with this timepiece consists of a day and date indicator, 12/24-hour format, and a water resistance rating of up to 200m. The analog display is also protected by a durable and scratch-resistant sapphire crystal window.
If you are looking for the highest level of functionality at a reasonable price, the Citizen Eco-Drive A-T Watch might be a good fit for you.
Best Chronograph Watch style="font-weight: 400;"> – Choosing between the Movado Museum Sport and Citizen Eco-Drive A-T Watch is rather cut-and-dry. If you prefer something stylish, Movado is always an excellent place to start looking. For reliability and functionality, Citizen offers some of the best timepieces in this area. For this matchup, we will be giving the nod to Citizen as their Eco-Drive A-T chronograph watch provides superior performance and functionality on all fronts.
Dress Watch
Next up, let's take a look at the fashion side of things. If you have an inkling of what each brand offers in regards to style, I think you can already decide which one between Citizen and Movado to choose. For our casual readers, here is a quick overview and comparison between these two watchmakers.
Movado BOLD Two-Tone Watch 3600431

As one would expect from a Movado dress watch, the Men's BOLD Two-Tone features a sleek, minimalist, yet chic design. It is a rare timepiece with its chameleon-esque qualities of being both masculine and feminine. The monochromatic design with gold accents helps elevate it in terms of elegance.
The Movado BOLD also follows the brand's tradition of crafting excellent timepieces with a minimalist approach. The silver analog dial features gold-coated hands, marker lines, and the signature Museum Dot located at the upper part (12 o'clock position).
The bracelet also features the two-tone gold and silver accent with a deployment clasp in place that makes the watch easy to remove and secure in place. Within the Movado BOLD is a Swiss quartz movement that makes sure that the watch is always accurate with little need for manual maintenance.
The dial is protected using K1 mineral crystal that is shatter and scratch-resistant. The watch also comes with a solid 3ATM water resistance rating.
Citizen Eco-Drive Corso Two-Tone Stainless-Steel Watch BM8224-51E
Read Reviews on Amazon or See on Citizen.com
Quite similar to the Movado BOLD Two-Tone, but with a more traditional flair, the Citizen Eco-Drive BM8224-51E is a premier example of excellence in execution. The watch comes with a silver, gold, and black aesthetic which is a fantastic combination that radiates a sense of luxury and professionalism.
This timepiece features Citizen's patented Eco-Drive technology and reliable quartz movement. The dial hands also use a luminous finish for improved legibility in low-light environments. As it uses Eco-Drive technology, the watch's solar charging capability is top-notch. The black dial uses a mineral crystal window which is relatively sturdy.
Other notable features are its 30m water resistance rating and day and date display located at the 3 o'clock position. As a dress watch, the Citizen BM8224-51E is a sleek timepiece with a 35mm case diameter and 8mm thickness. If you are looking for a classy and traditional dress watch, then you might want to check out what Citizen has to offer.
Best Dress Watch – This one falls on whether you prefer a more contemporary design or a traditional timepiece. Both are on equal footing in regards to functionality and precision. Both these watches also feature near-identical design. This is a win-win situation, in my opinion.
Conclusion: Movado vs Citizen – Which is the Better Watch?
This is a relatively easy decision to make if you've read through the comparisons we made in this article. Movado is designed with a considerable lean towards the fashion side of watchmaking. When it comes to features and functionality, Movado offers the current trend but nothing mind-blowing. Citizen watches primarily focus on functionality, but it is no slouch when it comes to style as well.
Citizen watches are synonymous with innovative technology and features. If you are looking for the perfect blend of practicality and style, Citizen is an excellent brand to check out.