Movado and Tissot are watch brands that well-known among watch aficionados. Both of these brands are known for their design and aesthetics. Movado's Museum line of watches with a minimalist dial and the now very recognizable dot at the 12 o'clock position is iconic. Tissot strength lies in its in-house watch movements, including the Powermatic – with an impressive 80-hour power reserve.  Apart from watchmaking mechanical innovation, the brand's classic designs include the "Le Loche"  collection of dress watches or the sporty Chrono collaborations with racing icons in the motorsports world.
Both Movado and Tissot are Swiss watch brands, with a long history in watchmaking dating back to the 1800s. Tissot is known for its classic dress watches such as the Le Locle and its in-house automatic movements like the Tissot Powermatic 80. Movado is known for its elegant collection of Museum dress watches.


We will need to break down the question to know the answer. In this article, we will be taking into account the best watches that Movado and Tissot have in particular catalogs. We will also be taking a look at the company themselves to understand further what makes each different from one another.
History of Movado


Movado translates to "always in motion" in Esperanto. This is a perfect description of their watches as Movado timepieces are known for their reliability and precision. Founded in 1881, Movado didn't begin its venture into the American market until 1983 when the North American Watch Corp bought them.
Their most popular watch series is the Movado Museum and has been their premier watch in the market. Its unique minimalist one-dot design has become quite popular with watch aficionados. It certainly helped separate it from the competition as it is designed to catch the customer's attention.
Movado has since expanded its repertoire and has recently bought MVMT, an up-and-comer in the watch market. Movado is mostly known for its unique design, but don't think they lack in performance. There is a reason why Movado has remained within the top dogs of the industry for all these years.
History of Tissot


Another watch company that began in Switzerland, Tissot first made its mark in 1853 and was founded by Charles-Felicien Tissot and Charles-Emile Tissot. It only took a year before Tissot managed to enter the American market and further expanded its reach to Russia within the next five years. 
As you can see, Tissot is quite a dynamic watch company which is always a good character trait to have, a characteristic that they passed down to their watches.
In regards to their achievements in the industry, Tissot is the official timekeeper watch in most sporting events, particularly with Formula One racing teams. Their timekeeping technology has always been the company's strong suit. This fact is evident with their contracts as timekeepers in sports such as racing.
Tissot is a part of the megacorporation Swiss Watch Group since 1983. This helped introduce the Tissot brand to over 160 countries. Tissot is also considered as one of the Swiss Watch Group's top mid-range watches under their banner.
Movado vs Tissot – Watch Comparisons
Movado and Tissot offer widely different approaches when it comes to their watches. It is easy to choose between the two if you already know what you want with your wristwatch. To put this into perspective, we will be picking two watch categories that each excel over the other. Let's begin.
Dress Watch Comparison
Dress watches are sophisticated and stylish timepieces designed to catch the eye. Dress watches are perfect for formal occasions and business meetings to accentuate one's appearance. Dress watches are the go-to watch types if you are aiming to make a good impression.
Movado Defio Stainless Steel Watch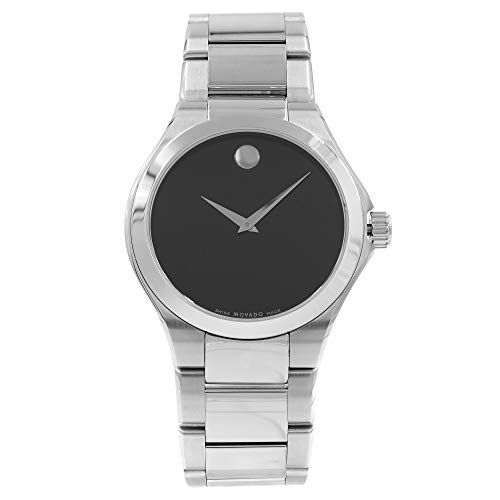 Simple, sleek, and modern design are perfectly encapsulate this Movado Black Dial Stainless Steel watch. 
Taking the signature Museum single dot design, and molding it into a silver and black dress watch, the Defio is a head-turner.
As you would expect from a Movado Museum watch, the Defio incorporates a minimalist approach to its aesthetics. This well-made timepiece uses the ever-reliable Swiss Quartz movement that helps provide impeccable time-telling.
Construction-wise, the Defio is made from high-quality stainless steel that makes up the bulk of its appearance. With a 38mm case diameter, this Movado watch is one of the sleekest ones you can find.
The glass is made from sapphire crystal, which is scratch-resistant and durable. The wristwatch is also water-resistant for up to 30 meters (100 feet) but is not exactly recommended to use in any water activities.
The watch also comes in two variants: the black dial and the blue dial, each is equally pleasing to the eyes as the other. This dress watch would be an excellent addition to any watch enthusiast's collection; the watch is also reasonably priced.
Tissot Chemin Des Tourelles Powermatic 80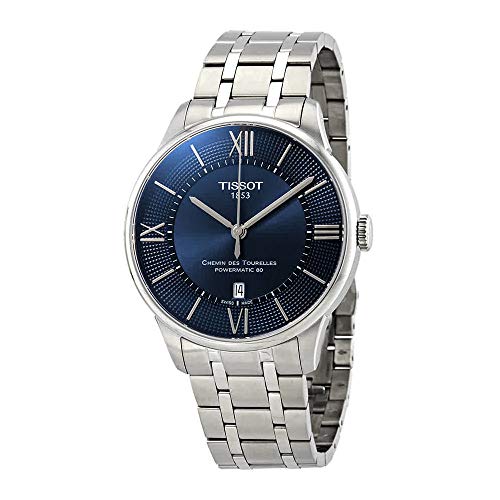 Tissot, while known for their highly reliable watch movement mechanics, also have some truly beautifully crafted timepieces in their catalog. One such watch is the Powermatic 80. The stainless steel and silver-toned watch features an analog display and is one of Tissot's most fashionable dress watches.
The silver case and blue guilloche dial perfectly complement one another and offer a pleasing aesthetic overall. If you prefer a dress watch with more detail, the Powermatic 80 is the right choice. It features a striking blue dial with hands and digits. It also has a date display is located neatly on the 6 o'clock position.
As for construction, the Powermatic 80 utilizes high-quality stainless-steel material for both case and band. The dial is protected by a scratch-resistant sapphire crystal that is coated with anti-reflective material to prevent glare from obstructing your view.
It comes with a water resistance rating of 50 meters ( 160 feet), which is not that high but you are not buying this watch for swimming. The Powermatic 80 is one of Tissot's top-tier watches and certainly brings the style that can compete with the best of them.
Better Dress Watch?  – This is one that is pretty tough to decide as both offer their brand of style. The Movado Defio incorporates its patented Museum design, which is always a fan favorite. On the other hand, Tissot Powermatic 80 provides a more traditional approach that will undoubtedly also take the fancy of watch enthusiasts. This one is subjective to what style the wearer prefers.
Chronograph Watch Comparison
Chronograph watches are designed for functionality above all else. It needs to be reliable, precise, and durable to be considered a worthwhile investment. Both Movado and Tissot offer some of the most dependable in this category; both also provide quite a stylish selection.
Movado BOLD Chronograph Watch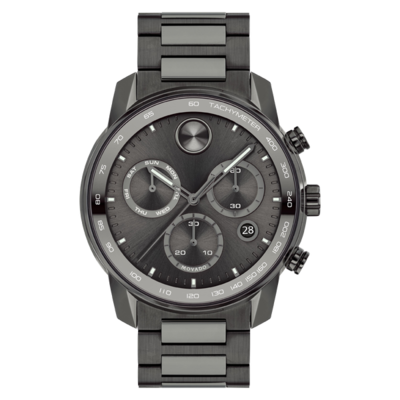 The Movado BOLD Chronograph Watch features come with the signature minimalist style that Movado is known for. I know what you are thinking – a minimalist chronograph watch?
But chronograph watches are all about in-depth detail. Believe it or not, The Movado BOLD manages to retain its minimalist appearance without sacrificing any of the features required in a chronograph watch.
The classic yet rugged design perfectly captures the rough and tumble vibe of chronograph watches. It still features the Museum aesthetic but does manage to provide a complete chronograph experience with its three sub-dials.
The watch is made from a robust 48mm ion-plated stainless steel case and link bracelet. The dial comes with a gunmetal tone along with the hands and index. The watch also features K1 mineral crystal which is substantially more durable and scratch-resistant when compared to sapphire crystal.
As for precision, the Movado BOLD uses the Swiss Quartz movement, which provides impeccable timekeeping. This watch is excellent for outdoor and everyday use, but stylish enough for those going for the high-style look.
Tissot T Race MotoGP Limited Edition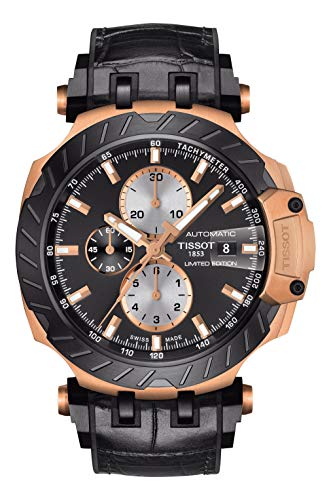 Since this is a limited-edition version, expect it to go above and beyond with its presentation. It comes in a nifty racing helmet presentation box, making it an ideal centerpiece in your collection. Tissot is an official partner of several Formula One racing teams, so this design choice is not a surprise.
In regards to its design, the Limited-Edition T Race MotoGP is a beast. This watch is the perfect companion for speed hounds with its unique design. The bezel's design takes inspiration from that of a car's brake disk. The watch also has a transparent back case that fully showcases the inner workings of this striking watch.
The T Race MotoGP comes with three sub-dials: a 6-hour, 30-minute, and 60-second counter. Another added feature that further improves upon an already impressive timepiece is the power reserve that can provide up to 45 hours to the MotoGP LE.
The Moto GP LE comes in with a 45mm case diameter and 16.6 thickness. This is a large watch and can be quite bulky. That being said, this is a top-level Tissot and is a worthy investment for collectors and racing enthusiasts alike.
Click here to read more about watches inspired by cars and motorsports.
Better Chronograph Watch? – Based on overall functionality and performance, I would say that the Tissot wins this round. The Swiss Quartz movement, combined with a unique design and top-notch construction pushes the T Race MotoGP towards the finish line with time to spare.
Conclusion: Movado vs Tissot – Which is Better?
Both Tissot and Movado are among the leading watch brands in the Swiss market within their affordable price range. Tissot has created a niche with its automotive-inspired watches. Such examples include the T-Race MotoGP and collaborations with motorcycle racers such as Marc Marquez. This modern and sporty line contrasts with Tissot's traditional dress watches such as the Le Locle and its in-house movement such as the Powermatic 80. 
Movado is also known for its stylish watches, most notably its Museum Line with the iconic dot. While Movado has branched out and has more sporty models such as the Movado Series 800 that can complete along the same lines as Tissot sports watches, some watch fans feel Movado has a more limited offering or has at least cornered itself with the look of the Museum line. 
Deciding between the two is subjective. Tissot for its wide collection of stylish dress watches, sporty Choronograpsh, and SeaStar dive watches. An impressive collection and watchmaking expertise are demonstrated with its long history and Swiss-Made in-house movements.
Movado is known for its classic and timeless style and fans of this brand are buying primarily on that aspect – the elegant and fashionable designs. This is much of the reason why fashion brands including Coach, Hugo Boss, Lacoste and Tommy Hilfiger all rely on Movado for their watches (though licensing agreements).