Chronographs were originally invented for measuring the movements of astrological bodies but chronograph watches. The term for an extra watch feature like a chronograph is "complication," so named because they add extra levels to the mechanics of a traditional mechanical watch. The chronograph is actually considered the first complication, but in the centuries since its invention, things have only gotten more and more complicated for wristwatches.
What is a Chronograph Watch?
A chronograph is essentially a stopwatch used to track the length of elapsed time of an event or occurrence. Many chronographs have three sub-dials to measure minutes, seconds, and some down to 1/10th of a second. The wearer activates the chronograph functionality by pressing the pushers on the side of the watch case.
That is the most basic definition, although there are more complicated versions – such as a flyback Chronograph that allows the user to reset the timer without having to first stop the chronograph.  On a normal chronograph, the user must first stop, reset, and then restart it before timing the next event.

Chronographs dials
History of the Chronograph Watch
There are two men who are credited, separately, with inventing the chronograph: Louis Moinet and Nicolas Mathieu Rieussec, both French horologists. In reality, Moinet was the inventor of the first chronograph, officially releasing his invention in 1816. Designed to be used for astrological purposes, it wasn't designed with day-to-day practical use in mind.
This is where Rieussec comes into the story and gets to claim some of the credit. In 1821, King Louis XVIII commissioned Rieussec, a respected (and loyal) watchmaker, to construct a personal chronograph.
The king's desire was to have a device to time horseraces. This invention would not only change watchmaking forever but would also transform how sports and racing were enjoyed.
Until recently, that has been the established and accepted origin of the chronograph watch. However, the discovery, in 2013, of a pocket watch chronograph made by Moinet puts the official timeline in question.
Dubbed the "compteur de tierces" (third counter), this watch was completed in 1816, suggesting that Moinet was the creator of both the chronograph and the chronograph watch.
How does a chronograph watch work?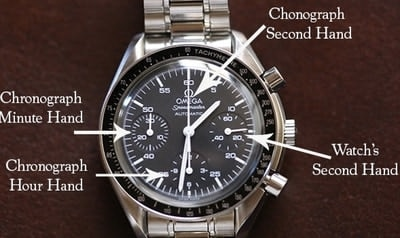 The chronograph watch is a fairly simple and intuitive device. In its most basic form, a chronograph watch will have an extra second hand to time short intervals. Most modern chronographs are capable of measuring minutes and even hours, with some capable of measuring time intervals of 12 or even 24 hours.
The chronograph function is operated by two extra buttons on the side of the watch. One button starts the timer and the second button stops and resets the timer. Like we said, simple.
As chronographs became more popular in the 20th century, they also became more sophisticated. You'll often find a tachymeter, which is used to measure time over a specified distance. You can also get pulsometers (measures pulses), altimeters (measures altitude), and pedometers (measures steps). The chronograph paved the way for all of these extra complications.
Why Buy a Chronograph Watch?
In this era of ubiquitous and ever-advancing technology, it might seem strange that anyone would still bother with a chronograph function on a wristwatch (it's seemingly the timekeeping equivalent of having a Blockbuster card in your wallet). It's true, a mobile phone or computer is just as capable of keeping time, and stopwatches can be found for a few bucks.
The appeal of a chronograph watch is twofold. On one hand (no pun intended), they are convenient. Having a timer function on your wrist is more practical than carrying around a stopwatch and it's not always feasible to have a phone with you or out. If you need to time something, there's no need for an extra device.
The second and, realistically more important reason is that chronograph watches are often finely crafted, beautiful fashion pieces. You can find cheap, ugly watches with a chronograph function, for sure, but spend a few minutes shopping for these types of watches and you'll often find pieces of exquisite design, like the Zenith El Primero Original 1969.
Some Popular Chronographs?
There is no shortage of chronograph watches available, some with classic styles that harken back to the early days of watchmaking, others with far more modern looks.
If you don't mind paying out a few thousand for something more high-end, you can always look at the aforementioned Zenith El Primero or the IWC Portugieser Chronograph.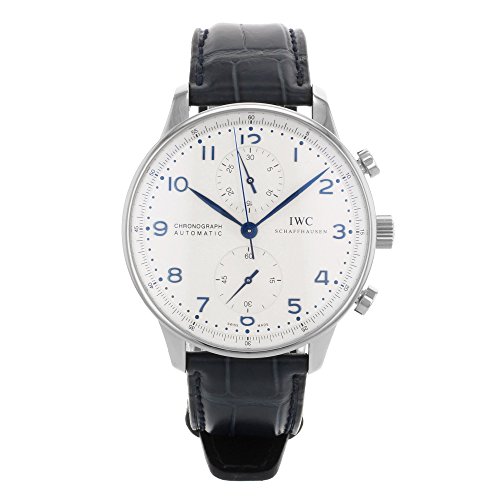 Both come with hefty price tags, but both are also made by companies known for their attention to detail and high-quality craftsmanship. They're uncomplicated but sophisticated, just like a good chronograph watch should be.
If you are looking for more affordable options, see our full list of the Best Chronograph Watches Under $500 here.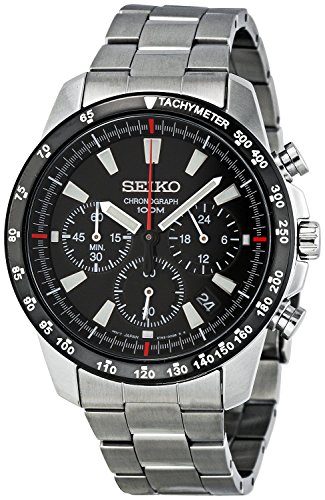 For those looking to buy their first chronograph watch, there are plenty of more affordable options that are still worth your time.
Take, for instance, the Seiko SSB031 Men's Chronograph.
This Japanese quartz watch is stainless steel and includes a tachymeter. Normally retailing for under $200, this is an excellent, reliable chronograph watch by a well-established watchmaker.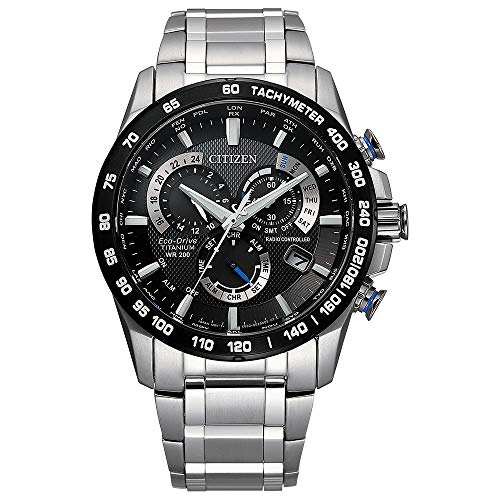 In a similar vein is the Citizen Perpetual Chrono, another Japanese quartz watch. With Citizen's trademark Eco-Drive, this watch has extra-long battery life. It's been designed with marine activity in mind and is water-resistant up to 200 meters (660 feet). For the price, this is another quality chronograph watch.
If you are considering either of these watches, check out our Citizen and Seiko brand comparison here.
Speaking of water resistance, maybe you'd be interested in the Oris Aquis.
This watch is water-resistant up to an impressive Water resistant to 500 meters / 1,650 feet. The case is stainless steel, the face is sapphire crystal, and the strap is sturdy black rubber. The chronograph function measures seconds, minutes, and hours. For the serious diver, this is the chronograph watch to buy.
While the modern wristwatch was originally invented as a mechanism to simply tell accurate time, modern watches complications allow wearers to track things besides the hour and minute.  Chronograph watches have been around for nearly two centuries but they still cause confusion for many casual watch buyers about what exactly qualifies as a chronograph watch. We're here to clear up that confusion.
Related Video: How to Use Chronograph Watches

Interested in learning more about watch types: check out field watches, tank watches, and tactical watches.